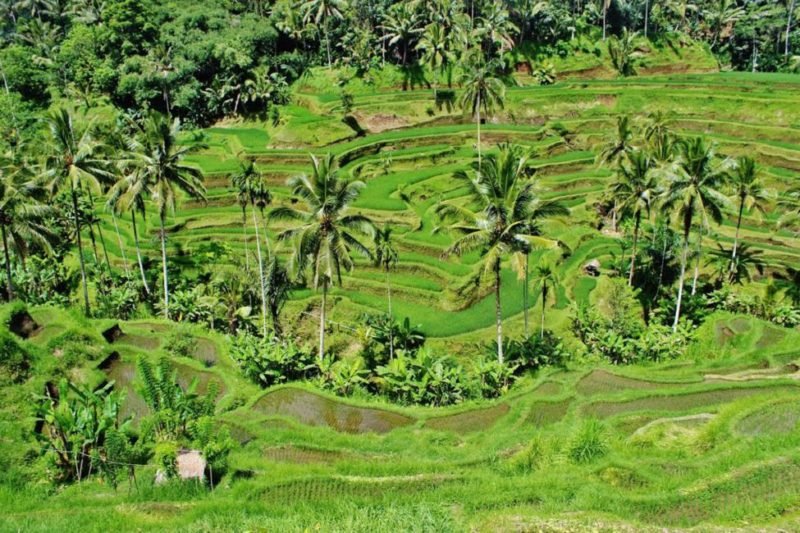 So what's Bali like in November you ask? Keep reading to find out – we've covered it all. No matter what time of the year you find yourself heading to this magical place, you're guaranteed the time of tour life. I love it so much I moved there…and will spend another few months there again this year.
The region is loaded with things to see and do, irrespective of the weather. If it's your first time, read our first timers guide to Bali, for some tips on what to know. For now, sit back to find out if the weather in Bali in November is as wet as you think it might be! Planning ahead to January? This Bali weather post should help!
Weather in Bali In November
If you're someone who prefers to venture and explore the quieter natural beauty of a place during its off-peak season, Bali in November should definitely make your list. You may find fewer crowds than the peak season of June-August and December, perfect for exploring Bali in all its quiet glory. While the weather in Bali in November can resemble Ireland – with sunshine then rain then sunshine – its still a fun time.
When looking at Bali weather, November is primarily wet, and may not be the most ideal month to go if you intend to spend a lot of time outdoors at the beach, That said, rainy season does have MANY benefits. For example, if you want to go chasing waterfalls in Bali, then November and December is best. The more water, the more spectacular the waterfalls. It's also a good season for photographing the rice fields in Ubud in all their beautiful lush, green glory.
We love Bali in November despite the rain, and here's what you can expect…
Bali Climate 
Bali is located very close to the equator, about 8 degrees South to be more precise. Because of this, you can expect a tropical, warm and humid climate all year round – with two main seasons: Dry Season (May and September) and Rainy Season (October – April).
The central mountains of Bali, you know – where all the volcanoes are, include many peaks that reach over 3,000 meters high. As you can imagine, the temperatures are considerably cooler up there, and there is a higher rainfall compared to the coastal areas.
Temperature in Bali in November
Temperatures in Bali don't fluctuate too much from one month to the next – thanks to its tropical climate. Therefore, the month of November sees similar temperatures to that of October. Average temperatures in November fall between 23°C and 27°C for the average low, while the average high is around 31°C.
The sea temperature is around 28ºC, which is fantastic for swimming! Humidity is also very high around this time of the year, so expect to feel a little hot and clammy.
Rainy Season in Bali
Somewhat characterised by yo-yo rain, it can (and probably will) rain on and off throughout the month of November. With rain occurring over 13 days, the chance of encountering a few episodes of rain during this month is relatively high. Not to worry though, storms often don't last long – they just remind you that the real storms are on their way in the coming months.
In my own personal experience from surviving rainy season in Bali last year, it tends to be dry, clear and sunny every morning until about 2 pm or 3 pm, and then the heavens open. So do all your adventuring in the morning, take an afternoon nap, then party all night!
There have been a few years where Bali didn't experience its first real rain storm until late December or early January, so you could get lucky. The average rainfall for the month of November ranges from around 80mm to 150mm of rain.
Sometimes you can get lucky, and rainy season only lasts a few weeks – with a few hours of rain each afternoon. You still spend the morning and late afternoons on some of Bali's best beaches.
Wind
November is characterised as one of the months with the least amount of wind for the year, along with April. North-easterly winds are the most prominent, bringing warmer temperatures. You can check out the Bali wind statistics for each month here.
Daylight Hours
November can actually be a really pleasant time of the year to visit, if the rain is on the same boat as you are (… or on a different one rather).
With 13 hours of daylight and nine hours of sunshine each day, it's a great time to catch a tan. The sun goes down at around 6.20pm, convenient for sundowners, right?
UV levels will be extremely high around this time of the year, and the clouds can be deceiving! So don't forget your sun-block.
Bali Wet Season/Bali Raining Season
The wet season brings daily rain and fairly overcast days, with the most rain recorded between December – February. So technically, November doesn't really fall into the most hectic of the rainy months, it does, however, become increasingly wetter as the month progresses.
As we've mentioned already, this stunning Indonesian island has a tropical climate with two seasons. The western monsoon (wet season) from late October to April, and the dry eastern monsoon (dry season) from May to late October.
November falls into the wet season, although it usually rains in short, heavy bursts that quickly clear.
Suggested Packing List For Rainy Season In Bali
It's best to prepare for some wet weather when heading to Bali in November. Even though the rain isn't a constant – you want to be prepared, instead of being forced into a bed-day, you know? So here's a quick list of what to pack for November:
An umbrella: this is a must if you don't want to stay indoors (or get wet) during the day!
A poncho or raincoat that can fold away and be shoved into your backpack
Some breathable, light clothes
A light jacket in case the evenings get a bit chilly
Walking shoes or boots for hikes and walks in the rain
flip-flops for the beach. Or barefoot!
A hat and sunglasses for when the sun comes around
Camera!
Is November The Best Month To Visit Bali?
Bali is really great for most of the months of the year. So to answer this question: as long as you are prepared to expect some rain, even some heavy downpours usually late afternoon onwards – then why not?
As we've mentioned, rain showers during the day clear up quickly and shouldn't interfere too much with any planned outdoor activities. Humidity is higher at night, and temperatures are higher during the middle of the day, so finding accommodation in Bali  with aircon is a good idea.
Some mornings may be a bit overcast after a wet night, but this makes for the perfect excuse to have a bit of a lie-in before entertaining yourself with all the fun free things to do in Bali.
Each November is different, or more or less extreme – it all depends on the arrival of the wet season. Personally, we really like this time of the year in Bali as everything has been freshened up after the first rains.