Iceland is a land of extreme beauty and wonder. With its dramatic fjords, glistening glaciers, and unique natural phenomena, it is well worth a visit. However, there is a lot to think about before deciding when is the best time to visit Iceland.
Deciding when to visit Iceland will have a significant impact on your trip. While it has some fantastic winter resorts, it also has plenty to offer all year round. But certain months will be better to see particular things, like the midnight sun or northern lights.
Quick Tip: When traveling to Iceland, it's good to keep in mind that credit and debit cards are the most common form of payment. Even the locals use credit and debit cards instead of cash, as most merchants anywhere in Iceland accept cards.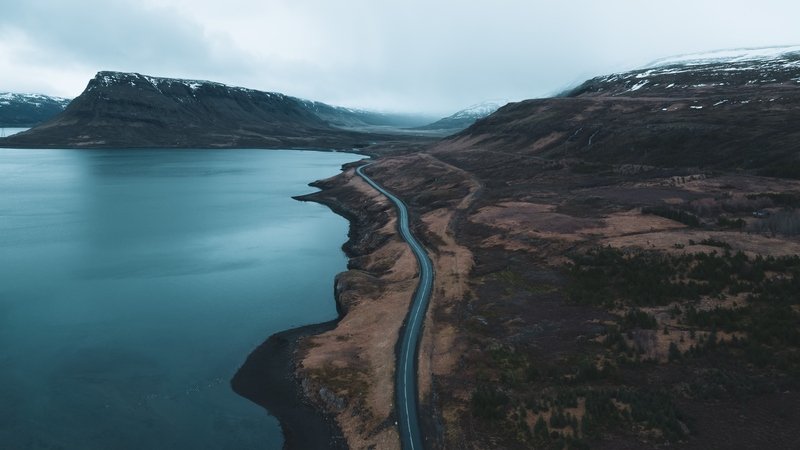 Best Time to Travel to Iceland
Depending on what you are looking for on your trip to Iceland, you need to research which month or season is the best for specific activities.
Generally speaking, the best time to visit Iceland to see the northern lights is during the darker winter months. Whereas the best months to visit Iceland to see the midnight sun is in June to August.
Weather in Iceland
Iceland has an Oceanic climate, which means cold winters and cool summers. It is situated in the Arctic Circle, but the mean temperature is considerably higher than you might expect. Despite what the country's name implies, Iceland is so much more than just snow and ice.
Iceland: Winter Months — December, January, February
When visiting Iceland in winter, expect short days with as little as three hours of sunlight a day and cold temperatures, although not as cold as you would think. The land is covered in snow, and the dark skies offer the best chance to see the northern lights. If you are visiting in winter, pack warm thermal clothes.
December in Iceland is a cold month. Depending on where you are in the country, the temperature can drop to 14°F (-10°C). But if you are around the capital city of Reykjavík, you can expect average temperatures of between 34.3°F (1.3°C) and 27.7°F (- 2.4°C).
January in Iceland is much the same as December. You can expect daylight for about 5 hours and 36 minutes on average, with the sun rising around 11 am and setting at about 4 pm.
February in Iceland is still pretty chilly, though it is warmer by the coast. In Reykjavik, you can expect average temperatures of between 29.7°F (-1.3°C) and 35.2°F (1.8°C).
Iceland: Spring Months — March, April, May
Spring in Iceland is idyllic. The snow begins to melt and the landscape becomes lush and green. Temperatures are moderate and days can be windy and sunny, but with some rain here and there. When visiting Iceland in spring, it is best to pack waterproof shoes and a rain jacket.
It's still Iceland, so you can still expect chilly temperatures and occasional snowstorms in March. In Reykjavík, the average temperatures are between 30.2°F (-1°C) and 36.1°F (2.3°C).
By April, you can expect about 14 hours of sunlight a day and the roads will start to clear of ice and snow. However, you can expect some rainy days during this month.
May in Iceland starts to warm up, and temperatures in Reykjavík average between 39.4°F (4.1°C) and  40.8°F (4.9°C). The seas begin to calm, and the coastlines and bodies of water defrost.
Iceland: Summer Months — June, July, August
Summer is the warmest time in Iceland. The country experiences mild temperatures and long days with over twenty hours of sunlight. While these are Iceland's hottest months, the climate is still unpredictable and you could end up experiencing all four seasons in a day.
June is a very pleasant month in Iceland with temperatures of between 46.9°F (8.3°C) and 45.3°F (7.4°C). You can expect rainy days in June, but by this time of the year, the snow has pretty much stopped.
July is Iceland's warmest month with temperatures between 48.4°F (9.1°C) and  56.3°F (13.5°C) if you are close to Reykjavík. You can expect about nineteen hours of sunlight, with sunrise at about three in the morning and setting at about eleven at night.
August is the last summer month in Iceland. The days begin to shorten, and the seas get colder. If you are close to the capital of Reykjavík, you can expect temperatures of somewhere between  47.1°F (8.4°C) and  55°F (12.8°C).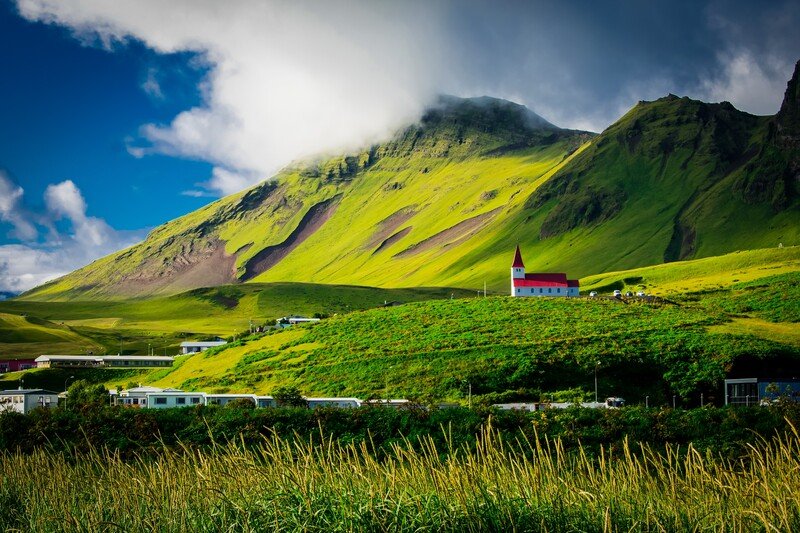 Iceland: Autumn Months — September, October, November
Iceland, in Autumn, is a landscape of orange and yellow with patches of green. The days are still long enough to enjoy some adventures, but the temperatures begin to drop.
September in Iceland is a frosty month, and the roads begin to ice over. The days also begin to shorten, with the sunrise at about six in the morning and the sun setting at about eight in the evening.
By October, the snow begins to fall again. The average temperature starts to drop, and you can expect an average temperature of about  37.8°F (3.2°C) and 43.2°F (6.2°C) if you are close to the coastal capital, but inland, temperatures may be colder.
November is one of the best months to go to Iceland. However, you'll experience temperatures of about 37.8°F (3.2°C) and 32.9°F (0.5°C). The days are also shorter, offering about six hours of daylight.
Best Month to Visit Iceland
Deciding on the best time to go to Iceland is all up to what you want to experience. The peak season for traveling to Iceland is in the summer months between June and August. During these months, the days are longer, and all activities are open. This also means, though, that prices are higher.
If you are looking for quieter months to visit, it will generally be in the early winter months, with the most peaceful month being in January. The spring and autumn months are also good choices.
These seasons are also great for visiting Vatnajökul National Park, a Game of Thrones filming location. November is considered the best month to visit Iceland, as it offers warmer temperatures (relatively speaking), long enough days, and the chance to see the northern lights.
Cheapest Times to Visit Iceland
Spring and autumn are quieter months and offer budget-friendly costs for accommodations and activities, so it is one of the best times to visit Iceland. Winter is becoming more popular, but it is still generally quieter and cheaper than summertime. However, December is a very popular and expensive month, so if you are looking for a more cost-effective winter visit, it would be better to avoid December.
Quick Tip: Once you have decided when to go to Iceland, make sure to book your accommodations and activities well in advance. The longer you wait, the less will be available, and the more you will have to pay.
Seasons Activities
While Iceland has a lot to offer year-round, you should tailor your trip to which activities — or weather — best suits your tastes.
Summer is the most popular season with the most activities. If you want to see the northern lights and the darkness and the snow do not bother you, then winter is your season. However, if you are looking for peace to explore the landscape, spring and autumn would suit you best.
Winter and Autumn Activities
Winter in Iceland still has plenty of activities on offer. It is generally the best time to see the aurora borealis. Winter is also the best time to do glacier hiking for the brave and more adventurous. This is the best season to take the opportunity to do a Jeep drive and ice cave tour.
In autumn, the growing days and melting snow means many opportunities for hikes, horse rides, and even landscape photography. But autumn is also a great time to take advantage of the thinner crowds and visit the Blue Lagoon hot springs in Reykjavik.
Summer and Spring Activities
Spring in Iceland is beautiful and is an excellent time to go on hikes, see the waterfalls in flow, and watch the puffins returning to the coast. This is also an opportunity to take an Icelandic Horse Riding Tour in Lava Fields.
Summer in Iceland has the most to offer. It is the perfect time to see the midnight sun, take a self-driven holiday, or attend the many festivals. The beginning of summer is also the ideal time to take a whale-watching tour as the dolphins, orcas, and whales congregate in West Iceland.
Best Time of Year to Visit Iceland | Final Thoughts
Picking your season to travel to Iceland is vital to ensure a perfect trip. Summer, autumn, winter, and spring each offer unique experiences for you.
While January is generally the quietest month, November is the best time of year to go to Iceland, as it is cheaper and quieter, and there is still a chance to see the northern lights. But no matter when you go, you are guaranteed a once-in-a-lifetime experience!