I'm not sure any destination on earth grew in popularity as much as Iceland did in the last 12 months. With budget airlines like Wow Air flying people in from across mainland Europe as well as North America, and other airlines such as Icelandic Air offering free stopovers in Reykjavik, the number of people visiting this magical island is ever increasing. Known for its breathtaking scenery, unusual wildlife and dramatic landscapes – there is an endless choice of unique things to do in Iceland in Winter for all types of adventurous travellers.
Be it relaxing in The Blue Lagoon, or one of Iceland's lesser-known hot springs, hiking crater lakes, chasing waterfalls during the summer or exploring ice caves in the winter – there's something for everyone regardless of the season!
Featured image thanks to Jurga from FullSuitcase.
PRO TIP: If you're planning to travel to Iceland, be it on a budget or on a luxury tour, I can't emphasise enough how important it is to have decent travel insurance – especially as medical care is CRAZY expensive here. I always use World Nomads, as they're known as the best insurer for backpackers and long-term travellers.
Things To Do in Iceland In Winter
Go Whale Watching
Suggested by Paul Farrugia of globalhelpswap
One of our most memorable days in Iceland was when we went 
Whale Watching off the coast of Reykjavik
. Even though we were not that far from the city we got to see quite a few Minke Whales in the few hours we were out at sea.
Seeing these majestic animals in their natural environment is the only way to see them. Their size humbles you as soon as your catch your first glimpse. It was pretty hard to capture them on film but that was okay, some experiences are best captured through your own eyes.
Iceland is known to be a country that eats Whale meat but astonishingly almost all the Whale meat slaughtered is consumed by visitors thinking that it is a traditional dish. For just 
$100 with Viator
, you can go out and see these beautiful animals instead of eating them! This is one of the best things to do in Iceland in June, July, August or September, where you're almost guaranteed to see whales.
Spot some Puffins!
Suggested by Becky The Traveller
Iceland in summer is a wonderful place to visit for bird watchers. You'll see loads of different species from the Arctic Tern to the Golden Plover. As a bird lover myself, one bird I'd never seen before was the puffin.
I visited Iceland in June and had read about the best places to see puffins. But seeing puffins up close in Iceland was a dream come true. And the fact I was only a few feet away from them made it even more special. Even my travel buddy who wasn't into birdwatching happily spent over an hour watching these gorgeous birds.
The puffins aren't in Iceland all year round. You need to time your trip with when the birds arrive and leave, which is from May to August. Puffins tours are an incredible experience and start from just $60 on a Puffin Express Cruise.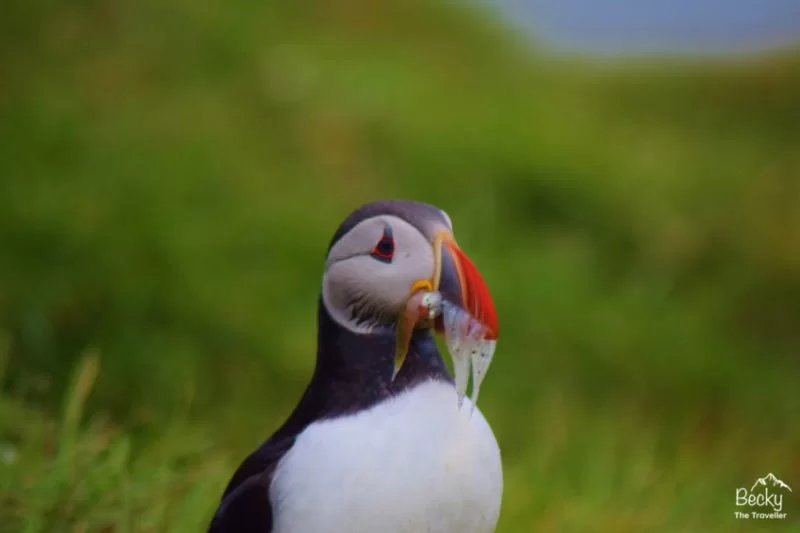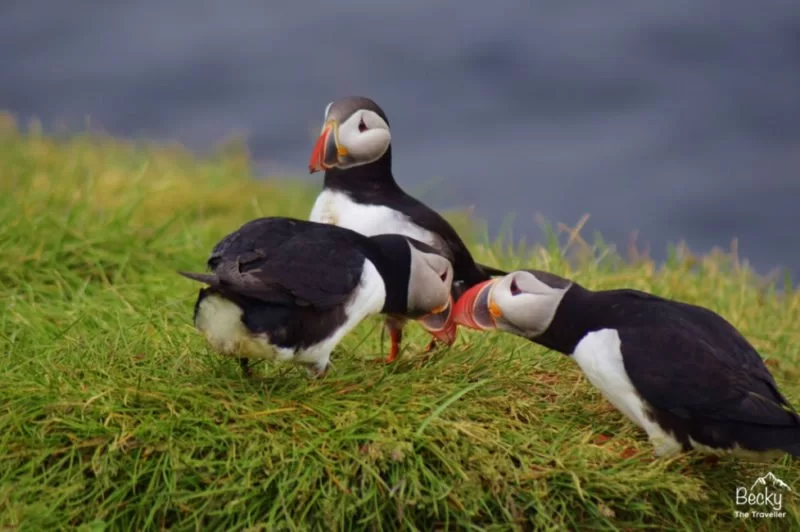 Admire Iceland's Wild Horses
Suggested by Travels With Talek
The wild horses of Iceland are something very special to behold. They have become a symbol of Iceland's wind-swept landscapes and pristine beauty. These beautiful animals are sturdy. They would have to be to thrive in Iceland's winters. Their thick coats, which come in a variety of muted colors, insulate them from the heavy northern winds. They have a life-span considerably longer than the average horse.
These iconic creatures were first imported from western Norway about 1000 years ago. At that time they were so beloved that they were frequently buried with their owners (poor horse). They were used as pack animals as well as for transportation. In today's Iceland they enjoy an elevated status as tourism draw.
Today the horse population is so insulated that they have lost immunity to certain diseases. Consequently the government prohibits the import of horses and certain horse gear to protect these beautiful creatures. We hope they will be around for another 1000 years.
Things To Do in Iceland – Reykjavik hot spots
Hallgrímskirkja Observation Tower
Suggested by Catherine D'Cruz of wegowithkids
When visiting a new city, we always look for an opportunity to get a bird's-eye view of the area. Hallgrímskirkja is Iceland's largest church and one of its best-known landmarks located in the center of Reykjavik and visible throughout the city. Its observation tower is offers a perfect panoramic view of the Reykjavik and its harbor. Most cathedrals we have visited were built well before elevators were invented, and if you want to get to the tower, you need to climb many flights of stairs. However, Hallgrímskirkja is a modern structure that was completed in 1986 and includes the convenience of elevators. There is not as much adventure in riding an elevator, but it is definitely more efficient. Our kids enjoyed checking out the view out of each window in on the observation deck, and the view of the harbor was absolutely breathtaking. The Hallgrímskirkja Observation Tower is a great way to get a great view of Reykjavik.
Where to stay in Reykjavik
Depending on your budget, I can recommend a few great places to stay in Reykjavik.
For those on a tight budget (we all know how expensive Iceland can be!) Kex Hostel is the most popular hostel in town, and with beds starting from just €25 a night, by far the cheapestfol place to rest your head in Reykjavik.
If you can't deal with hostels and dorm rooms, but still don't want to break the bank, Glads Guesthouse has rooms from €100 for 2 people sharing, making it one of the cheapest hotels in Reykjavik.
If you want the luxury experience, I recommend the 4 start super-sleek IcelandAir Reykjavik Marina Hotel. I stayed here for 2 nights and thought the location overlooking the marina was so peaceful and the rooms and hotel itself was very beautifully designed.
The Blue Lagoon
Suggested by Kaylie from Happiness Travels Here
Despite the popularity of the attraction, relaxing in the milky blue waters of the Iceland's Blue Lagoon is a tranquil experience. When we first enter, the other bathers in the large hot pool are obscured by a curtain of warm steam. The wind breaks holes in the thick fog to reveal the craggy black rock of the lava fields that surround us, the sharp unforgiving rocks a stark contrast to the smooth white silica under our feet. But this is Iceland, the land of contrasts, of Ice and Fire and opinions on Iceland's top attraction couldn't be more contrasting either. Some say the Blue Lagoon is an overrated, expensive tourist trap while for others slipping into the warm thermal waters is a unique experience to top any bucket list. I am in the latter camp, you won't find anything like this elsewhere in the world. A visit to the Blue Lagoon is definitely one of the top things to do in Iceland.
The cheapest way to do The Blue Lagoon is to stop off on your way or on your way back from the airport. If you have not rented your own car, however, Viator have a few days trips where they provide transfers and entrance for about $100.
Watch the sunset
Suggested by Megan Starr
One of my favourite things to do in Iceland is to take a moment to relax and watch the sunset. Iceland's weather can be extremely moody, but after visiting the country a couple of times, I have realized that when the weather is done being temperamental, it leaves room for a killer sunset (or even sunrise, if you're up that early!) I have seen amazing sunsets in Reykjavik and I have seen colourful skies while driving around the south coast. Sunset is consistently my favourite part of the day. The best sunset I have ever witnessed anywhere in the world was in Reykjavik in 2013 and I still can't get over how beautiful it was. I definitely think chasing sunsets is something everyone needs to add to their Iceland list!
REMEMBER: IF you're visiting Iceland in June or July, you'll get to see the midnight sun and might now get any sunset at all. If the sun does set, it will be at 3 in the morning before rising 30 minutes later!!
Bjarnarhöfn Shark Museum
Suggested by Jessica from Independent Travel Cats
The Bjarnarhöfn Shark Museum is a museum that presents the history of shark fishing in Iceland, from its early origins to present day. The main shark species that is eaten by the Icelandic people is the Greenland shark. The shark meat is actually poisonous if eaten fresh so the meat has to be fermented, and you can learn about and see this process at the museum. You also have the chance to sample the fermented shark meat (hákarl) at the museum. We found it difficult to swallow but it is considered a delicacy in Iceland! The museum also has additional displays on various things including wildlife and local legends.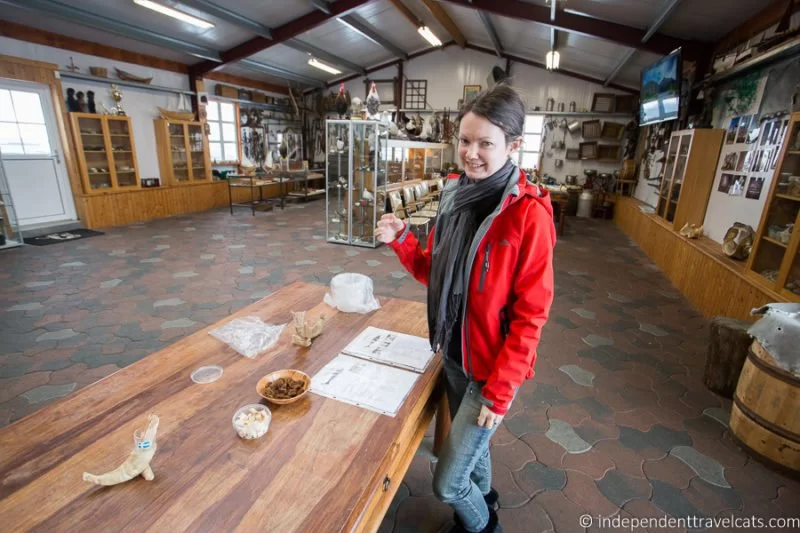 Black Falls (Svartfoss)
Suggested by Laurence from Finding The Universe
There are a lot of places to stop at when touring Iceland's south coast – it's a stunning stretch for sight-seeing! One spot that is often overlooked as folks drive through this area are the beautiful "Black Falls", officially known as Svartifoss. Found in the Vatnajokull National Park, it is a bit of a walk up to see these gorgeous falls, but we think it's very much worth the thirty minute effort to appreciate them. They cascade over black basalt columns which give them their name, creating a waterfall that is quite unique in Iceland, and which also served as inspiration for the architecture of Hallgrimskirkja church in Reykjavik. There are two viewpoints, one higher up, that gives you a great panoramic shot of the falls from above, and one up close, from where you'll be able to admire the falls in all their glory.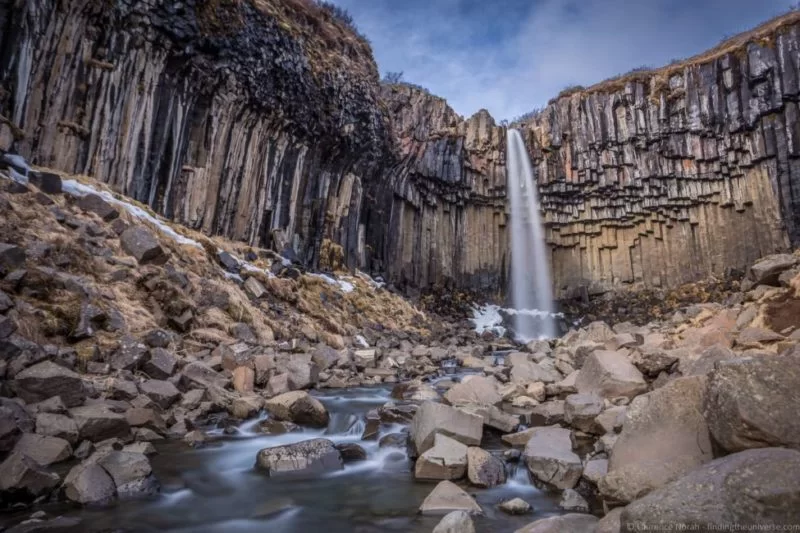 Things To Do in Iceland – Spectacular landscapes
Dynajandi Waterfalls in West Fjords
Suggested by Anuradha from TravelHighway
We came across a staggering statistic in Iceland, that hardly 3% of the ENTIRE number of tourists that visit Iceland, visits West Fjords! No wonder we saw more sheep than humans while exploring the West Fjords. Post Iceage, when Earth began to cool down and form continents, West Fjords was the first one to be formed in Iceland! This mountainous coastline provides stunning view points and offbeat destinations to visit in Iceland. There are also tiny fishing villages at the foothills of these fjords. One such waterfall was Dynjandi. Dynjandi waterfall is located in a remote corner of west fjords, cascading from around 99 meters! In Icelandic, Dynjandi, means thunderous which is precisely what this waterfall is. There are 7 other smaller waterfalls, each named and reachable from the main hiking path.
Dyrhólaey Beach
Suggested by Victoria from Follow Me Away
Dyrhólaey is a 2 and a half hour drive from Reykjavik and It is the home to Puffin, rock formations, and fantastic black sand beaches. It is located on a small peninsula not too far from Vik and is a great stop along an Iceland road trip route. It is the ideal spot for photography, especially if you arrive during sunset or during a moody day! You can see the black sand beach stretch along the south coast of Iceland for as far as the eyes can see!
Dyrhólaey has two parts, a lower beach you can walk on and a higher cliff with Dyrhólaey light house for a higher view from above. Dyrhólaey is a memorable and beautiful stop you must visit in Iceland! Whether you visit Iceland in summer or winter, this beach is worth a stop.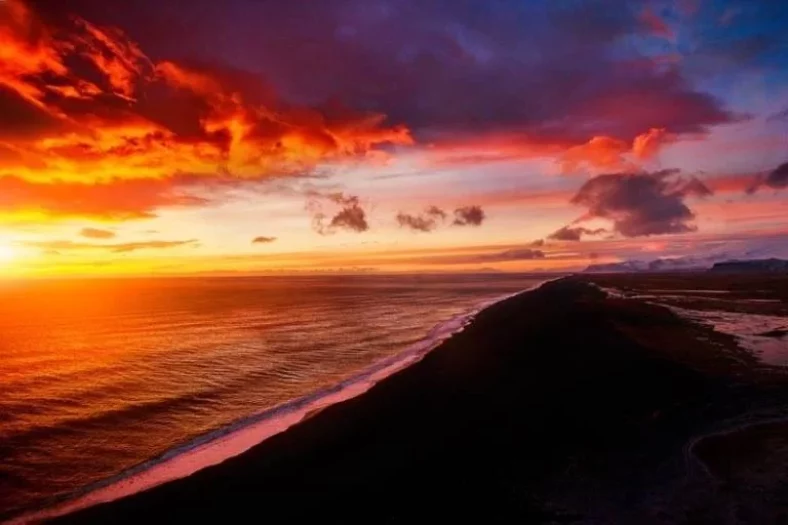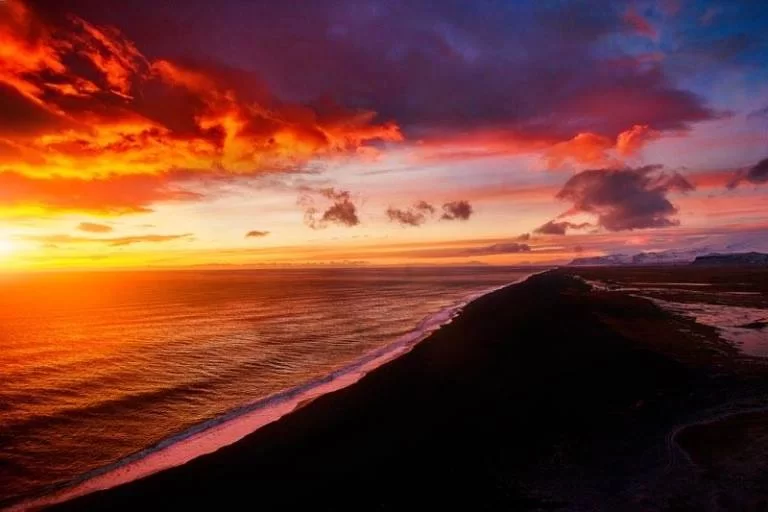 Thórsmörk Valley
Suggested by Diana from Diana Miaus
Thórsmörk, valley of the thunder god Thor, is a remote beautiful valley nestled in between glaciers with some of the best views and hiking trails in Iceland – and this country is not short of them!
Getting there is not easy, especially during the winter. By this time of the year, you'll have to join a tour with an experienced guide who will take you in an adventurous drive in a super jeep, wading the rivers that flow from the glaciers. Once you get to this natural reserve, you'll be surrounded by impressive mountain ridges and you will see the effects of the Eyjafjallajökull volcano eruption. In the meantime you will have the chance to visit the volcano glaciers, enjoy the outstanding panoramic views and explore the beautiful sceneries along the way. If you're lucky, you'll be able to spot arctic foxes as well! (I did!)
Mt Kirkjufell
The Snæfellsnes peninsula is a popular destination in Iceland, and Mt Kirkjufell is the jewel in the crown of this beautiful area often nicknamed "Iceland in miniature". Mt Kirkjufell means "Church Mountain", and it's the most photographed mountain in the country, standing proudly on it's own peninsula that juts out into the sea. It's unique shape that changes depending on the side you're viewing it from has made it popular on social media, and it was also used as a
Game of Thrones film location
. Look out for a waterfall opposite the mountain and walk up behind it for the iconic view of Mt Kirkjufell. And if you visit in winter, it's a great spot to try and see the Northern Lights!
Jokulsarlon Glacial Lagoon
Suggested by World Wild Wendy
Everyone that goes to Iceland wants to see the world famous Geysers and the well known Gullfoss waterfall. But Iceland has so many more spectacular things to offer. For me, the most impressive moment was my first glimpse of Jokulsarlon. This glacier lagoon is situated at the Vatnajökull National Park. I will never forget the first glimps on this incredible, breathtaking glacial lake. We were driving through a rather desolate landscape. At the left where huge piles of sand and stones. All of a sudden we saw a glimps of blue. We stopped the car and ran up the hill. On top of the hill we were rewarded with a great view over the glacial lake. As far as the eye reached there was crystal clear blue water and gigantic icebergs.
The lake grows every year because of the melting of the glaciers. It's also the deepest lake in Iceland (almost 250 m). It's one of the natural wonders of Iceland. Definitely book a ride on an amphibious vehicle. Provide some warm clothes because it's really freezing! Fun fact: They filmed the openings scene of the Bond film "A View to a Kill" over here!
If you have not rented a car, there are day trips from Reykjavik for about $160.
Kerið Volcanic Crater
Suggested by Chris from ABritAndASoutherner
Iceland's iconic Golden Circle may have iconic landmarks such as Geysir, Gullfoss and Thingvellir National Park but we would argue that the very start of this scenic drive is equally spectacular. Just a short distance from the Icelandic Ring Road along the south coast, Kerið is a volcanic crater waiting to be explored. What better way to start your adventure of the Golden Circle than by taking a short hike around an eye-popping crater lake.
Kerið is approximately 3,000 years old which in comparison to many other volcanic features around Iceland is relatively young! For the geologists out there interested in the formation of Kerið, research suggests it was a cone volcano that erupted and once the magma depleted, the weight of the cone collapsed forming the gorgeous crater we see today.
Where to stay on the Golden Circle
If you plan to tour the Golden Circle, which includes Kerið Crater Lake, Strokkur Geysir, Gullfoss Waterfall and Þingvellir National Park, I recommend staying at one of the coolest hostels I've ever stayed in. Heradsskolinn Hostel is right next to Laugarvatn Fontana Natural Hot Springs and lake…so you can take a tip before passing out for the night. It's also possible to catch a glimpse of the Northern Lights from the hostel as there is so little light pollution. You can also do day trips from Reykjavik, if you prefer to stay al your nights there.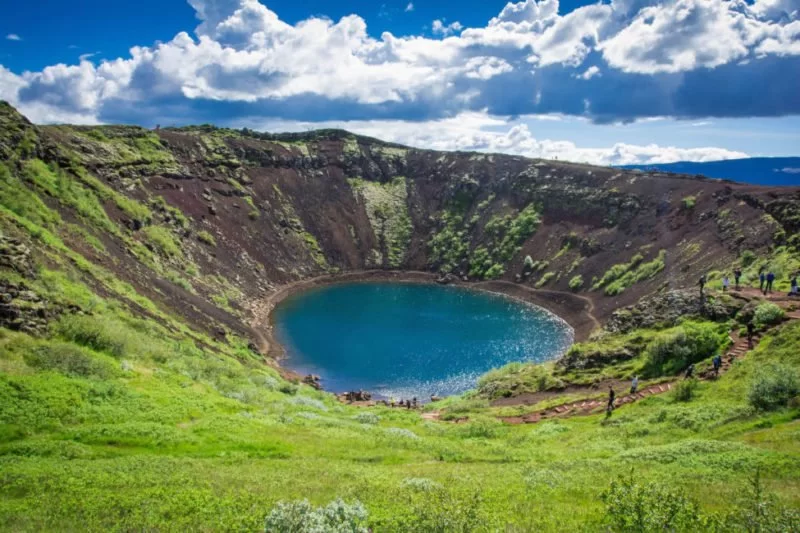 Seljalandsfoss Waterfall
Suggested by Kirsty from Travel With Meraki
In a country that is full of spectacular waterfalls, you know Seljalandsfoss has to be unique to be one of the best known waterfalls in Iceland. Even the source of the water for these falls is pretty special, originating from melting glacial ice that covers the Eyjafjallajokull volcano. Located on the South-Coast and visible from the famous Ring Road on Route 1, these falls make an instant impression as you see water thundering over a drop more than 60 metres.
Take the path straight up from the car park to the falls and then follow the slippery path right behind the falls where there is a small cave. Expect to be wowed by nature, deafened by the cascading water….and to get thoroughly wet! It is important to note that the path behind the falls is closed during wintertime due to safety issues.
Visit Djupavik
One of my favorite lesser known places in Iceland is Djupavik. I spent there fifteen days running an international work camp by a local organization. As we only had to work about 5 hours per day 6 days per week, we used to explore the area in the afternoons and days off. It was right before Summer solstice so days were LONG and so we could hike the nearby hills, swim in the freezing cold Atlantic waters, explore the abandon big boat in the coast, drink fresh water from one of the many falls in the valley, clean the old herring factory – nowadays a cool space used for exhibits and concerts – and many other cool things. All in all, we lived a simple and slow life for two weeks and came back renewed and happy.
When I visited, there were only two people living there with Freja, their dog. They were the owners of the only mid-size building in the village, called Djupavik hotel and they made us feel home since we arrived.
Things To Do in Iceland – Best Spas
Laugarvatn Fontana Geothermal Baths
Suggested by Verity from Veritru
Everyone has heard of the Blue Lagoon but did you know that there are other hot baths too. We headed to the Laugarvatn Fontana Geothermal Baths… for a night bath… in December… in -2 degrees!
It's the most bizarre experience sitting in and quicking dashing between the outdoor naturally heated hot baths in a bikini with snow falling on your head. If you can imagine how a Japanese macaque monkey feels as it jumps into a hot spring after walking around in the snow all day, that's exactly right. You can go all year round though as well as in the light! Laugarvatn Fontana offers hot springs, steam rooms, a beach and a beautiful lake. The lake is only for the brave in the winter though as it's definitely not heated; one of our group found out the hard way! Looking for a place to stay nearby? Check out this hotel that used to be an old schoolhouse.
Also recommended by The Wanderlust Dietitian
Bathe in a beer spa
Suggested by Emily from See Her Travel
Vastly different than the waterfalls and glaciers of Iceland, a visit to the Bjorbodin Beer Spa is an experience like none other. The beer spa, located about 25 minutes north of Akureyri, is a brand new facility (opened in July 2017), with seven wooden tubs in private rooms. For each new couple, the tubs are filled with an undrinkable mixture of young beer, hops, yeast, and distilled water, all at a soothing 38 degrees. The concoction is said to nourish the skin, make hair stronger and replenished, and generally give the boy an all around relaxation. Even more exciting, there is a keg of cold, very drinkable Kaldi beer with it's own tap right beside the tub. So imagine this, bathing in beer, while pouring your own beer right from the tap without getting out of the tub. If this isn't bliss, I don't know what is! Book your trip to the Beer Spa here.
Visit the Myvatn Nature Baths
Suggested by Richard from Travel Tramp
The Myvatn Nature Baths are a blue lagoon of Geothermal water in the far North of Iceland. These man made hot springs are found near the remote Myvatn Lake, a region of rugged beauty that stands precariously on turbulent, volcanic land.
The Nature Baths are a recent construction, being fed from deep geothermal waters far below the Earth's surface, but while the Baths are relatively new, having been built in 2004, locals are just continuing their centuries old tradition of outdoor bathing in a modern way. Being a long way from Reykjavik, Myvatn doesn't yet see as many tourists as other parts of the country, giving you a more peaceful bathing experience away from the crowds when you take a dip. It might be a long drive from the capital, but it's worth it for a bath!
Adventurous Things To Do in Iceland
Canyoning at Gljúfrabúi (Gljúfrafoss)
Suggested by Nina from Where In The World is Nina
Located mere meters from Seljalandsfoss, Gljúfrafoss is hiding in a canyon waiting for you to discover it. You'll have to tip toe from rock to rock with an icy river beneath your feet to reach a rocky cove inside the canyon. There, the waterfall is raging so hard, you can barely hear yourself speak and you will likely get wet as well. When we were there, it was windy which created a mist that soaked my shoes on the inside! Everything was so worth it though and I'd go back in a heartbeat. The best part: Most people skip it because they are too busy at the popular Seljalandsfoss right next door!
Road trip along the famous Ring Road
Suggested by Nellie from Wild Junket
There's no better way to explore Iceland than by driving the Ring Road, a.k.a. Route 1, that circles the entire island. Spanning 828 miles (1332 km), this route is one of world's top road trips and it will show you the best of the island. Weave your way through rolling hills where Icelandic horses roam, past jagged cliffs with gushing waterfalls, and snake alongside sapphire blue rivers. Every turn of the road reveals new landscapes that will keep the entire journey exciting. We took a week to drive the Iceland Ring Road with our two-year-old daughter, and it got us falling head over heels for this country all over again. There's SO much to see along the Iceland Ring Road that you will find yourself stopping every hour or so to see a waterfall, hike in a volcanic lava field or admire glaciers.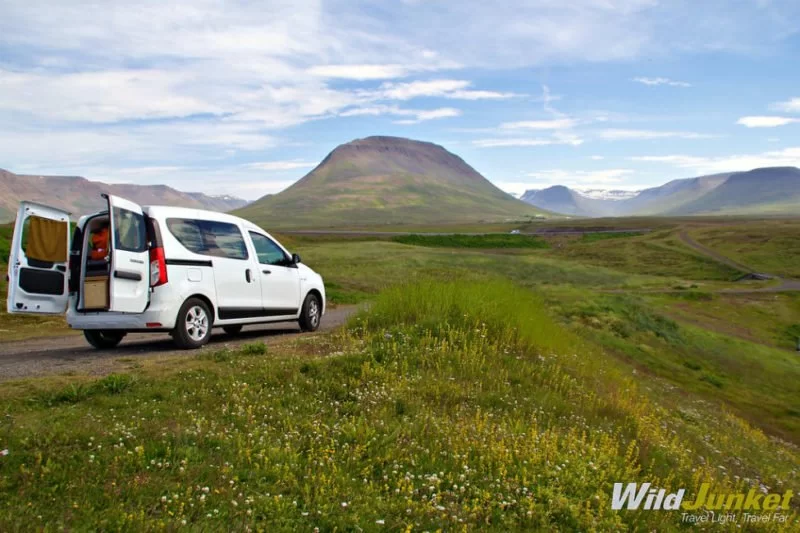 Explore the other worldly Lake 
Myvatn
Suggested by Emily from Kids and Compass
Lake Myvatn is a picturesque lake in the north of Iceland. While the lake itself is nice enough, it's the surrounding area that provides the real draw for visitors.
Lake Myvatn is located right on top of the seismic rift where the North American and Eurasian tectonic plates meet, so it's the perfect place to find some volcanic activity. Try the otherworldly area of Hverir for steaming mud pots and fumaroles. Or head to the volcano Krafla to walk on still-smoking lava flows.
If active volcanos aren't your thing then you can hike up an extinct cone to get a stupendous view of the surrounding area. Alternatively, walk through ancient lava formations at Dimmuborgir where the paths lead you through natural tunnels and archways in the lava.
Go INSIDE a volcano
Suggested by Amanda from The Boutique Adventurer
There is only one place in the world where you can go inside a volcano – and it is in Iceland! The volcano, Thrihnukagigur, is about halfway between Reykjavik and the Golden Circle area. You will need to go on an organised tour which will take you trekking across lava fields until you arrive at base camp. Once you have been fitted with gear you will then head to the top of the volcano and a lift that takes 6 minutes to bring you inside the volcano.
For me the biggest delight of the experience was how incredibly colourful it was inside the volcano – something I never expected! Health and safety procedures are careful adhered to during the entire experience so there is nothing to concerned about. This is without doubt an amazing once in a lifetime experience!
Mount Esja is the dramatic backdrop of many photos of the Reykjavik skyline – and I remember vividly staring over to the mountain across the bay from the top of Perlan when I studied in the city. Esjan, the mountain's Icelandic name, is actually a large volcanic mountain range, but most people climb to its highest point at 914m, called Hábunga. One day, I decided to make the dream a reality and hike Mount Esja too. Accessible in a quick day trip by bus (no 15 and then 57), it is perfect for anyone looking for an unforgettable outdoor activity close to Reykjavik – particularly if your time on Iceland is limited and you don't have enough time to hike in the Highlands. There are several routes up Mount Esja, depending on your level of skill and experience, and on a good day you can enjoy breathtaking views across the city and beyond.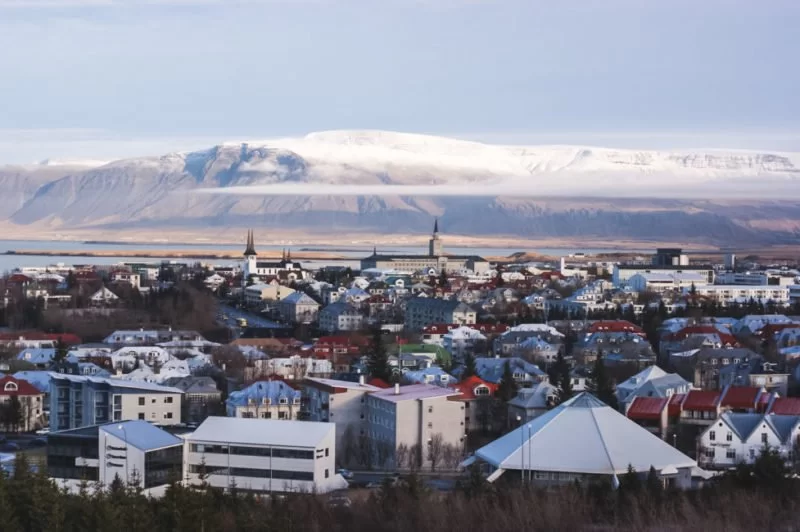 Camping on The Ring Road
Suggested by Kristen from Be My Travel Muse
Camping on the Ring Road is the best thing to do in Iceland. It gives you ultimate flexibility, which is particularly helpful if you're chasing the Northern Lights! By renting a camper van, I was able to alter the direction I went on the road and the timing so that I was able to see the lights with dazzling clarity for 3 nights in October! I wouldn't do Iceland any other way.
An Off-Roading adventure
Suggested by Kylie from Between England and Iowa
Icelandic Hill Climbing, otherwise known as Formula Off Road, is an extreme motorsport that started in Iceland. Nitrous powered off road buggies have the power to drive up near vertical hills and visitors to Iceland have the chance to experience the sport from the passenger seat! It is literally a once in a lifetime experience. The cost for a 10 minute ride, per person, is ISK112,500 (roughly $850) and takes place in a quarry just outside of Reykjavik. Visitors are kitted out in coveralls, a helmet and strapped into the vehicle with a 5 point harness. If you've ever been on an ATV tour, formula off road is like the high speed next step up! The G forces are incredible and the adrenaline pumps through you, especially when you drive straight over the edge of the quarry! You will be covered from head to toe in mud and icy water but it's such an awesome, unique experience if you are looking for something a little different!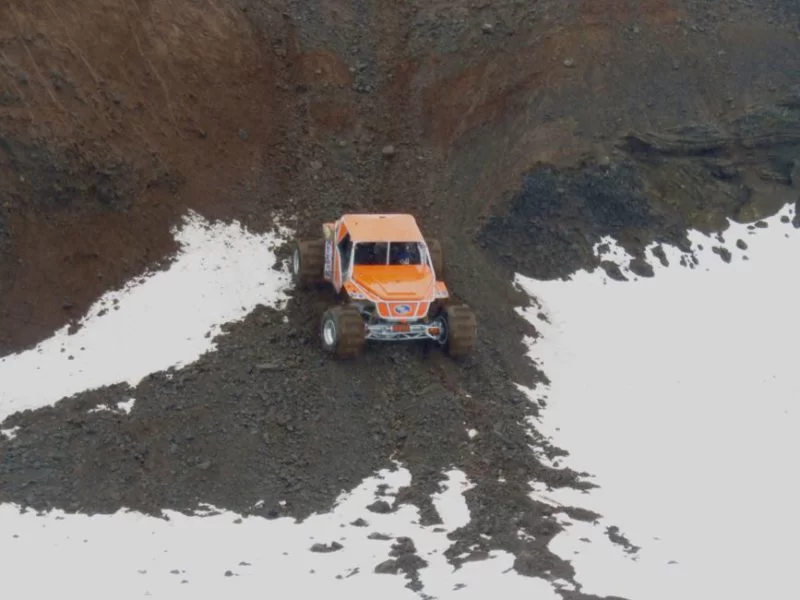 Swimming at Seljavallalaug
Suggested by Dave from TravelDaveUk
Seljavallalaug, one of the oldest swimming pools still remaining in Iceland was built in 1923 and is also known as the secret swimming pool due to its hidden off-road location. It's free to use and open to the public (donations welcome) and located close to Skógafoss. You will need to park up close by and go on a 15 minute off-road trek to reach the location. The water is naturally heated by geothermal hot water and can be rather relaxing after a road trip. For those brave enough in the winter, it can be a little cold but you might find that you can have the whole place to yourself in the morning.
Visit Vatnshellir Lava Cave
Suggested by Shruti from siddharthandshruti
When the crystal cave tour was fully booked, we thought we should not give up and try another cave. That's when we came across the Vatnshellir cave which is a lava cave situated in Snæfellsnes peninsula. Although it wasn't a part of our original plan, we quickly got excited to journey to the center of the earth. We were reliving adventures of the professor Otto Lidenbrock, Alex and their guide Hans into the Snæfellsjökull volcano in the Jule Vernes classic. Now how can that not be interesting! When we reached the location, all there was above the ground was a small structure. We could never guess that this small entrance would take us 35 meters underground into the lava tube. The lava formations plus the entertaining guide made this ISK. 3250 tour (as opposed to ISK. 19500 for the crystal cave) worth every kronur. The climb down is fairly easy. Unless you are claustrophobic, there is no reason to not do it! Day trips to the Lava Caves will set you back about $230 if you don't have your own transport.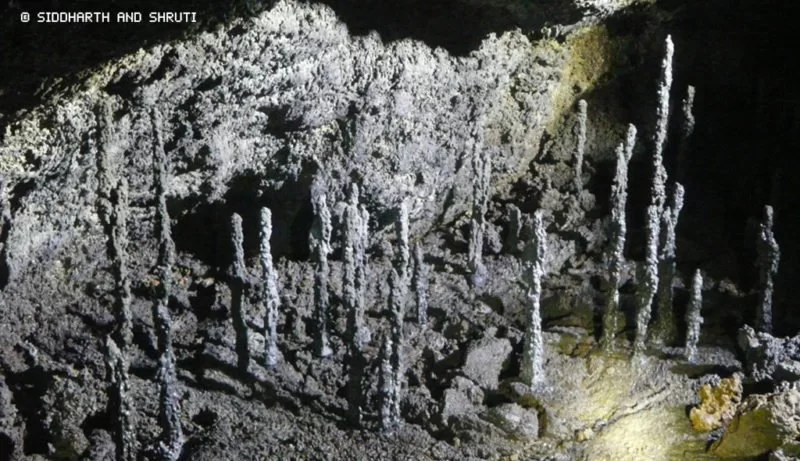 Drive the Reykjanes Peninsula
Suggested by Robin of LifeEducationTravel
The Reykjanes Peninsula offers stunning craters, moss covered lava fields, rugged cliffs, black sand beaches, ancient settlements, and geothermal activity all within a short distance from Reykjavik or the Keflavík airport. The landscape changes rapidly as you explore the different areas ­– all are dramatic and extraordinary. The mud bubbles and the ground hisses on the Reykjanes peninsula. You can watch the powerful North Atlantic Ocean crash into the coastline creating an impressive spray or even walk between the Europe and North America continents! The museums on the peninsula reveal the rich history, art, and folklore of the area. Legend even says Gunnuhver, a female ghost, was laid to rest there. If you are in Iceland for a short time the Peninsula is great because of its easy access, but you could also spend several days exploring the area. Either way, you are guaranteed to be left wanting more and planning what you want to see "next time".
Glacier Hiking
Suggested by Jurga from FullSuitcase
Glacier hiking is without a doubt one of the must-do activities in Iceland. Forget the ice caps you had seen in the Alps, the glaciers in the Arctic are completely different. Icelandic glaciers are synonymous with frozen rivers, ice cliffs, and deep crevasses. That's also the reason why you should never attempt a glacier hike without an experienced local guide. That being said, the walk on the glacier is fairly easy. Equipped with crampons and ice axes you step into the most majestic scenery and immediately feel the vastness and the power of a living glacier.
Some glacier tongues in Iceland are easily accessible the whole year round, so walking on a glacier is an activity that can be done in any season. Here you can read more about glacier hiking in Iceland. Check out some incredible Glacier Hiking day trips here.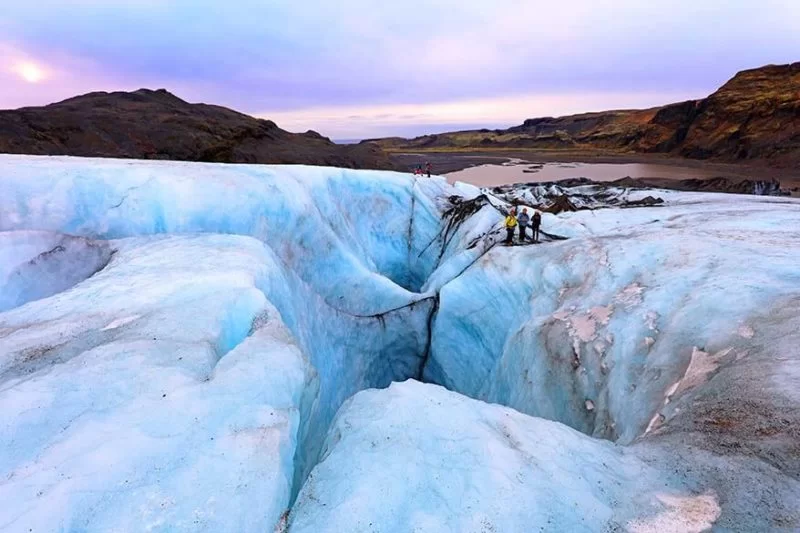 White Water Rafting the Hvítá River
Suggested by Jenna from WanderTheMap
The Hvítá river in Iceland offers river rafting adventures on Class I and Class II rapids. To get down the Hvítá river, you can hop in either a larger 4-8 person raft or a small 2 person canoe—it just depends on how daring you want to be! This river is fed from the Langjökull glacier and is located upstream from the powerful waterfall, Gullfoss. The rafting tour lasts around three hours, and you will be shuttled from basecamp at Drumbó to the starting point around 20 minutes upriver. Midway through your paddle you have an opportunity to stop along the rocky cliffs of Brúarhlöð canyon for a cliff jumping break before continuing down the river. After making your way back to basecamp, you have the option for a sauna, beer tasting, and a grilled lamb meal to end your day. The Hvítá river provides the perfect introduction to white-water rafting, and is an Icelandic adventure that's not to be missed!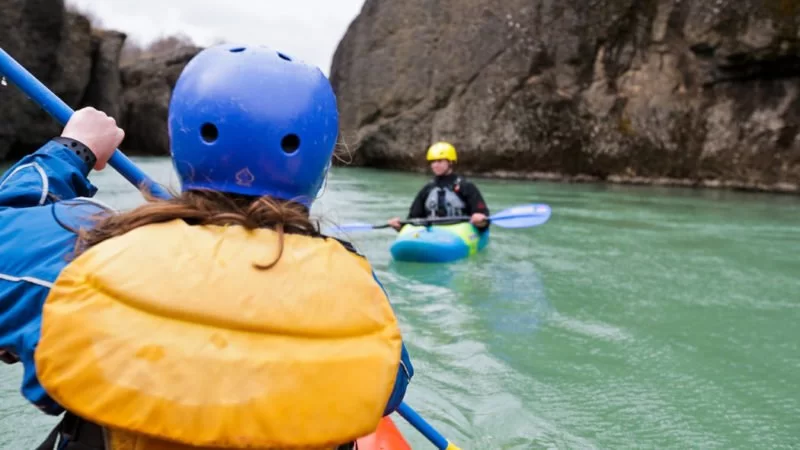 Explore some ice caves
Suggested by Taryn from Happiest Outdoors
Iceland is known as the land of fire and ice, thanks to its glaciers and volcanoes. And if you're visiting in winter, you can't miss visiting the glacier ice caves in Vatnajokull National Park. (You can only visit the caves in the winter when they are frozen – in the summer they are closed since they are full of water.) The only way to visit the ice caves is on a guided tour. You'll get equipped with helmets and crampons, then trek across the glacier into the cave. The light in the cave filters through the blue ice, which glows like a crystal. That's why the caves are also sometimes called the Crystal Cave. The glacier caves are located a 5-hour drive from Reykjavik near Jokulsarlon glacier lagoon, so plan on spending a few days in the area. A full day trip to the ice caves might set you back $300, but it's an experience you'll never forget.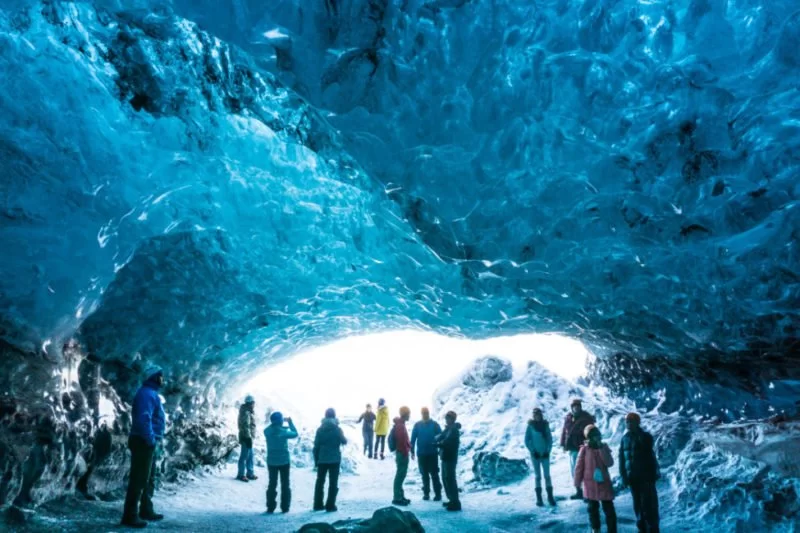 Glamping in the wild
Suggested by Nathan from Foodie Flashpacker
Not only was glamping one of the most fun things we did in Iceland it was also the cheapest night of accommodation we had during our time in the notoriously expensive country! Our cabins were situated on the side of a small mountain in a glamping park. The interiors had two beds and even a chandelier!
It was nice being able to wake up in Iceland's incredible nature in upscale sleeping facilities. Even though we were visiting in the summer I feel the temperatures would have been too cold to sleep outside in an actual tent. This was the perfect compromise!
The only (small) downside was that the glamping cabins didn't have private bathrooms, instead there was a shared facility. It was all part of the experience though. I would gladly go glamping in Iceland again- it was a fun and memorable experience!
Scuba diving the Silfra fissure
Suggested by Kevin from The Wandering Wagars
Located within Iceland's historic Thingvellir National Park is one of the world's most sought-after SCUBA diving sites – the Silfra fissure. The Silfra fissure is divide down the center of Iceland where the North American and European tectonic plates are slowly tearing apart at a rate of 2 cm per year. While you won't find colorful fish or brilliant corals in Silfra, the cliff walls are flowing with bright green algae called "troll hair that adds an otherworldly dimension to the rocky edges. Not only does it offer some of, if not the purest, water on Earth; it is the only place in the world where you can dive between two continental plates.
Due to the frigid (2°C – 4°C year-round) waters, diving Silfra fissure requires the use of a dry suit. The dive itself is good for beginners if you don't mind a little numbness from the cold on your face, fingers and toes. It also isn't necessary to have dry-suit certification or experience beforehand, although it does help.
Also suggested by Jen from Made All The Difference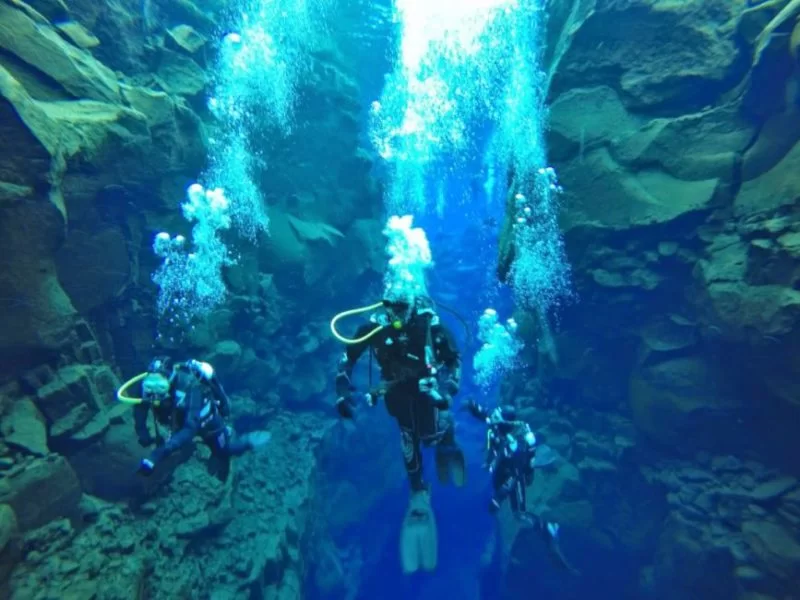 Chase the Northern Lights
Suggested by Roma from Roaming Required
The Northern Lights are easily one of Iceland's biggest draw cards. Elusive and unpredictable, the phenomenon is the result of electrically charged particles from the sun colliding with the Earth's atmosphere, resulting in displays of bright, colourful light dancing across the sky.
When 
adding the Northern Lights
 to your Iceland itinerary there's a few things you should consider. There are no guarantees but you can boost your chances of seeing the aurora borealis. Visit between November and March for ample darkness of the night sky, stay as long as you can (2 days might not be enough), and keep an eye on the ever-changing weather. A tour company can't guarantee the appearance of the Northern Lights any more than you can, so if budget is an issue, consider driving out of the city lights and just wait. You never know, they may just grace the dark sky before your very eyes. 
Check prices for Northern Lights tours here
.
Want to sleep under the Northern Lights? You need to check into the one and only Ion Adventure Hotel – where the glass roof lets you sleep under the stars.
Snowmobiling on Mýrdalsjökull Glacier (Winter activity!)
Iceland is one of those places with beauty beyond belief – Its landscape is so hard to comprehend… Unless you see it from the top of a glacier of course!
Situated in southern Iceland – about a 2-hour drive from Reykjavik – is Mýrdalsjökull glacier. The 4th largest ice cap in the whole of Iceland, covering nearly 600km² of land and reaching almost 1500 m in elevation. For those wanting to participate in the experience of a lifetime, it's here that you can drive a snowmobile to the top of this ginormous piece of ice! The experience begins by gearing up, boarding a huge glacier truck towards the top of the mountain, and simply buckling in for the ride of your life. At the top, the views over Southern Iceland are simply beyond words. To put it simply, this is an adventure of a lifetime that you really cannot miss!
Cost of this awesome adventure? About $250 with Viator on a day trip.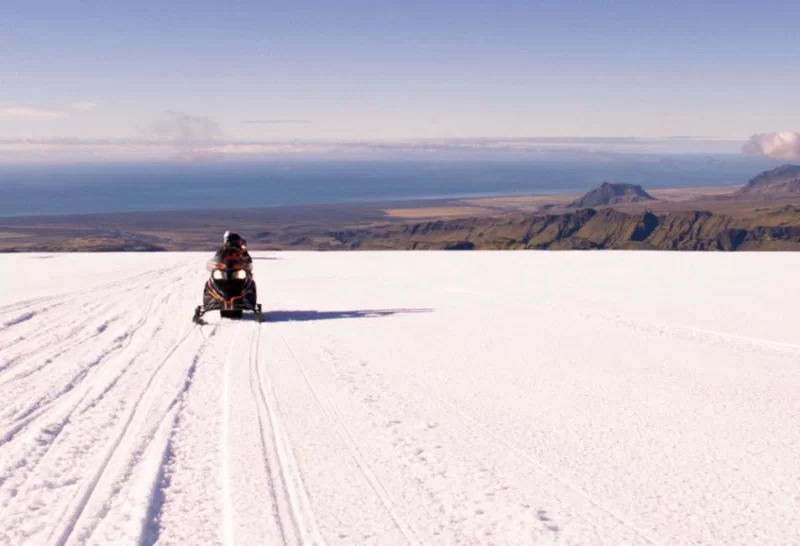 Horse Riding in the highlands
From multi day tours which will take you deep into the Icelandic highlands, to short day trips through the outback, Horse riding is a unique way to experience the incredibly scenic country.
Iceland's most specific breed of horses arrived with the Vikings. Though lacking the size and speed of Arab horses, they have a unique gliding gait, called "tolt", used for moving softly over the rough terrain. Horse riding tours today follow the ancient riding trails which have allowed even the earliest Viking settlers to travel cross country. Enjoy utter solitude in the wilderness and long hours in the saddle as you develop an intimate connection with nature. Many riding schools and farms offer excursions.
Things To Do in Iceland – Unique foods
Taste some Viking Sushi
Suggested by Kavey Eats
I love a good boat excursion as much as the next person. It's lovely to sail away from land into the open sea, smell the salty brine air as it whips your hair about your face, and enjoy the occasional squawk of seabirds as they go about their birdy business. But one Iceland tourist boat operator has discovered the way to many of our hearts is through our stomachs, upping the game with their Viking Sushi trips. Your excursion first heads out to nearby islands, with commentary about fascinating local legends and a visit to a colony of black-legged kittiwakes. But then the real magic happens!
The crew lower a small fishing net, briefly plough the ocean bed and winch it back up. Its contents are quickly spilled out across a worktop and the crew get to work opening scallop shells and sea urchins; greedy tourists take turns eating plump, sweet scallops and fresh urchin roe straight from the shells. A little soy sauce is available for those who'd like it, but the molluscs are so fresh and sweet, they don't really need it. Definitely the most delicious boat tour I've ever taken! Seatours operate their Viking Sushi tours throughout the summer, out of Stykkisholmur harbour in the North West of Iceland.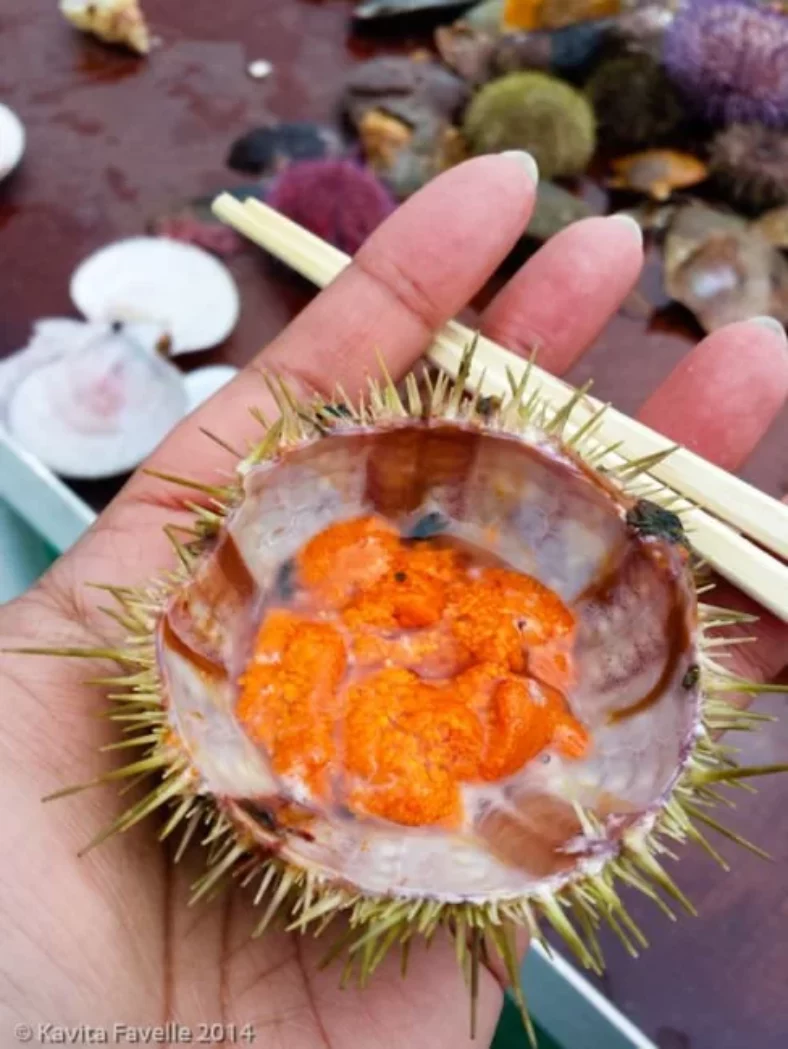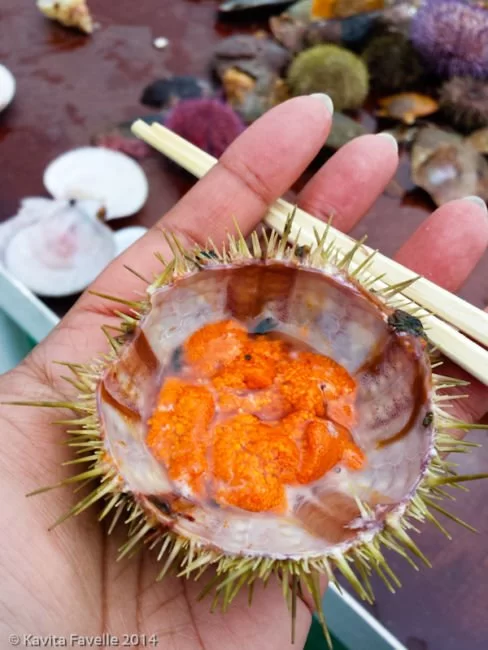 Eat an Icelandic Hot Dog
Suggested by Lisa and Eric from penguinandpia
If you're in Reykjavik, you must try the world famous Icelandic hot dog at the most famous hot dog stand! Baejarins Beztu Pylsur is a tiny stand in Reykjavik's downtown core that has been serving up hot dogs for decades. In English, the name means "the town's best hot dogs". Celebrities like Metallica have eaten there in the past! So, what makes this hot dog so special? It starts with the meat – a mix of lamb, with beef and pork – organic to Iceland. The bun is steamed to perfection. Finally, they (traditionally) top it off with raw onions, crispy onions, and sauces, including an Icelandic version of mustard. You can order it this way like a local by saying "ein með öllu". If you're hungry, you may want to order two – and don't forget to bring smaller bills!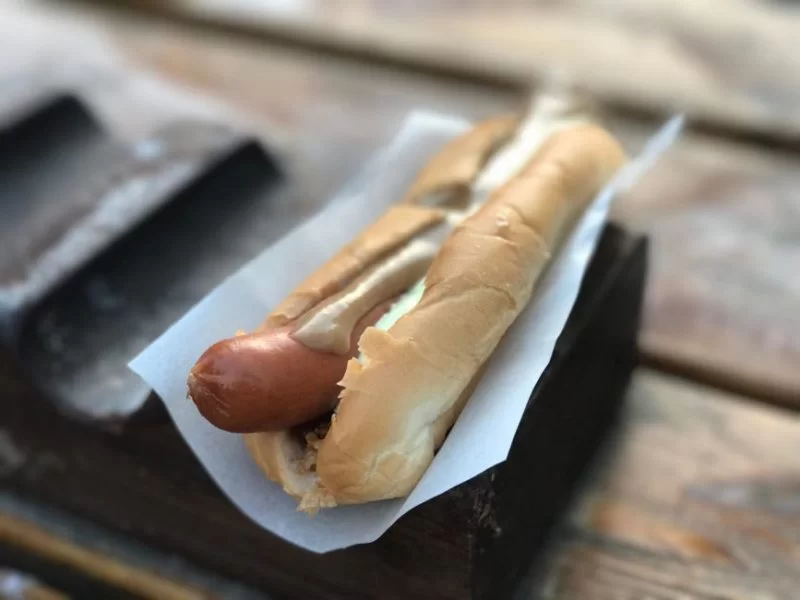 Eat Thunder Bread
Suggested by Suzanne from The Travelbunny
One of the most unusual things to do in Iceland is to have a geothermal bake off. Thunder bread is a delicious bread which is baked underground in a thermal spring. You can see how it's made for yourself at Laugarvatn Fontana, a geothermal spa with sauna, pools and restaurant.
Sigurdur Hilmarsson (Siggi), manager and chef showed us how to make Icelandic Thunder Bread from a recipe handed down by his grandmother. After the dough is made he wraps the pot of bread up in waterproof layers and buries it by the lake in the thermal springs. The bread takes 24 hours to cook.
You won't have to wait that long to try it because Siggi then digs up yesterday's bake which he slices up and serves with salmon and other tasty Icelandic nibbles. Thunder bread is very dense, moist and has a slight caramel taste. It's delicious and and authentically Icelandic.