Mountains have called out to us time and time again. Nepal is particularly special for its access to the Himalayas; home to many of the world's largest peaks and best trekking routes. Many people know the tallest mountain on the globe – Mount Everest, but few realize there are so many other mystical beauties to trek amongst. Hiking in Nepal is an unforgettable experience that every adventurous traveller must try – but it's imperative to be prepared and know what lies ahead! Nepal is the perfect landing spot to explore a whole range of world-class trails, no matter what level of skill you currently possess.
Tourism dipped quite a lot after the devastating earthquake Nepal experienced a few years ago, but there are many areas unaffected and Nepal is making great efforts to rebuild and trekking routes, temples, and hotels that were affected or destroyed. The best way to help them recover, and to support the people of Nepal is to book a flight there and explore this incredible region!
Whether you decide to trek to Everest Base Camp, the Annapurna Circuit, or Langtang Trek, or the many other routes available as detailed in this post, here are 15 practical tips for hiking in Nepal to help you prepare for your upcoming adventure.
Hiking in Nepal – 15 Practical Tips To Prepare
1. Expect the unexpected
While this applies to travel in general, it is especially important in preparing for an outdoor adventure. Do not let yourself be caught off guard by the harsh elements of nature, injury, sickness, and elements out of your control. For the safety of yourself and your trekking companions, make sure you are well-informed of the route each day, have a backup plan, travel insurance, and first-aid.
2. Build up and reinforce your immune system
When you're traveling in a LDC (least-developed country), you might find that sourcing clean drinking water might be difficut, and this is especially the case when trekking in Nepal In addition to this, your gut flora might need some time to adjust to the Nepalese microbiome. The last thing you'll want is to have stomach issues while you're trekking in remote mountainous regions. Take probiotics beforehand to strengthen your gastrointestinal tract and bring extra vitamins, charcoal pills, and medicine to prevent and treat any issues that may arise. Drink as much fruit and vegetables before going because you won't find much on the trails.
Food on the trails can be really basic, involving noodles, rice and maybe some sort of bread. You won't get much nutrition so stocking up on vitamins and some extra energy bars is advisable.
3. Bring a water filtration system
Along the same vein of bolstering your immune system, you might find that sourcing clean drinking water may be a factor you'll encounter while trekking. It's safest to bring two forms of water filtration, such as LifeStraw and purification tablets as a backup. While there are some safe drinking water refillable stations on the trail, this is not guaranteed every step of the way. Plastic water bottles are also sold in some villages along the trail, but sadly there is no way to recycle or dispose of the bottles once used. Practice safety hygiene, resourcefulness, and save money by treating your own water.
4. Hire a guide or porter to enhance your experience
Being a guide or porter is a respected profession in Nepal, and is the main livelihood for many people. A guide can help translate and explain special nuances about culture, religion, nature, and the route that you might overlook if traveling on your own. A porter can help alleviate the weight of some of your belongings, and in certain instances, can also help with translation or light guiding, depending on their experience. Hiring a guide and porter will make hiking in Nepal a much more enjoyable experience!
5. Expect to go several days without a shower
Life on the trail isn't always glamorous and sometimes a hot shower isn't necessarily available in every hut or teach house. Many don't even have running water and are really basic, especially the higher up the mountain you get!
Help yourself bridge the shower gaps by using hygienic wipes and eco-friendly and biodegradable soap bars whenever you get the opportunity. Of course, everyone else on the trail is probably in the same situation, so no need to feel self-conscious if you start feeling like a grease monkey!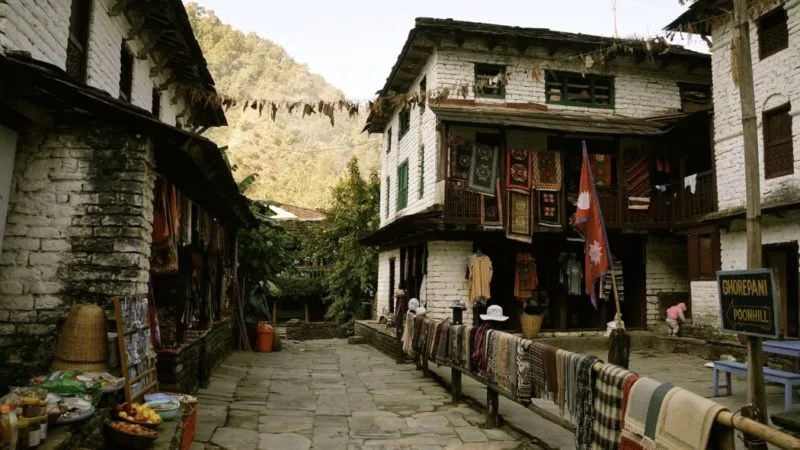 6. Download offline maps to your phone
Google Maps and Maps.Me are two applications you should have if you're trekking in Nepal. Having a map can save your life if you happen to go off-trail and get lost. It's also helpful to check in on your progress or see which villages are nearby in case you need to stop for supplies or want to visit a special site.
7. Pack light; less is more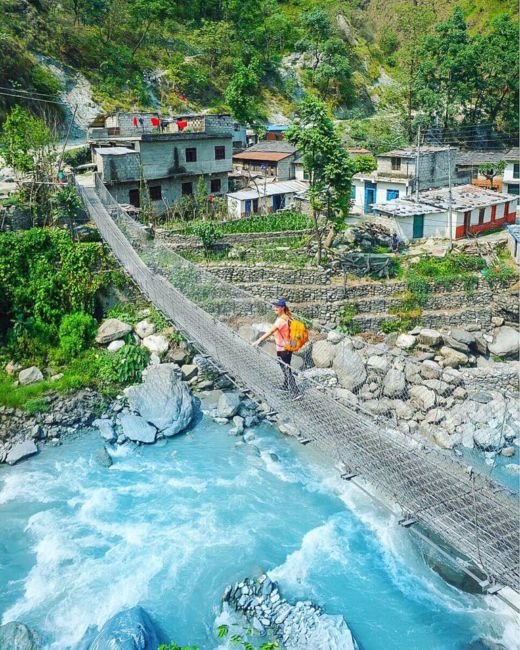 Every ounce of gear that you carry will take a toll on your body. Think of creative ways to shave off weight, such as using a thin plastic comb instead of a hairbrush, sharing a small toothpaste with your trekking buddy, re-wearing clothing, consuming lightweight snacks, ripping out pages in books when you're done reading/using them, or buying multi-functional items only.
8. Spend a few days in Pokhara
If you plan on trekking in the Annapurna Conservation Area, Pokhara is a great place to begin and end your trek. Unlike the chaos of Kathmandu, Pokhara has a decidedly calmer air about it with beautiful sites to visit such as the Barahi Temple on Phewa Lake or the Shanti Stupa overlooking the city. This area can also get lively during peak trekking season, with each restaurant and hotel filling up with adventurers. The chilled out city is also listed as one of the top places to visit in Nepal for adventure lovers, and is also a great base if you want to go rafting on one of the many fast flowing rivers.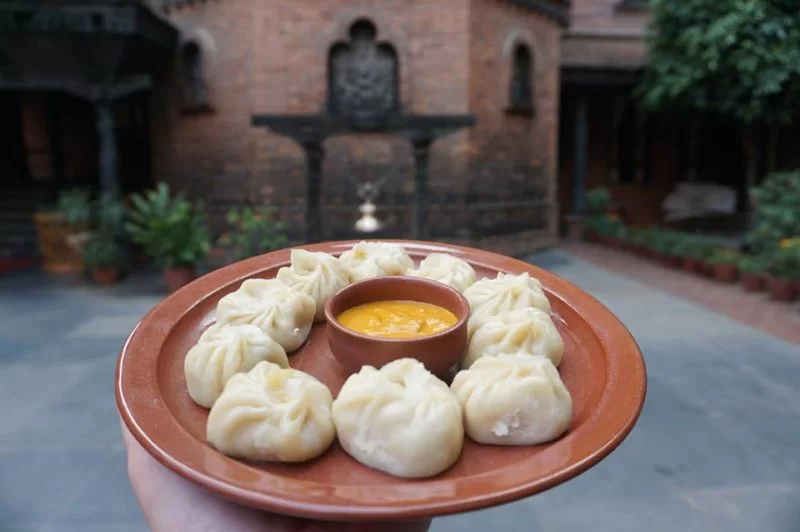 9. Bring a battery pack with multiple charges
In certain places along the trail, you might not have access to power to charge your electronics. Sometimes, the only outlet available is in the common area, costs money to use, or isn't available at all. There's nothing sadder then lamenting over a dead phone that can't capture all of the precious memories you are creating in the mountains. If you are traveling during a cold season, be sure to keep your electronic batteries warm at night by putting them into your sleeping bag to avoid drainage.
10. Don't let your blisters get the best of you
Unless you've got the seasoned feet of a mountain goat, it's highly likely you'll develop some sort of blister or foot ailment after trekking for multiple days. Bring extra band-aids, blister care remedies, and proper trekking socks that will prevent rubbing. Keep in mind that your feet swell when you are active, so you may need to go up a half or full size with your footwear. It's also best to make sure you have comfortable water shoes for hiking to ensure your feet stay both warm and dry during your trip.
11. Trekking poles are incredibly useful
It might seem odd to use trekking poles if you've never used them before, but they're worth buying especially if you are going on a long-distance trek. Trekking poles can help distribute some of your weight, improve balance, help on difficult ascents, be used as a probe, and can even help you keep a healthy walking rhythm. You don't have to invest a fortune in them, although paying more will give you a pair made from quality, lightweight materials.
12. Buying gear from home is the best bet
The most trekking gear can be found in Kathmandu in Thamel, which is the main tourist area. Pokhara also has lots of adventure gear shops, and you will also be able to find small shops in major towns along the trail. However, it's best if you source your gear beforehand to ensure you will have the best fit and quality (especially if you're a woman). Knock-off The North Face brand apparel is particularly popular, so don't be surprised if you walk into a shop to find synthetic jackets at a fraction of the average price.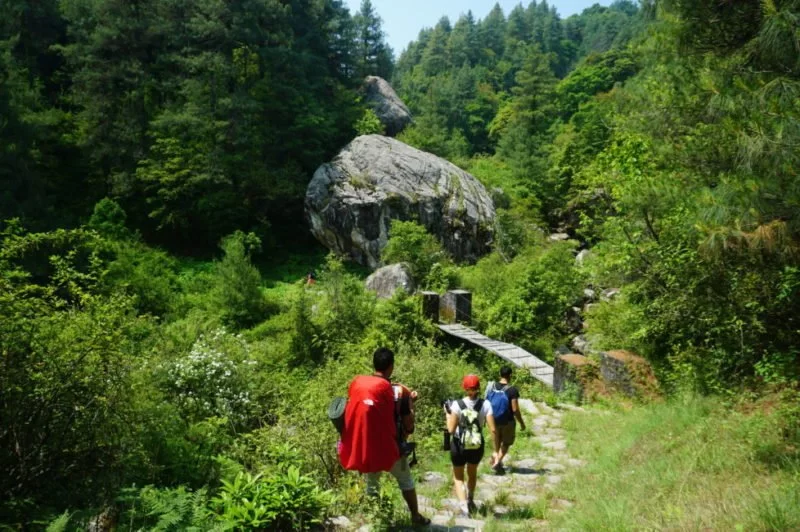 13. Consider getting microspikes
Microspikes are useful for improving traction on icy trails. They're helpful even if you only end up using them for one day. Slipping on ice can lead to a range of injuries, which is compounded by the extra weight you're carrying in your backpack. Inexpensive microspikes sold in Nepal work quite well and should cost around 800 Nepalese Rupees in Kathmandu.
14. Bring all of the cash you're going to need
You might not have access to an ATM machine depending on where you go. It's better to assume that you won't have one and to bring enough cash to float your lodging, food, snacks, gear, and emergencies. In order to get a sense of your budget, determine what kind of person you are– are you going to order dessert, tea, and coffee with every meal? Bring more so you can splurge! If you plan on trekking frugally, you may be able to get by with 2000 – 3000 NPR per day depending on the season and other money-saving practices such as sharing rooms. Talk to your guide or ask other trekkers who have just finished their treks how much they spent on average.
15. Make time to explore
You've heard the saying, "it's not about the destination, it's about the journey". This couldn't be truer on the trail. Build a flexible itinerary that will let you stop for leisurely lunches in charming villages, side excursions, or temple visits. Building in rest days is especially important if you plan on doing long-distance trekking to let your body recharge. You might also want to spend an extra day or two in a village or town that speaks to you. Enjoying each day along the trail is just as important as the special day you cross that mountain pass or get to the base camp you've been working towards. Spending some time in Kathmandu at the start and end of your trip is also a must!
About the author
Crystal Le is a transformative travel and adventure travel blogger who writes at The Petite Adventurer. Trekking in Nepal was one of her most special experiences to date throughout her many travels around the world. You can find out what her mom is giving a disapproving head shake to by following her Instagram, Twitter, or Facebook page.