Of all my travels over the past few years, Nepal was by far the biggest adventure. Signing up to do a 5 day trek with little to no training, sleeping in traditional home stays or mountain huts and eating nothing but Nepali food everyday was quite the experience! As I visited this enchanting country with a group of other travel bloggers and writers as part of Himalayan Travel mart 2018, I've roped them in to put together an ultimate list of the best things to do in Nepal, as voted by us! Have something to add? Leave a comment!
Cover image credit: Bobo and ChiChi
30 EPIC Things To Do in Nepal
30. Fly in a Helicopter over the Himalayas
Suggested by Mar from Once in A Lifetime Journey
I flew over the Himalayas on one of the daily scheduled flights and seeing the mountains from the sky was so beautiful that I had to get closer. But the only other way to get close to Base Camp other than by trekking was to
hire a helicopter
.
So I set off on a mission to find a company that would fly me and my friend to Base Camp, let us get off, take a picture and stop at Everest View Hotel on the way back to enjoy the view!
Tourism use was rare at the time and so it was very expensive. We started negotiations at $10,000 for the entire helicopter and since we could not find anybody else at such short notice it was going to be split among the two of us only. We did manage to bring the cost down significantly but it is still one of the most expensive experiences I have ever booked myself into, by oh so worthy.
The helicopter stopped at Lukhla on the way to Base Camp to drop weight and for the pilot to set up his oxygen mask. As we climbed up, seeing the trekking paths below us, the terrain started to change until we could see the permanent glaciers and finally, base camp in the distance.

The helicopter stoped on a ledge above camp and we got off at below freezing temperatures. It was incredible to see the mountain just in front of us.
29. Paragliding in Pokhara
Suggested by Nathan from Foodie Flashpacker
Paragliding in Pokhara
is a must do when you visit

Nepal

. I unfortunately missed it during my first visit so when I returned, I knew this time there was no way I was leaving without having the experience!
Pokhara is the ideal place to paraglide for many reasons, two of the biggest being the incredible scenery you'll experience and also the cost, with

Nepal

being one of the most affordable places in the world to try paragliding. The tourist agencies in town seem to have a fixed price, so just find one you are comfortable with to book.
As for the scenery, when you and your pilot launch off the side of the mountain, you'll float above Lake Phewa. The view from above really is stunning, with mountains in the distance and the lake below. Be sure to make time to experience paragliding during your visit to

Nepal

!
28. Hike to Tilicho Lake
Suggested by Natalia from My Trip Hack
Tilicho Lake is one of those breathtaking sites in the world that hasn't been impacted by the mass tourism. Being surrounded by snowy mountains it is possible to reach the lake only by foot.
Though Tilicho Lake is a three-day side-trek from Annapurna Circuit route, you need 4-5 extra days in the beginning for gradual acclimatization. It is possible to start the journey either from Manang or Jomsom – both are the villages on the Annapurna Circuit trail. If you start from Jomsom, you will need a qualified guide for camping in the mountains.
Tilicho base camp (4200m altitude) is the last point where you can find food, accommodation and other basic support you might need. The climb to the lake is steep and challenging, though the views from the top are totally worth the effort.
Tilicho is the highlight of my several trips to Nepal and I definitely recommend visiting it!
27. Light trekking in Kathmandu Valley
Suggested by Mariellen from Breathe Dream Go
What do you think of when you think of trekking in Nepal? If images of breathless hikers battling high altitude passes and sudden snow squalls come to mind, there is another way! You don't have to brave tough terrains to trek in Nepal. I went on a three-day trek in the Kathmandu Valley and never had to ascend higher than about 1,750 metres, the height of the beautiful Namo Buddha monastery.
We started out from Kathmandu by bus, and after only about an hour or two we were in the foothills that ring the Kathmandu Valley. Here, the air is not only much fresher and cleaner than in the city, you can also see the great white peaks of the Himalayas lining up like foot soldiers in the distance.
We walked from about two to five hours each day, through charming villages, past bright green rice paddies, and up a couple of fairly steep hills to get to our accommodation. We stayed in an eco lodge the first night, and a Buddhist monastery the second night. It was the perfect combination of movement, culture, and astounding views.
View this post on Instagram
26. Everest Base Camp Trek
Suggested by Sarah from A Social Nomad
It would (in my view) be a crime to come to Nepal and not go trekking. The people and the landscapes are incredible. There is literally a breathtaking view around every corner. The most famous of treks is the trek to Everest Base Camp at 5364 metres from the airport of Lukla at 2,800 metres. The trek is around 110 kilometres, depending on the route that you take (and there are several), the standard route will take around 14 days.
The trekking itself is NOT difficult, but at these altitudes, you'll need to acclimatise appropriately. There are stunning monasteries to see at Pangboche and Tengboche, there are schools and hospitals that were built by Sir Edmund Hillary.
Getting to Everest Base Camp and back again safely is a massive achievement and a personal life goal for many. It's well worth the effort.
If you have the extra energy, do ascend Kala Pattar at 5,545 metres from Gorakshep, you'll get amazing views of Everest and Base Camp.
25. Visit the border town of Janakpur
Suggested by Rohan from Travels of a Bookpacker
Often left off people's Nepal itinerary is the bustling border town of Janakpur. The town is an off the beaten path area of Nepal but it is a good stop for heading further East and is home Nepal's largest temple which alone is worth the trip.
The Janaki Mandir is a huge Hindu temple dedicated to the god Sita as she was believed to have lived in that area. The temple complex consists of an outer square and the actual temple inside a courtyard. The whole complex is brightly coloured and adorned with turrets, ornate windows and intricate paintings.
Entrance to the temple is free and inside there is also a museum (ticket costs 10 INR) dedicate to ancient paintings and a slightly odd but interesting depiction of the wedding of Ram and Sita told through electronically moving puppets. There are very few foreign tourists at the temple so expect a lot of interest from local pilgrims.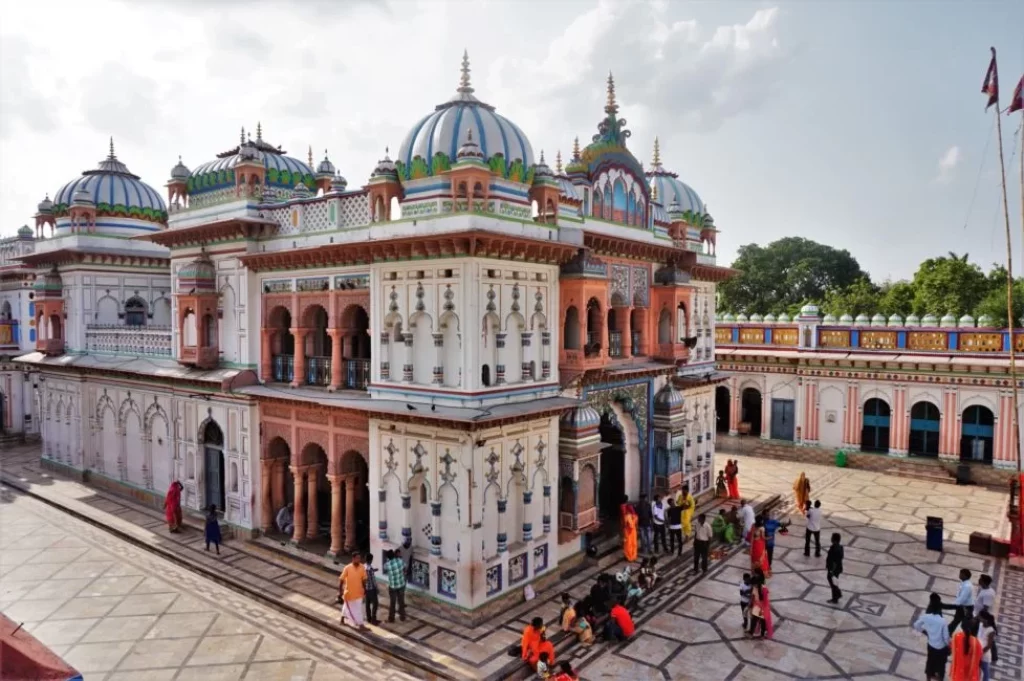 24. Sunrise from Mohare Donda
The pinnacle of my 5 day trek in the Annapurna Region, officially known as the Mohare Donda trek and a nice alternative to the very populat Poon Hill Trek, was watching sunrise from the Mohare Donda peak at 3,300 meters. The weather had been clear and sunny for the entire trek but not clear enough to see any of the main mountain beauties on our way up.
When we finally reached the summit at the end of day 3, we were devastated to be up above the could and inside the cold, mountain mist. Luckily when we woke up at the crack of dawn, cold from a tough night with little sleep, we were greeted by one of the most spectacular and memorable sunrises of my life, watching the suns rays shine their light on Dhaulagiri and Annapurna South, two of the tallest mountains in the world. The view is ALWAYS worth the climb….once the clouds pass!
View this post on Instagram
23. Bakhtapur
Suggested by Amandine from Les Berlinettes
Before going to Nepal I was advised by friends to absolutely not miss Bakhtapur. To be honest when I looked online it did nit seem that impressive but I had some free time so I decided to give it a go. And I am glad I did.
Bakthapur was such a nice day trip from Kathmandu. It used to be one of the country's Kingdom until the middle of the 15th century and there is so much left from it. Even though the earthquake left a lot of damages in the ancient city, it is still like walking into a museum. I loved exploring the small alleys and observe its inhabitants.
View this post on Instagram
22. Longest Canyon Swing in the World
Suggested by Lisa from TheHotFlashPacker
The Last Resort, a camping resort on the Friendship Highway near the Tibetan border is the home of the longest Canyon Swing in the world. A pedestrian suspension bridge spans from the highway / car park to the resort so if you have a fear of heights you might not want to stay there. The very adventurous can jump off this bridge by either bungie jumping or by canyon swing. I recommend the canyon swing – you get a longer duration of freefall and have better views as you swing.
Unlike the bungie where the operators pull you back to the top after your jump, this one involves climbing a steep ladder and hiking back up the hill – hopefully your legs are not shaking after your swing. Other adventure activities can be booked at the Last Resort, including white water rafting and canyoning. Picture of me in the just before freefall, screaming as I jumped off the platform.
21. Eating momos
Suggested by Stuart from Go Eat Do
Momos are delicious and filling. They are a great example of the hearty, satisfying soul food that you tuck into in this Himalayan nation. After all, if you are trekking in the mountains you need the energy boost that they pack. Now widely available throughout Nepal, these neatly tucked steamed dumplings are reputed to have Tibetan origins.
Lightly spiced, you can find momos filled with minced meat, paneer cheese or a variety of vegetables. If you are dining as part of a group then you can always suggest ordering a selection to maximise experiencing their flavours.
If you take the chance to attend a Nepalese cooking class it's likely you'll quickly learn how to prepare momos. The dough is relatively simple to prepare. However, the rapid turns and deft flicks that are required to seal momos, and make them look appealing, are surprisingly tricky to master. However they look, devouring them is a joy.
20. Hike Mount Manaslu
Suggested by Somnath from Travel Crusade
Mount Manaslu is the eighth highest mountain in the world and is situated in the western segment of Nepal. It is a treasure for the nation as travellers come from different corners of the world to view its grandeur and majesty. Mount Manaslu looks majestic during the golden hours when the sun sets below the horizon. The Japanese were the first to conquer this mighty peak and it is situated on the frontiers of Western Nepal.
Mount Manaslu is a herculean task to climb but it is quite easy to get to the base camp of the mountain. Travellers and mountain lovers come from different corners of the world to capture the enigmatic beauty of the peak in their lenses. There are two projections on the top of this peak and some diversions around its surface.
There are some villages in the name of Samagaon region on the way to the base camp of the mountain. The entire route is through rhododendrons, forests and oaks and bamboos and breathtaking landscape of Nepal.
The total trek time of the region would be around 10 days depending upon the individual and his fitness level. It is advisable to plan the trek with the best possible trekking groups in the region.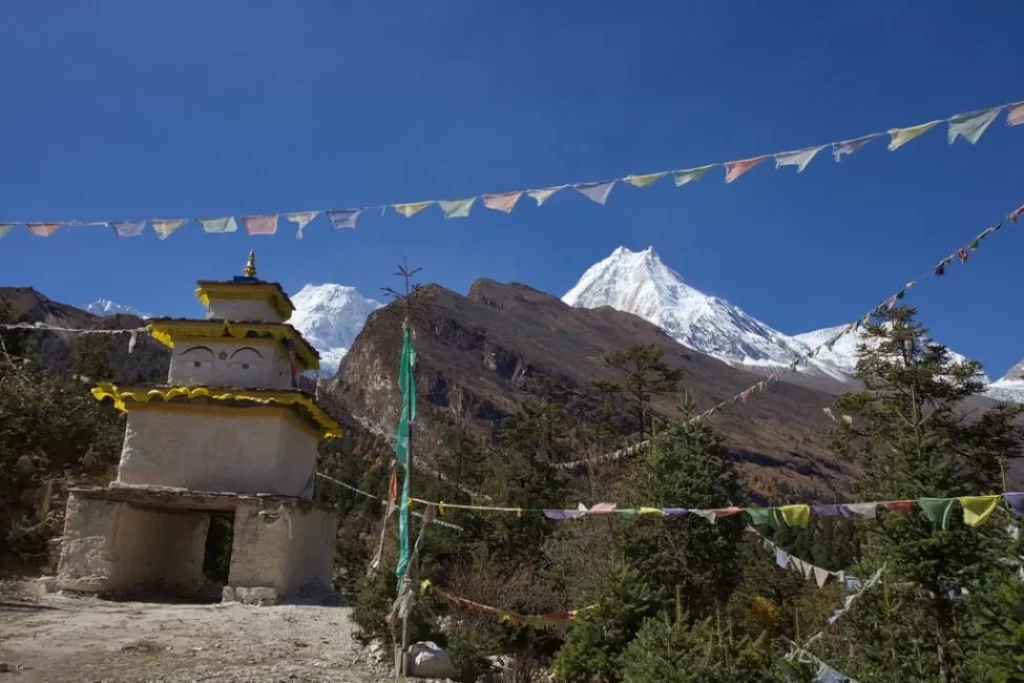 19. Visit Swayambhunath Monkey Temple
Suggested by Nisha and Vasu from Lemonicks
While there is a road access to the top, I strongly recommend climbing the steep steps for the best experience, if you are not afraid of heights. A pair of huge eyes is watching you as you climb and disappears as you gain height. The steps are a bit steep but many pilgrims make it a point to use the steps only and they hold on to the railing while huff and puff to the top.Swayambhunath temple is located on a hill about 3KM from Thamel.
This is one of the holiest Buddhist Temple in Kathmandu. Swayambhu means "exist on its own". So, this stupa is believed to have emerged on its own some 2000 years ago. The temple was built around the stupa in 13th century.
The first thing that you see when take the last few steps is a huge Vajra (Thunderbolt, weapon of the God Indra). By the way, be careful of the monkeys, who will try to snatch anything you have in your hand or pockets, including cameras, cell phones, snacks and such. It is also called the Monkey Temple for this very reason.

18. Ten Day Langtang Trek
Suggested by Andra from Our World To Wander
If you want to experience something other than the EBC or Annapurna treks, you should check the Langtang – Gosaikunda trek. It's an extended version of the classic Langtang trek that in 10 days will offer you some impressive views.
The Langtang area was one of the regions extremely affected by the 2015 earthquake, with one village completely swiped away by a massive landslide. However, the trail is now safe, and the teahouses have mostly been rebuilt. If you want some adrenaline, try climbing up Tsergo Ri (around 5,000m high), a half-day side trip from Kyanjin Gompa. From the top, you will be spoiled with jaw-dropping views over the Tibetan mountains.
And remember that Gosaikunda lake is a significant pilgrimage site in for Hindus, as they believe it to be the abode of God Shiva. And before reaching Gosaikunda lake, you will pass Lauribina, an excellent viewpoint over Himalaya's giants.
17. Nepal's First Infinity Pool
Suggested by Charles from McCool Travel
When I visited Nepal last year, many things surprised me. The prices, the people, and this pool! I was fortunate and happy to stay at Hotel Shambala in Kathmandu which has Nepal's first roof top infinity pool. In addition to providing a relaxing way to cool off (and clean off), the views are spectacular. One night, I sat up here and watched a lightning storm in the distance. OK, in hindsight, perhaps that was not safe.
The lightning was far in those mountains. Early mornings and evenings, it was interesting to look over the edge and watch wild monkeys climbing between buildings. But this pool is the highlight and definitely should be one of your Instagram spots on your next Nepal visit.
16. Godavari Botanical Garden
Suggested by Zheng from SwingAbroad
If you think that Kathmandu is just cultural buildings and chaotic traffic, you're so wrong. 19km south of the capital of Nepal lies an otherworldly beautiful Godavari Botanical Garden. Entering the well-managed compound makes you doubt yourself whether you're still in Kathmandu or not.
Godavari Botanical Garden spans over 72 hectares and is home to over 500 species of plants. Undoubtedly, it's often the top choice for locals for a weekend getaway and spend quality time with family and friends. During the spring season, flowers bloom like crazy along with Rhododendron arboretum, Nepal's national flower.
Godavari Botanical Garden is within reach by taxi for Rs500. But with bus, it's Rs50 one-way departing from Ratna Park near Thamel. Be prepared to spend a half-day there with lunch box in your bag as there are no food vendors inside the botanical garden. Perfect spot for a picnic!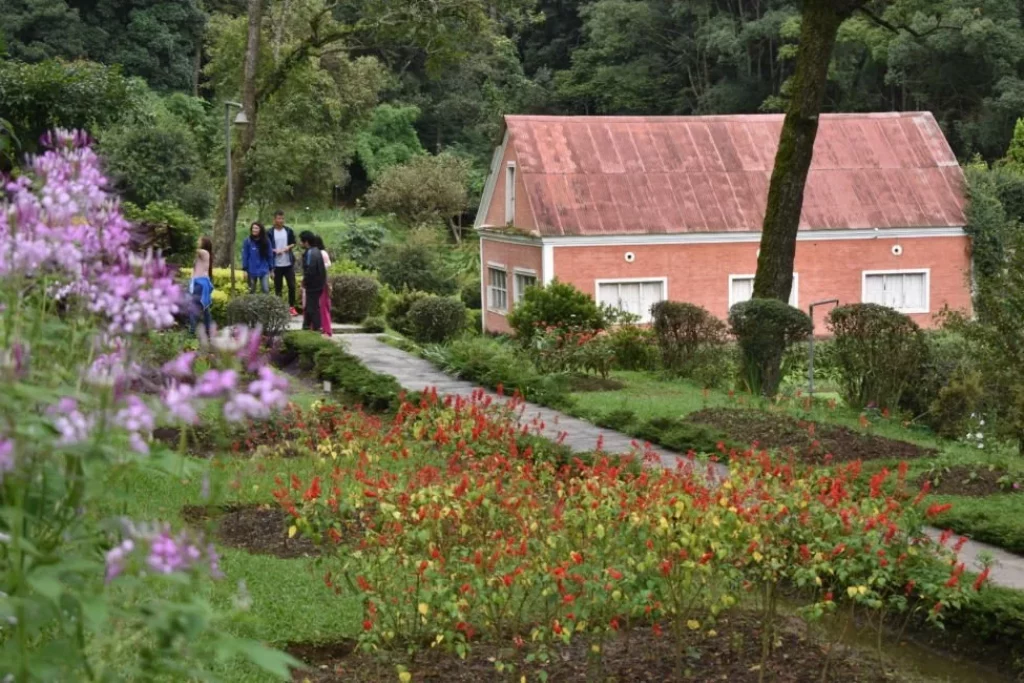 15. Poon Hill Trek near Pohkara
Suggested by Megan from Bobo and Chichi
One of the best things to do in Nepal is the Poon Hill Trek in the Annapurna Himalayas. What we loved about the Poon Hill Trek was basically you got a taste of the Himalayas in just a few short days. What intimidates many, including us, is that many treks in Nepal are super long, some are over 20 days long! That's a huge commitment and can be intimidating if you're not an avid hiker.
The Poon Hill trek is done in 4 days and 3 nights and gives you a great taste of what trekking in Nepal is like with rewarding views. The best part of the trek was waking up super early to get to Poon Hill for sunrise where you get to witness the Annapurna range wake up. We highly recommend this to anyone who wants to trek in Nepal but either don't have a lot of time or who are worried about committing to a much longer trek. Now we have had our taste and want to go back and do a longer trek!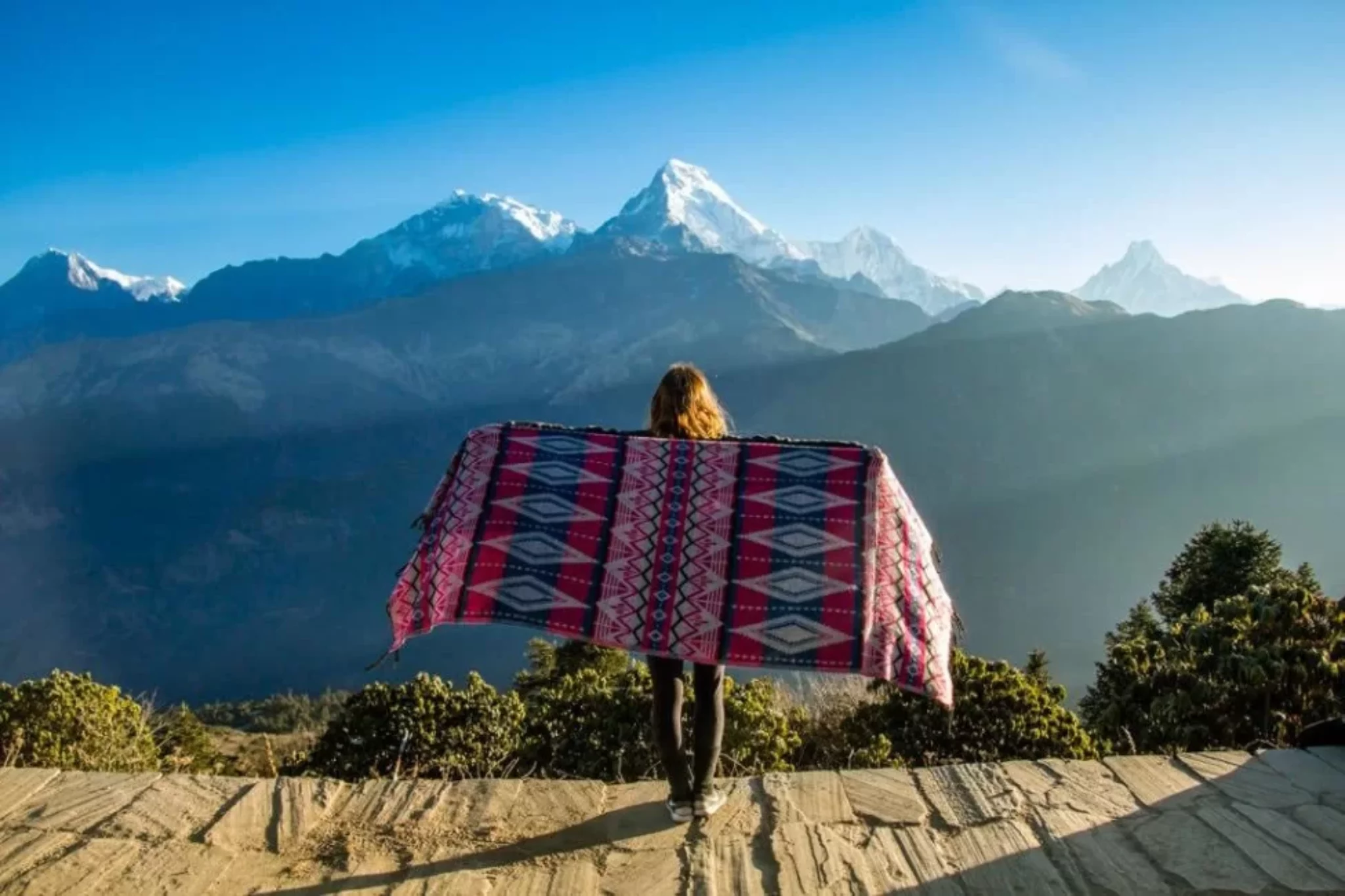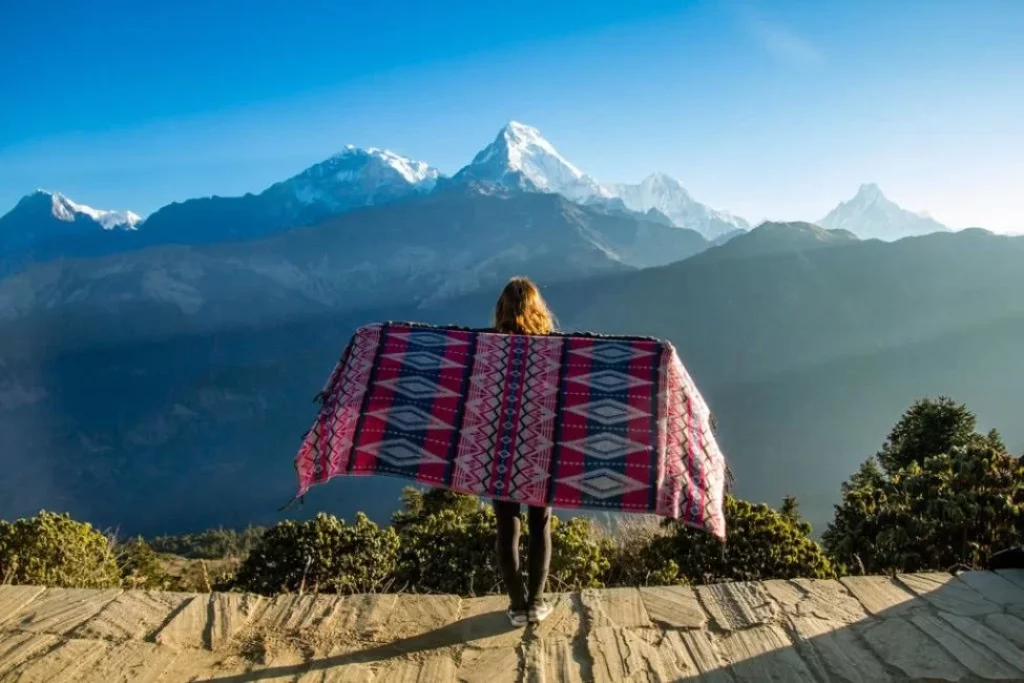 14. The Annapurna Circuit
Suggested by Kristin from Be My Travel Muse
The Annapurna Circuit out of Pokhara is one of the greatest adventures in Nepal, and it's one of the most accessible, as well. Similar t Everest Base Camp, this trek takes about two weeks, give or take, and is a teahouse trek, meaning that there are huts to sleep in each night. Most of them will offer rooms for 50 cents to $1 as long as you agree to eat breakfast and dinner there, so it's a great bargain, too!
The trail tops out at just over 5200 meters and is easy to follow if you'd rather go independently, though guides and porters are available as well for around $25/day each. For those who are interested in a trekking experience that's just as challenging as Everest Base Camp, but more beautiful and a bit more off the beaten path, take a look at the Annapurna Circuit, and tack on Poon Hill and Annapurna Sanctuary too if you've got the energy!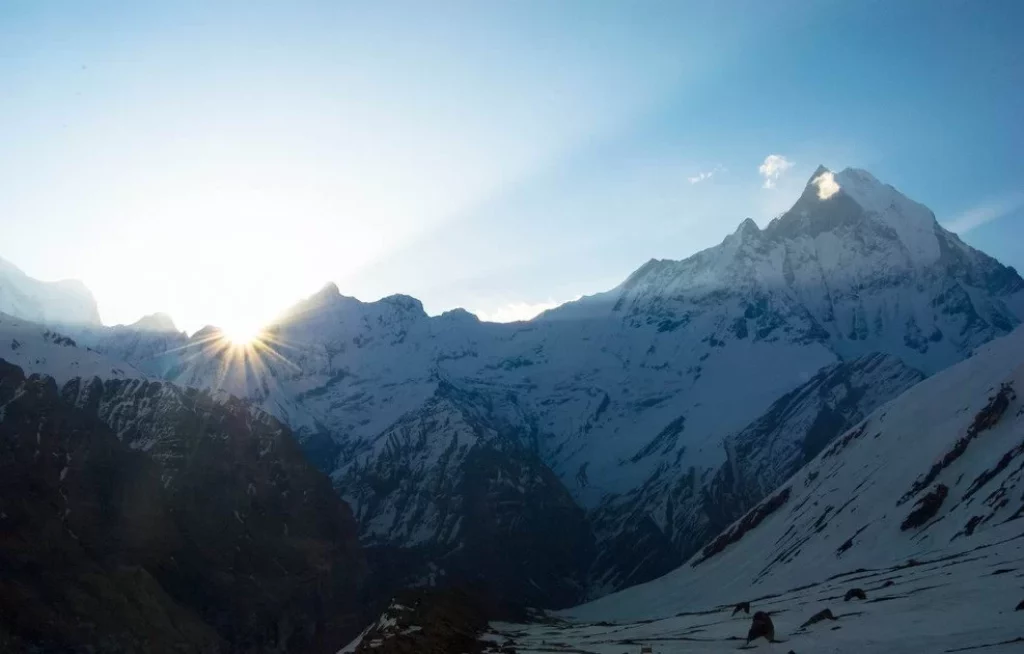 13. Pashupatinath Temple in Kathmandu
Suggested by Raul from ilivetotravel
On the eastern sector of Nepal's capital on the banks of the Bagmati River is the centuries-old Pashupatinath Temple – a UNESCO World Heritage site. It is more than a temple. It is a religious complex dedicated to the national deity of Nepal, Lord Pashupatinath, so it is very important in the Hindu faith and host to religious festivals and rituals. While some areas within it are restricted to Hindus only, visitors can enter the complex of temples, shrines and other structures. It is very manageable to walk around and explore.
Anyone interested in architecture or photography will enjoy the great architectural elements in the complex' structures. Heads up: part of the complex may be hard for those not used to religions with cremation rituals. The 'ghats' (platforms where cremations are performed) may be active during one's visit so be prepared for the sensory experiences that go with the cremations!
12. Food tour with Backstreet Academy
Suggested by Annika from Midnight Blue Elephant
One of my favorite activities in Nepal was a food tour in Kathmandu with Backstreet Academy. To me, food is such an intrinsical part of a country's culture and as it goes with humans, for me the love for a country also goes through my stomach.
In three hours you can explore the beautifully chaotic maze of Kathmandu's Thamel area with its Asan market, food stalls and tiny, hole in the wall eateries.
You will be grateful for your guide because those places are real hidden gems (it's not called a secret food tour for no reason!) and offer the best that Nepali cuisine has to offer including everybody's favorite: buffalo momos! In addition, you will try amazing fruit smoothies, Nerawi dishes, samoosas, lassi, and dahi puri.
While the tour technically only includes 5 dishes do come hungry because portions are plenty. Also, good shoes are important – Kathmandu roads are definitely not for the fainthearted or weak-kneed. Best of all? This 3-hour food tour will set only set you back $15 and you will eat enough for lunch and dinner!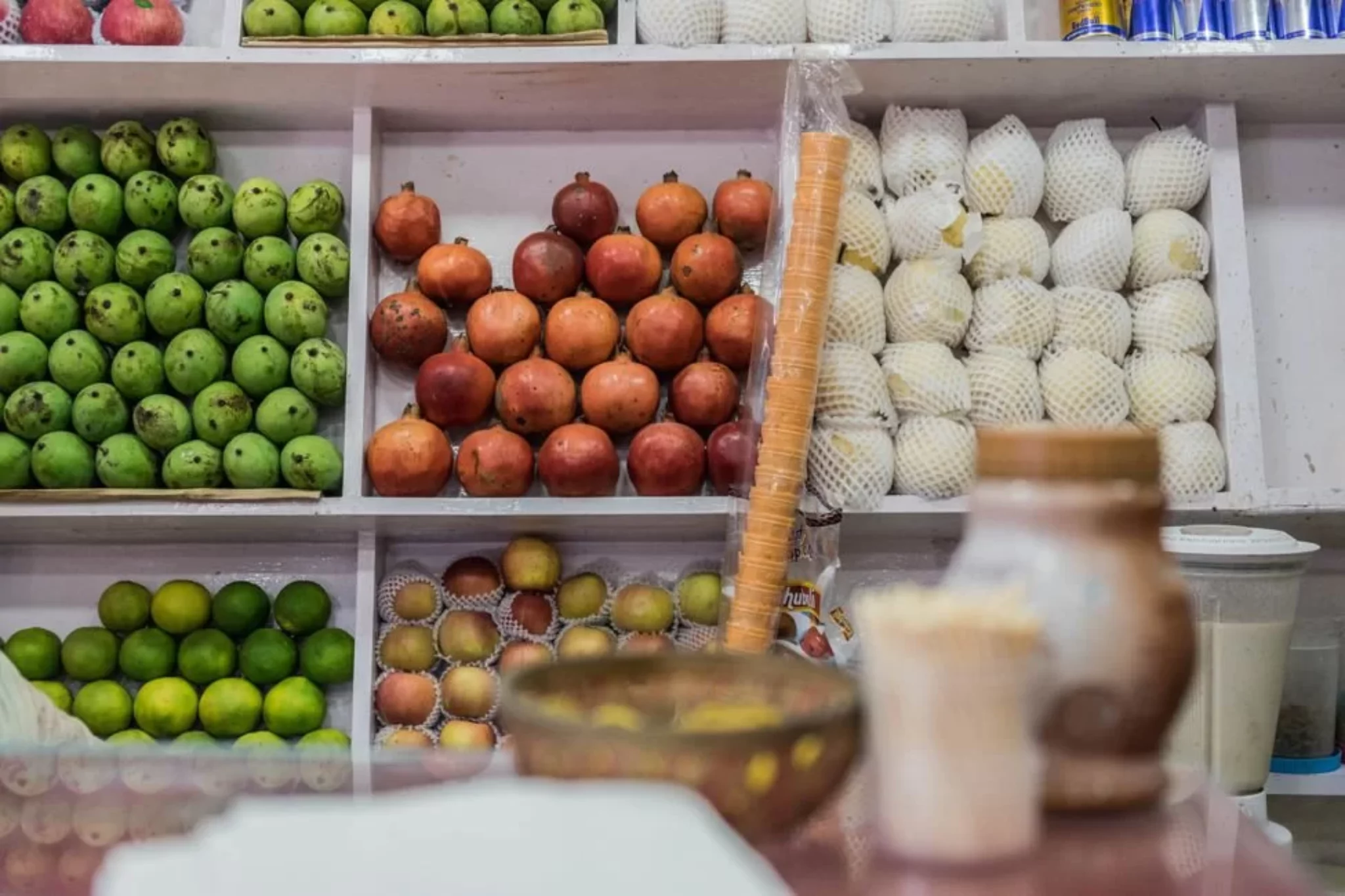 11. Shopping in Thamel
Suggested by Jenny from TraveLynn Family
The bustling streets of Thamel, Kathmandu, marks the beginning and end of so many once-in-a-lifetime trekking adventures. As such, under lines of colourful prayer flags, the hopeful adventurer will find an abundance of hiking shops all selling exactly the same gear. It's an outdoor enthusiast's dream. You will find pretty much anything a hiker would need – from woolly hats, to hiking poles, to sleeping bags and rucksacks.
Ensure you shop around to get a good price. Admittedly a lot of it is fake, but if you're heading up into the mountains, you will be grateful for at least picking up a pair of woolly mitts and hiking poles. Indeed it's a great place to stock up on those last minute items (including chocolate and immodium!) We were heading off to trek Poon Hill with our kids(then aged 2 and 4) and my youngest was adamant that a woolly Spiderman hat was a must. Once you're all shopped out, head up to a roof-top terrace for some people-watching with a hot chocolate and plate of momos.
10. Stay with a family in Kathmandu
Suggested by Christine from Christine Abroad
If you want a real local experience while traveling in Nepal I can highly recommend you to try homestay. Homestay is when you're staying with a local family, in a local area + you get the opportunity to eat local homemade food with them, hang out with them and just live like a local for a couple of days.
I did this in Kathmandu, and I had a great experience. I got delicious Nepalese food every day, and I learned so much from talking to my homestay family (this was after the big earthquake and right in the middle of a fuel crisis with India).
From the freezing cold temperature inside at night and the local breakfast to the life outside their apartment and interesting talks with my host family – it was an experience I'll never forget.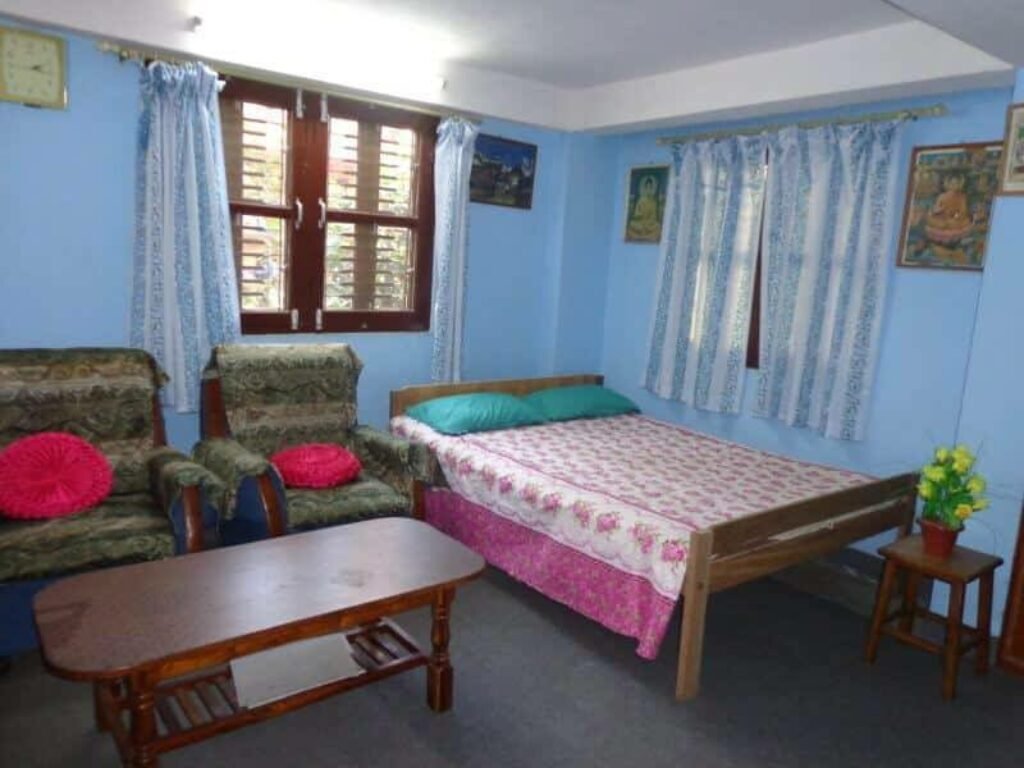 9. Do a short hike outside Kathmandu
Suggested by Alex from Swedish Nomad
Nagarkot is a charming mountain village just 32 kilometers from Kathmandu. This makes it the perfect combination if you want to see the mountains but don't have time to do trekking. When the skies are clear you can even see the mighty Mount Everest from Nagarkot.
It's not too touristy either and you get that local feeling while walking around Nagarkot. There is also some lighter trails you can follow here, but the biggest reason to come here is to combine Kathmandu with scenic views of the Himalayas, and simply relax and enjoy the fresh mountain air and tranquil atmosphere.
I can recommend the hotel called – "The hotel at the end of the universe". The owners are very friendly and helpful, and the views while having breakfast or tea is simply magical. It's not too expensive either, so even budget travellers can squeeze in 1-2 nights here.
8. Visit Durbar Square in Patan
A little less chaos with the same architectural significance, the town of Patan has now become more of a Kathmandu suburb in recent years. The third largest city in Nepal and one of the oldest Buddhist cities in the world, Patan offers a wonderful look into Nepali culture. The Kathmandu Valley has three main Durbar Squares, and the one in Patan is oldest, and arguably the most beautiful.
The UNESCO world heritage site has temples and monuments in the indigenous Newari style. Several parts of the square were damaged in the 2015 earthquake so with buildings this old, the restoration process is still ongoing. Walk around on your own or ask your hotel to secure a tour guide to give you a more in depth review of the square. There are several restaurants that have rooftop views of the square, make sure to get there just before sunset, it's a perfect spot for a happy hour drink.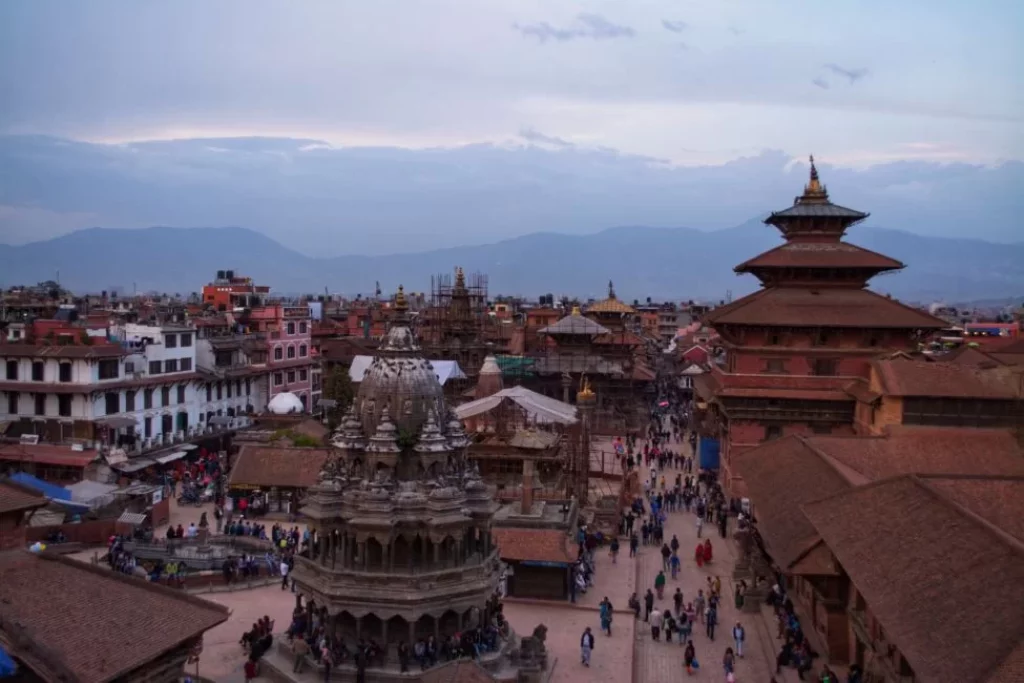 7. Lumbini UNESCO Site
Suggested by Kat from Kat Pegi Mana
Lumbini is a UNESCO World Heritage site of huge religious significance for it is the birthplace of Siddhartha Gautama – Buddha. Right in the spiritual heart of Lumbini is the Lumbini Development Zone, a huge park comprising monasteries built and contributed by Buddhist communities around the world and the Maya Devi Temple which marks the spot where Queen Maya Devi gave birth to Buddha.
Visitors flock to Maya Devi Temple to pay respects to Buddha's birthplace and to see the pillar of Ashoka and ancient ruins just outside the temple. Adjoining the temple is a lovely garden where Bodhi trees are beautifully decorated with prayer flags.
6. Cooking class in Kathmandu
Suggested by The Nomadic Boys
One of the best things we did in Kathmandu was a cooking class with a local family. We found them on TripAdvisor. We were met by Amrit, the father, at our hotel, who took us around the local market in Kathmandu, and also pointed out the major sights along the way.
Then, we went to his family home, greeted by his charming children children. His daughter, Eanu took things in hand, telling us about the main ingredients they use in Nepalese food, complimented with a yummy home-made cinnamon/cardamom tea. The cooking class involved making some of the best Nepalese dishes, including daal bhat, celebration bread and momos (dumplings). Eanu took us through each dish in details, telling us about each ingredient used and best techniques.
The highlight was of course the tasting session afterwards. It was absolutely delicious! We particularly loved this experience, because it was a real taste of local life in Kathmandu, sitting in Amrit's home, and dining with his family.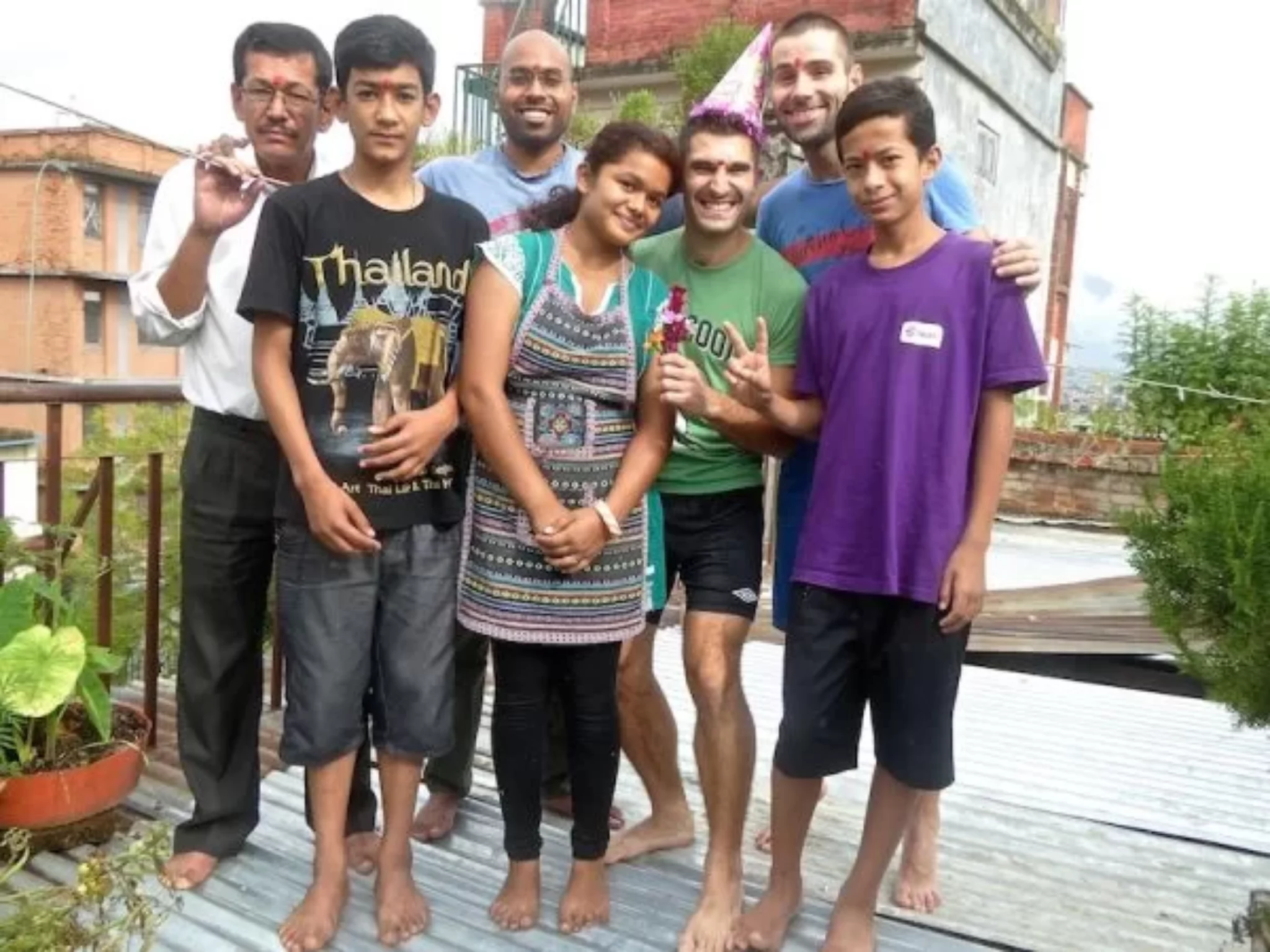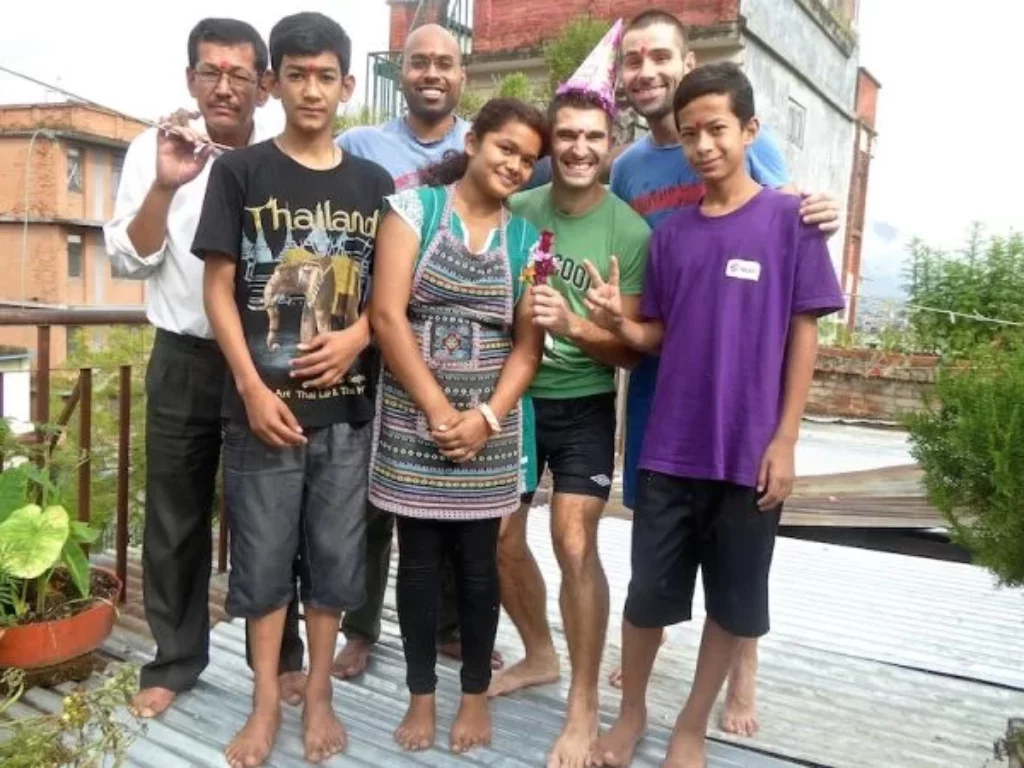 5. Hotel with a view in Nagarkot
Also suggested by Cat from Walk My World
If you aren't going to be making a trip to Everest Base Camp but still want a glimpse of the highest mountain in the world then head to Nagarkot. Nagarkot lies on the edge of the Kathmandu Valley, less than two hours from the capital, and is surrounded by one of the most beautiful mountain ranges in the world.
Most hotels here have views out over the Himalayas, and for less than $20 a night you can have your own private balcony overlooking Everest herself! The most magical time to view the mountains is at sunrise. It's cold all year round at this elevation so grab a blanket and prepare for one of the most spectacular mornings of your life. The early morning light turns the peaks golden and you'll often hear the Nepalese singing as the sun slowly rises behind the mountains. It's hard to imagine anywhere else in the world where there is such a reward for so little effort.
4. Mountain Biking outside Kathmandu
Suggested by Thuymi from AdventureFaktory
If you are not going for treks and only traveling in Kathmandu, don't worry, you can still get a little bit of adventure. Book a Mountain biking experience a little outside of the city center between Bungamati and Khokana, beside Patan, known for its Patan Durbar Square. This biking experience is known as the Marijuana Trail, which after a quick briefing by the company you book with, will bring you through the outskirts of the city where people grow food along their footpaths to survive. The roads quickly turned to dust as we scaled through the windy pathways with plenty of hills we had to scale.
After a steep slope we rounded the corner and found several temples sitting on top of a hill. We had them all to ourselves as we rode our bikes around the site and stopped for a moment to enjoy the rolling hills that surrounded us. It was a photographer's dream. After many steep climbs and a few near crashes, we were able to cruise back downhill again. This is an experience to try!
View this post on Instagram
3. Do a rural community homestay
Suggested by Christine from GrrrTraveler
Doing a homestay in Nepal is a wonderful way for travelers to have an enriching and insightful cultural experience with a local Nepali family. You can stay with a Nepali family, learn how to cook Nepali food and about your host family's lifestyle. I did a homestay through Panauti Community Homestay, an organization that strives to empower women by giving them a way to earn an income and be breadwinners in both, their family and community.
My homestay was with a single mother and her daughter, Anee-ta in the beautifully rustic town of Panauti. Tucked away in the lush Kathmandu Valley, Anee-ta showed me how to prepare a Nepali meal of poori and vegetable curry, was my guide around town and I learned a lot about her lifestyle, dreams and the surrounding farming community. As a solo female traveler, this was both a meaningful and fun experience, making me feel connected with Nepal and the unique and lovely culture of Panauti. Definitely one of the highlights of my trip to Nepal!
View this post on Instagram
2. Safari in Chitwan National Park
Suggested by Noel from Travel
Visiting the National parks of Nepal is not typical in visiting the country especially
Chitwan National Park
l
ocated in the south and close to the border with India. But for those interested in seeing the big wildlife of Nepal – mostly one horned rhinos, tigers and leopards, wild boars and screaming dears, this is a real treat. Chitwan National park is unique and well taken care of with maintained and protected forest preserves.
The landscape is gorgeous with rivers, forested areas, marshland and expansive grassy plains. You can go on a jeep safari, do walking treks and even boat on local crafts to see amazing wildlife in the area. If you want to explore the more exotic and stunning landscapes of Nepal, head to the Southern boarder at Chitwan National Park.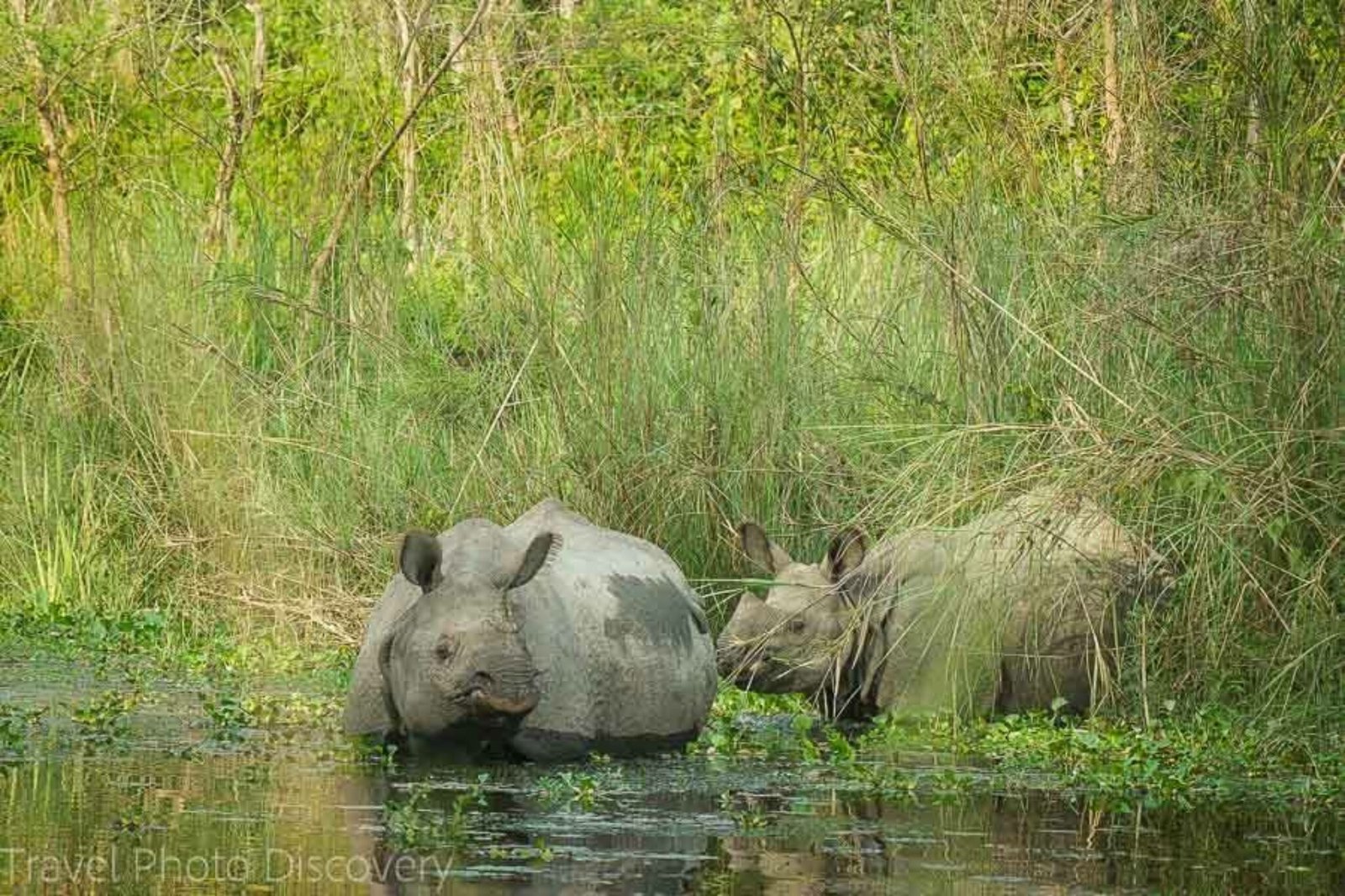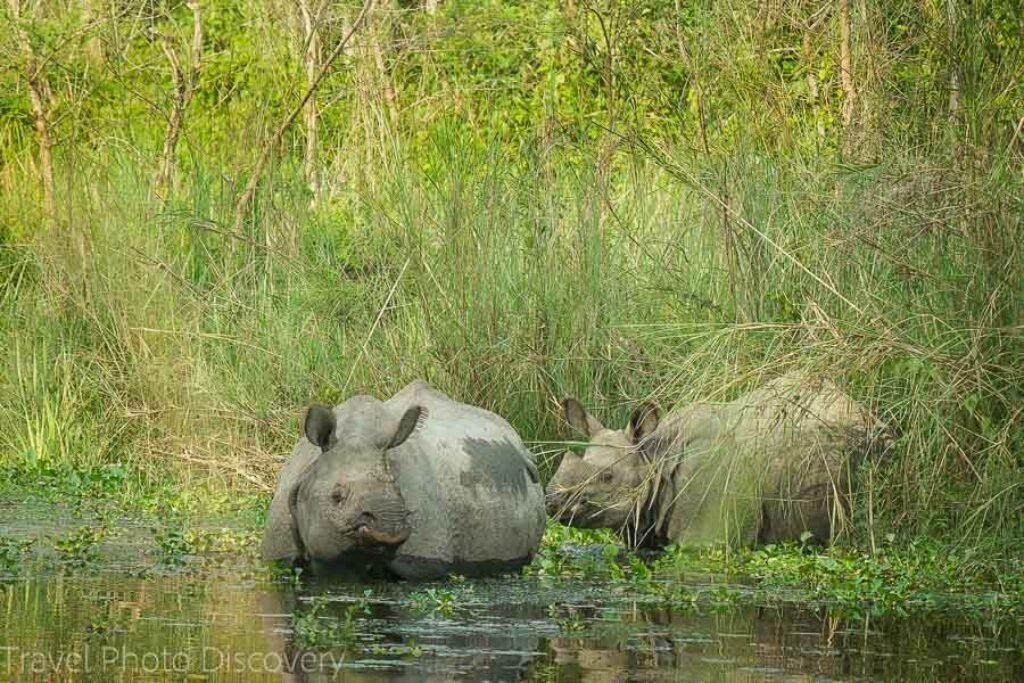 1. White Water Rafting
Looking for some serious adventure? White water rafting is one of the top things to do in Nepal for extreme adrenaline lovers. It's so popular here that white water rafting operators are springing up everywhere so you need to be careful where you and who you go with. For a complete guide of the top 5 places, check out my rafting in Nepal article. You can go for half a day or sig up for insane 9 day rafting adventures, depending on the level of adventure you're looking for!