Showing the single result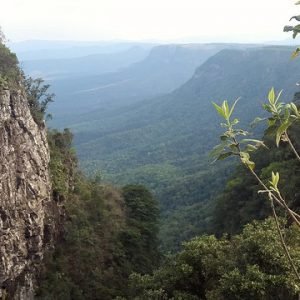 Get your adrenaline pumping with a big swing across the third largest gorge in the world. If that isn't your style, you can enjoy an exhilarating zip line ride across the gorge, and take in the beautiful views of the Graskop Falls.
Know before you book:
Weather dependent. An alternative date or refund will be issue in the instance of bad weather
Not recommended for pregnant women
Please wear comfortable clothing and shoes as you have to walk up and out of the gorge
Maximum weight for tandem jumps is 130 kgs
More details +
PROS:
Professional crew and staff
Incredibly safe
CONS:
No meals or drinks provided
Graskop, a small town in the province of Mpumalanga is loved by tourists for the awe-inspiring natural landscape – welcome to paradise. The town got its name from the wide-stretched grassveld and the absence of trees in the region.
Take a journey down to Graskop, one of South Africa's most influential historical gold mining towns. Although the mining days are long gone, the timber industry is thriving and the town still attracts tourists and local South Africans. Graskop always reveals its magical panoramic backdrops, no matter where you go to.
Wonders of Nature: Explore Graskop Attractions
There are a lot of fun things to do in and around Graskop. Offering some of the world's most unique sights, this location will inspire you. Visit the Blyde River Canyon, the third largest canyon in the world. Its majestic magic attracts visitors every year.
Get ready… lift off! The Graskop Gorge Lift was designed to take guests 51m down a cliff into the mountain forest below. Here you can spend as much time as you like exploring nature by a network of walkways, suspension bridges and 500m of forest trails crossing little streams. Remember to pack a raincoat – unexpected showers might surprise you during summer.
Echo Caves are a great place to visit if you want to see ancient San rock engravings. There is evidence suggesting that this cave has sheltered humans since the Middle Stone Age.
In this part of South Africa waterfalls and water pools are quite common. Make sure to visit Bourke's Luck Potholes, where you will be amazed by the cylindrical rock sculptures. These formed as a result of extensive water erosion over a long period of time.
Adventurous Activities, Graskop
Visit other breathtaking attractions and get the most out of this picture-perfect location. Taking pictures after sunrise? You will get the best lighting conditions if you travel South from Graskop towards Sabie. Travel North of Graskop in the afternoon to get the best pictures of God's Window, Pinnacle, Three Rondawels and the Blyde River Canyon.
If photography doesn't excite you, then pump up your holiday, adrenaline junkie style!! Join in activities like abseiling, the big swing (world's highest cable gorge swing), hiking trails or river rafting in one of South Africa's most serene locations.