Last updated on February 5, 2023 12:57 am
Add to wishlist
Added to wishlist
Removed from wishlist
0
Add to compare
The Amazon is the world's largest rainforest, covering over 40% of South America. It is also home to the largest river by volume, the Amazon River.
It's home to over 2.5 million species, making it one of the most biodiverse areas on Planet Earth. If you've ever wanted to experience immense natural beauty in person, a trip to the Amazon is a life-changing memory.
While there is a lot to explore and tour in South America, this is a once-in-a-lifetime opportunity to witness the Amazon's wildlife and nature. Let's take a look at the best Amazon rainforest tours.
Highlights:
Witness the beauty of colorful Amazonian flora and fauna while being led by experienced guides.
Learn about the incredible culture of the indigenous people and their day-to-day lives.
Get back in touch with nature by exploring the Amazon on foot or by speedboat.
Know before you book:
Due to the area's conditions, most of these tours may not be suitable for those with mobility issues or pregnant people.
Before coming to the area, it is advised that you get vaccines for the following: tetanus, yellow fever, hepatitis A, typhoid, and diphtheria. Malaria tablets are also recommended.
The Amazon Rainforest is one of the Earth's most important natural areas. It's believed to be home to 10% of all known species on our beautiful planet, thus why so many want to go to the Amazon. It's massive, covering most of northwestern Brazil, as well as parts of Colombia, Peru, and other South American nations.
However, exploring the Amazon is no easy feat, as it is a formidable jungle with many dangerous animals and powerful rapids. But don't worry, as we'll guide you through some awesome Amazon River tours. And before you know it, you'll be packing for a trip to the Amazon Rainforest, one of the best places to visit in South America.
Amazon Rainforest Tours Prices 2022/2023
Since a large portion of the rainforest is in Brazil, tours of the Amazon usually start in Manaus. However, prices vary depending on where you are coming from and what activities you want to do. Costs start at about $55 USD (287 BRL) and can go up to $1500 (7846 BRL) per person.
Compare prices across the ticket providers below: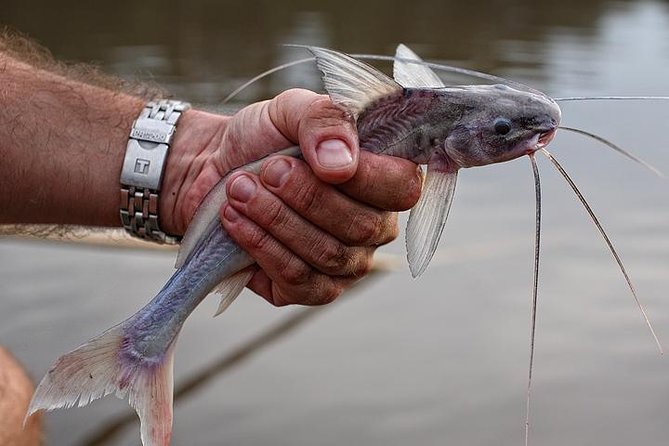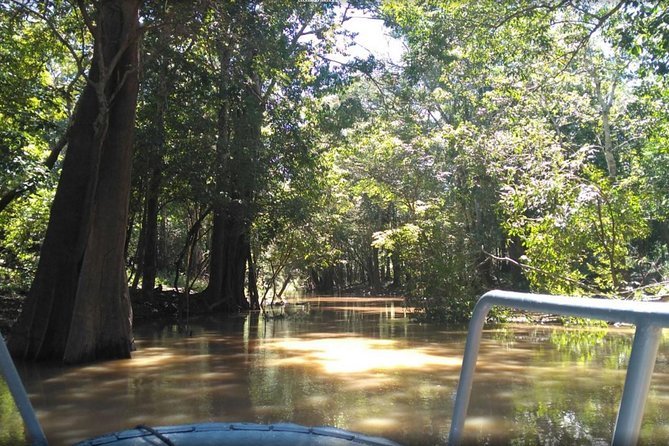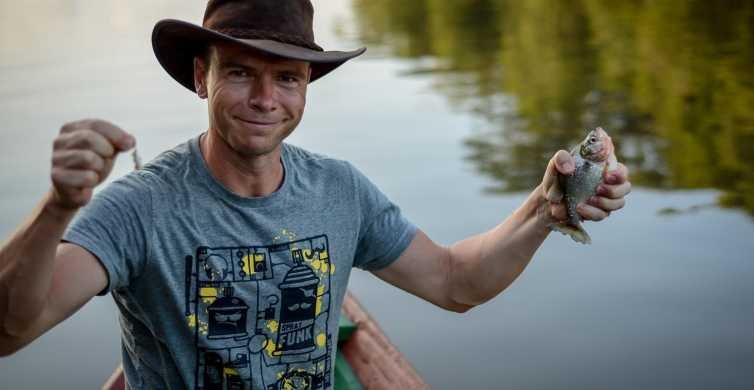 Amazon Rainforest Tour Times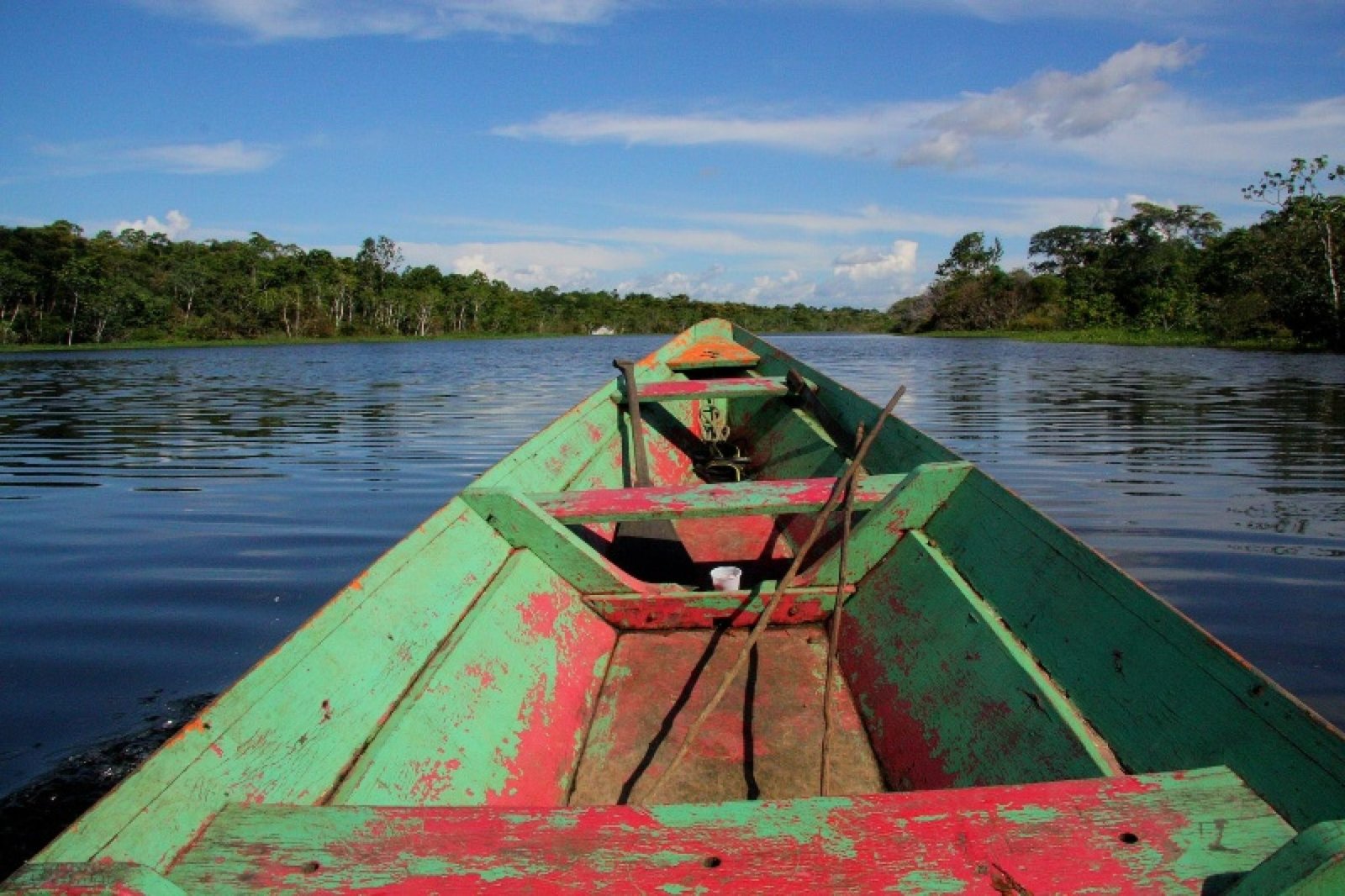 Amazon rainforest tours starting times vary from 7:30 am to 9 am and 2 pm to 3 pm in the afternoon.
These changes are all due to the different lengths of the tours. Some of these are for multiple days, such as this riverboat adventure from Manaus.
Best Time for Trips to the Amazon
There are two great options for taking vacations to the Amazon. The high-water season, which happens from January to June, is a fantastic time for an Amazon trip.
This is because the rains cause the river to be higher, which allows for better river navigation and accessibility. The downsides are that the rain brings more mosquitoes and cooler temperatures.
The low-water season (from July to December) allows greater access to walking trails. Also, with lower rivers, you'll have a better chance to spot wildlife. The disadvantage is that lower water levels affect river navigation.
The best time for an Amazon rainforest trip is from September to November. This is the area's shoulder season, so that means fewer tourists.
What To Pack For A Vacation To the Amazon?
When packing your bag for a trip to the Amazon, there are quite a few essentials that you should put in. This is to ensure that your Amazon visit is fantastic and stress-free. Here's what you should add to your suitcase:
Bring sturdy shoes or hiking boots suitable for walking (bonus if they're waterproof).
Pack sun protection, such as sunscreen (minimum 15 SPF), sunglasses, and a hat.
Remember insect repellant, anti-itch cream for mosquito and bug bites, and malaria tablets.
Pack breathable tops, such as cotton or linen.
Bring a few pairs of shorts and a swimsuit (bonus if you have a quick-drying one).
Light, water-resistant jacket that can be put on quickly in a sudden outburst but is compact enough to be stuffed in a daypack.
Lastly, a daypack and a suitcase/ duffel bag (try to pack lightly as most tours have weight limits).
Amazon Rainforest Trips | Packages & Tickets
With most of the Amazon Rainforest tours in Brazil, you will start from the city of Manaus. However, there are options to start from Iquitos or Puerto Maldonado in Peru.
What's great about most options is that they offer pick-up and drop-off services from your chosen hotel or airport. Also, with most of the multi-day rainforest tours, all meals, bottled water, and accommodation are included in the package.
This takes out all the stress of organizing those logistics. All you have to do is sit back and relax, keeping an eye open for vibrant animals and birds.
Meeting of Waters and Indian Village Tour | Half-day Amazon River Trip
This eight-hour tour is perfect for those looking for a short, jam-packed adventure. You'll be picked up from your chosen hotel at 9 AM, so make sure you get enough sleep. From here, you'll go to the waterfront where you'll start your journey to Encontro das Aguas (Meeting of Waters) by speedboat.
This is an incredible occurrence, as you see a dark river (Rio Negro) meet a pale, sandy-colored river (Rio Solimões). However, they do not mix due to the water's difference in pressure and density. These two rivers eventually join and become the gigantic Amazon River.
What we liked: Great for animal spotting and seeing the convergence of Rio Solimōes and Rio Negro.
---
INCLUDES:
Lunch at a floating restaurant
National Park fees and professional guide
Hotel pick-up and drop-off
EXCLUDES:
Alcoholic drinks
No refunds for cancellations less than 24 hours before departure
Next, you'll jump into a motorized canoe to explore the smaller tributaries of the Amazon. This is because they are quieter than larger boats. So, it gives you a better opportunity to spot anacondas, sloths, caimans, and the famous pink Amazon dolphin.
You'll continue on for a few hours until lunch, where you'll dine in a floating restaurant and enjoy Brazilian cuisine. After lunch, you'll be taken to the villages that belong to the Dessano and Tucano tribes. This is a fantastic way to experience the local indigenous culture.
They will perform some of their traditional dances for you. This ends the tour, but don't worry; you will be dropped off at your hotel afterward.
Get Best Price
---
Multi-Day Amazon Jungle Tour from Manaus | Inclusive Jungle Lodge Stay
Please Note: At the time of writing, this tour was not available.
This multi-day Amazon jungle tour is perfect for a truly unique experience. What's really great about this package is what you get out of it. If you only choose the two-day package, you'll still get the opportunity to go piranha-fishing, alligator-spotting at night, and learning about some of the medicinal plants of the Amazon on a walk.
Also, you'll be able to swim in the beautiful Rio Negro. If you're not keen on that, you can always swim in the lodge's swimming pool. Your room will have either a fan or, for $40 extra, you can get a room with air-conditioning. All rooms also have mosquito screens and natural water showers.
What we liked: The ability to change the tour length personalizes the process.
---
INCLUDES:
Accommodation at Anaconda Jungle Lodge
All meals, tropical fruit, and mineral water
English-speaking guide
EXCLUDES:
Tips
Airport drop-off
Alcohol and Soda
If you go for the three or four-day option, you'll be able to canoe around the nearby tributaries, small channels, and flooded banks. On day three, you'll see the beautiful sunrise, over the horizon and enjoy breakfast while on the way to an indigenous village.
Here you'll meet the local Caboclos, who live in a very traditional way and farm off the land. The guides will teach you about local farming practices. For a truly once-in-a-lifetime experience, spend a bit extra for the four-day package. You'll camp for a night in the Amazon jungle – now, who can say they've done that?
And if you're worried about the ethics of this, don't stress. This is a sustainable tour, and your guide will show you how to live holistically in the rainforest. On your final day, you'll enjoy breakfast in the jungle before returning to the lodge. After that final swim, you'll be begging your hosts to stay longer. But good things must come to an end, as they'll deliver you back to Manaus.
Get Best Price
---
Editor Review
This is a true memory-making experience. You'll explore the biggest jungle in the world and spot all kinds of colorful birds and wildlife.
PROS
Awesome, unique experiences
Meals included
Quite affordable
CONS
Animal sightings aren't guaranteed
Not suitable for people who are pregnant or have mobility/heart issues
Specification:
Best Amazon Rainforest Tours & Tickets 2022
| | |
| --- | --- |
| Accessible | Not wheelchair accessible |
| Duration | 8 – 192 hours |
| Includes | Local Guide, Mineral Water, Hotel pick-up and drop-off |
| Excludes | Tips, Airport drop-off |
| Meals & Drinks | Mostly Included |
| Pickup | Included |
| Suitable For | Nature lovers, adventure seekers, couples, physically fit individuals |
20 reviews for
Best Amazon Rainforest Tours & Tickets 2022
Best Amazon Rainforest Tours & Tickets 2022