Isla Mujeres Catamaran Tours (Cancun Boat Tour, Half Day, Full Day) 2023
Last updated on December 2, 2023 5:35 pm
Add to wishlist
Added to wishlist
Removed from wishlist
0
Add to compare
Isla Mujeres is known to be one of the most tranquil and isolated islands in the Caribbean. While most people tour Mexico for the beaches and party lifestyle, some choose to travel to the island for a different experience.
There are many ways to enjoy Isla Mujeres, from sailing tours to golf cart tours of the island with plenty to do for groups, families, and couples alike. Get ready to enjoy activities like swimming with whale sharks and appreciating the beauty of the Mayan ruins on the island.
One of the most popular options for traveling in and around Isla Mujeres is on a catamaran tour, where you will be able to do all of these and more.
Continue reading to find the best deals for your trip to the island.
Highlights:
Swim in the crystal clear waters of Playa Norte
Snorkel around the reefs of Isla Mujeres
Swim with dolphins
Enjoy all-inclusive catamaran tours with lunch and an open bar
Know before you book:
Day tours can get hot during the dry season
Tours can be subject to changing weather conditions
Most tours ask for a port fee of 15 USD before onboarding
Many tours are not wheelchair accessible
Isla Mujeres or the "Island of Women," is located off the coast of Cancun. It's only a 30-minute ferry ride from the Punta Sam ferry terminal over the Bahia de Mujeres or "Bay of Women."
The island has many interesting activities on offer, such as the MUSA Underwater Sculpture Museum and turtle viewing. There are also shops, restaurants, and accommodations for those looking to stay for a while. Some of the top attractions on the island include Punta Sur, the Ixchel temple ruins, and Hacienda Mundaca.
You can decide to ride the ferry directly to the island, but that's not as fun as the catamaran tours on offer. You can choose between half-day and full-day tours, booze cruises, snorkeling trips, and all-inclusive tours. There is an opportunity to see whale sharks, dolphins, and special sites in Isla Mujeres.
Most catamaran tours focus on enjoying the sea and the sights and some time on land to explore the island.
Catamaran to Isla Mujeres Prices 2023
The cost of the tours starts at about $46 (827 pesos) and can go up to $132 (2374 pesos).  These prices depend on the type of tour, its amenities, activities, and hours out at sea. You will also find that some of the tours offer skip-the-line tickets and free cancellation 24 hours before.
Compare prices across the ticket providers below: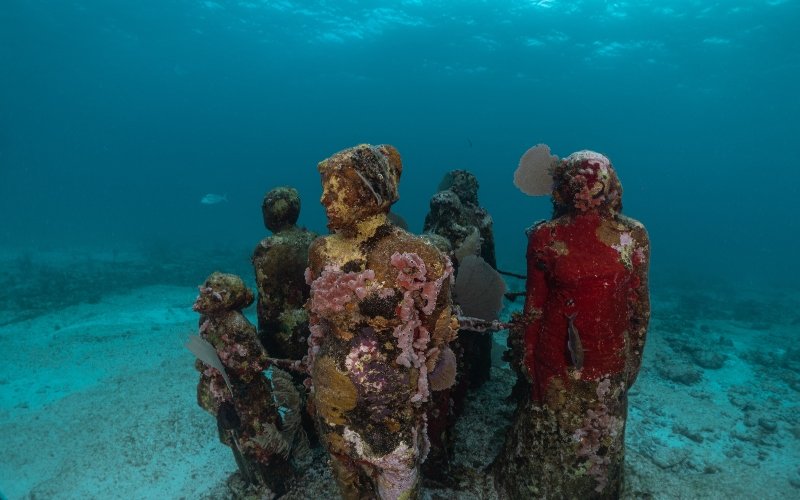 Isla Mujeres Catamaran Tour Times
The tour times depend on availability and the weather, but you can generally book all year round. Both half-day and full-day options start around 9:00 and end around 18:00. You will need to wake up early to catch your shuttle before onboarding which happens at around 8:30.
Quick Tip: Make sure you have enough time before the catamaran leaves to pay the dock fee and account for late shuttles.
Catamaran Isla Mujeres: Best Time to Go
The best time to go to Isla Mujeres and take a catamaran tour really depends on the weather. The high season between January and April is the driest but also the hottest at 84°F on average. This will also be the priciest time to visit, but the weather is ideal for catamaran tours.
The off-season between September to January is the rainest and least advisable for catamaran tours. June to November is hurricane season, and it is unsafe to be on the water as well.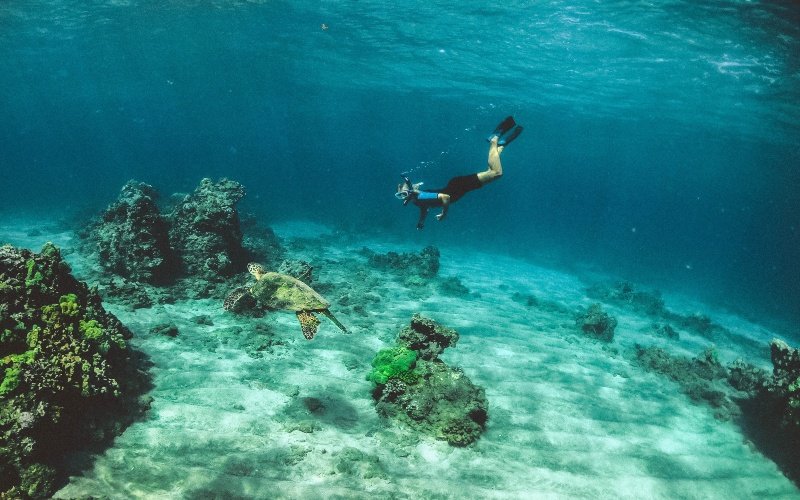 Catamaran Tour to Isla Mujeres Options
Taking a tour of Isla Mujeres via a catamaran is a great way to add excitement to your trip. You'll get to choose from a variety of options at various price points when it comes to booking a catamaran tour.
Booking a tour from Cancun to Isla Mujeres is easy. However, you should look at where your driver should drop you off unless a shuttle service is organized for you. The usual options for catamaran tours include shuttle services, food and drinks, snorkeling, and swimming.
Luxury Catamaran Cancun to Isla Mujeres | Half-Day Tour
This luxury half-day sailing trip down the coast of the Caribbean to Isla Mujeres offers guests great amenities and activities. The cruise starts at different times of day, from 8:30, 11:30, and 14:30. You can go at any time, but to get the most out of your trip, opt for 8:30.
The tour starts with a snorkeling session where you are supplied with snorkeling equipment. Then settle down for a delicious buffet lunch and open bar to rest before heading to Isla Mujeres. Once on the island, you can opt to get a guided tour or explore on your own.
There are many shops and beautiful sights on the island waiting to be explored. After spending some time on the island, the catamaran heads back to the docks for shuttle pick-up. You will also be served a complimentary drink on the way back to port.
What we liked: Great if you want it to take only part of the day.
---
INCLUDES:
This tour pays the docking fee of $15, while most do not
Lunch and open bar
Shuttle service to and from the hotel
Professional crew
Snorkeling equipment and life jacket
EXCLUDES:
Gratuities
Wheelchair accessibility
Some of the special elements of the tour include the onboard photographer who documents the entire trip from start to finish. Another great element of this Isla Mujeres boat tour is how well-informed the staff is about the Caribbean and Isla Mujeres.
Some of the notable landmarks like the Ixchel ruins are explained in greater detail by the guide. You will also find yourself with ample time to see the island by yourself and swim at the beach there as well.
You may want to take note, however, that this trip restricts access to pregnant mothers and children under the age of eight. It's advised that people with limited mobility or health conditions shouldn't go on the tour for safety's sake.
Since the trip ends early, why not head back to Cancun for dinner and dancing at Coco Bongo?
Check Price & Book
---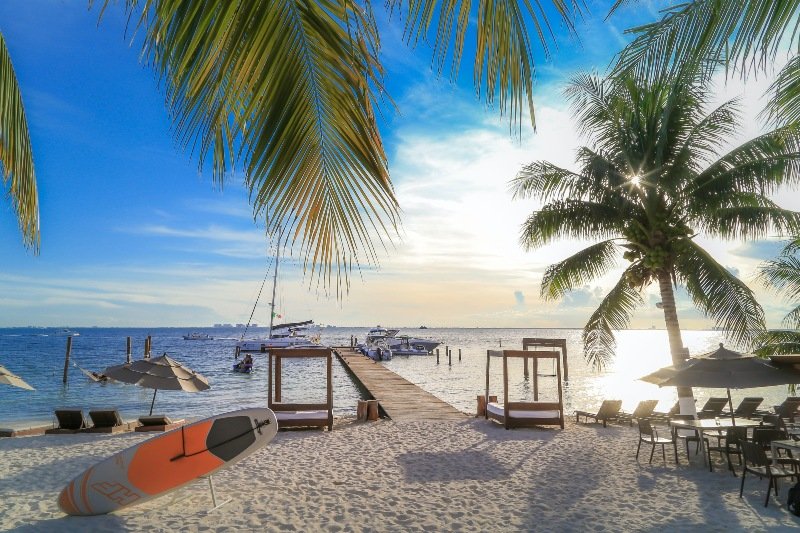 Cancun/Riviera Maya Catamaran Tour Isla Mujeres | Full Day Tour
This full-day, all-inclusive snorkeling trip is nine hours long and starts at 9:30 to 12:30, depending on availability. The tour includes a guide who knows four languages: Portuguese, French, English, and Spanish.
You'll find the staff to be friendly and accommodating. Their lively sense of humor keeps you entertained throughout your Isla Mujeres catamaran trip. Their knowledge of Cancun and Isla Mujeres is also a wonderful addition to the already enjoyable trip.
Pick-up is included in the tour price, and shuttles will go to Cancun, Peurto Morelos, Playa de Carmen, and Playacar. Following pick-up, you jet off to a private marina inside the Punta Sam Ferry Terminal and listen to the morning briefing. This will include beverages and a light snack before departure.
The first activity of the cruise is 45 minutes of snorkeling en route to Isla Mujeres at the Punta Sam Reef.  Afterward, the boat navigates around the island from south to north so you can explore the hidden canals of the island. Lunch follows all of the activities. Sit down at the Beach Club for a buffet lunch followed by more snorkeling at Playa Norte Beach.
What we liked: Great if you want to do everything in one day.
---
INCLUDES:
Welcome drinks and snacks
Generous snorkeling time
All-inclusive lunch and open bar
Access to less known or hidden features of Isla Mujeres
Adequate time to explore the island
Wheelchair accessibility
EXCLUDES:
Federal dock fee of $15
Gratuities
The last activity of the trip is visiting Isla Mujeres downtown for an hour to shop, rest, and go sightseeing. There you can see all of the historical, cultural, and artistic landmarks of Mayan and Mexican heritage such as the El Meco ruins. Finally, you can head back to the dock accompanied by music, dancing, and more drinks.
Check Price & Book
---
Editor Review
Overall, catamaran tours are a great way to have a fun day at sea while exploring the small island of Isla Mujeres. There is plenty of activities on the island, but the catamaran tours elevate the day and make visiting more worthwhile. This is definitely a must-do activity in Cancun.
PROS
A short distance from Cancun
Meals and drinks included
Many options, from full-day to half-day, budget, and all-inclusive
A unique way to experience Isla Mujeres
CONS
Weather affects the activity
Children younger than eight, and pregnant women are not allowed at times
Food could be limited
Dock fees can be expensive and a hassle
Specification:
Isla Mujeres Catamaran Tours (Cancun Boat Tour, Half Day, Full Day) 2023
| | |
| --- | --- |
| Accessible | Not accessible to pregnant women, some children, and wheelchair users, depending on the trip. |
| Duration | 5 to 10 hours |
| Inclusions | Food, drinks, snorkeling gear, guided tour |
| Exclusions | Dock fees, accessibility for people with disabilities |
| Meals | Can be great or limited in choice |
| Pick-up | Shuttle services are available for the most part |
| Suited for | Adults and teenagers |
6 reviews for
Isla Mujeres Catamaran Tours (Cancun Boat Tour, Half Day, Full Day) 2023
Isla Mujeres Catamaran Tours (Cancun Boat Tour, Half Day, Full Day) 2023