Rio de Janeiro: Sunset Sailing Tour | Best Tickets & Prices
Last updated on December 3, 2023 12:58 pm
Add to wishlist
Added to wishlist
Removed from wishlist
0
Add to compare
Traveling to Rio and wanting to experience all its sites from a new perspective? Or maybe you want something relaxing to do on your holiday? A sunset sailboat trip is a perfect tour for you.
When it comes to a beautiful sunset, Rio de Janeiro is unrivaled. Any tour of South America is incomplete without visiting this stunning city. The city promises places to explore, sights to see, and some of the best scenery in South America.
Sailing during sunset is an unmissable experience and one that you will cherish for the rest of your life. Rio de Janeiro offers an array of sunset sailing tours that are sure to make your holiday in Brazil an unforgettable one.
Highlights
Admire the sunset over Rio de Janeiro
Enjoy the stunning views of the city from the sea
A small intimate group experience
Know Before You Book
The tour is subject to change based on weather conditions
Tours are not wheelchair accessible
There is no hotel pick-up and drop-off offered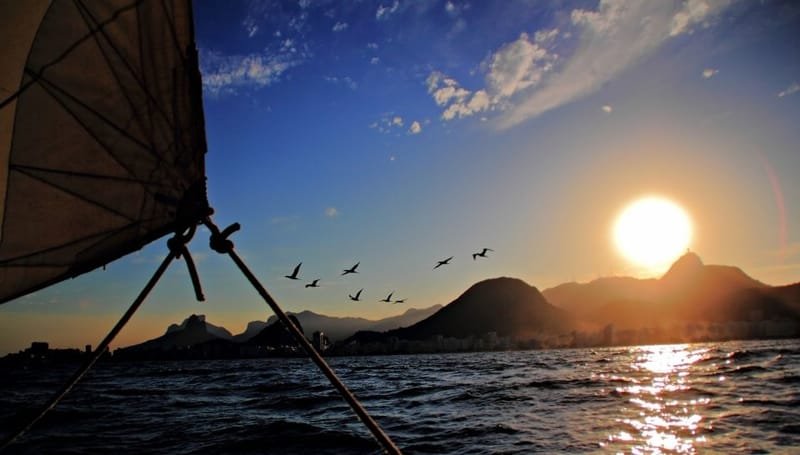 Heading out at sunset with a sailboat in Rio is a fantastic way to revel in the sights and sounds of the city. Let the calming waters of Rio's Guanabara Bay whisk you away on a relaxing trip after a long day. It is especially recommended if you want to supplement your visit to one of the best beaches in South America with a sunset cruise.
Sunset-sailing tours allow you to see Rio de Janeiro's most famous sights from a whole new perspective. Lit by the golden rays of the setting sun, these places take on a magical glow. Not only that, but the waters of Guanabara Bay sparkle as you sail over them.
Must-haves:
Your passport or ID
Comfortable clothes and shoes
Sun protection
A jacket if it gets cold
These tours are the perfect option if you want a private experience with a group of friends. You can also splurge a little and book out the entire boat so you can have a romantic cruise with your significant other.
A sunset cruise is a perfect way to cap your holiday to Rio de Janeiro. It's fun, relaxing, and lets you enjoy everything the city has to offer. The tours last three hours and quality time on the water in an exciting way to spend time with people.
Rio de Janeiro Sunset Sailing Tour Prices 2023
Prices for the tours vary and are usually between 181 Brazilian Real ($35 USD) and 362 Brazilian Real ($70 USD).
Sunset Sailboat Cruise Opening and Closing Times
Most sunset sailing tours start at the meeting point in Marina de Gloria just before sunset, which is roughly 3:00 pm. The tour ends after you have sailed around Guanabara Bay.
Best Time to Visit
The best time to visit Rio de Janeiro is between November and March as these are the warmest months in the country. The temperatures range from 27°C (81°F) to 33°C (91°F). This is also a perfect time if you want to enjoy New Year and Carnival Celebrations
Here are some more seasonal details to help you decide:
Time of year- The best time to plan your Rio sunset tour is during the summer and autumn months of November and March.
Time of week- Any time of the week is best, but a Friday sailboat at sunset is a perfect way to cap a week.
Time of day- Leave just before sunset so that you can enjoy the golden glow over the waters of Rio de Janeiro.
Top Sunset Sailing Options
There are numerous different options for sunset sailing tours in Rio de Janeiro, each having something special to offer. We have listed three of the best options depending on if you want an intimate tour or one that allows you to connect with Rio's natural wonders.
Rio de Janeiro: Sunset Sailing Tour
Revel in Rio de Janeiro's beautiful scenery, lit by the setting sun. This tour is perfect if you're traveling with a group of friends. You can also splurge a little and enjoy a private tour to surprise your significant other.
You set sail from Marina da Glória and pass by the three fortresses of São José, Lage, and Santa Cruz while heading towards Boa Viagem Island in Niterói. The boat takes you past Oscar Niemeyer's Niterói Museum of Contemporary Art which is a striking piece of futuristic-looking architecture.
Sit back and enjoy the sunset over Rio de Janeiro while sipping on a Caipirinha, beer, or white wine. Experience the city's most famous landmarks like Christ the Redeemer and Sugar Loaf Mountain, as the sun sets around you.
During the tour, your professional guide provides a little history of Rio de Janeiro and the sites you pass while on your sunset sailing cruise. This is a great option if you want an intimate sunset cruise with a few of your close friends.
What we liked: Getting to sit back, relax and see Rio de Janeiro from a different perspective.
INCLUDES:
A professional sailing crew
Snacks and drinks
Insurance
EXCLUDES:
Sun protection
Towels if you get wet
Hotel pick up and drop off (on the basic option)
Check Price & Book
Rio de Janeiro: 3-Hour Sailing Trip on Guanabara Bay
Prepare for a 3-hour sailing trip on board the "Kamehameha" as you cruise across Rio's Guanabara Bay. Meet your guide at the Marina da Gloria and set sail as the sun sets around you. Before the tour begins, you will be given a safety demonstration and an introductory session regarding the boat's main facilities.
After the short demonstration, you will motor out of the marina and into the calm waters of Guanabara Bay. As you cruise through the bay, your guide will point out some of Rio's famous sites surrounding the bay including Christ The Redeemer that stands atop Corcovado Hill.
Cruise around the bay, enjoying an assortment of finger snacks and welcome drinks while your knowledgeable guide shares a little bit of local history. This is, by far, the most relaxing way to experience stunning Rio de Janeiro.
The tour is for a small group of people. So, if you have enough friends on holiday with you, you might be able to book the entire boat out. It is a perfect way to wind down after a busy day exploring Rio de Janeiro.
What we liked: The friendly tour guide and boat crew.
INCLUDES:
Drinks and finger food
A certified sailor and crew
Boat safety demonstration
EXCLUDES:
Gratuities
Hotel pick up
An additional round of drinks (beer, soft drinks, Caipirinha)
Check Price & Book
Sunset Tour of Polynesia Canoe in Rio de Janeiro
This is a fantastic option for everyone who wants to experience a different kind of sunset sailing experience. Connect with nature and recharge your batteries as you try something new.
The tour begins with you getting accustomed to the Polynesian canoe before setting off on this once-in-a-lifetime experience. Departure is from the cove in Marina da Gloria and you will move towards Mureta da Urca, close to the final stretch of Guanabara Bay.
From the vantage point in the bay, you will get to see the view of Pão de Açúcar which is Sugarloaf Mountain's most famous peak. You are then given the opportunity to dive if you want to delight in the joys of a sunset swim. This is also your ideal chance to capture some stunning photos.
Your trustworthy guides will take you around the base of Sugarloaf Mountain, passing Christ the Redeemer and Pedra da Gávea. The latter of which is a monolithic mountain composed of granite and gneiss.
Your group will paddle to Praia do Flamengo where you can take pictures with Christ the Redeemer as your backdrop. This relaxing tour and the tranquil sounds of the water around you are the perfect ways to end off a long day in Rio de Janeiro.
What we liked: Paddling around Guanabara Bay.
INCLUDES:
A professional rowing Polynesian Canoe
Life jacket
5x photos taken by a professional photographer.
EXCLUDES:
Meals and drinks
Not suitable for people with mobility impairments
Check Price & Book
Rio de Janeiro sunset sailing tours are a great way to relax and unwind after a long day exploring the city. We love the local guides who share local historical facts, but the highlight remains watching the sunset over Rio.
PROS
Experience Rio de Janeiro in a different light
Professional and knowledgeable local guides
Small groups for a more intimate tour
CONS
No hotel pick up and drop off
Drinks are limited to one round
Specification:
Rio de Janeiro: Sunset Sailing Tour | Best Tickets & Prices
| | |
| --- | --- |
| Accessible | Not wheelchair accessible |
| Duration | 2-4 hours |
| Includes | Meals and drinks |
| Excludes | Hotel pick-up/drop-off |
| Meals & Drinks | Included |
| Pickup | Not included |
| Suitable For | All able-bodied persons can participate |
27 reviews for
Rio de Janeiro: Sunset Sailing Tour | Best Tickets & Prices
Rio de Janeiro: Sunset Sailing Tour | Best Tickets & Prices