Game of Thrones Tours, Dublin | Best Treks, Belfast & Winterfell
Last updated on September 28, 2023 6:10 am
Add to wishlist
Added to wishlist
Removed from wishlist
0
Add to compare
Are you a Game of Thrones fan who happens to be traveling to Ireland soon? Then try out the Dublin Game of Thrones Tours to get the best of both worlds.
Game of Thrones is the most-watched television series of all time. Season 8 alone had over 44 million viewers worldwide. Only the most die-hard fans will have gone to Game of Thrones Tours in Dublin. And for those who haven't hopped on the wagon, now is the time for an exhilarating adventure.
The legendary show, also shortened to GOT, was partly filmed in one of Europe's most scenic and enchanting countries, Ireland. Surprisingly, Ireland were not the producers' first choice, so discover the best tours to see first-hand why it became the home of Westeros.
"Break the wheel," as Daenerys Targaryen would, by going on a GOT adventure among other Dublin tours. Here are the best Game of Thrones tours in Ireland for an unforgettable experience.
Highlights:
Excellent photo-ops and filming locaions
See the famous Giant's Causeway
Interactive areas, costumes, and props
Know before you book:
Not recommended for young children
You will do a lot of walking
Expect rainy or sunny conditions
Explore the set of GOT to get a surreal perspective on how the series came to life. You will get to explore the filming locations from Dublin to Northern Ireland. Some other stops include walking through old forests and visiting the Giant's Causeway.
The GOT tours are not for fans only but for anyone interested in seeing some of Ireland's most breathtaking and mystical parts. To prepare for these tours, wear comfortable shoes, as it involves a lot of walking.
Must-haves for a Game of Thrones Trek:
Sun protection
Raincoat
Snacks
Water
Comfortable Footwear
You will not only visit film locations but many other Northern Ireland attractions too. The Game of Thrones trek is scenic with stunning views, allowing you the most mystical photographs. Most tours are full-day, but some can extend to two or three days. You will also hear insider gossip and secrets about the Game of Thrones as most guides were extras in the series.
It's best to book your tickets in advance to prepare for the GOT tours. Most of these tours take up your whole day. You should be ready to trek for hours and be ready for the weather at the time. Should you choose to do the 2-day tour, make sure to have all necessities required to make your stay comfortable at the accommodation.

Game of Thrones Tour Prices 2023
Below you can see some of the best tours available. Prices for the Game of Thrones tour range from US$ 60.54 to US$ 85.52 per person. Compare prices from different ticket providers below.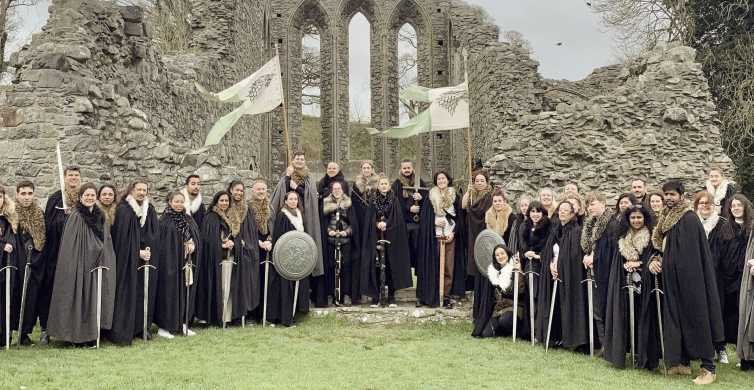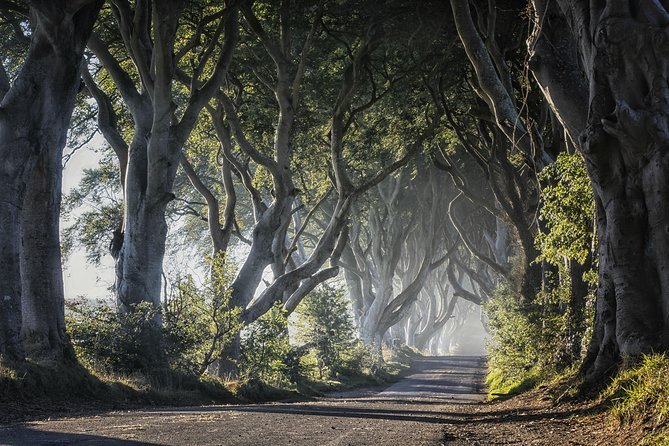 Game of Thrones Opening and Closing Times
The Game of Thrones tour occurs throughout the year as Ireland has a mild, sometimes rainy climate. The starting and ending times depend on each guided tour, but most start early in the morning.
Best Time to Visit
The best time to visit Ireland is between March and May, or from September to November. Ireland is less busy during these months than during the summer months, yet it's not too cold either. Essentially you'll avoid overcrowded tours, attractions, and high seasonal prices.
Here are some more seasonal details to help you decide:
Time of year- We recommend visiting in spring (March-June) and fall (September-October). You'll get Northern Ireland's landscapes' most beautiful and colorful scenery during this time of the year.
Time of week- Early to mid-week for smaller crowds.
Time of day- The tours take up most of the day and start early in the morning.
Top Game Of Thrones Tour of Ireland Options
The Game of Thrones tours take you to the film locations all the way in Northern Ireland from Dublin, so these tours extend over many hours. Below we have options that take up either a full day or two days to complete. The in-depth reviews will give you an idea of what to expect from these tours.
These tours are no walk in the park but rather a walk through ancient forests, caves, and castles – what could be more magical?
Two Day Tour: Game of Thrones Tour from Dublin
Do you fancy a two-day trek covering many breathtaking Northern Ireland sites, including a scenic train ride from Dublin to Belfast? This Game of Thrones rail tour has that and more, and leading the trip is an enthusiastic fan who knows the ins and outs of the series. Of course, if you haven't seen the series just yet, then this trek could still be an excellent adventure for you.
You get to explore Belfast, Northern Ireland's capital city, from a hop-on hop-off bus. Belfast is well known for its historic sites and fantastic nightlife. One of the historical sites is the unmissable Titanic Belfast museum. You'll experience the story of the infamous Titanic from nine interactive galleries. Since you'll be lodging at a hotel in Belfast, you can have the opportunity to have a taste of the Irish nightlife.
The highlight of the rail tour is a visit to the Game of Thrones filming locations, but the other attractions will be just as impressive. The UNESCO site Giant's Causeway will take your breath away. The natural phenomenon is a unique volcanic landscape that is Northern Ireland's most popular tourist destination.
You'll also stop by the Dark Hedges, a mystical tunnel of intertwining trees. Finally, take some eerie images at the Cushendun Caves, the same place where much of the filming for the series took place.
What we liked: We liked all the photo ops along the tour.
---
INCLUDES:
Breakfast
Overnight accommodation
Fully commentated tour
EXCLUDES:
Hotel pickup and drop-off
Food & drinks
Gratuities
Check Price & Book
Full-Day Game of Thrones Filming Locations Tour
The full-day tour is a 12-hour trek that centers around the majestical filming locations of the Game of Thrones series. If you're up to it, venture into an 800-year old Tollymore forest. You can track down the areas of the Whitewalkers, Direwolves, and Wildlings all in the same forest. While onboard the tour, guests are quizzed to determine who will reign as the ultimate GOT fan among them.
Halfway into the tour, you'll stop at the charming fishing village of Strangford Lough for a lunch break, an opportunity to have a quick glimpse of the small-town life in Ireland. Then you will visit Old Castle Ward, the very place that housed the filming of Winterfell during season one. You will also see Riverlands, the location of Robb Stark's camp.
On your way back, the tour makes a stop at Inch Abbey. This is a ruined Cistercian monastery and also the place where Rob Stark had been named King of the North. The tour's highlight is that you can dress up in a real Stark cloak and show off your Stark banners and sword for a spectacular picture.
What we liked: We loved being able to dress up as a Stark.
---
INCLUDES:
Rainproof ponchos
Taxes, fees, and handling charges
Props
EXCLUDES:
Food and beverage
Merchandise
Hotel pickup and drop-off
Check Price & Book
An exhilarating experience for fans.
Game of Thrones tours are a must-see for fans of the series and those who want to tour from Dublin to Northern Ireland. The sights are breathtaking so that visitors can get amazing photographs. We appreciated the fact that one can stop by many other fantastic sites. The highlight of this tour is dressing up as the show's characters which makes one feel even more immersed in the kingdoms of Game of Thrones.
PROS
Access to villages, historical sites and other attractions.
Dress up in costumes and play with props
Amazing photo-opportunities
CONS
Not suitable for those with disabillities and pregnant women.
Kids aren't allowed
Food could be limited
Specification:
Game of Thrones Tours, Dublin | Best Treks, Belfast & Winterfell
| | |
| --- | --- |
| Accessible | Need a certain degree of physical fitness, Not wheelchair accessible |
| Duration | +- 2 days, 1 day |
| Includes | Access to all most sites and museums, Guide, live commentary, Bus transport, Overnight accommodation |
| Excludes | Hotel pick-up and drop-off, food and beverages, Snacks and drinks (unless specified) |
| Pickup | Pickup from hotel not included |
| Suitable For | Able persons, Adults, Adults, 21 years of age and older, Not advisable for pregnant persons, Not suitable for persons with back problems, Not suitable for under 18s |
| Meals & Drinks | Meals are provided on some tours and are excluded on some |
221 reviews for
Game of Thrones Tours, Dublin | Best Treks, Belfast & Winterfell

Game of Thrones Tours, Dublin | Best Treks, Belfast & Winterfell