Teeling Whiskey Distillery Tour in Dublin | Tickets & Tasting Times
Last updated on October 2, 2023 2:30 pm
Add to wishlist
Added to wishlist
Removed from wishlist
0
Add to compare
Known for its sprawling green fields and rich food and culture, Ireland is also world-renowned for pints of Guinness stout and Irish whiskey.
While many may enjoy a tot of Teeling's Whiskey from the comfort of their homes, there are a few different ways you can enjoy the water of life. One of which is going on a distillery tour.
A tour of the Teeling Distillery provides you with a unique whiskey tasting experience in Dublin. You'll discover all there is to learn about the Emerald Isle's distinctive drink, from barley and barrel to bottle.
We've prepared this Teeling's Whiskey Distillery tour guide which is suitable for both newbies and whiskey connoisseurs alike. So let's get to it.
As with the case of a Guinness Storehouse Tour, what better way to enjoy a glass of smooth Irish whiskey than on a guided Teeling's Whiskey Tour?
Highlights:
Taste award-winning Irish whiskey
Visit a fully operational distillery
Learn about the history of Irish whiskey
Enjoy a guided tour of the whiskey distillery
Know before you book:
Minimum drinking age is 18 years
Tour is wheelchair accessible
Advisable to book in advance to avoid disappointment in peak times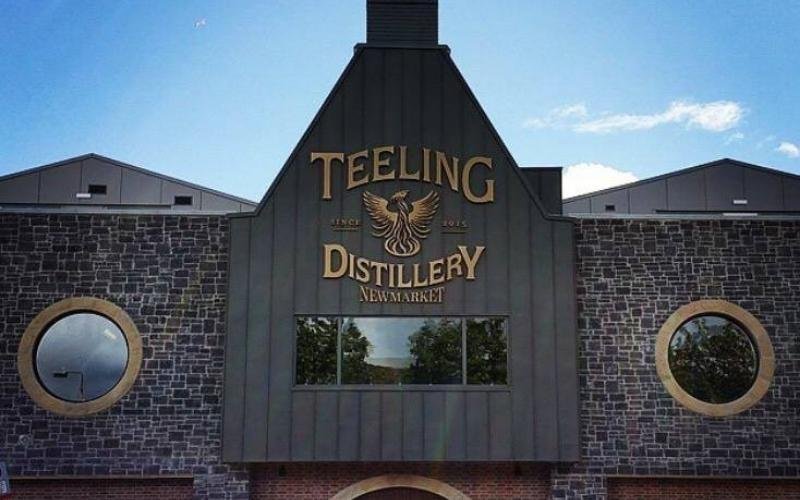 Soak up all you can on this Irish jaunt. The Teeling Whiskey Distillery Tour takes you on a journey of taste and discovery at Dublin's newest whiskey distillery in 125 years upon opening its doors in 2015. Founded by Irish brothers Jack and Stephen Teeling in 2012, the Teeling Whiskey brand is a culmination of ingenuity, history, and forward-thinking.
Later, in 2015, they expanded the Teeling brand by opening a distillery in the historic neighborhood of The Liberties. You'll find the rustic yet sophisticated Teeling Whiskey Distillery on 13–17 Newmarket, a short trip from the family's original distillery.
Our guide focuses on three tours of theirs, from the standard "Teeling Tasting Tour" to the higher-end "Distillery Select Tasting Tour".
Hang on to every word of the charismatic tour guide who'll narrate half a millennium's worth of the history of whiskey in Dublin at the on-site exhibition. After learning about the growth, decline, and resurgence of Irish whiskey, you'll head to the production floor for a fully-immersive whiskey-making experience.
You'll also learn about the history of the Teeling family and the pivotal role they've played in the re-emergence of Dublin whiskey. Then, top off your Teeling Distillery tour with a tasting of deliciously smooth Irish whiskey.
Teeling's Distillery Tour Prices 2023
The cost of the tours starts at about $17.30 USD (€17) and can go up to $30.53 USD (€30), depending on the ticket you purchase.
Whatever package you choose, you will receive a fully guided tour of the mainly family-owned Teeling Distillery.
Compare prices across the ticket providers below:
Teeling's Distillery Tour Times
The distillery tours operate daily from 10am to 5:40pm, typically every 20 minutes, and last for 45 minutes to an hour, depending on the number of participants. This is because all groups participate simultaneously in the tour.
Monday – Sunday: 10am – 5.40pm
Best Time to Go on This Whiskey Tour in Dublin
Lucky you: if you're looking to go whiskey tasting, Dublin's Teeling Distillery is open seven days a week. Just keep in mind that it's probably best to book online several days ahead of time, so you're more likely to get your chosen slot.
Speaking of time, ensure you keep abreast of the Dublin Hop-on, Hop-off bus timetable if you're traveling with it. You'll find the Teeling Whiskey Distillery at Stop 12A of the route.
Note: Book early as slots fill up quite quickly during peak season (June to September).
Teeling Whiskey Tastings & Tours
Choose from three distillery tours that are sure to quench your thirst for rich, Irish whiskey.
The beginner-friendly Teeling Tasting Tour costs about $17.30 USD (€17), with the higher-end Distillery Select Tasting Tour being priced at around $30.53 USD (€30) and is more suited to those familiar with Irish whiskey.
---
Teeling Tasting Tour
This tour offers you a fully guided experience of Teeling's Whiskey Distillery. You'll top off your tour with a sample of their full-flavored Teeling Small Batch Whiskey. Plus, you'll savor a delicious handcrafted seasonal whiskey cocktail at their hip Bang Bang Bar. It's great for whiskey newbies looking to dip their toes into whiskey tasting.
What we liked: This tour is affordable and great for whiskey newbies.
---
INCLUDES:
Whiskey tasting
Fully guided group tour of the distillery
Explore the Exhibition Space to discover Dublin's Whiskey history
EXCLUDES:
Lunch
Private tour
Whiskeys besides Teeling Small Batch
A whiskey connoisseur will lead you on this introductory Teeling Whiskey Tour. Learn about the history of Teeling Whiskey, The Liberties, and Dublin whiskey in the exhibition area.
Posters, pictures, and artwork tastefully line the walls here. You'll also view an assortment of whiskey memorabilia.
Note: Restrooms are discretely located opposite exhibition stand 5.
Afterward, make your way to the distillery. Here you'll learn how barley, water, and yeast are used to make whiskey in The Mill.
Your guide will also explain how Teeling's fermentation process differs from others.
Check out the copper pot stills inspired by 19th-century Dublin pot stills before heading to the maturation space.
Interesting fact: The pot stills are named after founder Jack Teeling's three daughters, Alison, Natalie, and Rebecca.
Afterward, you'll learn about the art of maturation and the process of cask maturation in the maturation space. Then head into the whiskey tasting area to sample delicious Irish whiskey with fellow visitors.
Check Price & Book
---
Teeling Trinity Tasting Tour
This tour is exactly like the fully guided Teeling Tasting Tour, except It's better suited for those looking for more than the Teeling Small Batch and who aren't into whiskey cocktails. On this tour, you'll sample two Teeling whiskeys in addition to the Teeling Small Batch.
What we liked: Great if you're seeking more than the Teeling Small Batch and cocktail.
---
INCLUDES:
Whiskey tasting
Fully guided tour of the distillery
Admission to the Exhibition Space
EXCLUDES:
Lunch
Private tour
Whiskeys besides those on the Teeling Trinity Tasting Tour
You'll taste the full-flavored, creamy Teeling Small Batch and the sweet and light Teeling Small Grain. Finally, you'll top it off with the smooth and strong 46% ABV Teeling Single Malt whiskey.
The Teeling Small Batch is the brand's flagship whiskey. Thanks to no chill filtration, this Irish whiskey maintains its flavorful character. Think layers of cinnamon, vanilla, and oak.
Similarly, the triple-distilled Teeling Small Grain is velvety smooth and imparts a lightly sweet taste. This is partly due to it being matured in cabernet sauvignon wine casks. Plus, its trifecta of pepper, cloves, and nutmeg adds a deliciously mild spiciness to it.
With layers of flavors and aromas, what's not there to love?
Check Price & Book
---
Distillery Select Tasting Tour
Similar to the Teeling Trinity and Teeling Tasting Tours, you'll enjoy a fully guided tour on the Distillery Select Tasting Tour. However, you'll sample all (yes, all) whiskeys from the Teeling Trinity and the Teeling Single Pot Still and Distillery Exclusive.
This tour is perfect for those who want to immerse themselves in the Teeling Irish Whiskey range. What better way to do this than to sip on some of their award-winning Irish whiskey?
What we liked: Enjoy a wide variety of whiskey.
---
INCLUDES:
Whiskey tasting
Fully guided tour of the distillery
Admission to the Exhibition Space
EXCLUDES:
Lunch
Private tour
Whiskeys besides those on Distillery Select Tasting Tour
The deliciously creamy single pot still is an innovative take on an Irish classic. With a unique mix of 50% malted and 50% unmalted barley, the triple distilled Teeling Single Pot Still is a slick character.
From their smooth 46% Single Pot Still to their vanilla, caramel, and wood-spice Distillery Exclusive, this is a tour worthy of your time.
Check Price & Book
Editor Review
The greatest way to appreciate a fresh take on Irish Whiskey is to take a tour of the Teeling Whiskey Distillery in Dublin. You not only learn about the Teeling family's whiskey-making heritage, but you also get to taste award-winning Irish whiskeys ranging from their full-flavored small batch to their delightfully fruity single cask sherry.
PROS
Fully guided tour
Tour an operating distillery
Taste award-winning whiskey
CONS
May feel a little rehearsed
Can feel rushed at times
Can get quite noisy (with tours running at the same time)
Specification:
Teeling Whiskey Distillery Tour in Dublin | Tickets & Tasting Times
| | |
| --- | --- |
| Accessibility | Near public transportation and the Dublin Hop-on and Hop-off bus stop |
| Duration | 45 minutes to 1 hour |
| Inclusions | Award-winning whiskey, Skip-the-line access, Exclusive fully guided private tour (if selected) |
| Exclusions | Gratuities, Lunch, Souvenirs |
| Meals | None, unless purchased at the on-site Phoenix café |
9 reviews for
Teeling Whiskey Distillery Tour in Dublin | Tickets & Tasting Times
Teeling Whiskey Distillery Tour in Dublin | Tickets & Tasting Times