Museum of Ice Cream Austin, TX | Tickets, Reviews & More 2022
Last updated on March 30, 2023 9:50 pm
Add to wishlist
Added to wishlist
Removed from wishlist
0
Add to compare
Let your inner child out to play at the exciting Museum of Ice Cream in Austin, Texas. This pink, ice cream-themed destination at The Domain shopping center is more of an experience than a museum. With games, treats, and plenty of Instagram-worthy photo ops in store, you're sure to have an unforgettable and unique experience.
You'll get to enjoy everything from sliding into a pool of sprinkles to eating unlimited ice cream at the 50s-themed diner. The Museum of Ice Cream (MOIC) also has treats galore, ranging from ice cream (of course) to cotton candy and popsicles.
And if you think this museum is pure child's play, think again. MOIC offers "adult" treats like boozy popsicles and sweet cocktails at the bar. Intrigued? Keep reading to get the scoop on Austin's Museum of Ice Cream and find the best deal for your visit.
Highlights:
12 ever-changing interactive installations
Unlimited ice cream
Fun for all ages
Know before you book:
You'll need about 2 hours to work through the museum
Vegan-friendly options are available!
Lines can get long (especially on weekends)
The Museum of Ice Cream founders launched their first bubblegum-pink location in Instagrammable New York in 2016. Eventually, they expanded and established museums of ice cream in some of the best warm places in the US. These include Los Angeles, San Francisco, Miami, and finally, Texas. There's also a sweet spot in Singapore!
While MOIC is undoubtedly an incredibly photogenic space, the staff are eager to have you put your phone away and participate in the immersive activities. This is to allow you to reconnect (or establish a connection) with the people around you. They'll also sprinkle in some interesting ice cream facts along the way.
Before entering the museum, you'll be met with an energetic attendant — most likely handing you a popsicle. They'll give you the low down on the rules and what to expect upon entry. The first room you enter allows you to temporarily forgo your worldly name for an ice cream name, which you'll write on a name tag.
From there, you enter a 1950s-themed diner with various flavors of soft serve on offer. You'll also find a boozy bar, complete with a jukebox and neon lighting. We'll rather not spoil all the installations in store, but you can expect to walk through a banana forest, play Whack-a-Mole, and ride a frosted animal cookie carousel.
Museum of Ice Cream Austin Prices 2022
Entry tickets to the Museum of Ice Cream start at around $35. Children under two years old are granted free entry.
Your entry ticket includes five free treats, a popsicle, and unlimited ice cream. If you'd like extra snacks or want to have a few sprinkle shots at the bar, those will cost extra. Memorabilia are also charged extra if you want to take a memento home.
Compare prices across the ticket providers below: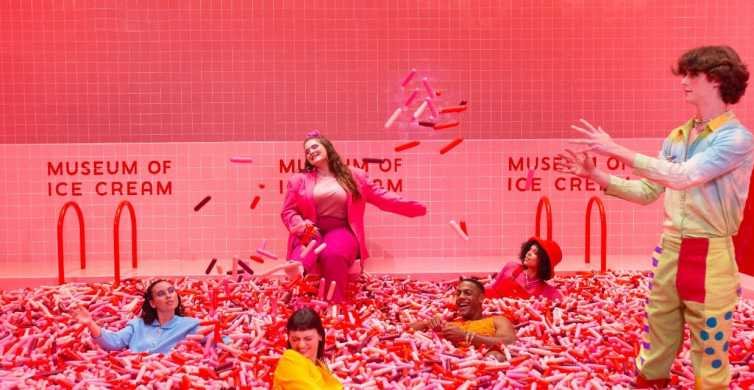 Times
The Museum of Ice Cream in Austin is only open from Thursday to Monday, while it's closed on Tuesdays and Wednesdays. The operating hours can differ, but they're generally as follows:
Monday & Thursday: 12–6 pm
Friday: 12–7 pm
Saturday & Sunday: 10 am–7 pm
Best Time to Go to the Museum of Ice Cream, Texas
This spot is understandably quite popular, so it can get quite busy. If you'd like to avoid long lines or large groups, try to go during the week — tickets are also cheaper at this time.
But, don't stress if you can only visit on weekdays. The wait in line usually doesn't exceed 30 minutes, and you'll get to enjoy a popsicle while you wait.

Tickets for the Ice Cream Museum, Austin
All entry tickets to the Museum of Ice Cream, Texas, must be booked online. As tickets sell out fast, you'll want to book a few days ahead of time. Below are the best options for Ice Cream Museum Tickets in Austin.
Ice Cream Museum Tickets — Standard Entry
The standard admission ticket allows you to book a day or night time experience during the week or weekends. The ticket will allow you access to the museum's all 12 installations and the fun treats on offer. Slide into the sprinkle pool, pose in the banana forest, or enjoy a few sparkly shots at the bar.
You'll have to select a time slot. Try to arrive as early as possible to avoid waiting in a long line. The Night at the Museum entry ticket (6 pm) is for anyone above 21 years old. This option includes adult-only games and experiences, perfect for a night out with friends.
This themed museum also keeps up with seasonal events. So you can expect Halloween installations like pink sprinkle graveyards and perhaps even some pink Christmas decor if you visit around that time.
What we liked: We love the option to book for the Night at the Museum experience.
---
INCLUDES:
Access to all exhibitions and free treats
Free WiFi
Fun information on the history of ice cream
Welcome drink with the Night at the Museum ticket option
Other highlights of this museum include a Rainbow Tunnel, the artsy Museum of Modern Ice Cream, the Magnet Room, and the Candy Shop. If ever there was a place to get creatively inspired, this is the spot.
This museum is an excellent spot for influencers or anyone looking for some fun photo opportunities. Luckily, MOIC has complimentary WiFi so that you can keep everyone updated on your fun experiences.
This attraction in Austin is also wheelchair-accessible, and service animals are allowed inside.
Check Price on GetYourGuide
Check Price on Viator
---
Related Experiences Near Austin's Ice Cream Museum
Austin has a lot more to offer besides its striking pink ice cream museum. With its excellent cuisine and thriving creative scene, this city has plenty more to taste and capture.
Secret Food Tours: Austin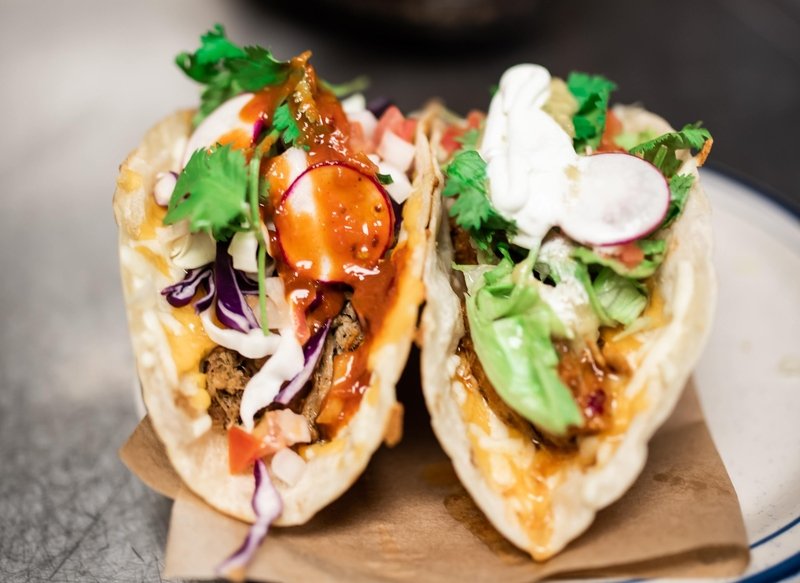 Discover the best of Austin's food scene on this 3.5-hour food tour through downtown Austin. This guided experience will take you past some of the top attractions and sights Austin has to offer while guiding you on a gastronomical journey.
You'll get to learn what the locals enjoy through sampling authentic Austin dishes while your guide teaches you more about each dish. You'll enjoy comforting classics like barbeque brisket, Austin-style breakfast tacos, and pork soup dumplings, among other delights.
What we liked: Great for those with less of a sweet tooth and first-time Austin visitors.
---
INCLUDES:
Specialty iced coffee
Austin-style breakfast tacos
Austin's "secret dish"
Barbeque brisket and Pinto beans
Monster cookie
EXCLUDES:
Additional beverages
Gratuities
The tour kicks off at a central location in Austin, near public transport stops. It is a wheelchair-accessible activity in which most can partake. You might not find this tour all that appealing if you're a vegetarian or vegan.
But, for the meat-eating foodies, be sure to come with an empty stomach and an empty SD card in your camera. You'll definitely want to take a few snapshots on this tour.
Check Price & Book
---
Austin Mural Selfie Tour by Pedicab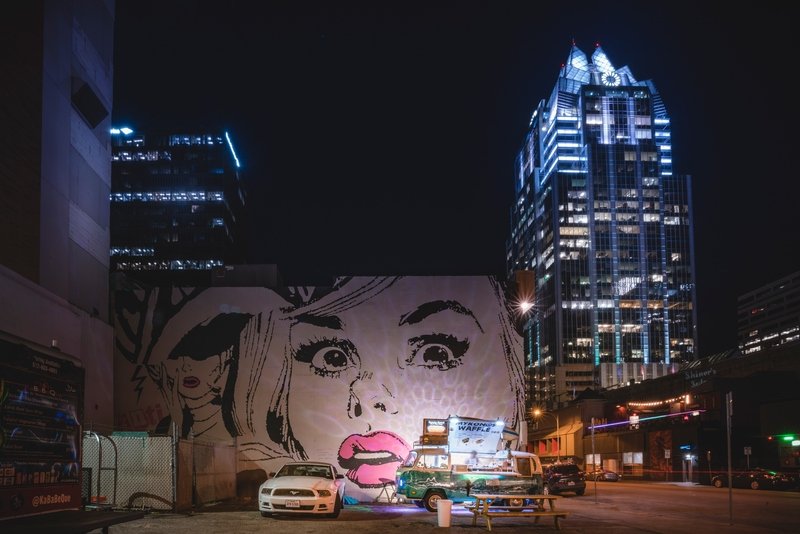 If it's photo ops you're after, then this tour has you covered. Numerous striking murals are scattered across Austin, and they're the perfect places for Insta-worthy snapshots.
Austin is the only city in the United States to have received a City of Media Arts designation from Unesco. So you can trust that there are some breathtaking sights in store.
On this guided mural selfie tour, you'll be taken to some of the most popular Murals in the city — with a Pedicab, no less. This way, you can skip out on the searching and walking and get straight to the fun part of taking photos.
What we liked: Great for those who are short on time and want to see all the top Austin murals.
---
INCLUDES:
Select hotel pickup
Pedicab ride through the city
Private guide
Insights on local street art
EXCLUDES:
Food and beverages
Gratuities
Your tour will kick off either at your hotel or the Austin visitor's center, where a private pedi-bike will pick you up. You'll get to enjoy the weather and scenery while your guide takes you to some of the most beautiful murals in the city.
This unique way to see Austin is service animal friendly, and you'll leave the tour with a wealth of knowledge of the area and its street art.
Check Price & Book
---
Editor Review
The Ice Cream Museum at The Domain is an excellent option for the young and young at heart. With everything from games, ice cream flavors, and artistic installations to experience, you won't regret visiting this spot at least once.
PROS
Great photo opportunities
Complimentary treats
Located at The Domain shopping center
Learn about the history of ice cream
Fun for all ages
CONS
Extra charge for certain drinks, snacks, and memorabilia
Lines can get long
Specification:
Museum of Ice Cream Austin, TX | Tickets, Reviews & More 2022
| | |
| --- | --- |
| Accessible | Wheelchair accessible and service animals allowed |
| Duration | 1.5-2 hours |
| Inclusions | Five ice cream-themed treats and a popsicle |
| Exclusions | Guided tour & extra snacks |
| Meals | Complimentary treats |
| Suited for | Families, adults of all ages |
4 reviews for
Museum of Ice Cream Austin, TX | Tickets, Reviews & More 2022
Museum of Ice Cream Austin, TX | Tickets, Reviews & More 2022