Playa del Carmen Boat Tours (Snorkeling & Guided Tours) 2023
Last updated on September 28, 2023 12:23 am
Playa Del Carmen boat tours are a beautiful way to soak up the sun and have some fun on the beautiful turquoise Caribbean Sea. Take a boat ride and have the chance to snorkel, visit uninhabited islands, and have a chance at finding a whale shark on your visit. It's a great place to visit to take some time off and experience what makes Playa del Carmen such a great holiday destination.
Highlights
Great certified guides and crew members
Snorkeling
It's possible to spot a whale shark
The beautiful turquoise ocean
Leisure time provided
Know before you book
Extra food and drinks can cost extra
Crowded during peak season
Transportation is not always guaranteed
Docking tax not included
Playa del Carmen is a resort town located on the coast of Mexico, right on a strip of Caribbean shoreline. The town is well-known for its turquoise beaches and coral reefs; they often get crowded during its summer season. A while ago, this number one tourist destination in Mexico used to be a fishing village, but now it's become one of the best vacation destinations in the country.
The popular 5th avenue is a famous tourist attraction that is nothing like your regular pedestrian walkway. The avenue is lined with shops, restaurants, and bars, while palm trees stretch across the entire avenue. They also have amazing Mayan archeological sites that are sure to intrigue you and are well worth the visit.
The main feature of Playa del Carmen is their sandy shores and beautiful sea that will leave you in a state of relaxation during your visit. The sandy white shore and turquoise sea spread over the Mexican coastline and make it a great place for scuba diving and snorkeling.
A Playa del Carmen cruise should already be on your bucket list. Why not cross a boat party or booze cruise off your bucket list as well?
Playa del Carmen Cruises Prices 2021
The costs for a Playa del Carmen boat excursion would start at around MXN 2 196,74 (US$110) per person and it often varies between the different tour agencies or boat operators you may choose from. However, there are a few tours that are more costly because of the added benefits or duration of the cruise. The highest prices you can expect are around MXN 2 795,86 (US$140) per person.
You can compare the different boat cruise options below:
Enjoy the beautiful and uninhabited Contoy Island on this day-trip from the Cancun or Riviera Maya area. Visit Isla Mujeres' beautiful downtown area, which is rich with culture and heritage.

Our tour starts very early in the morning from your hotel,
We will arrive in Tulum where the transportation (by Jeep / Boat / Van) will be waiting for us to enter the deepest of Sian Ka'an where a boat awaits us to begin the true adventure, the boat trip has an approximate duration of 1...
Playa del Carmen Boat Tours Time
The boat tour times often vary since you generally book for a set amount of hours. Often some cruises will depend on the weather conditions; for safety reasons, they won't run if there are unfavorable weather conditions. In general, all these boat tours end around the same time, unless you have arranged for a longer tour.
Monday – Friday:  8am – 6pm
Saturday – Sunday: 8am – 6pm
Best Time To Go Cruise in Playa del Carmen
The best time to visit Playa del Carmen for boat trips is between April and May. There are generally fewer people on the beach since it's not the summer season. The daily temperatures are anywhere between 70 to 80 degrees Fahrenheit, which drops slightly at night. October through to March is a lot warmer and drier which is also ideal, but the town will be a lot more crowded.
Hurricane season is the one you should avoid and is from June to September. If you are planning on visiting during these months, be sure to check the hurricane center to be sure you're not caught in one.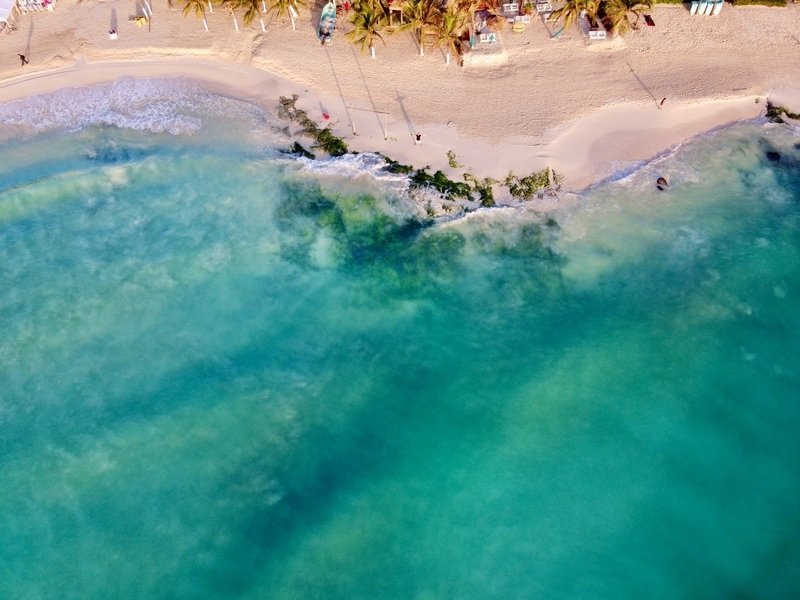 Playa del Carmen Boat Tour Options
If you have already toured the North American shoreline, you would already know that the Mexican shores offer a great variation of beaches. With Playa del Carmen tours there are no exceptions and you have a few beaches to choose from. There are various packages to choose from at different beaches.
Some include extras such as snorkeling and scuba diving, so the biggest deciding factor would be what you want to do while you are on the boat. All the following tours include at least one added activity that should be enjoyed while sailing Playa del Carmen.
Isla Contoy & Isla Mujeres Day Trip
Enjoy a full-day tour of the uninhibited Contoy Island which will include snorkeling and a guided tour. You get to enjoy the sun, good food, and snorkel on the Ixlache reef, which is the second-largest reef system in the world.
What we liked: The tour can pick you up from various locations within the vicinity.
INCLUDES:
Welcome drinks
Roundtrip transport
Certified bilingual guides
Breakfast & lunch
Snorkeling gear provided
EXCLUDES:
Docking fees
Extra MXN 399,24 (US$ 20) for the roundtrip from Tulum and Arkumal
Weather conditions can take away the snorkeling
The tour is both a cultural experience and a boat tour all in one. The day starts with pick-ups from Riviera Maya, Cancun, or Playa del Carmen. As soon as you hit the docks, you will be welcomed with a continental breakfast. The tour has an open bar, making it your very own Playa del Carmen booze cruise.
There are various points during the tour where you can enjoy some leisure time. After visiting Contoy island, you can choose to enjoy time on the shore or explore marine life. After lunchtime, you have free time to wander around the fishermen's village or to spend your time shopping.
Check Price & Book
Tour Sian Ka'an from Playa del Carmen
This is a great opportunity to travel to Riviera Maya and discover the beauty of the Sian Ka'an biosphere. You are transported to the riviera where you'll board a boat and have the opportunity to discover marine life like dolphins, marine turtles, and 500 other different species of fish that live in the area.
What we liked: Getting to enjoy the Caribbean sea and a natural pool in Punta Allen.
INCLUDES:
Round trip transportation
Certified guide
Buffet lunch
Snorkeling gear
EXCLUDES:
Tax on access to the biosphere
This tour can fill up your entire day with all the different activities and attractions. Your day will begin with your transport picking you up from your accommodation and you'll make your way down to Riviera Maya. En route, you'll travel through the Sian Biosphere to see different animals in their natural habitat.
After getting to the riviera, you will get on the boat with your guide. As you travel through the biosphere on your way to a coral reef located nearby, you'll have a chance to start snorkeling and discover their beautiful local marine life. After all your adventures, you'll make your way to Punta Allen by boat where you can take some time to relax in the natural pools just before enjoying a meal and heading back.
Check Price & Book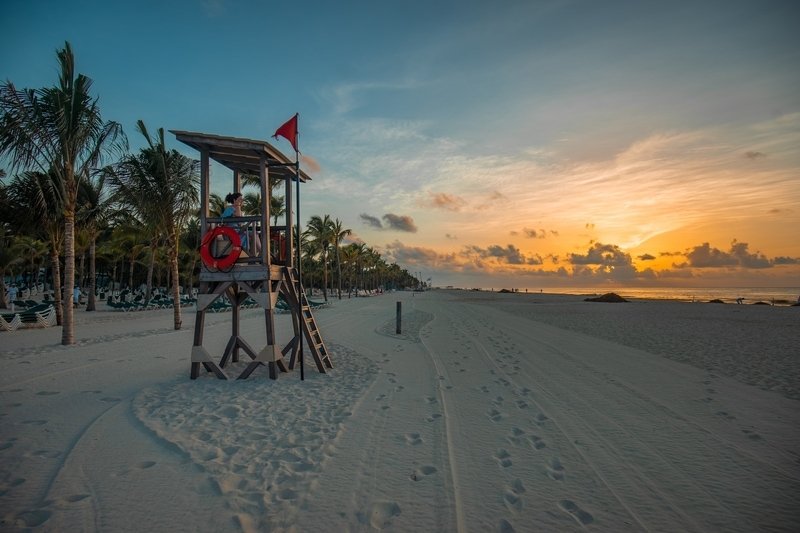 Luxury Catamaran Cruise
Take this amazing luxury 65-foot catamaran out to experience the beautiful Caribbean Sea. In this four-hour tour, you'll get to go out snorkeling in the crystal clear water in the second largest reef in the world. This is an all-inclusive tour with your meals and drinks included.
What we liked: Family-friendly tour that makes you feel like you're on your very own private boat.
INCLUDES:
Round trip transportation
Food & drink
Snorkeling gear
EXCLUDES:
Transport outside of the Mayan Riviera
Your day starts with your transportation picking you up from your accommodation from which you'll make your way to Puerto Aventuras. You'll be welcomed aboard by an experienced crew as you make your way to Ixlache. The crew will explain the day's activities before you get there. As you stop at the second largest barrier reef in the world, you get to enjoy some snorkeling under the supervision of the crew.
During this time, your meals will be prepared by the chef and they will call you back up when it is time to munch down. The full open bar and the music playing on the catamaran will make you feel like you have your very own private boat party in Playa del Carmen. After lunch and a bit of relaxation time, you'll make your way back to the dock and will be transported back unless you want to explore the city a bit more.
Check Price & Book
Playa Del Carmen boat tours are a beautiful way to soak up the sun and have some fun on the beautiful turquoise Caribbean Sea.
PROS
Food and drinks are included
Roundtrip transportation provided
Snorkeling gear provided
Bilingual guides
CONS
Docking fees not covered
Bad or unforeseen weather can cancel your trip
Not wheelchair accessible
Specification:
Playa del Carmen Boat Tours (Snorkeling & Guided Tours) 2023
| | |
| --- | --- |
| Accessible | Not wheelchair accessible |
| Duration | Full day & Half-day |
| Inclusions | Snorkeling gear, transportation, food, drink, guides |
| Exclusions | Docking tax |
| Meals | Included in the price |
| Pick-up | Round trip transport provided to most of the areas in close proximity |
| Suited for | Holiday goers, couples, families, large groups, snorkelers, divers |
29 reviews for
Playa del Carmen Boat Tours (Snorkeling & Guided Tours) 2023
Playa del Carmen Boat Tours (Snorkeling & Guided Tours) 2023