Rio de Janeiro Hang Gliding Tickets 2022 : Prices, Options & More
Last updated on December 1, 2022 2:25 pm
Add to wishlist
Added to wishlist
Removed from wishlist
0
Add to compare
Hangliding is a fabulous distraction and should be tried at least once by anyone with a sense of adventure. What better place to do it than over the vast city of Rio de Janeiro, with mountains, ocean, and expansive cityscape to appreciate.
Rio is one of the best places to visit in South America. It offers several opportunities to hang glide, and here are some of the options open to you, even if you're a total novice.
Highlights:
Superb views of the city
Thrill of a lifetime for newcomers to hangliding
Great photo opportunities
Know before you book:
Will require some safety briefing
Best to pack for all weather conditions
May require additional insurance fees and indemnity waivers
Seeing the famous attributes of Rio de Janeiro from the air is indescribable, although you could try very hard. For starters, there's Sugarloaf, the Copacabana, Laboa, Ipanema, and Corcovado (and its Christ the Redeemer Statue). There are also the famous favelas that spread themselves out over the cityscape. Hang gliding in Rio de Janeiro is indeed a one-of-a-kind experience.
Hang gliding excursions typically include pickups from your hotel, a short trip through the city to the location, and a briefing on safety and basic tips. Don't worry. You won't be asked to fly alone. Most services will provide a tandem flight of about 20 minutes. This is a fair duration as anything more might be too much for a first-timer to handle. It really is exciting, and your adrenaline will be pumping throughout the experience.
Another inclusion is all the gear, which is best prepared by the experts anyway. Your briefing will include a general run-down of what does what and how on a hang glider. But for the most part, you won't have to buy anything or worry about setting anything up yourself.
In addition, some services provide return drop-offs, but some will encourage you to enjoy the immediate area around the landing zone, which may be a beach or local recreational area.
All in all, this is a good two to three hours to spend in Rio and will offer a memorable experience to relay back home. It's ultimately the grand mix of city, sea, and mountains that will take your breath away, though, especially from so high up, with the wind blowing in your hair.
A note on restrictions:
Generally speaking, a tandem glide has a weight limitation. Note that some providers may not be able to accommodate individuals over a certain weight. It may be useful to enquire when booking whether there are any such limitations. Some providers may also be able to make provisions for these kinds of requirements.
Services that provide for people with disabilities are also not common.
Rio de Janeiro Hang Gliding Prices 2022
Obviously, the price of a hang gliding session varies from provider to provider, but it's fair to budget somewhere around $150 – 250 USD ($780 – 1400 R) on average. That ballpark should take care of most novice and intermediate gliders' first lessons, which usually include equipment and gear for use.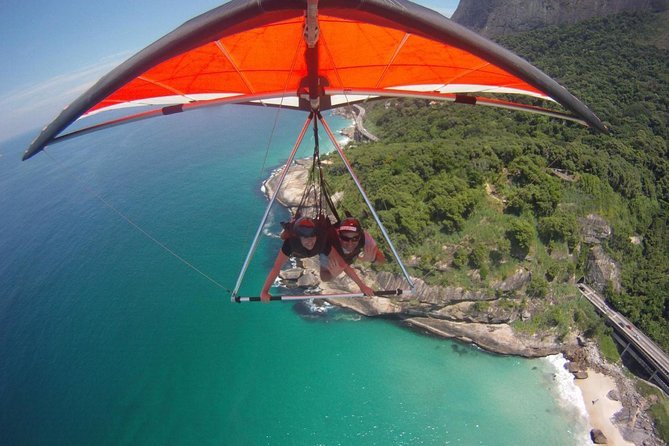 Times
Various operators run services at various times, but overall, hang gliding happens during the daytime. You can usually book a slot sometime between 8 am and 5 pm most days, even on weekends.
Monday – Sunday: 8 am – 5 pm
Best Time to Go Rio Hang Gliding
The common wisdom among experienced gliders is that morning is a great time to do hang gliding. This is because the air currents are less volatile, usually providing for a smoother gliding experience. The same conditions often exist in the late afternoon, but not always. Most providers work on a booking system, so queues are not really a consideration.
While the seasons are not as impactful on hang gliding conditions, note that the rainy season (December to May) may limit the time available to glide.
The Tandem Rio Hang Glide
The most common service provided is for tandem hang gliding with an instructor. You will still need to go through a short safety course and lesson. Once in the air, the experienced instructors will take charge of the flight while you get to simply enjoy the thrill ride. Many tandem gliders have larger wingspans and specialized landing gear.
Top Rio de Janeiro Hang Gliding Options
With the impetus being on enjoyment and safety, most of the optional extras center around whether you get a pickup and drop-off, how long a session might be, and any complementary extras that may be offered.
Hang Gliding in Rio de Janeiro with Hotel pick-up and drop-off
The convenience of a hotel pickup and drop-off is worth considering. Making your way through the traffic of Rio can be intimidating. At least this way the provider is responsible for getting you there and back safely. You'll also have some extra time to chat with the drivers and instructors.
Once in the air, the flight takes you across some of the best beaches in South America, offering some of the best views that hang gliding in Brazil has to offer. Best of all, the instructors themselves will take pics of your 20-minute flight, which are yours to keep at the end of the session. Landings take place on the awesome São Conrado Beach.
What we liked: An awesome all-inclusive package for the amagteur or novice.
INCLUDES:
Air-conditioned vehicle
Hangliding equipment and instructor
Pictures of your flight
Though everyone looks forward to the flight itself, the instruction section of the tour is just as interesting. Be sure to pay attention to the instructor's detailed explanation of how it works, as well as the gear and safety considerations. It really is a lot more fun than it sounds.
For example, some common misconceptions are dispelled during the briefing. It does not take a lot of strength or very much skill to be a participant in hang-gliding. You may also learn a new skill, like running down a hill without looking down a hill.
Any trepidation that first-time flyers have is quickly dispelled, and the feedback is always that the effort was well worth it!
Check Price & Book
Rio de Janeiro: Favela Tour and Hang Gliding Experience
This excursion takes place from Rocinha. If you happen to be staying in the Copacabana neighborhood or can make your way there, the providers will arrange a pickup for you from that point. The first stop is a brief introduction to two of the legendary favelas or shanty-town areas of Rio.
Then it's on to Sao Conrado beach, where your hang gliding instructors will introduce you to your equipment and imminent airborne adventure. The gliding trip will take you back over the favelas and nearby rainforest, this time with an extraordinary aerial view.
While there is no return drop-off, it does provide you with the option to stay on the beach for a while, when ready, a bus or taxi to your next stop is easy to access.
What we liked: Great for if you don't want it to take the whole day.
INCLUDES:
Hotel pickup (from Copacabana hotels)
Guided 2-hour favela tour
Hang gliding tandem flight
EXCLUDES:
Return drop-off
Hang gliding club fee/insurance ($60.00 R about $13.00 USD)
Food and drinks
Check Price & Book
It's hard to argue against the thrill of hang gliding over one of the most famous cities in the world. If it's at all within your means and ability, hang gliding over Rio de Janeiro's beaches, forests, mountains, and favelas is highly recommended.
PROS
Unique experience
Amazing views and photo ops
Many options and locations
CONS
Not for physically impaired people
May not suit faint-of-heart
Age restrictions (no children or seniors) may participate
Specification:
Rio de Janeiro Hang Gliding Tickets 2022 : Prices, Options & More
| | |
| --- | --- |
| Duration | 1 – 3 Hours |
| Inclusion | Gear hire & Instructions |
| Exclusion | Insurance |
| Meals | None |
| Pick-up | Yes |
| Suited for | Physically suited for adults |
12 reviews for
Rio de Janeiro Hang Gliding Tickets 2022 : Prices, Options & More
Rio de Janeiro Hang Gliding Tickets 2022 : Prices, Options & More