Last updated on October 2, 2023 11:22 am
Add to wishlist
Added to wishlist
Removed from wishlist
0
Add to compare
San Juan is a culturally rich city and world-renowned boating destination in Puerto Rico, an unincorporated United States territory.
The lush Caribbean region and its Spanish heritage attract millions of tourists annually. It can be frustrating squeezing through the crowds during the busy seasons to catch a glimpse of the historical sites and attractions.
The best way to see the island is to sail around the turquoise Caribbean waters. Whether you prefer a relaxing day trip on a luxury catamaran, an overnight moorage, or a swashbuckling adventure aboard a 19th-century style, there is something for everyone.
You can hop on a party boat for an all-you-can-drink "booze cruise" with your entire crew or embark on an intimate journey for two. Read the list below to find the perfect San Juan boat tour for your needs.
Know before you book:
Not recommended for pregnant travelers or anyone with heart conditions, back problems, or other severe medical conditions
Not wheelchair accessible
Not suitable for children under four years
The minimum drinking age is 18 years old
Wear casual clothes and comfortable shoes
Some tours are subject to favorable weather conditions
If you tend to get seasick, there is an over-the-counter remedy you can take with food at least 1 hour before the trip
Highlights:
Observe whales and other marine life in their natural habitat
Food and drink are complimentary on some tours
Panoramic views of San Juan
Puerto Rico's unique blend of ancient architecture, tropical rainforests, and white-sand beaches draws tourists from all walks of life. Its capital city, San Juan, is known for its vibrant residents and warm hospitality.
The island is home to many historical buildings, like century-old castles and former defensive forts. Visitors can stroll around the cobblestone streets of Old San Juan or visit the trendy Isla Verde beach resort strip, famous for its casinos, bars, and nightlife.
Sightseeing boat cruises along San Juan Bay allow travelers to see the beauty of San Juan from a unique perspective. You can book a tour on a sailboat or catamaran and sail past famous landmarks such as El Morro and La Fortaleza or catch a glimpse of the humpback whales when the waters around San Juan become their breeding grounds between mid-January and mid-March.
The weather in San Juan is warm all year round, with temperatures ranging from 75°F to 85°. And the crystal-clear waters are usually calm, making it an ideal location for sailing throughout the year.
Boat Tour Prices 2023
The tour prices range between $80 and $250 USD per person. The length of the trips varies and can be anywhere from 1.5 hours to 9 hours long. Some tours include complimentary drinks, snacks, or meals, but the price almost always excludes gratuities and hotel pick-ups and drop-offs.
Compare prices across the tour providers below: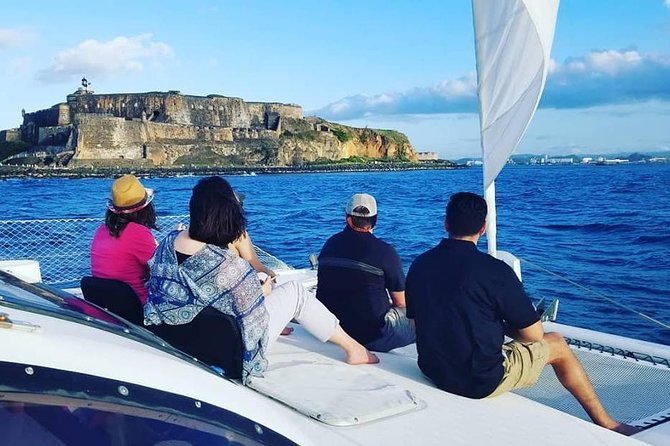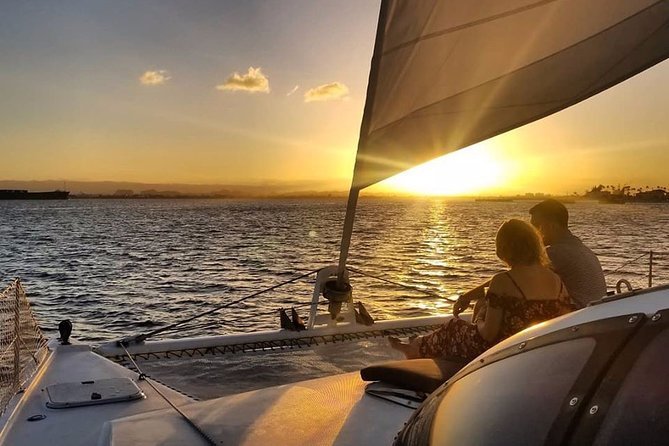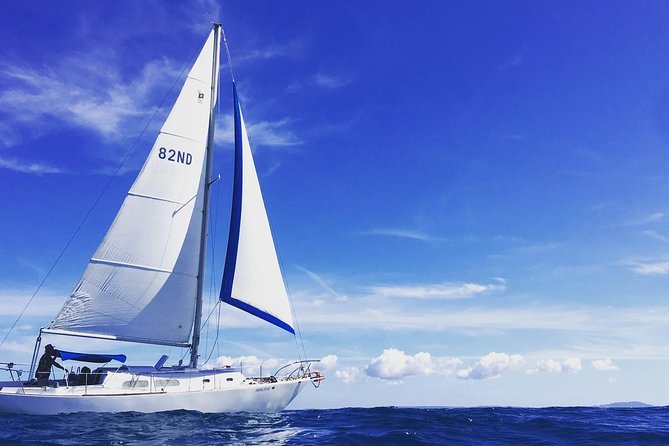 Daily Boat Tour Times
San Juan boat tours depart every day of the week at various times, depending on the activity provider and the type of tour.
Full-day tours typically begin at 9:00 am. For shorter trips, some tour providers allow you to pick a time slot in the morning, mid-afternoon, or late afternoon.
Tours to the Bioluminescent Bay leave San Juan around 02:00 pm, and sunset cruises start approximately one hour before sunset.
Best Time to Go on a Boat Tour in San Juan
Puerto Rico has a tropical climate and good wind conditions, so boat tours are available all year round. However, you may want to avoid planning your sailing holiday during the rainy season from April to November.
The best time of the year for boating in San Juan is during the dry season, from December to March.
The best time of the day to sail around San Juan depends on your itinerary. You're more likely to spot dolphins in the mid-morning or late afternoon. For a romantic cruise with your significant other, consider going at around 05:00 pm so that you can watch the sunset.
Boat Charters in Puerto Rico
If you want more time and freedom to explore the Caribbean island, marvel at the white sand beaches or swim in the turquoise waters, a boat tour may not suit your needs. Instead, you can rent a boat or catamaran in San Juan, with or without a skipper.
The price of charter boats in Puerto Rico depends on the size and model of the vessel and the length of your trip. Motorboat rental is the cheapest and costs around $3,500 USD per week.
You can expect to pay at least $4,100 to rent a sailboat for a week and $5,500 for a catamaran. Yacht rentals in Puerto Rico are more expensive and can cost anywhere from $4,000 per day or $28,000 per week.
You will need a boating license if you're prepared to hire a boat without a captain or crew. However, if you want a local, experienced skipper to guide you through the area, the charter will cost an additional $260 per day, at least.
Half-Day Private Sailing Excursions
This sailboat charter is suitable for a small group of friends or family who want to spend a few hours on the waters, relaxing or learning about sailing in San Juan. Whether you're interested in owning a boat or sailing on your own, an experienced captain and crew will be at the helm and can answer all your boating questions.
If you'd prefer to relax and enjoy the ride, you could lounge on the deck and sip on your beverage of choice. The tour doesn't include drinks, but you can bring your own. There is also the option to go snorkeling if the conditions allow.
What we liked: Learn from the crew and help them sail, or relax with your own drinks and enjoy the scenery.
---
INCLUDES:
Restrooms
Equipment and safety gear
Coolers with ice
Snorkel gear on board
Fuel surcharge
Landing and facility fees
EXCLUDES:
Ground transportation and hotel transfers
Gratuities
Snacks and meals
Drinks
Check Price & Book
---
San Juan Boat Tours
Renting a boat in Puerto Rico is easy, but if you're planning to have a drinking party, we would recommend booking a tour on a party boat. The crew will look after you and share exciting facts about the landmarks you pass.
If the standard one-and-a-half-hour boat cruise is too short for your needs, you can choose a half-day or full-day tour.
Sailing Adventures on a 19th-Century Style Ship
These shorter tours are not only budget-friendly, but they also give you a taste of life as a pirate. Choose between afternoon tours (and hopefully spot dolphins) or romantic sunset tours.
You'll cruise around Old San Juan and pass many historical attractions along the way. A local guide will tell you all the fascinating facts about the region's history while you sip on cocktails or soft drinks.
What we liked: You get a brief and affordable experience aboard a schooner, a vessel like those used in history to fight in wars.
---
INCLUDES:
Sightseeing cruise
Local tour guide
Cocktails and refreshments
Music (on some tours)
EXCLUDES:
Ground transportation and hotel transfers
Gratuities
Snacks and meals
This tour is perfect for couples or small groups who want to spend 1-2 hours on the pristine waters before heading back to enjoy the rest of the day in San Juan.
Check Price & Book
---
Full-Day Catamaran Puerto Rico Tours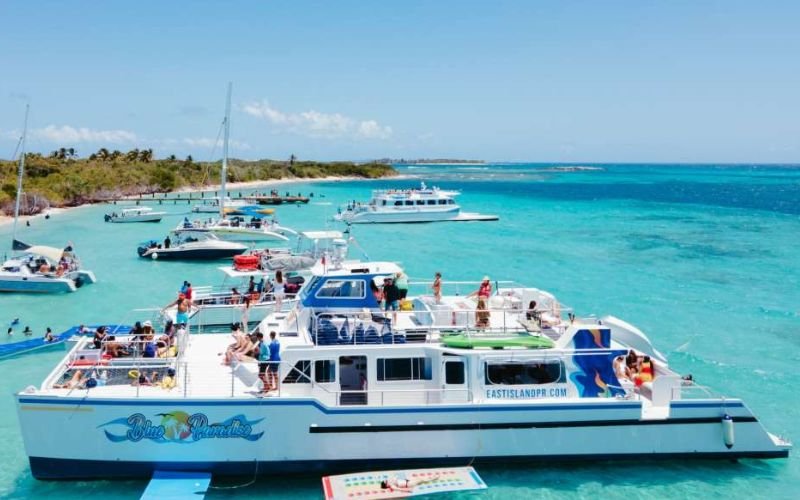 This full-day catamaran cruise sets sail at 09:00 am from Marina Puerto del Rey, a harbor in Fajardo, approximately one hour from San Juan.
You will sail to a nearby deserted island where you can spend a few hours walking on the white beach sand, soaking up the sun, and swimming in crystal-clear waters. The crew will serve you a delicious lunch with drinks on board. Both alcoholic and non-alcoholic tours are available.
Spend the rest of the afternoon swimming or snorkeling a short distance from the shore before returning to the dock in Fajardo at around 03:00 pm.
What we liked: You can enjoy a full day relaxing on a deserted island and swimming in the pristine Caribbean waters.
---
INCLUDES:
Some tours include hotel pick-up and drop-off
Pre-packed lunch or sandwich buffet
Sodas and water
Some tours include alcoholic beverages, while others are alcohol-free
EXCLUDES:
Snorkeling equipment (available for purchase on-site)
Gratuities
Check Price & Book
---
Bioluminescent Bay Puerto Rico Boat Tours
A bioluminescent bay (or bio bay) is a body of water that glows bright blue-green at night due to a type of phytoplankton. There are only five bio bays worldwide, but there are multiple bio beaches like the glowing beach in the Maldives.
Puerto Rico has three bio bays, and they're all open for tours. Kayak or swim in the bay at La Parguera at night, under the starlight.
The natural phenomenon is rare, but it can happen at any time of the year. The darker the night, the brighter the bioluminescent glow. If you're afraid of the dark, you may want to try a different tour.
What we liked: Learn about the local flora and fauna and have a chance to witness the magical phenomenon of a bio bay.
---
INCLUDES:
Hotel transfers (within the San Juan area)
Certified tour guide
Light snacks or dinner
Bottled water
EXCLUDES:
Gratuities
Alcoholic drinks
Check Price & Book
---
Editor Review
Boat tours and charters in San Juan are the perfect way to unwind with your loved ones while learning more about the city's rich history. If you're in good health and love unforgettable adventures, put this activity on your bucket list.
PROS
Beautiful views of San Juan
Close-up marine life encounters
Variety of options to suit your needs
Most tours include food and drinks
CONS
Not wheelchair accessible
Not for kids under four years
Specification:
San Juan Boat Tours (Cruises, Charters & Prices 2023)
| | |
| --- | --- |
| Accessible | Not wheelchair accessible |
| Duration | 1 – 6 hours |
| Inclusions | Boat cruise/tour, English-speaking tour guide |
| Exclusions | Snorkeling equipment, Gratuities, Hotel transfers |
| Meals & Drinks | Bottled water, sodas, alcoholic beverages, snacks |
| Hotel pick-up | Not included in most tours |
| Suited For | Couples, small groups of friends or families, boating enthusiasts |
15 reviews for
San Juan Boat Tours (Cruises, Charters & Prices 2023)
San Juan Boat Tours (Cruises, Charters & Prices 2023)