Savannah Boat Tours | Tours, Prices, and Cruises 2023
Last updated on April 1, 2023 6:17 am
Add to wishlist
Added to wishlist
Removed from wishlist
0
Add to compare
Sitting on the outskirts of the Atlantic, Savannah, Georgia, is known for its vibrant scenery, historical landmarks, and delicious Southern cuisine and seafood. From daytime Savannah walking tours to stunning, scenic riverboat cruises, this city can be enjoyed in so many different ways.
If you're looking for an exciting riverboat cruise, Savannah is a great place to start. Located just north of Florida, USA, Georgia also sports sunny and warm weather for you to enjoy during your boating excursions.
Here we will take you through some of the best cruise options and Savannah, GA, boat tours you can enjoy during your trip. Each has a unique experience, making them great for families, romantics, and history lovers alike.
Highlights:
See the beauty of the historic waterfront and riverside of Savannah.
View famous landmarks, like the Tybee Lighthouse, Old Fort Jackson, or Fort Pulaski.
Enjoy guided commentary and insightful narrations from guides and captains.
Know before you book:
Make sure you keep your passport or ID on hand.
Remember boarding times and locations, so you don't miss your tour.
Most boat tours don't include food and drinks, so be prepared to buy those while you're there.
Some cruises and riverboat tours are not wheelchair accessible.
Savannah, Georgia, is a gorgeous city that sits alongside the Atlantic Ocean and, as a result, is surrounded by winding rivers and canals, perfect for boat trips and cruises. These Savannah riverboat cruises are the ideal way to capture the natural scenery while getting a well-rounded city history.
Don't forget historical locations like Old Fort Jackson or Fort Pulaski, which are a must-see for any history buff.
Savannah Boat Tours Prices 2023
The tours start at around $39.93 per person but can reach up to $90.21, depending on your chosen package.
Compare prices across the ticket providers below: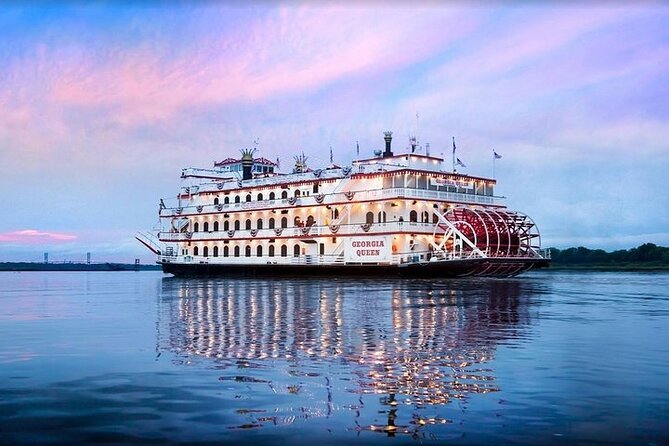 Savannah Riverboat Times
Boat tours and cruises in Savannah range from morning to evening, depending on the goals for your trip. Typically, tours are around two hours long, except for a 5-6 hour excursion. Cruises on the Georgia Queen riverboat operate all year round, every day of the week.
Monday to Saturday: 9 am – 7 pm
Sunday: 9 am – 5 pm
Best Time to Go on Savannah Boat Tours
Let's quickly look at the best times to go to Savannah to get the best out of your boat tour experiences.
Time of year: The best time to visit Savannah, Georgia, is during the warmer seasons, like summer and spring. The warm weather allows you to make the best of your riverboat cruise by enjoying the clear skies and stunning waters along the river.
Time of week: The best time of the week to go on your tour or cruise is between Monday to Saturday. Sunday hours are usually slightly less, so other days will give you more bang for your buck.
Time of day: This all depends on what you're looking for. If you want to enjoy time with the family, then mornings and early afternoons are best. Late afternoons or evenings are great for a quiet time with your partner and stunning views of the sunset and stars.
Savannah Boat Tours and Cruise Options
Whether you want a day out with the family along the coast or an evening away with a loved one during sunset, the tours below will surely impress. Let's now take a look at some of your options.
Savannah Riverboat Cruise and City Combo Tour
This Savannah riverboat cruise offers an incredible and well-rounded experience of this city. Here you can enjoy a combination of an open-air trolley tour of the town, as well as a riverboat tour of the stunning, historical waterfront.
This tour offers a 90-minute trolley tour of the city, with a complete historical narration of popular sites. After this, you'll go down to the Savannah river boat for a 90-minute cruise on the water. This tour's vital feature is the expert guides and their storytelling of the historical locations you will see.
What we liked: Great to learn more about the history and cultural significance of Savannah sites.
---
INCLUDES:
Guided commentary
Hotel pick-up and drop-off at selected hotels
On-board riverboat snack shop
EXCLUDES:
Not wheelchair accessible
Gratuities
Starting from your designated hotel or the Savannah visitors center, you will begin your journey sightseeing some of the city's best locations. This includes the Old Fort Jackson, an array of stunning Victorian mansions, and the city skyline along the river. Prices for this cruise start at around $71.54.
Check Price & Book
---
Savannah Riverboat Narrated Harbor Sightseeing Cruise
This narrated harbor cruise focuses solely on the sites along the Savannah riverside. This 90-minute tour begins at the meet-up at the Riverboat ticket office and kicks off once you and your loved ones board. As a bonus, you won't have to worry about the weather canceling your Savannah river cruise, as the tour takes place in rain or sun.
Along your journey, expect to hear some insightful stories and historical commentary from the captain, who will keep you enthralled throughout your trip.
What we liked: Great for those who want to focus on the riverside rather than the city.
---
INCLUDES:
Historical narrations from the captain
Wheelchair access
Free entrance for children under four
EXCLUDES:
Food and drinks
Hotel pick-ups and drop-offs
No refund if you miss boarding
This cruise includes viewing Old Fort Jackson, where you might be lucky to hear the old canons. You will see some fantastic waterfront views and other stunning buildings along the river.
If you're feeling peckish, there is also a bar and grill on the boat to order delicious appetizers, meals, and drinks. Prices for this cruise start at $39.93 per person.
Check Price & Book
---
Half-Day: Savannah Tybee Island Dolphin Cruise Tour
If you love the ocean and aquatic wildlife, look no further than the Tybee Island dolphin tour. Of all Savannah boat tours, this one is unique and inviting, especially for beach lovers.
This tour takes around five to six hours so that you can enjoy a full day out and about on Tybee Island. This tour includes a trip to one of Savannah's most popular beaches and a boat cruise along the coast. Stop at the Crab Shack for a tasty lunch during your trip, or pack your own lunch.
What we liked: Great for those who want a day out at the beach.
---
INCLUDES:
Hotel pick-ups and drop-offs
5-6 hour excursion
EXCLUDES:
Food and drinks
Parking fees at the Visitors Center
Gratuities
This cruise includes a tour of the stunning coast of Savannah while watching majestic dolphins in their natural habitat. You'll also enjoy a stop at the Tybee Island lighthouse and Fort Pulaski.
For an even more stunning experience, take advantage of one of the sunset cruise options. Prices start at $66.39 per person.
Check Price & Book
---
Savannah Sunset Riverboat Cruise
If you're looking for a special treat for you and your partner? This 2-hour tour offers an incredible view of the historical waterfront during sunset.
This tour includes sultry and jazzy tunes from the fifties, so you and your loved one can dance and enjoy the live entertainment.
What we liked: Great for birthdays or anniversaries.
---
INCLUDES:
Live entertainment
Wheelchair accessible
Bar and grill available
EXCLUDES:
Food and drinks
No refund if boarding is missed
Gratuities
This cruise includes an onboard bar and grill, where you can taste some delicious food and drinks while enjoying the scenery from the open-air top deck. Of all the Savannah riverboat cruises on offer, this one truly is magical. Prices for this cruise begin at around $51.97 per person.
Check Price & Book
---
Romantic Savannah Dinner Cruise with Live Entertainment
If you want to spend some alone time with your partner, then this dinner entertainment cruise is the one for you. While sailing along the Savannah river during sunset and into the evening, you can enjoy a breathtaking two-hour experience.
View the historic waterfront of Savannah under the stars, relax in the ballroom, listen to live entertainment, or dance to amazing tunes. This cruise comes with a delicious Southern-style meal from a menu you can choose from.
What we liked: Great for live entertainment and included meals with a loved one or partner.
---
INCLUDES:
Wheelchair accessible
Dinner
Live entertainment
EXCLUDES:
Hotel pick-up and drop-off
Gratuities
Alcoholic beverages – only available for purchase
This cruise takes a small group of ten people, so you could even consider coming with coupled-up friends. Pick-up is at the Savannah Visitors Center. Prices begin at $90.21 per person.
Check Price & Book
---
Editor Review
This stunning dinner cruise is a fantastic opportunity for families with children, small friend groups, or even couples wanting to experience a quiet getaway together. With a delicious meal included in some cases, live music and entertainment, and a beautiful view of the waterfront below the stars, this cruise is well worth your time.
PROS
Evening cruise under the stars
Southern-style meals included (where specified)
Live entertainment and music
CONS
Alcoholic beverages not included in price
No hotel pick-up or drop-off
Only two hours - could be longer
Specification:
Savannah Boat Tours | Tours, Prices, and Cruises 2023
| | |
| --- | --- |
| Accessible | Wheelchair accessible (unless otherwise specified) |
| Duration | 1-6 hours |
| Inclusions | Guided commentary, Live entertainment, Views of historic locations (where specified) |
| Exclusions | Optional activities, hotel pick-ups and drop-offs, food and drinks (where specified) |
| Meals | Meals Not included (unless otherwise specified) |
| Pick-up | Provided at selected locations |
| Suited for | Solo travelers, Families, Couples, History buffs |
6 reviews for
Savannah Boat Tours | Tours, Prices, and Cruises 2023
Savannah Boat Tours | Tours, Prices, and Cruises 2023