When people on the road ask me what my favourite country in the world is, I always find it hard to answer. In the end though, I almost always give two answers. South Africa and Iceland! Road tripping around Iceland with my friend Lauren was one of the most epic trips of my life and I think she'll agree with me when I say that the waterfalls in Iceland are out of this world!
Each one is different but they are all equally breathtaking, and whether you visit Iceland in summer or winter, you'll be in for a pleasant surprise. Below are my pick of the most beautiful waterfalls in Iceland that you seriously NEED to visit!
Waterfalls near Reykjavik
All of the waterfalls below are either located on Iceland's famous Golden Circle driving route or are less than 2 hours drive from Reykjavik. Many are close to each other so it's easy to visit 2 or 3 waterfalls in one day.
Gullfoss
Gullfoss is probably one of the most famous waterfalls in Iceland thanks to its proximity to Reykjavik and the fact that it's one of the stops on the popular Golden Circle driving route. It definitely gets the highest number of visitors but don't let this put you off.
This waterfall is one of the biggest in the country when it comes to the sheer amount of water that cascades over the falls and its is absolutely stunning to look at in both summer and winter (as pictured below). In the summer you'll be greeted with all sorts of double rainbows, and me and my friend absolutely loved the short hikes in and around the waterfall when we visited in September.
Distance from Reykjavik: 109km / 1 hour and 35 minutes drive.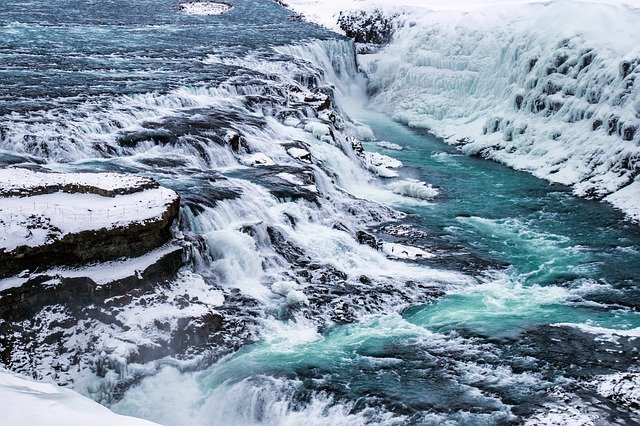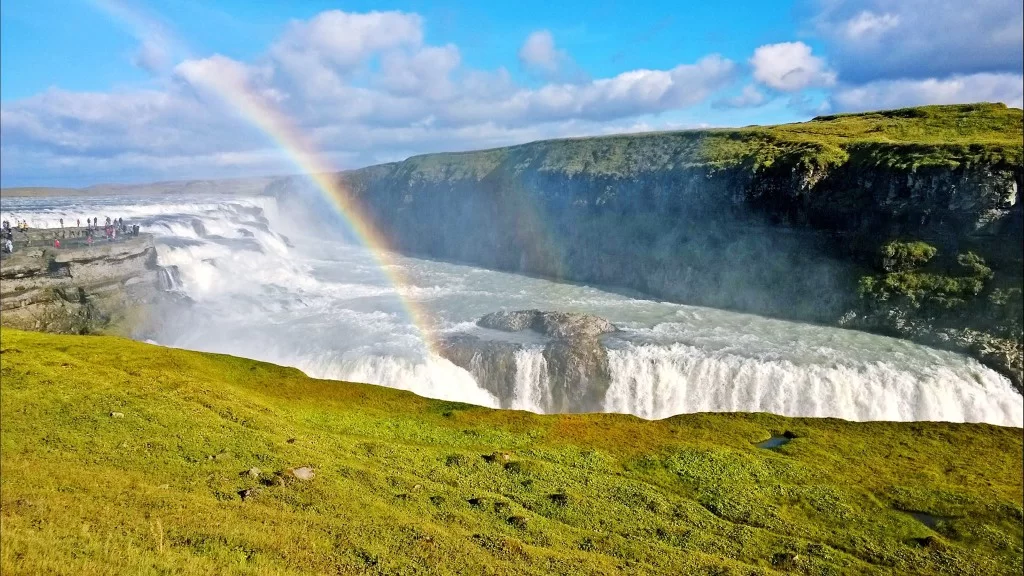 Glymur
Gylmur Waterfall is said to be the highest of all the waterfalls in Iceland. It less than an hours drive from Iceland's cute capital city which makes it a fun half day trip if you have some extra time on your hands. The hike up the waterfall is pretty tough taking up to 5 hours round trip, but you'll be rewarded with some pretty incredible views of the waterfall and surrounding area. NOTE: It isn't good for anyone with a fear of heights!!
Distance from Reykjavik: 63km / 1 hours drive.
Seljalandsfoss
Seljalandsfoss is another of Iceland's most famous waterfalls and you will probably see it online or in a travel guide ever before your trip to Iceland! It's also one of the most visited because of its location on Iceland's ring road, the road that loops the entire way around the island.
This waterfall is breathtakingly beautiful, especially during those Spring or Autumn sunsets – and you can actually do a short hike that brings you BEHIND the waterfall! While it's also amazing in winter, I think summer is the best time to visit this beauty.
Distance from Reykjavik: 121km / 1 hour and 36 minutes drive.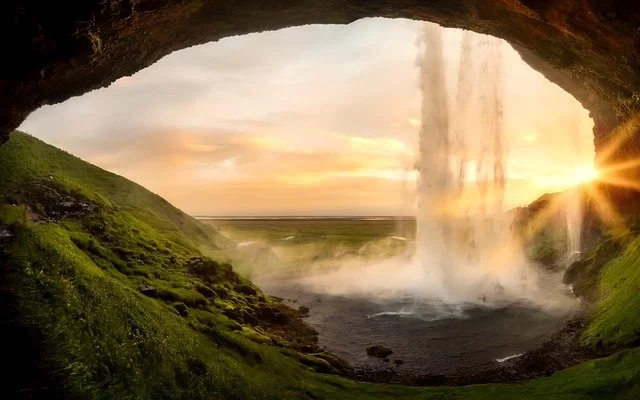 Hraunfossar
Located an hour north of Glymur waterfall, if you plan on visiting this breathtaking waterfall North of Reykjavik we recommend visiting both in the same day to make the drive worthwhile. What makes this waterfall so unique is that the it is a series of smaller cascading falls and the water flows out over the hard, black, lava rock making for a striking contrast of colours.
If you're an outdoor adventure enthusiast, I recommend bringing along your tent and camping here for a night or two. There are some camp sites in the area and it means you can come check out the falls at sunrise when there's no one else around!
Distance from Reykjavik: 119km / 1 hour and 35 minutes drive.
Brúarfoss
The colour of the water in the falls is what makes it so unique and definitely one of the most beautiful. It's one of the lesser visited falls and you definitely won't be finding any big tour buses here as it's not even visible from the road. The water is this crazy icy blue colour and will seriously take your breath away.
It's located just off the Golden Circle, and is actually very close (a 20 minute drive!) to one of my favourite Hot Springs, the spa at Laugarvatn where you can bathe in natural spring water while sipping a cold beer!
Distance from Reykjavik: 88km / 1 hour and 20 minutes drive.
Haifoss
This is the second tallest waterfall in Iceland, measuring 400ft high. if you can hike up and watch the waterfall flow over the side of the cliff and into the river below it's a very dramatic site. Located a 30 minute drive off the main Golden Circle route, it's definitely worth the detour!
Distance from Reykjavik: 119km / 1 hour and 35 minutes drive.
Hjálparfoss
This waterfall is one of the smaller ones of the list but the fact that the river splits in two created a double waterfall that flows into a small lake makes it both unique and beautiful. The surrounding landscape is breathtaking, especially in Autumn as pictured below.
The name means "Help Waterfall" in English and locals say the name derives from the small lake being a place for horses (and their riders) to rest and get some water during long journeys by horse back in the past.
Distance from Reykjavik: 116km / 1 hour and 33 minutes drive.
Skogafoss
Another one of Iceland's most visities waterfalls, Skogafoss is located on the famous ring road making it an easy one to visit. You can get very close to the bottom of this waterfall which makes for very stunning photographs, but you can also hike up to the half way point and to the top for alternative views.
This was a firm favourite for myself and Lauren, especially as standing at the bottom made as feel so tiny and insignificant in this beautiful, natural world we live in! The photos below show the view from the bottom and the top, to give you an idea of the different views / perspectives available.
Distance from Reykjavik: 148km / 1 hour and 58 minutes drive.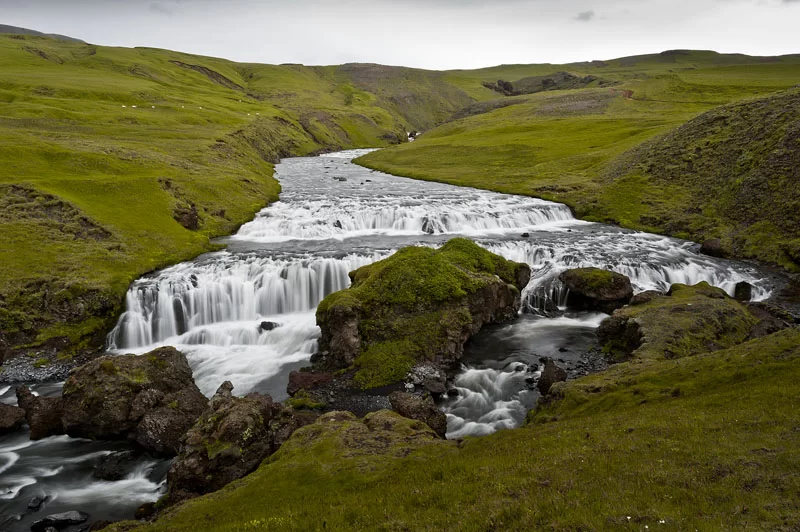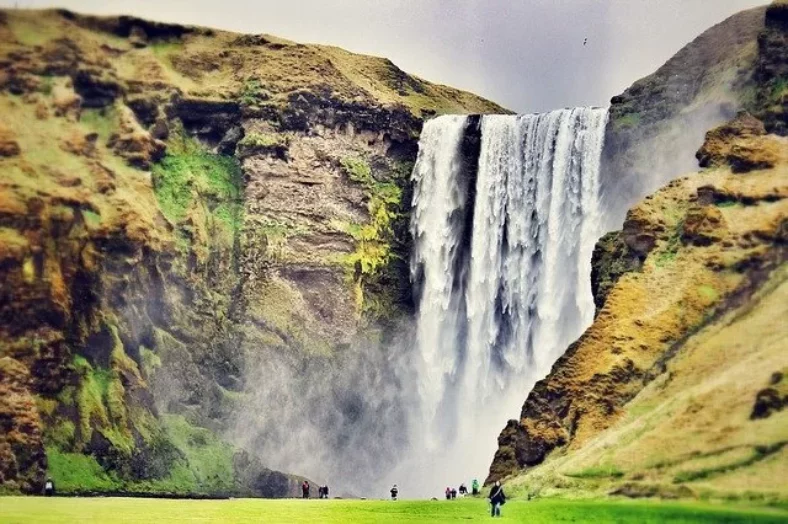 Waterfalls in Iceland further afield
Godafoss
Godafoss is probably one of the waterfalls furthest from Reykjavik (over 300km North!) but it totally worth visiting if you are travelling up North or plan to drive the entire ring road. This huge, horseshoe shaped cascade is most stunning in winter, although you'll probably need a four wheel drive to get there at that time.
The name translates as "The Falls Of The God" and once you've visited you'll know why! Definitely one of the most spectacular waterfalls in Iceland to visit.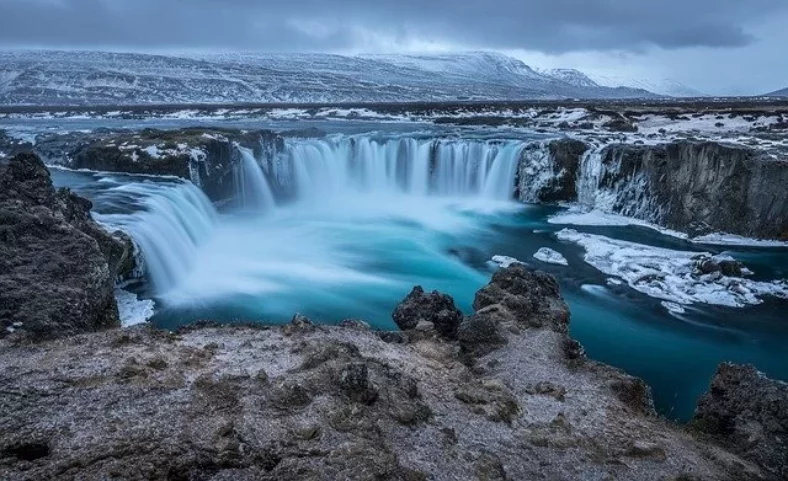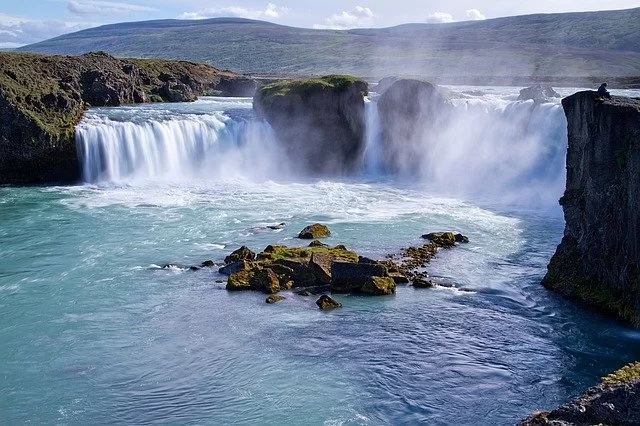 Aldeyjarfoss
One of the smaller waterfalls in Iceland, measuring just 20 meters, this one is again worth visiting because of its secret status and the fact that you might have the place to yourself!
The surrounding landscape and river bed are also what contribute to making this waterfall so unique, with the narrow black basalt columns that form the river bed contrasting perfectly with the icy cold white water flowing over it. In winter, much of the water freezes and snow covered the basalt making it even more striking.
Svartifoss
What could be more mesmerizing that watching water dramatically fall off a cliff made up up of tall, dark basalt columns. it's almost like the Giant's Causeway in Northern Ireland, but forming the base of a waterfall. If you're driving the ring road towards Vik or Jokulsarlon Ice Lagoon, it's worth stopping off at this waterfall on the way. Check out my friends photos from her recent visit.
Kirkjufellsfoss
Ahhh Kirkjufellsfoss! One of the most recognisable destinations in Iceland and a firm favourite amount the photographers of the world. The waterfall flows in the shadow of the dominant Kirkjufell Mountain, and you can capture both the falls and the peak in a single photo, as shown below, if you walk to the right side of the falls.
So, which of these insanely beautiful waterfalls in Iceland is your favourite? Have I missed any important ones? Leave a comment!