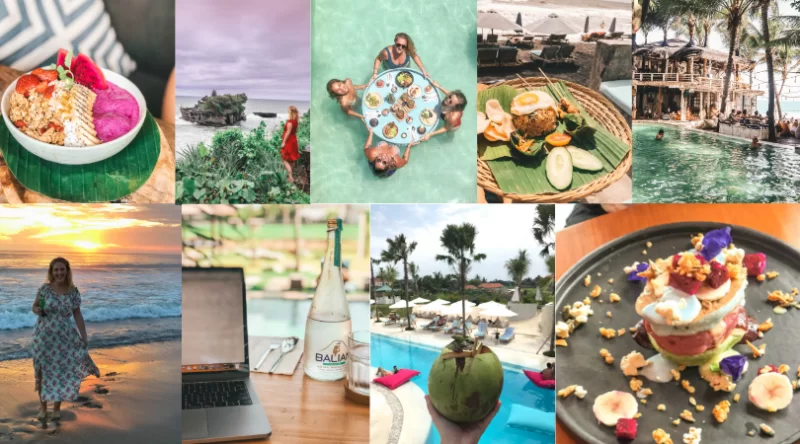 A quirky, hipster and laid back beach town in Bali, where digital nomads, travelers and surfers tend to rebook their flights to stay a little longer – here are the top things to do in Canggu.
It's where I've set up a base for the foreseeable future and a Bali town totally worth the hype. Full of coworking spaces, sunshine and fresh coconuts, it's easy to see why people fall in love with Canggu. I'm hoping my list of top 27 things do in Canggu will help those planning their trip and ensure for those planning on kickin' it in Canggu a little longer plenty of fun weekend activities! As one of the best cities for digital nomads, it comes highly recommended!
Where is Canggu
Canggu is a fast growing coastal town in Bali that is fast becoming one of the most popular places to visit and most "hip" places to stay. It's mainly full of digital nomads hanging out in the many airy co-working spaces, backpackers staying in the flash packer-style party hostels and keen surfers who it the waves early each morning. It's a 20 minute drive from Seminyak and about 30 minutes form Kuta.
Canggu was once a quite village full of farmers and rice fields but it has been heavily developed over the past few years, and the growth doesn't seem to be stopping with Canggu growing larger and more spread out by the day.
The main streets in Canggu include Raya Canggu to the north, then Pantai Batu Mejan, Pantai Batu Bolong and Berawa, of which all 3 run parallel and lead to a popular beach.
There is a road called the "Canggu short cut" that links Batu Bolong to Berawa. It's very narrow and full of uneven concrete bricks, but if you don't use this shortcut it will take you an extra 10 – 15 minutes to drive up to Raya Canggu and back down to Berawa.
Why do people visit Canggu
Most people who visit Canggu are actually digital nomads,  fitness fanatics, yogis or a mix of all 3. People come here to spend a few months living in paradise, eating at the amazing cafes (probably home to some fo the best food in the world given the prices), fun bars and nightlife and epic sunset spots.
Tourists come here to chill out after chaotic travels, to chill on the beach, learn to surf or enjoy the fun nightlife. It's also a great place to rent a villa for a while and just enjoy "Bali life".
Where to stay in Canggu (best area)
If you don't have a scooter and plan to walk a lot, then I recommend you stay somewhere on Batu Bolong – the closer to the beach (and Old Mans beach bar) the better. There are loads of amazing bars, beach clubs and cafes in this area so you won't be too stuck if you don't have transport.
For somewhere a little quieter than go to Pantai Batu Mejan or even over to Pererenan – an area growing in popularity and home to some great new co-working spaces, new hostels and cute cafes.
Berawa is also great but it's the other side of the short cut so you really need a scooter to get around if you're going to live here.
27 Fun Things To Do in Canggu 
1. Catch a wave and take surf lessons!
Canggu's chilled out vibe is perfect for anyone on the lookout for a relaxed holiday — especially if you're the surfer type. The waves in Canggu are no joke and honestly not the safest for swimming but the perfect crashing waves make for a surfer's paradise.
If you're brand new to hanging ten, no worries. The beaches in Canggu are full of beach bars offering surf lessons. Head down to Batu Bolong or Berawa Beach for milder, beginner style waves. Leave Echo Beach to the pros!
If you're looking for free things to do in Canggu, then spending days on Canggu beach watching surfers carve up some waves is a pretty fun way to spend the day!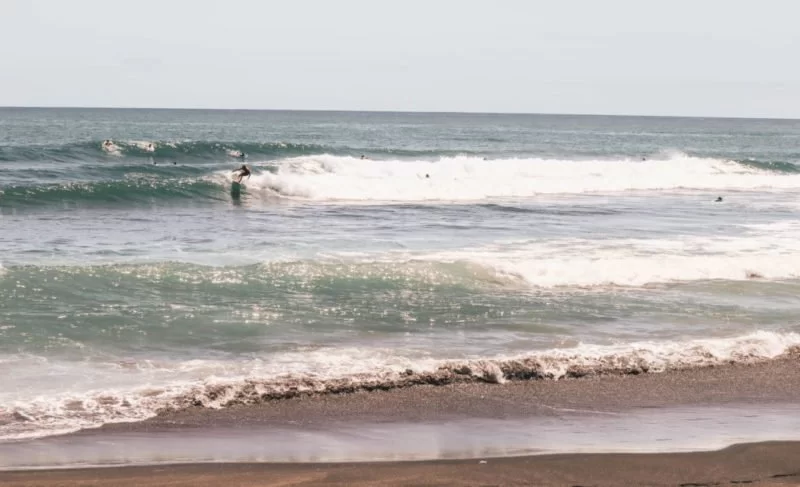 2. Sunset at La Brisa
Canggu has some of the most beautiful sunsets I have ever witnessed. Sometimes the sky doesn't even look real! One evening, the sky is bright pink and deep purple and the following evening the sky looks like it's on fire with intense reds and pops of orange.
About an hour before the sun goes down, head down to the popular beach bar and restaurant La Brisa nestled in Echo Beach. Grab a front-row seat on one of their day beds or bean bag chairs and order a Bintang or two. Enjoy the enchanting atmosphere and watch the surfers on Echo Beach while taking in a breathtaking sunset.
3. Have a floating brunch at Cabina
Time to live out your Bali floating brunch dreams. Someone somewhere decided to start serving a full course meal inside swimming pools and the internet fell in love with it.
Cabina capitalized on the trend and built their trendy cafe with a swimming pool right in the middle. Make a reservation, bring your bikini and take a dive into the pool as the staff prepares a delicious brunch to indulge in mermaid-style. One of the most "basic bitch" things to do in Canggu – but boy do we love it anyway! Instagram HEAVEN!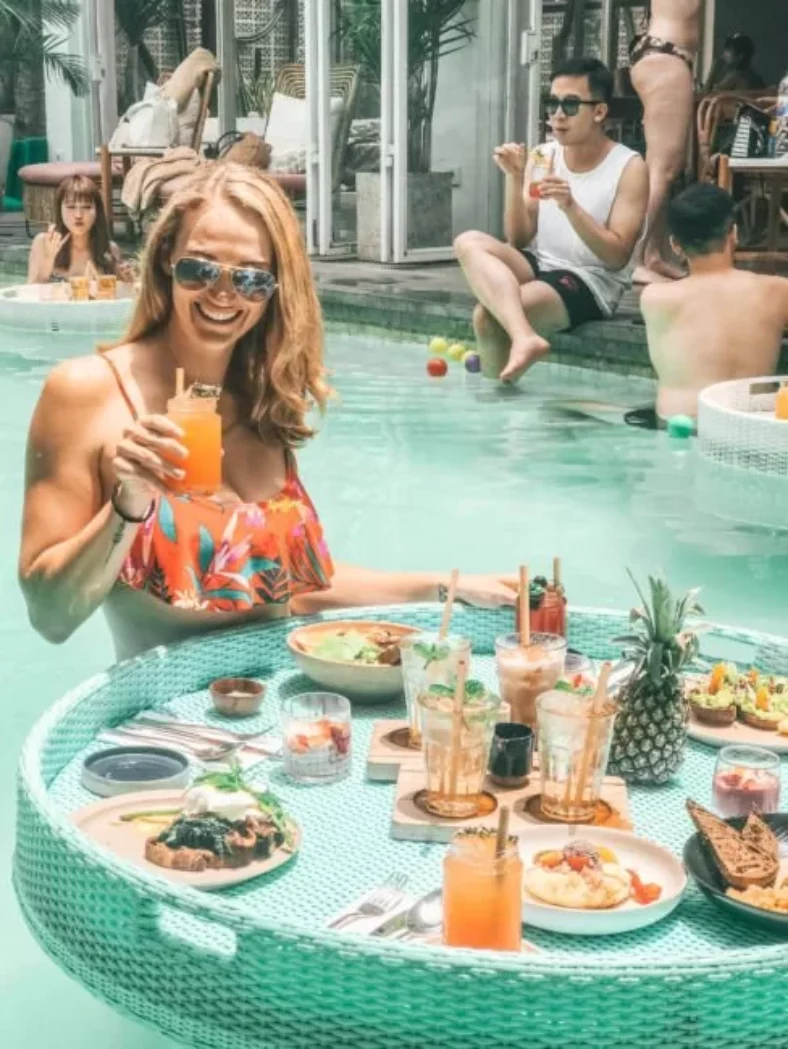 4. Eat your way through town
If you go hungry in Canggu, you're doing something wrong. The most popular thing to do in Canggu: EAT.
Dive into local Balinese food at a Warung or indulge in a smoothie bowl at an Instagram-worthy cafe such as these top breakfast spots. Canggu is a melting pot of food cultures, with several fusion restaurants and trendy cafes to get work done inside. It's rare you'll eat a bad meal in Canggu, everything comes out picture perfect and insanely delicious.
While you're in Canggu, check out some of our favourite restaurants including; Bu Mi, Betelnut, Milu By Nook, Dim Sum House, Green Ginger Noodle House, Crate, Bro Resto, Milk and Madu and Bali Buddha. And about 50 more – too many to name!!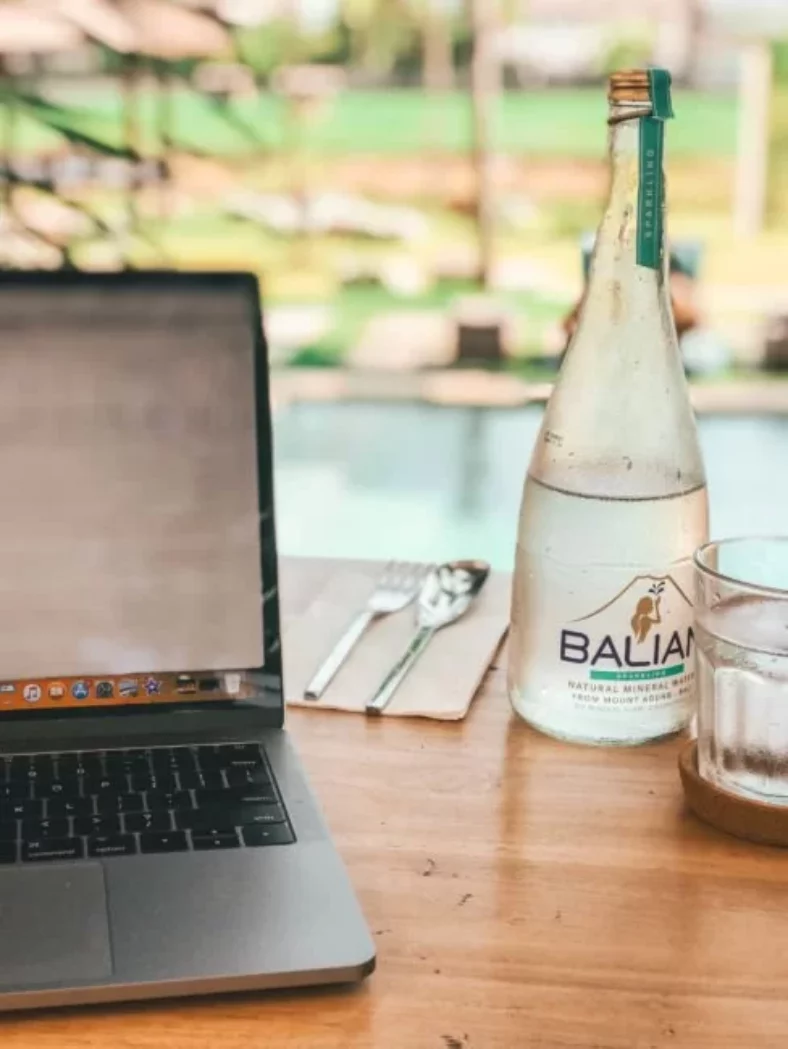 5. Hang out a skate park bar
When you want to give Old Man's a rest, check out one of Canggu's skate park bars. Once night falls, these skate parks turn into rowdy bars where the best of the best come and show off their board skills. With funky music, cocktails and impressive skaters — it's a lively community and a unique California-style skate experience.
Check out the two most popular skate parks while in Canggu — Dues and Pretty Poison. Each with their own atmosphere and crowd you cannot go wrong with either!
6. Spend an afternoon at the waterpark
When you've grown sick of the beach clubs (does that even happen?) and looking for a change of scenery, head over to Splash Water Park for an afternoon of waterslides and hanging out poolside.
A nice escape from the sand, the waterpark features several waterslides perfect for a range of ages. An easy way to entertain the kiddos and a fun afternoon for adults, too. Order a pizza poolside and soak up the sun.
7. Spot the street murals around town
Like any trendy town, Canggu has quite the art scene around town. With some impressive art murals around town, take yourself on a self-guided art street tour and see how many murals you can spot.
Take yourself down the road towards Finn's to spot some unique tribal themed art. Then head over to Neylan Beach and turn left for realistic murals on different buildings down the beach. There are new murals popping up every day!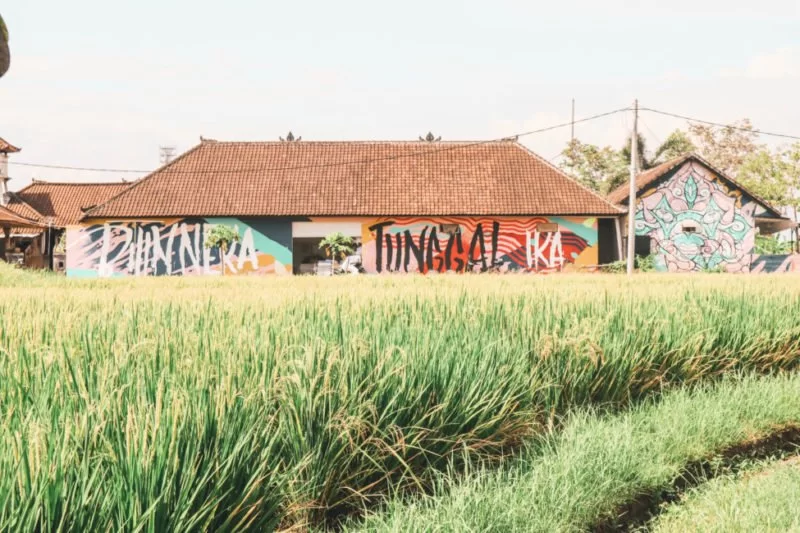 8. Participate in a beach clean up
Indonesia isn't quite up to speed with the  "reduce, reuse and recycle" trends as some of the Western world. Therefore, the beaches can get pretty filthy. Thankfully there are some organizations in Canggu dedicated to cleaning up the beaches and educating the locals on best practices to help the environment.
If you're looking for things to do in Canggu — participate in a beach cleanup and meet new friends while doing a good deed! The future of Canggu beaches will thank you! Check the Facebook pages for Trash Hero Canggu and Ocean Mimic to see if they're hosting a cleanup during your time in Canggu.
9. Shopping in Canggu
If you're looking for some new bohemian threads, Canggu is a great place to change up your style. With the occasional market being held at La Laguna and Old Man's, you're sure to find some affordable, one-of-a-kind gems.
From trendy to basic styles, Canggu is flooded with adorable boutique stores. While you're here, pay a visit to these popular clothing stores:
Bamboo Blonde
Les.Basics
Velvet the Label
COVE Island Essentials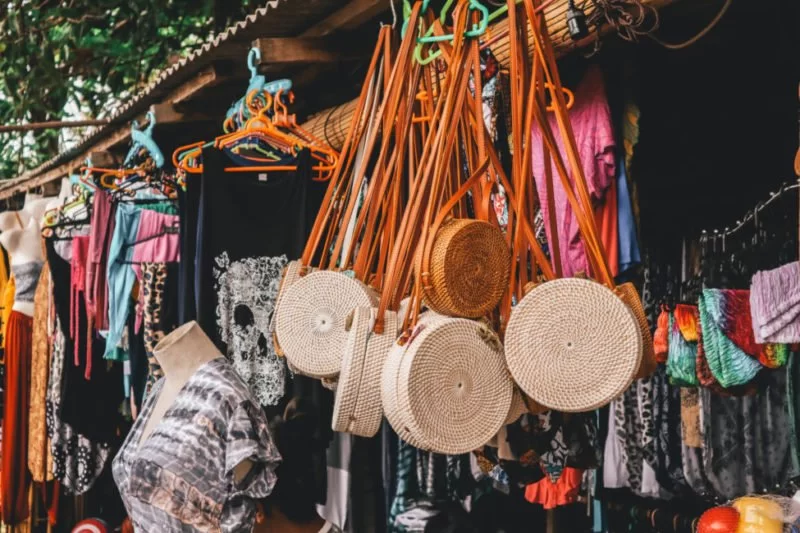 10. Go axe throwing
Have some extra energy and feel like doing something a bit mad to let off some steam? Why not head over Mother Huckers Axe Throwing Bar, where you can throw axes at wooden targets kind of like a much louder, more violent version of darts!
In true mad Canggu style, it's also a bar so you down a few Bintangs while throwing axes at a wall! It's a fun evening activity or perfect for a rainy day. Just remember to wear closed shoes and no flip flops allowed!
11. Lazy days at Alternative Beach
Alternative Beach is the newest addition to the Canggu bar and social scene, and boy is it making a great impression on the residents of the 'gu. It's like a beach bar – except it's nowhere near the actual beach!
Complete with white washed decor that looks straight out of Mykonos or Santorini, a tiki bar in the pool, floating beds, a platform to jump from, a swing and a slide – this is a hotspot for expats and visiting tourists at the weekends. There's also a restaurant and a hostel – with some of the nicest dorm accommodation in Bali by a long shot.
12. Taste Bali's best vegan food
Bali is quickly becoming a vegan heaven, with most restaurants offering delicious vegan options for their customers, and many pure vegan cafes and restaurants opening up. It seems the hub for all this mouth-watering vegan food is Canggu – with residents becoming more health conscious by the day.
Top vegan eateries in Canggu include "I am Vegan Babe", "I Am Plant Based" and the Green Village. You'll also find great vegan food on the menu in places like Peloton and The Shady Shack..
13. Party in a hostel
If you're visiting Canggu as a tourist rather than settling down for a month as a digital nomad, then book into one of Canggu's top hostels. It's here at their poolside bars or large common areas that you'll find a never ending party every night.
Top hostels in Canggu include the long established Farm Hostel, the newly opened Kosone (part of Alternative Beach in Canggu Village) and one of my personal favourites, The Tipsy Gypsy – where they'll welcome you into their party-loving family and show you all the best party shops in the 'gu.
14. Sunday night music in DEUS
DEUS Motorcyle store and late night bar is where you'll find a fine mix of digital nomads, surfers and tourists bopping along to live music every Sunday night. DEUS is THE place to out on a Sunday, with 2 or 3 live bands performing from 8pm til late. It's the place for the whole of Canggu to party one last time before the weekend ends. They also have decent food and there's even a barber shop should you need a quick cut!
15. Have a spa day
Canggu is a great place to spoil yourself – be it cream baths, hair treatments or hour long massages. There are lots of cheap massage places near the beach, or slightly better and more expensive day spas a little further inlands. Some of favourites include Theraly Day Spa by Echo Beach, E-Space next to Taco Cash, Lotus massage and Amo spa.
Amo Spa on Batu Bolong is by far one one of the most popular day spas in Canggu. Whether you want to get a back massage, a head massage, a hair cut or blow dry or spend a few hours sipping drinks in their outdoor hot tub with views go Canggu – this is a must stop spa for your Canggu bucket list!
16. Day drinking at OThree Beach Bar
Ahhh Othree Beach Bar – one of my favourite places for daytime drinking, Nasi Goreng and epic sunsets while in canggu. I head down to this super chilled out beach bar on Echo Beach at least twice a week – and every time I'm there I seem to bump into people I know. They serve super cheap and very filling Indonesian food (think less than $3), great sushi and have a DJ every night banging out great tunes at sunset!
This is a great place if you want lowkey beach vibes, cheap beer and pumping house music  bop your head to while bathing in the sun and watching surfers carve up the waves offshore.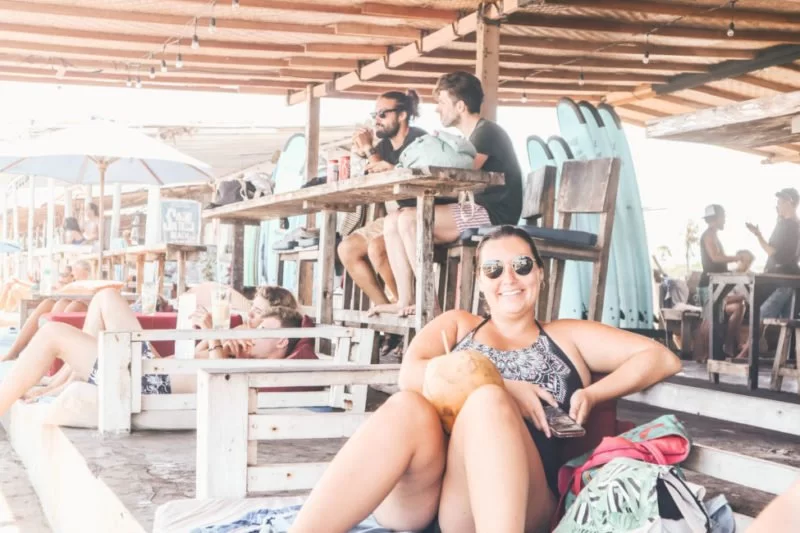 17.

  

Sign up for some yoga classes
There's an amazing selection of yoga classes and yoga retreats in Canggu depending on what your looking for. From beginner to advanced, eclectic dancing, meditation, hot yoga, vinyasa – you name it and Canggu has someone that teaches it. You can do group classes, private classes, enjoy rice field views or yoga on the beach.
I've actually asked my friend who is a yoga teacher here to do a full break down of the best yoga classes so you can read more about yoga in canggu here. 
18. A pancake feast at Funky Pancakes
One of the newest dessert places in town is the awesome Funky Pancakes. I went there for the first time this week and it DID NOT disappoint! They have super cool decor and unique menus made from old record discs, and they have both sweet and savoury pancakes. Their signature dish of Funky Pancakes is crazy colourful, but miraculously still tastes delicious and isn't too sweet. Me and my friends certainly loved it here and you will too!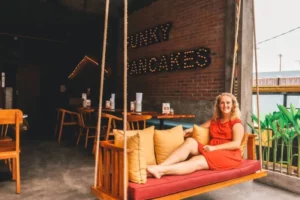 19. Discover Canggu's most Instagramable cafes
As previously mentions, Canggu is a foodie heaven with cute cafes, incredible breakfast menus and smoothie bowl havens around every corner. It's also a bit of an Instagram paradise, with some cafes seemingly like they were built specifically to look pretty and form the background to your perfect pastel Instagram feed.
Some of my favourites in Canggu include; The Loft, I am Vegan Babe, Creamery, Crate, Shake Shack, Santorini and The Common but there are LOADS more pretty places to be explored.
20.

 Get FIT!
There's no better place to come and commit to getting fit than Canggu. Home to one of Asia'a largest and most-loved Crossfit boxes – Crossfit Wanderlust – alongside endless outdoor gyms, indoor gyms, fitness clubs, fitness classes and beach boot camps – it seems that everyone that comes to Canggu signs up for a class sooner or later!
21. Rice field photo shoots
While Canggu is becoming developed quite fast, and might well be the next Seminyak in a year or two, there are still plenty of beautiful rice terraces around to explore and take photos in.
They make for a nice breakfast view, perfect sunset reflection shots, and of you drive towards Seseh Beach or Pererenan you can drive for miles with endless rice paddies on either side of narrow roads – away from the hustle and traffic of downtown Canggu.
22. Visit the Sunday markets
Canggu is home to a few great Sunday markets which are worth checking out. There's a market every Sunday morning in Samada Bali (a yoga studio and vegetarian restaurant) where you can buy fresh bread, jams and cakes, local crafts and big bottle of locally made Kambucha. 
There's also the Love Anchor Market, the souvenir market close to Echo Beach and sometimes you'll find markets popping in Old Mans and La Laguna (although the latter is currently closed for renovations).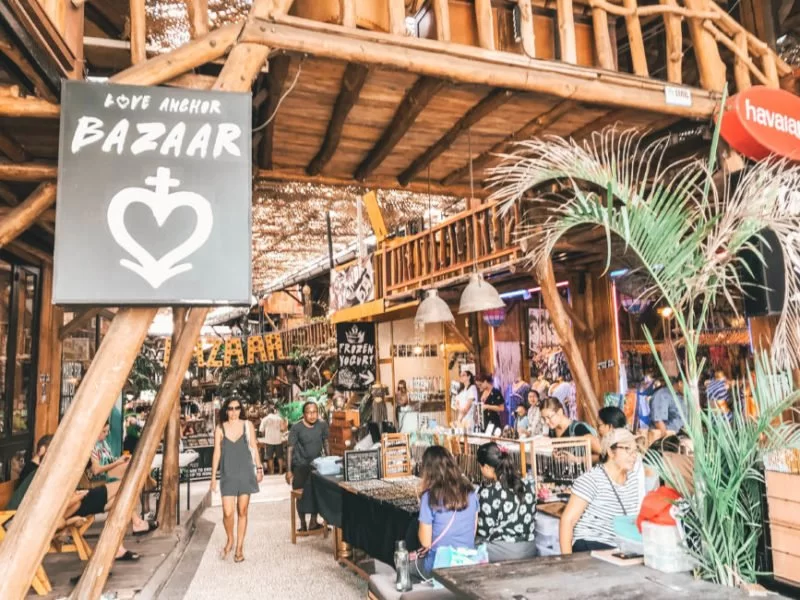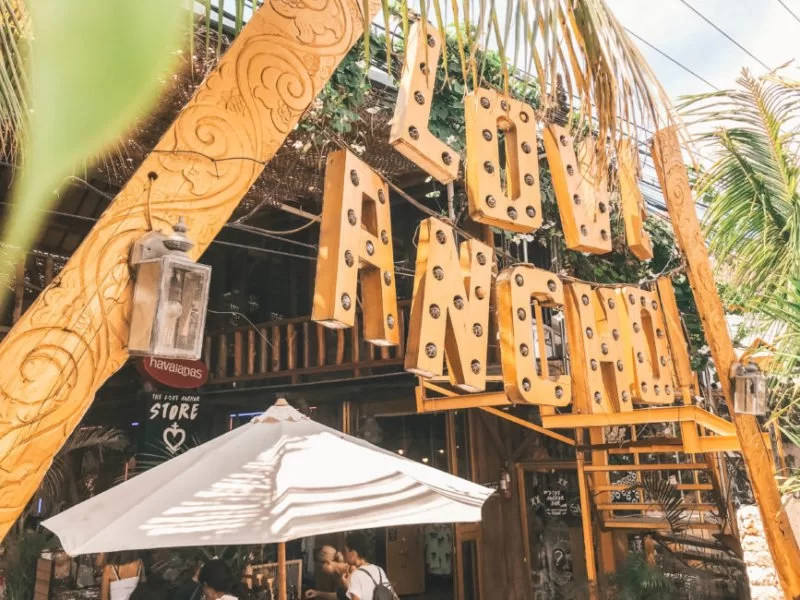 23. Drive to Tanah Lot
While not technically IN Canggu, it's just a 20 minute scooter ride to Tanah Lot – one of Bali's top tourist sites and one of the most beautiful temples in the island. It's best to go for sunset and find a spot at one of the bars at "Sunset point" overlooking the cliffs and the temple in the water.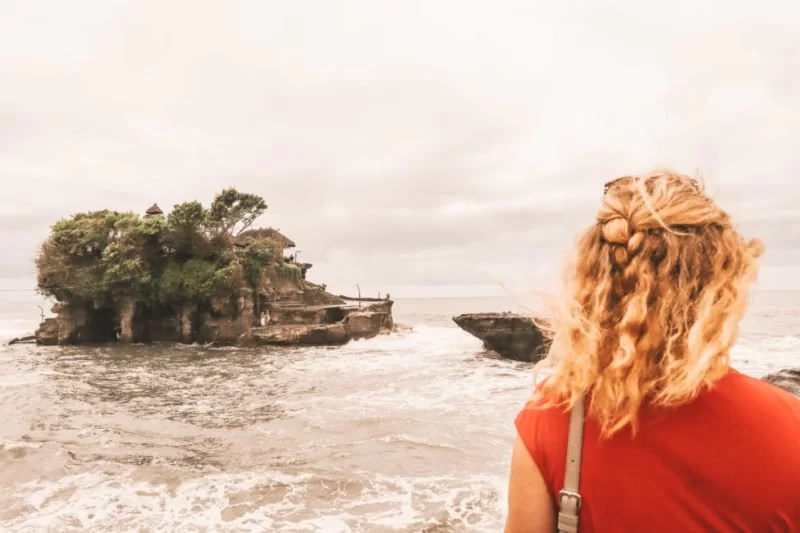 Things To Do in Canggu at night
24. Dance the night away at Old Man's
Where every night feels like a Saturday night — Old Man's on Batu Bolong. This popular bar is the go-to party spot for backpackers, expats and everything in between and one of the most famous nightlife spots in Bali.
With a popular 2 for 1 happy hour from 5-6PM every day of the week, it's a great spot to unwind. Enjoy the funky beats, intriguing crowd and the delicious espresso martinis while taking in a gorgeous Canggu sunset!
Once the sun sets, the Old Man party starts. Beer Pong competitions on Wednesdays and a live band on Fridays, an iconic spot that can't be missed. Old Man's is a Bali institution and by far one of the top things to do in Canggu, loved by all!
25. Open mic night at The Compass
One of the best places to listen to live music in Canggu is The Compass Bar and restaurant on Batu Bolong. It's also one of the only bars In Canggu that does Open Mic nights  – every Thursday in the compass – which definitely adds to its appeal. Head on down for great comfort food and hangover cures including a sick Bloody Mary cocktail that comes with a mini slider burger perched on top! 
Open Mic nights are on Thursdays, but you'll find live music here a few days a week.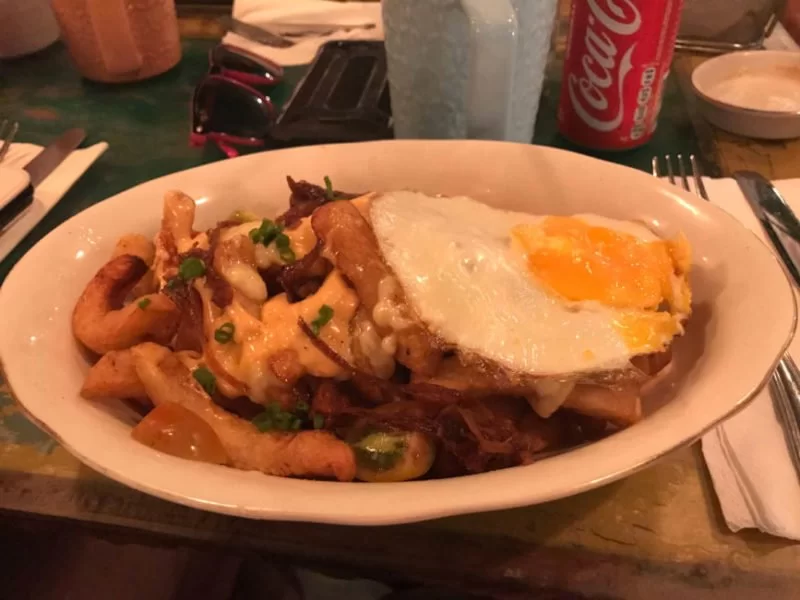 26. Discover Canggu's eclectic nightlife

 
Want to enjoy a beer while watching skaters do the loop the loops in an outdoor skate rink? Head to Garage Bar. Want to get a tattoo  WHILE your friends dance nearby, doing shots? Head to Pretty Poison! 
Want to simply hang outside a convenience store, listen to cheesy 90's music and make new friends? Head to X Bar! Check out Canggu's newest club, The Vault or get delicious (and super cheap cocktails) in the awesomely names and very colourful Fat Mermaid. 
For epic sunsets and huge swimming pools, get yourself to Finns Beach Club, La Brisa or The Lawn.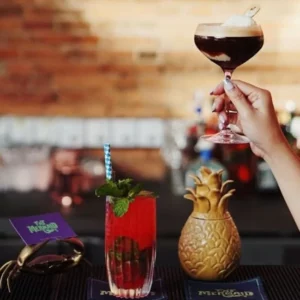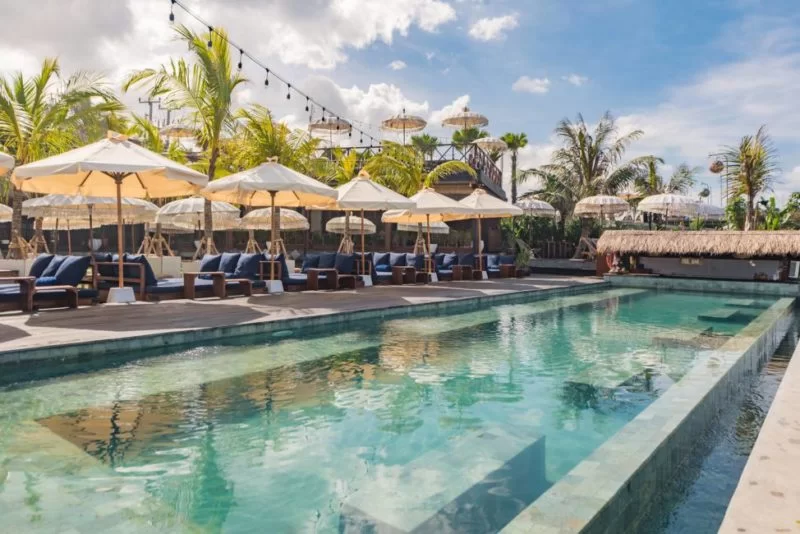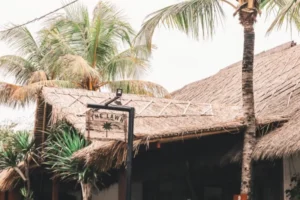 27. Find Canggu's only speakeasy
Canggu finally has it's very own speakeasy and it's super fun to visit! Right next to Tropical Nomad Co-working space on the famous Canggu short cut, you'll find a small badly stocked convenience store called "Black Cat".
The trick is to go inside and find the fridge that says "Broken", pull it open and you'll find a hidden speakeasy bar awaits!