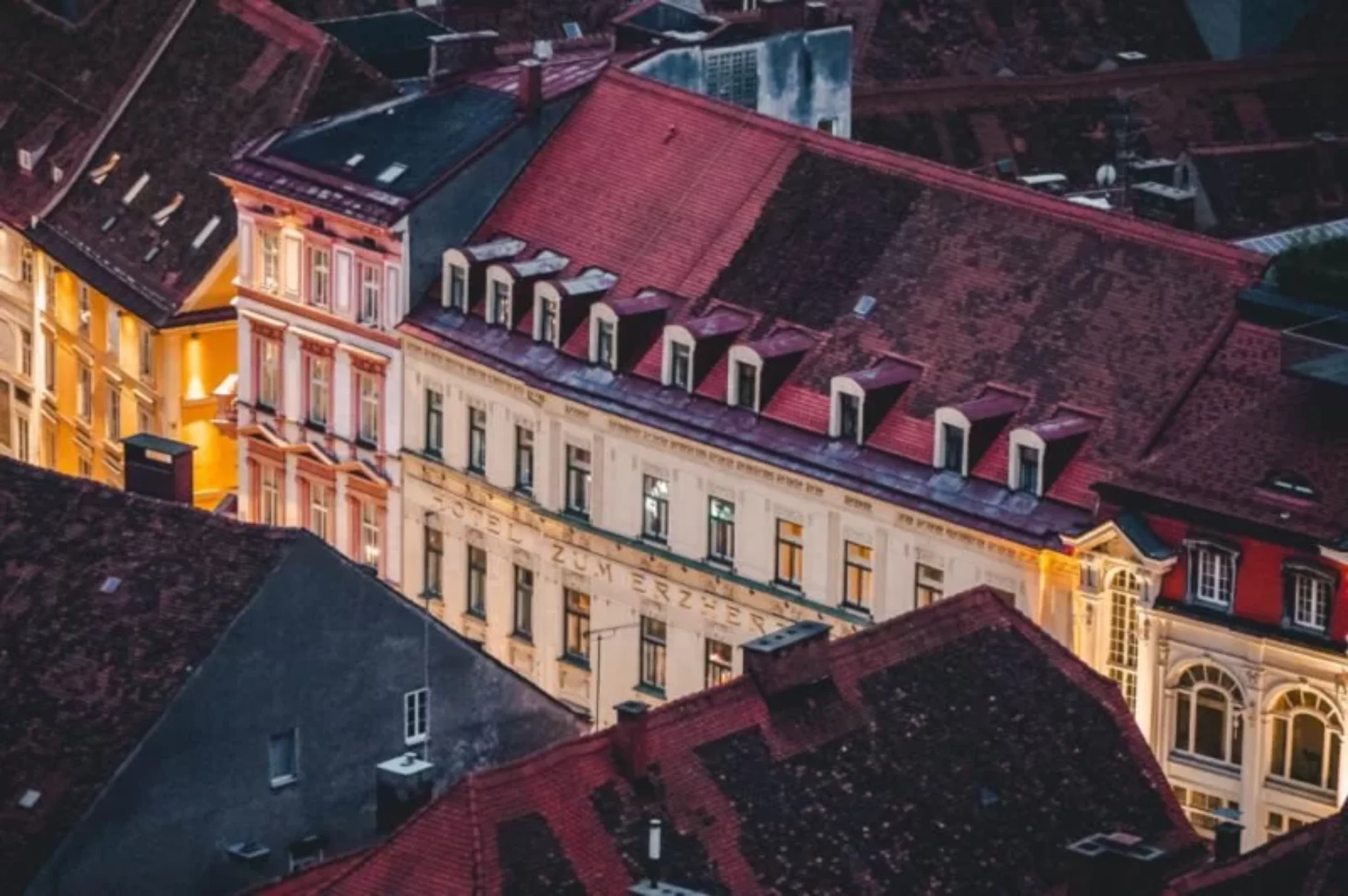 "Graz? Why are you going to GRAZ?!", was the question two separate friends asked me on Facebook when I announced I was flying to Austria and that no, I would not be travelling to Vienna or Salzburg but instead to the city of Graz. It seemed a lot of people in Ireland had not even heard of Austria's second biggest city, while others were keen to find out if there were any fun things to do in Graz. This post, my dear friends, is just for you!
Following a jam-packed few days getting to know Austria's culinary capital, walking, eating, drinking, laughing and taking far too make photographs of the beautiful old town, here's my pick of the top 17 things to do in Graz for the first time visitor.
Unique Things To Do in Graz, Austria
17. Hike up the Schlossberg
By far the most prominent and well-recognized building in all of Graz is the famous clock tower in the middle of the city, standing proud on a hill looking over the old town. The beautiful, tree-lined hill is known locally as The Schlossberg and is by far one of the top things to do in Graz.
You can either walk up the zig-zagging steps to the top or take a super fast glass elevator, a la Charlie and the Chocolate Factory, to whizz you up the top. It's fun to visit both during the day when you can take in spectacular views of the city, and at night, when colourful lights turn the clock tower various shaded pink and purple.
Stop off for a sunset cocktail or enjoy a glass of locally-produced wine at Ailoa Upstairs, the chic restaurant and outdoor terrace overlooking the clock tower.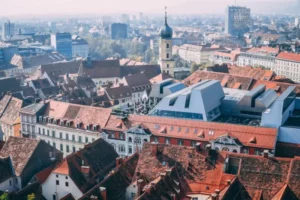 16.Find the best local photo spots
There's no better way to explore a new city than to hang out with some locals or to hire a guide. This enabled us to find all the best photo spots in the city, some more surprising than others.
One of the best places to get perfect shots of those beautiful red rooftops and the clock tower in one photo is to go to the rooftop of the Kastner and Ohler Department Store. There's a rooftop bar and restaurant up here, and even a designated balcony area for taking photos. Chill out on the terrace with a glass of wine and enjoy one of the best views, and best atmospheres, in Graz. For other great photo locations, check out things to do in Innsbruck.
15. Tiny sandwiches and tiny beers at Frankowitsch
If you're looking for a very traditional place to have lunch or a mid-morning snack while in Graz, then you must stop off at Frankowitsch Patisserie, famous for their tiny sandwiches and even tinier glasses of beer! They have an incredible selection of pre-made bite-size, open-faced sandwiches, including lots of vegetarian and vegan options.
Their beers really are miniature, and they also have warming teas, coffees, and hot chocolates depending on what time of year you're in town.
14. Go shopping!
Before travelling to Graz, I never imagined it would have been a shoppers paradise. While they do of course have some well-known high street stores and a large and very luxurious department store, I couldn't get over how many small, boutique type stores there were as well as very unique shops selling upcycled goods.
If you love to shop but want to invest in more eco-friendly goods, the opportunities are endless. From bags at Tag Werk, made from upcycled seatbelts, sails and even Eurovision song contest posters, to HimalHemp, a store selling eco products handmade by a local women's cooperative in Nepal!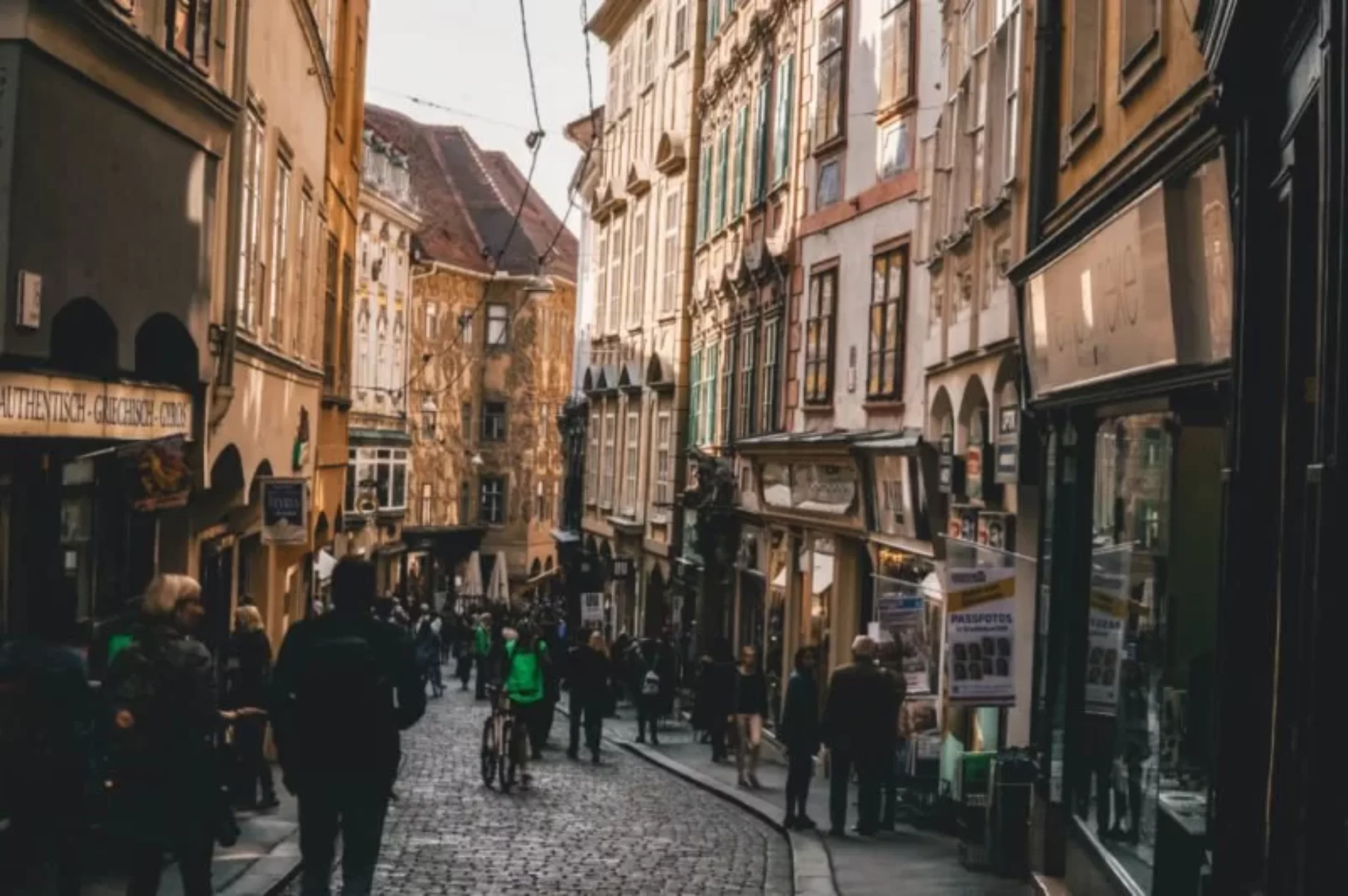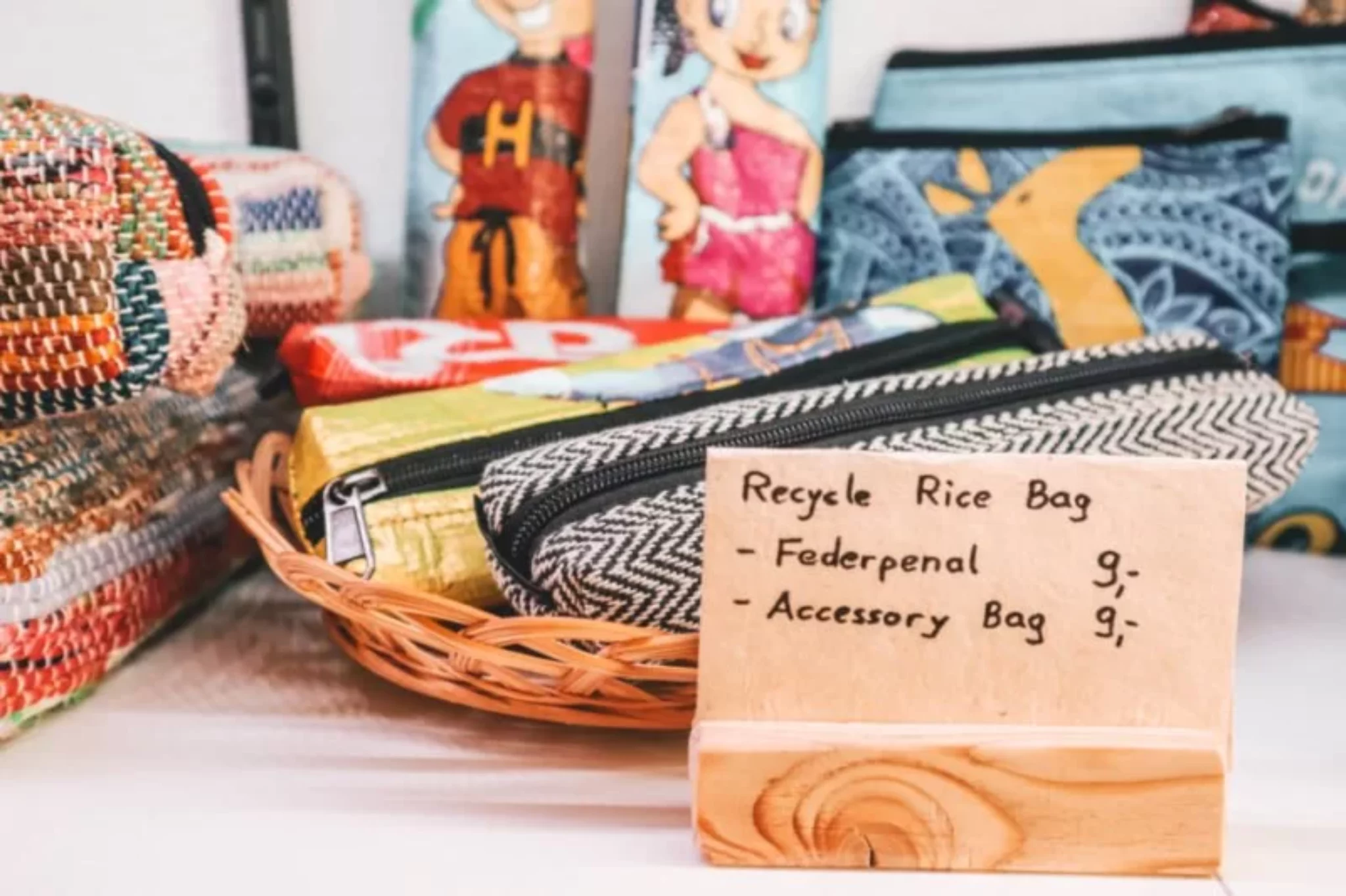 13. Taste Austria's famous "green gold"
The Graz region is famous for many of its culinary delights, but if there's only one local product you must try on your visit to Graz, it's pumpkin seed oil. We actually visited an old mill, dating back to the 14th century, where a local family has been producing pumpkinseed oil and other pumpkin products for 4 generations.
While pumpkinseed oil is most commonly used as a dressing on salads, you can also use it on soup, omelets and a range of other meals. You can also eat the pumpkin seeds, cook with them and make delicious pumpkin seed bread!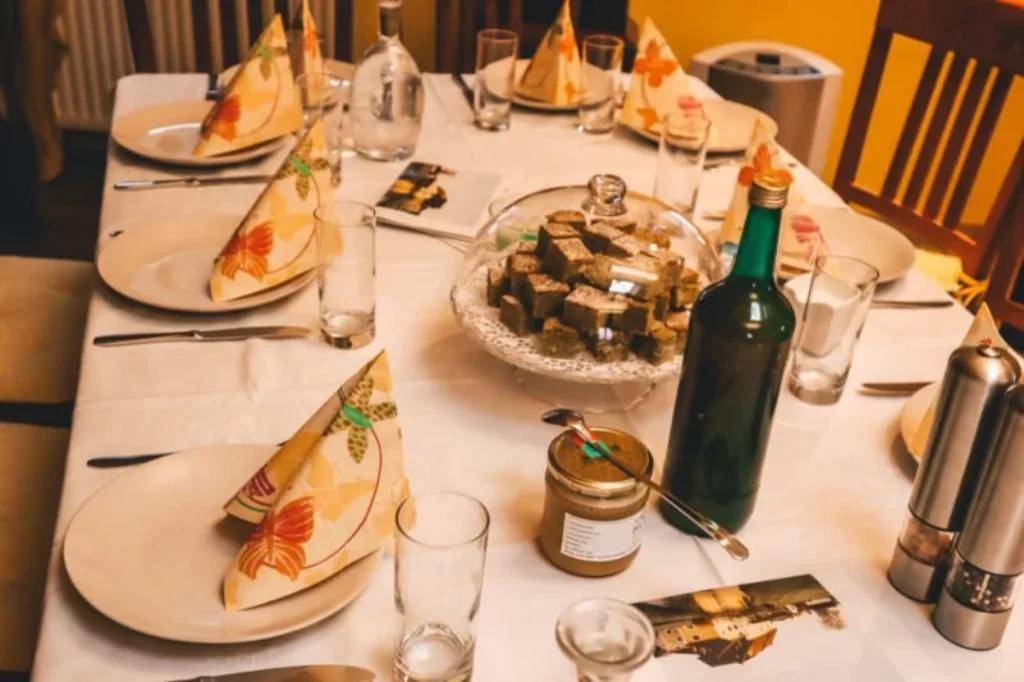 12. Traverse the floating "island"
Forgive me for not calling any of the many landmarks and monuments in Graz by their real name – but their nicknames and anglicized names are much easier to remember! The floating island or the island on the Mur (official name Murinsel) is, funnily enough, is a floating island in the middle of the River Mur connected to the river banks with two bridges.
It was designed by a NYC-based artist as a temporary exhibit to celebrate Graz as the European City of Culture, but the city loved it so much they decided to leave it as a permanent floating fixture. There's a very funky bar/restaurant inside as well as a gift shop and some rather peculiar toilets!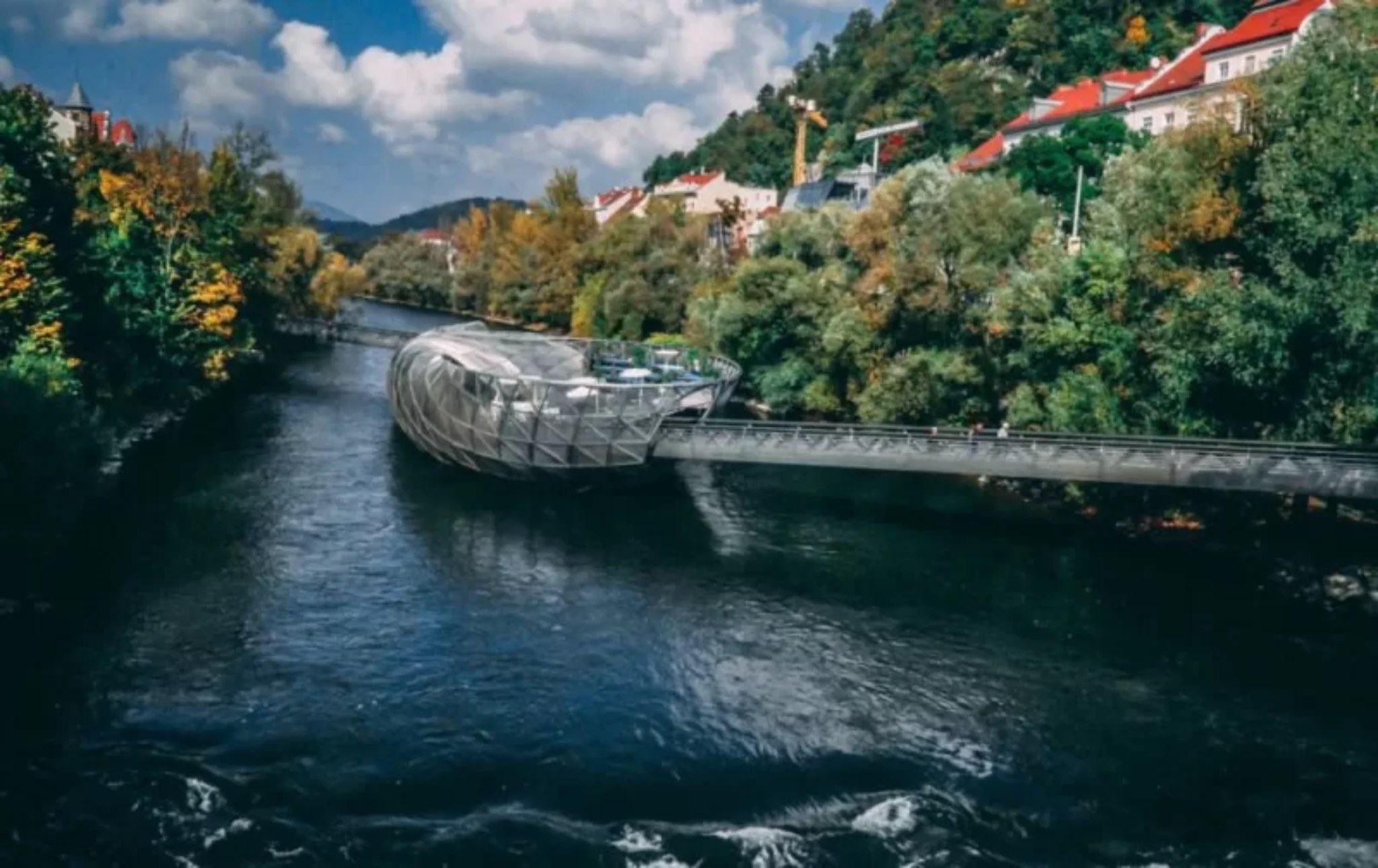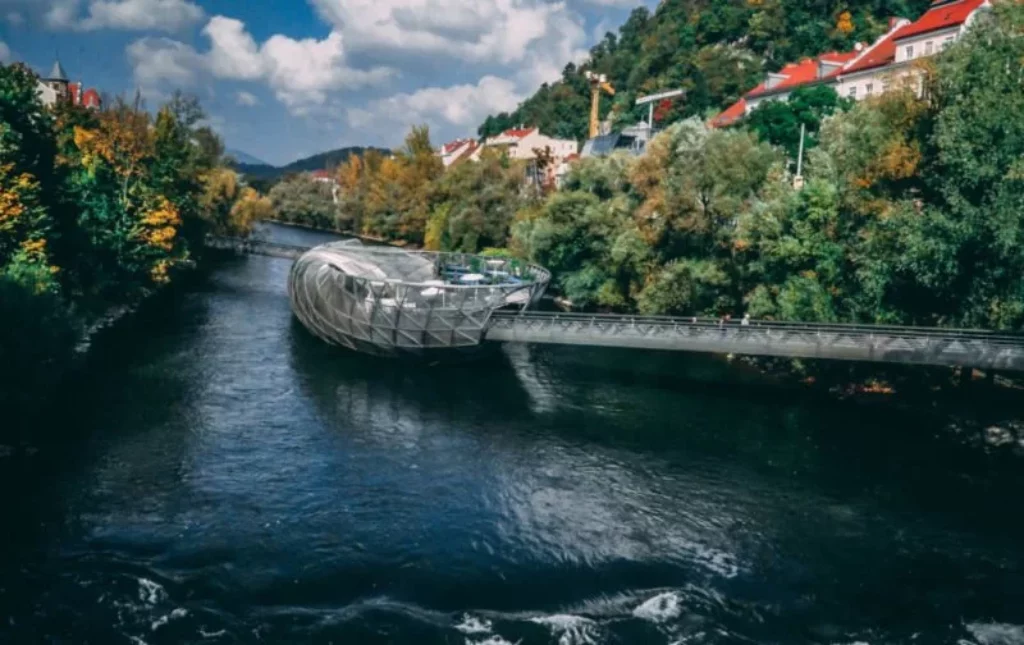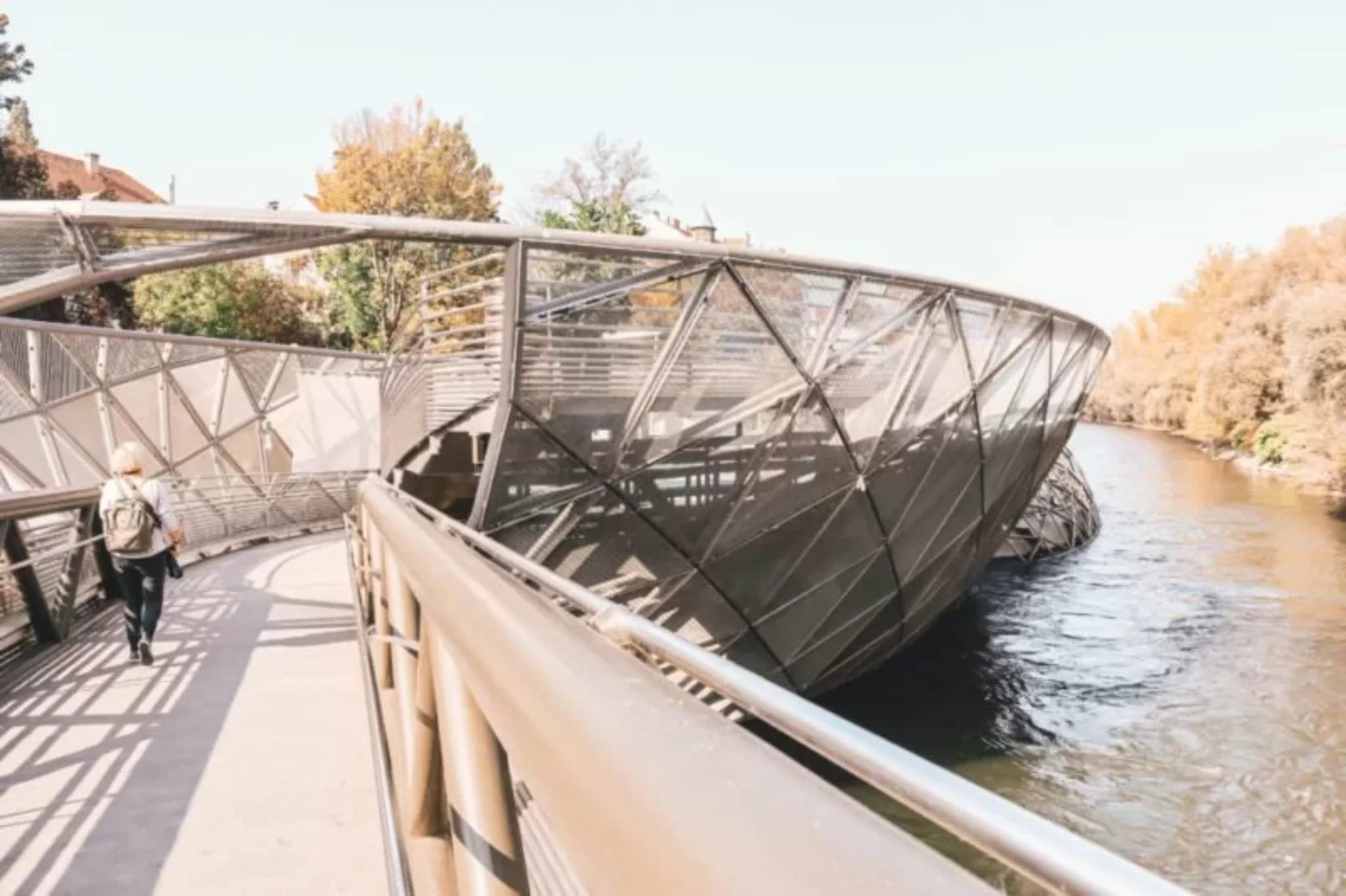 11. Get your vintage fix
Graz is a vintage lovers paradise, with bargains to be found around every corner. Once you cross the Murinsel bridge and pass by the back of the Kunsthaus, you will come to one of the best shopping streets on the city – a street with more vintage stores, quirky art galleries, and unique shops than you can shake a stick at. Stores that only sell shoes out of rubber, galleries where everything is made of clay, and vintage shops that will take you on a trip back to the 80's and 90's.
Shout out to Dog Days of Summer – a vintage store that started online but because so popular they set up a physical store – and now are moving to an even bigger store in a few weeks. If you're into vintage sunglasses, bumbags and old ski jackets – it will be heaven on earth.
10. Experience a meal with a local family
One of the most unique things to do in Graz is to forgo dinner in a restaurant and eat with a local family instead, in their own home. Its called Private Dining, and you will be invited into someones home like a friend, offered welcome drinks and you will then sit down to a spectacular 4 or 5-course meal.
Bernhard, one of our hosts, even showed us his impressive wine cellar and told us that guests are welcome to come on here and pick which wine they would like with their dinner. It was a really fun experience, a great way to get a sneak peak on what a traditional Austrian home looks like on the inside and the food was unforgettable.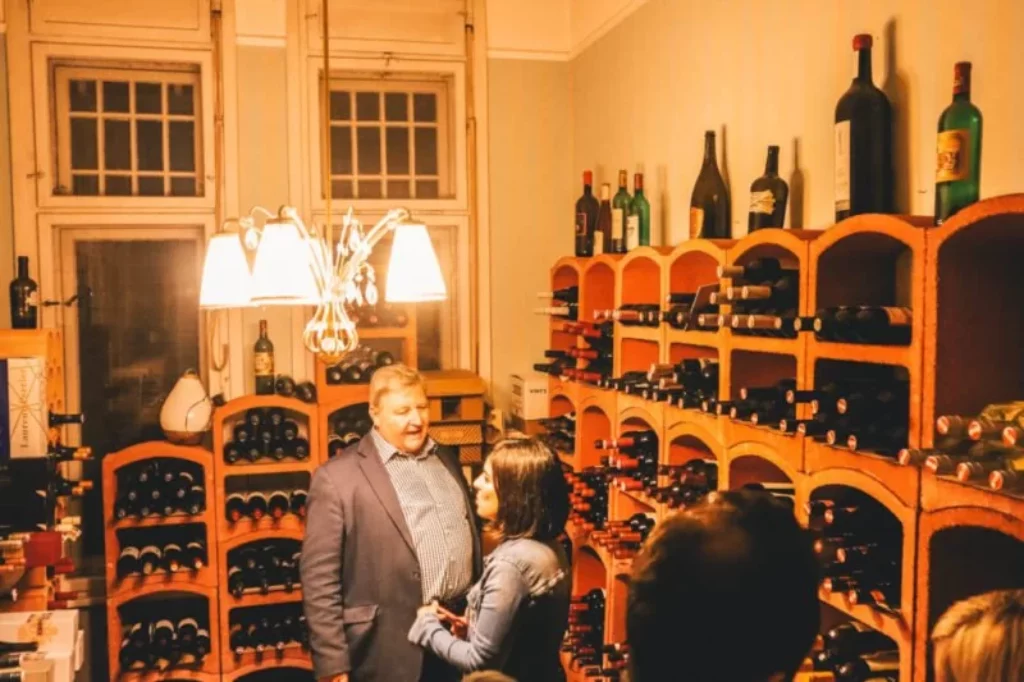 9. Drink some Sturm, first wine of the season
Just before the first wine of the season is ready to be bottled and sold, Austrians love to sip on a local drink called Sturm. It only comes once a year, usually in September or early October, and is a semi-fermented wine that is super sweet and tastes more like juice than wine!
We tried some in the Graz local farmers market – and it was probably the only time I'll ever drink wine at 9 in the morning!
8. Sweet treats at Patisserie Handl
One of the best-known bakeries in town, Patisserie Handl is a must-visit for biscuit, cake or chocolate aficionados! The owners were actually selected by Tourism Graz to bake a very special cake to celebrate the 10 year anniversary of Graz as the Culinary Capital of Austria – and we had the pleasure of tasting this delicious masterpiece while there. With strawberry, nougat and chocolate fillings, iced in a way that could substitute a meditation class, and a taste so sweet you may need to hide from your dentist forever more.
This patisserie is also where the chocolates from the famous Graz Compass, mentioned further down this article, are made.
7. Wander around the historic old town
As obvious as it might sound, wandering around the old town and simply allowing yourself to get lost for a few hours, is the best way to see and properly get to know the city. There are picturesque photo spots around every corner, breathtaking mosaics and stenciled art on many of the most famous buildings, and many hidden courtyards, spiral staircases and secret squares to be discovered.
Be sure to visit Graz Castle, and its famous Double Spiral Staircase, the Graz Opera House and the Mausoleum of Emperor Ferdinand II.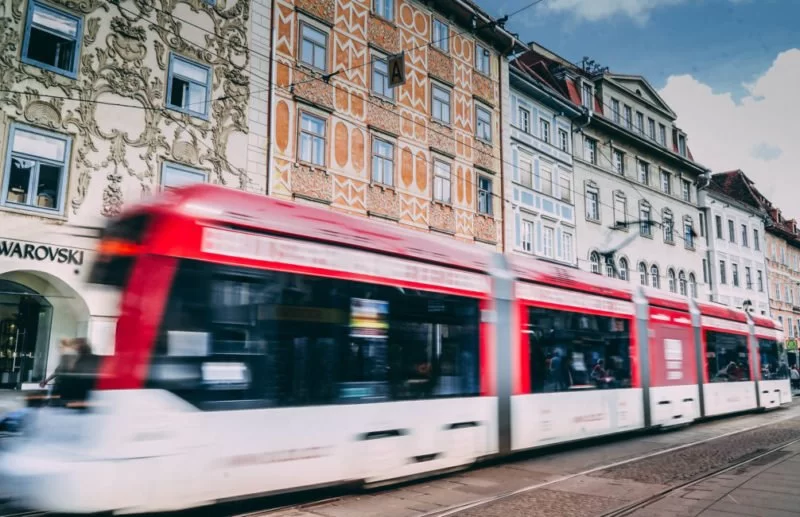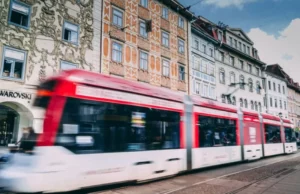 6. Explore Graz's secret courtyards
Graz is quite famous for its romantic courtyards, hidden at the back of houses, restaurants, boutiques and even monasteries around the city. The trick is that every time you see an open doorway, or a beautiful arch, wander inside to see what lies behind. You'll often end up the most beautiful courtyards, that are open to the public and free for anyone to roam inside.
One of the largest and most famous courtyards to visit is inside the Landhaushof, the seat of the local government. This beautiful courtyard plays host to many events and outdoor happenings and is like candy for the eyes!
5. Visit Graz's famous friendly alien
Affectionately known as "the friendly alien", the uber-modern Kunsthaus is home to Graz's museum of modern art. Built as part of the European Capital of Culture celebrations in 2003, the Kunsthaus is now a landmark building in the city and much loved for the way its modern glass exterior perfectly reflects the historic buildings that stand near it.
4. Buy a Graz compass, a unique chocolate gift
Looking for something fun to take away with you to remember your time in Graz, or to give as a gift to loved ones back home. Then you have to buy a Graz Compass, an intricately designed box of chocolates shaped like a compass, with 8 different chocolates inside, each with a filling coming from a different Graz farmer or food producer. From sauerkraut to gin to pumpkinseed oil, you're bound to find a chocolate flavour everyone likes.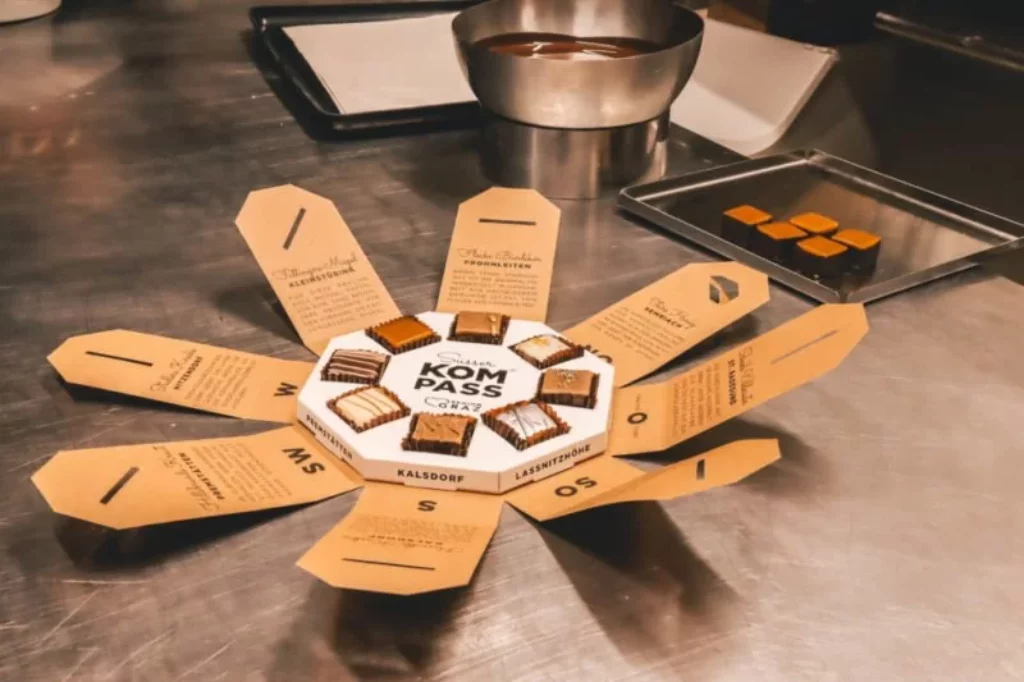 3. See the morning dance at Glockenspiel
Head to Glockenspielplatz square at 11am each morning to see two traditionally dressed model statues pirouette out of the Glockenspiel clock tower to the chime of three different melodies. You can also see the performance 3pm and 6pm each day, but there are less people around at the 11am performance!
2. Take a tour of the Open Air Museum
If you're looking for one of the most fun activities in Graz, and don't mind going a little bit outside the city (you can drive or take the train) then you must visit the Graz Open Air Museum – the largest one in the country. Here you can walk around an enormous open-air museum, where they have built 90 traditional houses, representing 8 out of 9 Austrian regions.
From massive guest houses to tiny old school houses and churches dating back 100 or 200 years, you can explore at your own leisure or with a guide, check out the acres and acres of perfectly manicured gardens, wooden houses with colourful flower boxes and even taste some very traditional local foods.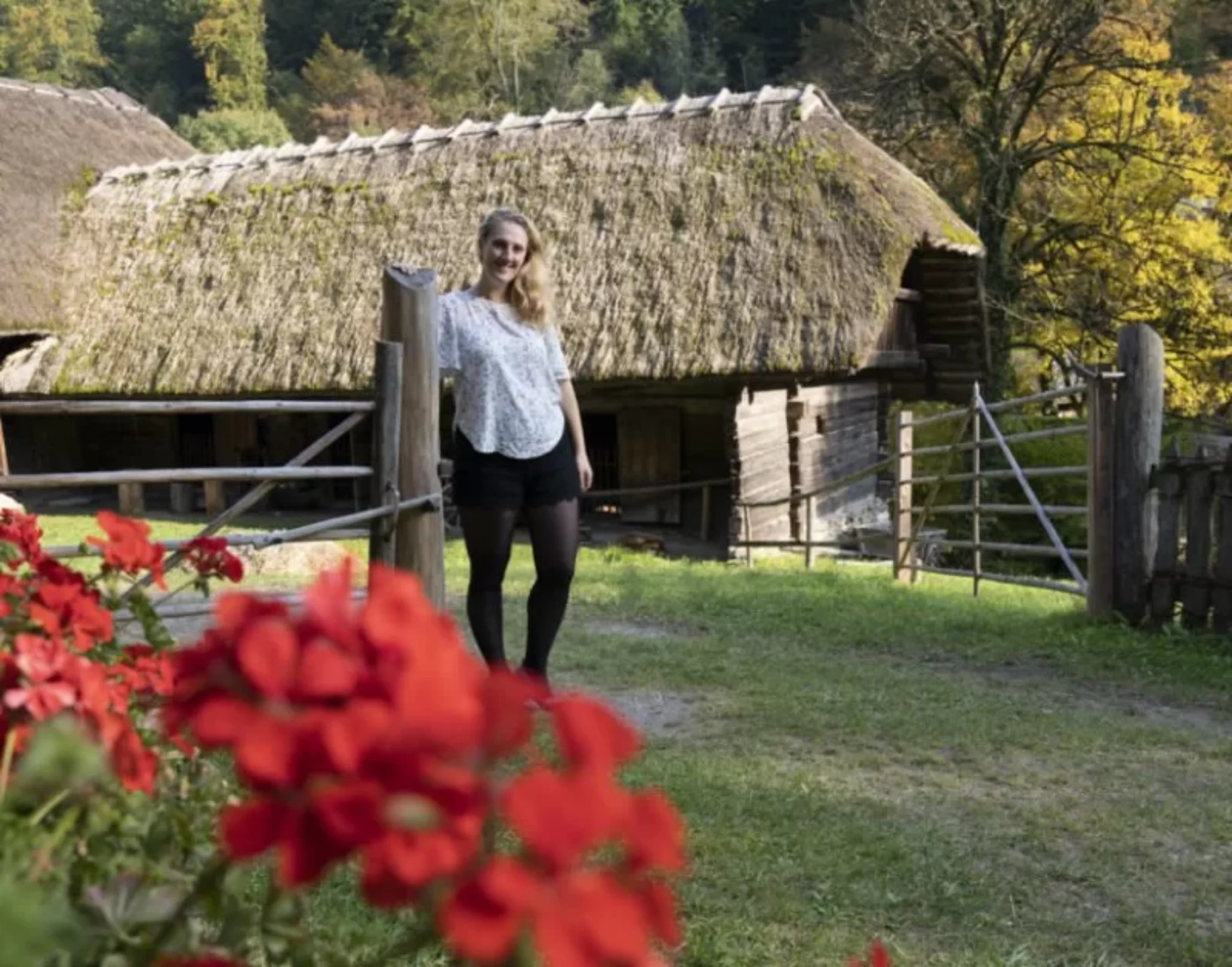 1. Do a cooking class involving Sauerkraut
Ahhh Sauerkrat. The cabbage you love to hate. While many people around the world have a love-hate relationship with the stuff, and one follower recently quipped that he once "walked into a room that smelled like farts and sadness….only to realize they were cooking Sauerkrat", it's actually quite delicious if cooked right!
Having visited a local producer in the Graz Region, we discovered they also have a cookery school on site and thus learned some great Sauerkraut recipes including soup, paste and even Sauerkraut chocolate cake! It was seriously tasty, I swear!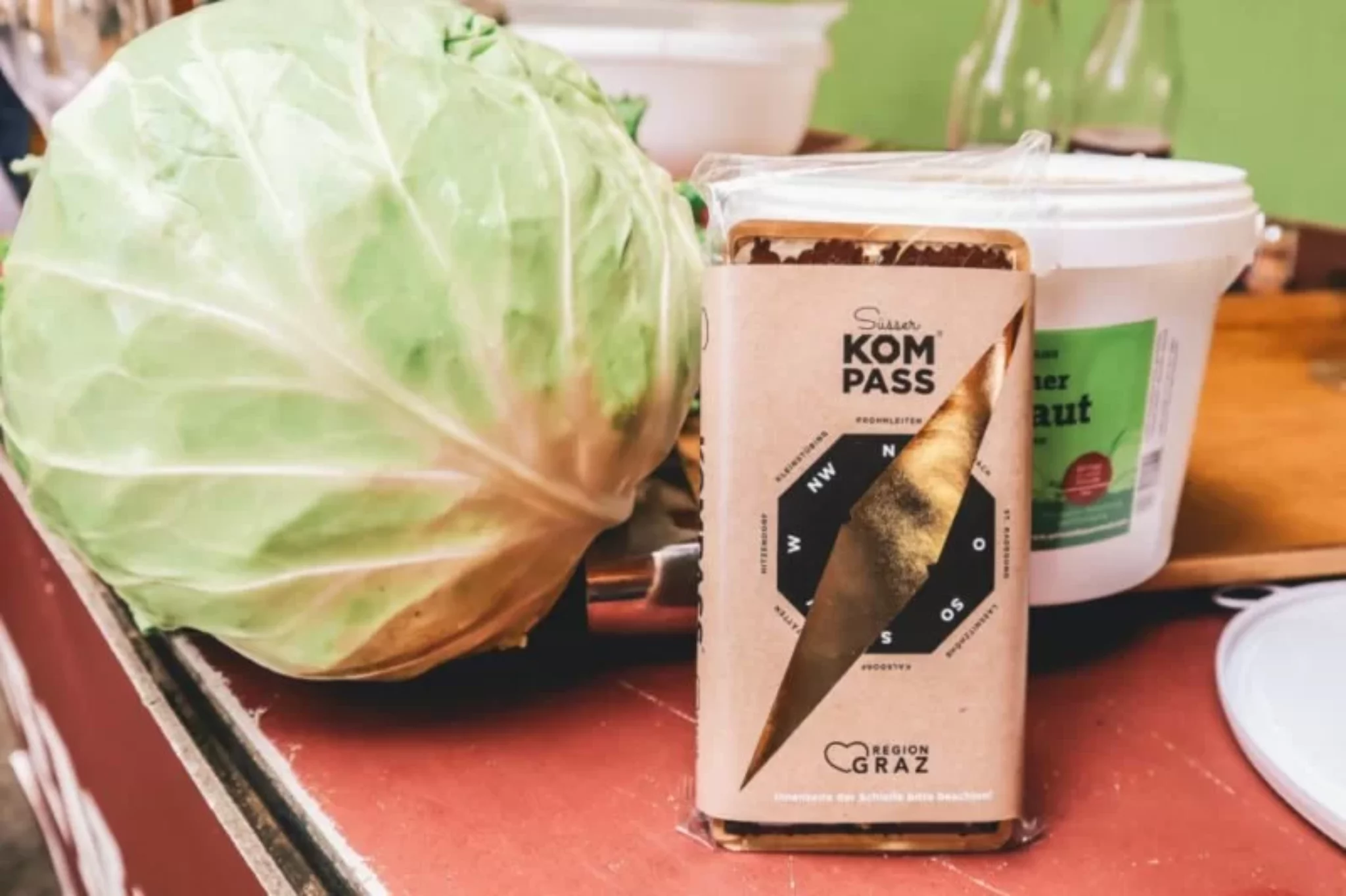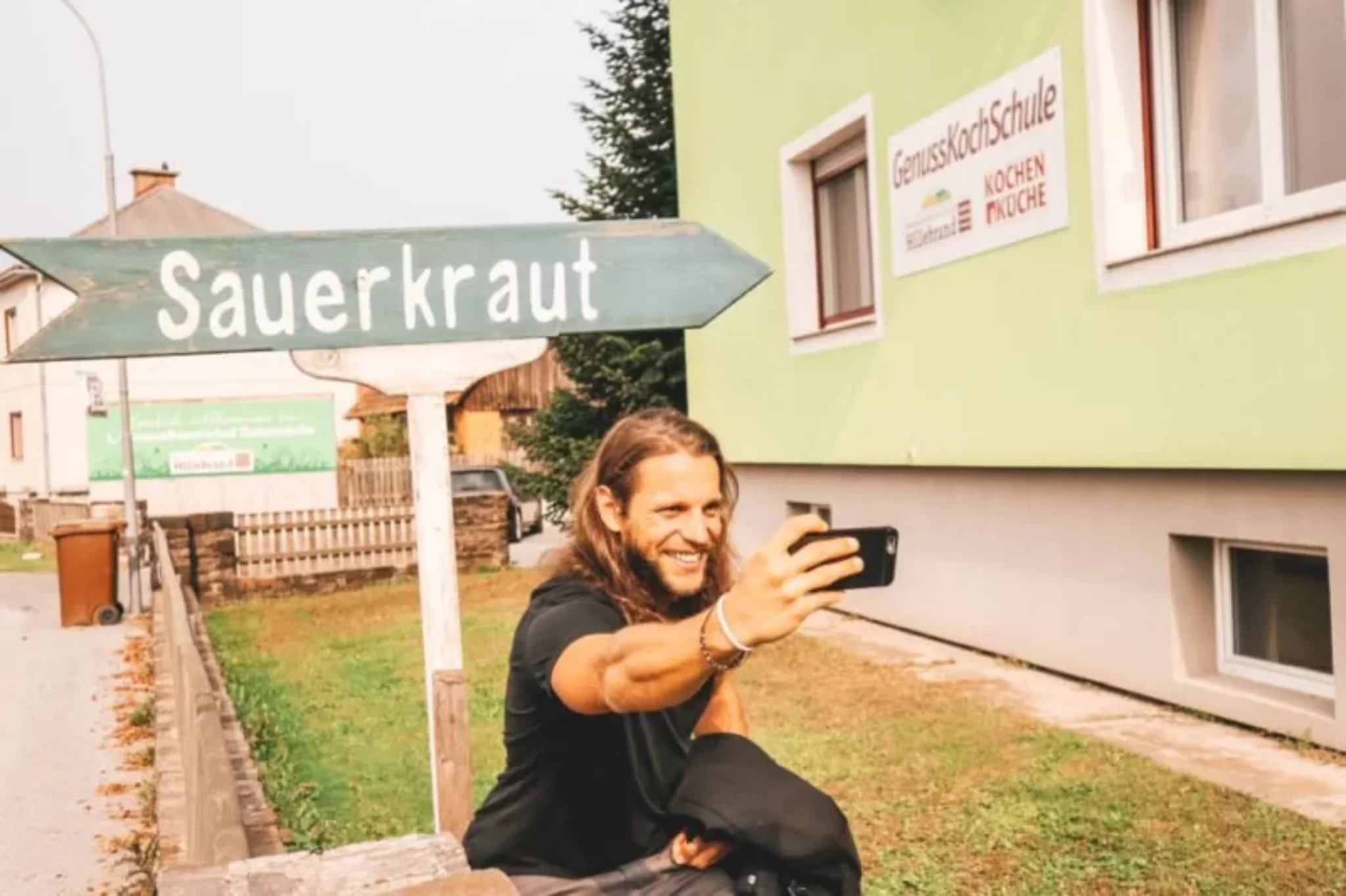 NOTE: Thanks to Visit Graz and iAmabassador for bringing me to Graz as part of the #EuroCultureTrip campaign. As always, all opinions are my own.