While there are many beautiful waterfalls in Bali, I think Nungnung Waterfall in the north of Bali is by far the most powerful and most spectacular to visit. I've visited many beautiful falls around the island but this was the first one that left me speechless upon laying my eyes in it and then getting overexcited at the thought of getting as close to it as possible or even swimming under it!
After an amazing day full of adventure riding our scooters to Nungnung Waterfall yesterday, here's my guide to visiting this amazing place including how to get there, how much it costs, best time visit and more!
Map of Nungnung Waterfall Bali
As you can see from this map of Nungnung waterfall, it's situated in the central / north of Bali. This is actually where many of the best waterfalls can be found, with some of the biggest and best near Munduk in Bali's far north. While it looks far away, it's actually not too long a drive from places like Ubud or Canggu.
Nungnung Waterfall Video
Getting to Nungnung Waterfall
As I live in Bali, my friends and I just jumped on our scooters and rode to Nungnung waterfall. It took about an hour and 15 minutes to get there and the best part is that the roads are quiet and views en route are stunning – passing by terraced rice fields, fields lined with palm trees and quiet, Balinese villages.
If you head from Canggu, wear most digital nomads live, head out the road towards Tanah Lot first then follow Google maps to get to Nungnung. This route is much quieter and more beautiful then taking Raya Canggu.
Entrance fee and facilities
Once you arrive you must pay an entrance fee of 10,000 rupiah per person plus 2,000 rupiah parking fee for each bike, which is pretty standard here in Bali.
There's two small warungs up the hill where you can order simple Balinese food and at the bottom, by the entrance to the steps, there two small shops selling cold drinks and snacks.
Walking to the waterfall
It's a bit of a hike down to the waterfall, down some high steps that can get quite steep at times. Our legs were quite wobbly by the time we reached the bottom so be sure to take your time and hold onto the railing. After rain, they can also be very slippy to walk down.
It takes about 15 or 20 minutes to walk down, and you'll cross a pretty bridge and see a soft flowing waterfall cascading over the cliff to your left. This isn't that main show, just something to get you excited. Another few minutes walk down some more steps and BOOK you'll hear and then see Nungnung waterfall for the first time and be blown away by its sheer power. We were all left speechless at first sight of it.
From here there's a small bridge made from bamboo that you can cross over to get as close to the waterfall as possible. Be careful as the rocks are very slippy and your clothes and camera gear can get VERY WET from all the spray coming off the waterfall. This is the kind of place that could totally ruin a new camera or lens so keep your distance.
Swimming in the waterfall
We decided to go in for a swim and despite it been a little cold at first, I think it was one of the most fun and exhilarating things I've ever done in Bali! myself, Yulia and Margherita all braved the cold water and had so much fun splashing around, screaming, looking up at the towering falls from the base and just enjoying the excitement of being so close to something so powerful.
We were there on a very sunny morning with clear skies, but I'm sure after a lot of rain the water in the falls would have been more brown than white and probably would have stopped us from swimming!
Nungnung waterfall swing
Back up at the top of the steps, which may or may not kill you walking up, there's two of those ever popular "Bali swings" and a few fun selfie points for taking pictures. We bargained the guys down and ended up paying 100,000 (about 5 euro) per person to get some pictures on the swing.
If you're looking for more fun photo spots near here, I recommend jumping ion your scooter and driving to selfie HEAVEN – Wanagiri Hidden Hills about 30 minutes north.
Honestly, it was SO MUCH FUN!
It was quite exhilarating and we all laughed and smiled so much while swinging high above this valley filled with trees, mist and low lying clouds. We all had a great time and of course were delighted with the pics that the local Balinese guys took for us! I normally avoid those things and think they can be a bit of a rip off or tourist scam, but it was so worth the money in the end.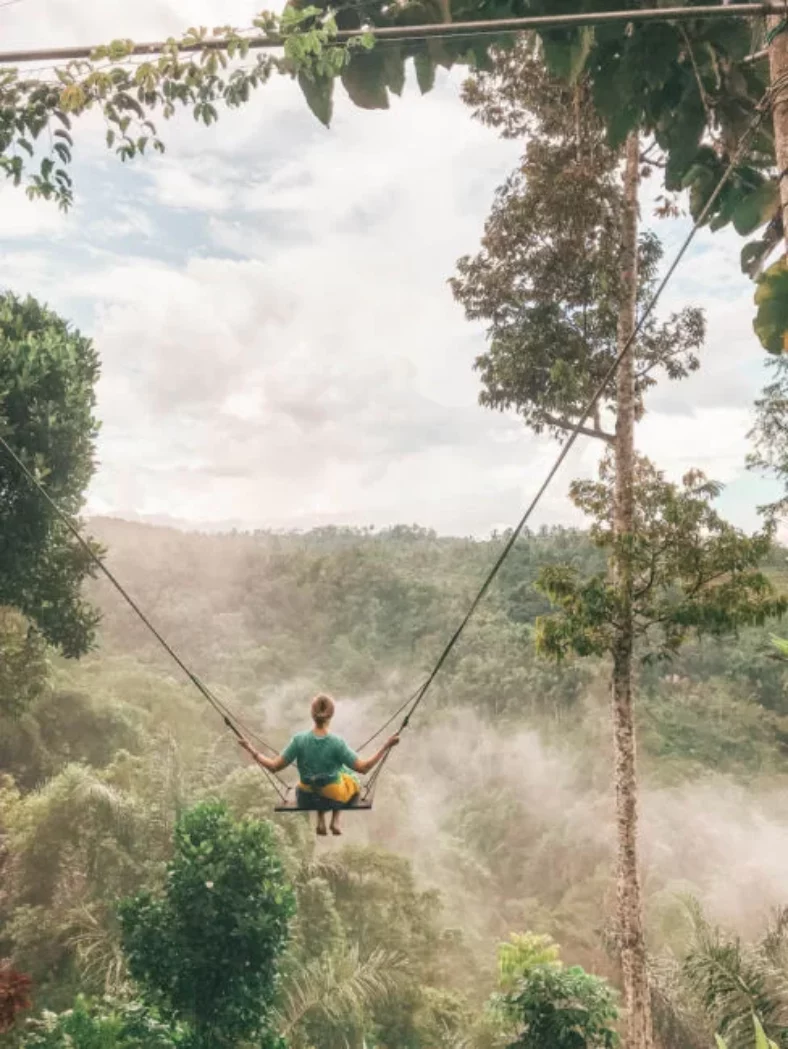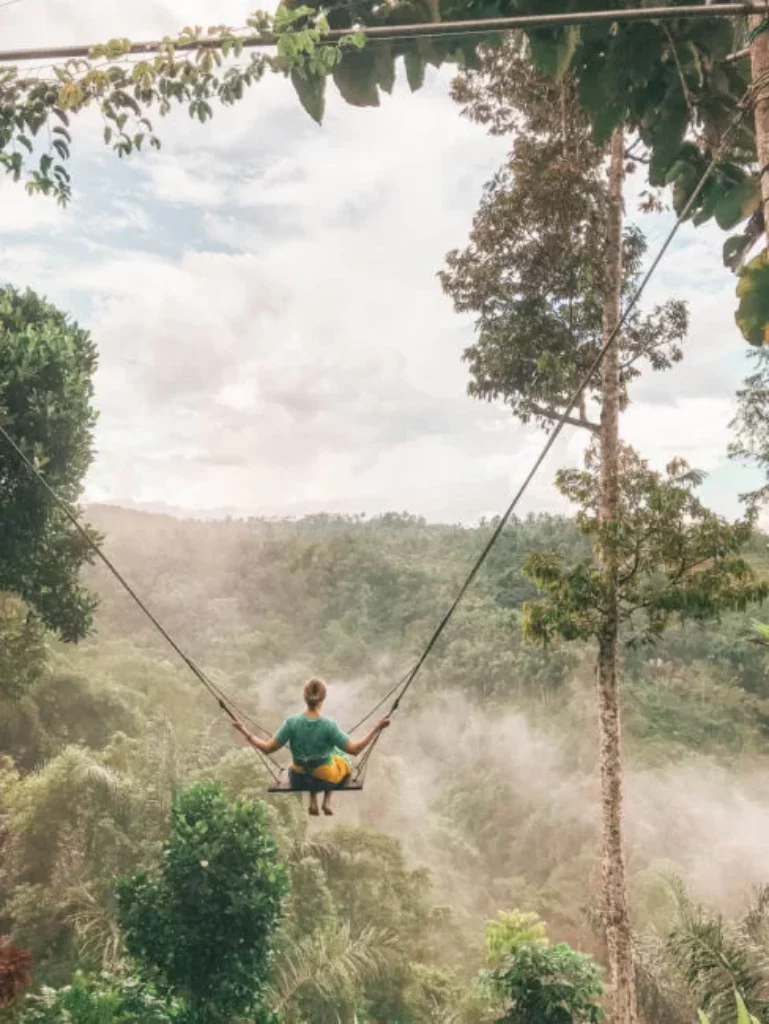 Sangeh Monkey Forest
On our way back to Canggu we passed by the Sangeh Monkey Forest – located about 30 minutes drive south of the waterfall. We had heard good things about this place and heard it was less touristy than the Ubud monkey forest so we decided to go inside.
We found an open gate next to a roadside temple and kind of just wandered and explored by ourselves. There were cite monkeys everywhere – but they were in no way aggressive.
Eventually we came across some people who work there and paid the 15,000 rupiah entrance fee and they told us a bit about he forest, the temple and the history of the place.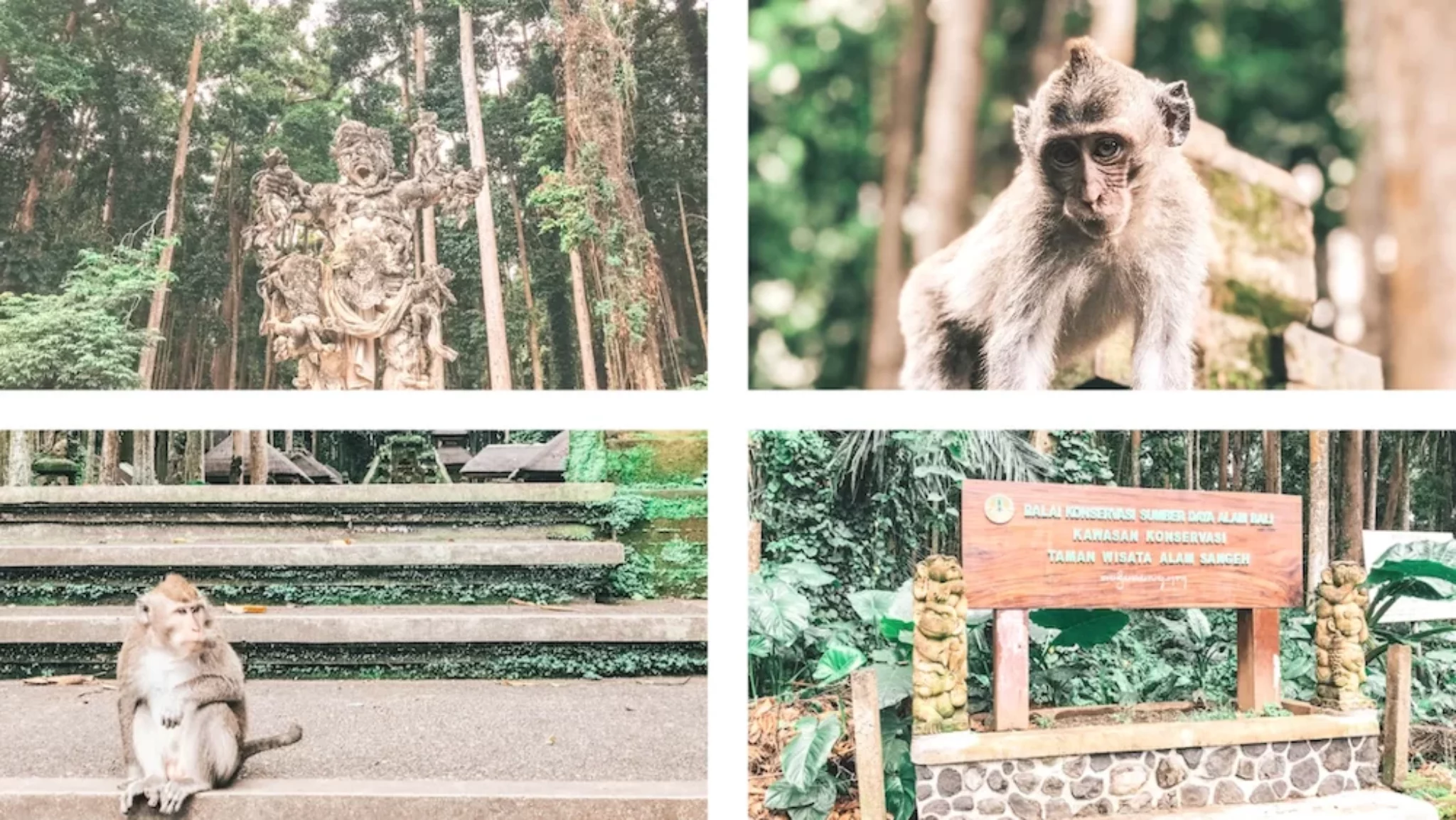 The temple is over 300 years old and there forest is over 500 years old! There are 3 big groups of monkeys that live here, and they are all quite tribal only hanging out with their own group.
It's a beautiful place to walk around and take photos – and if you give the monkeys some food they come jump on your lap or shoulder and hang out. It's a little scary but kind of fun at the same time.
Our trip from Canggu to Nungnung, including lunch, swimming, the swing and stopping off at Sangeh Monkey Forest took about 6 hours in total. We were going to drive by Like Like waterfall on the way back but we were all quite tired and decided to leave it for another day!