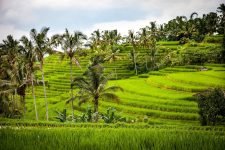 Bali Itinerary – A Travel Guide to Plan the Perfect Bali Trip in 2023
With the reopening of international tourism in Bali, the popular travel destination in Southeast Asia is a must for anyone itching to travel. Bali, considered a traveller's paradise by many, is known for its looming volcanoes, luscious rice paddies and white sandy beaches.
Beyond its glittering surface, Bali offers a rich cultural experience, as well as an array of  attractions and fun activities. With so much to offer, it becomes challenging deciding exactly which attractions to visit and activities to do.
This itinerary hopes to help you plan the perfect trip, whether long or short, by highlighting some of the island's most beautiful attractions.
The Perfect 5 and 10 Day Bali Itineraries
To see and experience all that Bali has to offer might require a few weeks. However, not every one of us has the time or money to take such a lengthy vacation. Many travellers might visit Bali for a total of 10 days, while some may opt for a shorter 5-day trip. To ensure that you get the most out of your time in Bali, I have written a 10-day itinerary.
For those who have planned a shorter trip and cannot visit every place listed in this itinerary, feel free to pick the destinations that sound most exciting. I can guarantee that every location mentioned will be worth your while!
To follow, you'll be guided day by day through some of Bali's most breathtaking sites and unique activities. To help you get around the island quickly and easily, we recommend checking out these guided tours.
Bali Itinerary Day 1: Nusa Dua Beach and Water Blow
Following your long flight, it may be fitting to spend a day unwinding on one of Bali's most beautiful beaches – Nusa Dua Beach. This beach is a 20-minute drive from Ngurah Rai International Airport and is the perfect place for you to kickstart your Bali adventure.
With high-end beach resorts, magnificent palm trees and clear blue waters, the Nusa Dua Beach offers a great deal of exclusivity and is the perfect spot for a day of relaxation. Alternatively, if you're looking for an adrenaline rush, this beach is also a great location to try out some exciting activities like snorkelling, flyboarding and parasailing.
After a fun day at Nusa Dua Beach, take a scenic drive up to one of Nusa Dua's most popular attractions – Water Blow. The Water Blow offers a unique spectacle. It lets you witness the sheer power of mother nature as large waves from the Indian Ocean crash against the limestone south-eastern cliffs causing the water to shoot up almost 100 feet into the air.
Bali Itinerary Day 2-4: Nusa Penida and Nusa Lembongan Islands
Located 45 minutes off the coast of Bali is one of Indonesia's hidden gems – the Nusa Penida Island. Home to some of the most photogenic sights in Bali with its white sandy beaches, unique turquoise water and luscious scenery, the Nusa Penida Island is a must-see destination.
To get to Nusa Penida Island you will need to take a boat from Sanur Port in Bali. It is recommended that you get up early for this trip as the first boat from Sanur to Nusa Penida leaves at 7:30am.
The Nusa Penida Island is home to several of the world's most spectacular beaches, as well as some other interesting and beautiful sights including various trails, waterfalls and temples. With so much to see, it would take you 2-3 days to explore most of the island. However, if you've planned a shorter vacation, a day trip is more than doable!
Regarding travel, once you have arrived on Nusa Penida Island, you may rent a motorbike; however, we recommend a private driver as this may be safer given the less developed roads.
To follow here are some insights on some of the Nusa Penida islands main attractions. With several uniquely beautiful beaches, waterfalls and sights, there is truly so much to see!
Kelingking Beach
Kelingking Beach, possibly the most popular attraction on Nusa Penida, is known by many for its shimmering white sandy beaches and blue waters. However, what has brought this beach so much attention is its unique shape, showcasing a large T-Rex rock formation. The Kelingking beach is about a 1-hour drive from the harbour and can only be accessed by hiking down a rather steep trail. However, the journey is more than rewarding given the beauty of this secluded beach.
Angel's Billabong & Broken Beach
Angel's Billabong and Broken Beach, located right next to each other, are two among the top must-see attractions on Nusa Penida. Given how close these two spots are, it is suggested that you visit both at the same time.
Angel's Billabong, known as the island's natural infinity pool, is a rock pool that opens directly to the ocean. It is important to note that the waves here can become really massive depending on the tide, so proceed with caution and listen to the locals! It might be best to visit during low tide.
Broken Beach is an arched tunnel in the cliffs which allows the ocean water to flow into the Angel's Billabong rock pool. Broken Beach also offers a spectacular view of the island's surroundings.
Following a lovely two days on the remote Nusa Penida island, head to the lively Nusa Lembongan. Of the three Nusa Islands, Nusa Lembongan is most certainly the most populated and developed.
The island offers a refreshing vibe with its friendly locals, artisan shops, markets, restaurants and coffee shops. There are also a number of tour operators available, offering a variety of tours and activities like snorkelling, diving, surfing and other boat tours.
Bali Itinerary Day 5 – Seminyak
Following a wonderful island excursion, head to the bustling Seminyak, Bali's trendy resort town. This developed and touristy town offers a great variety of activities and attractions, including several beaches, malls, markets, restaurants, cultural sites and upbeat nightlife. To get the most out of your visit to Seminyak, we recommend trying to stop by the following attractions.
Double Six Beach
Later in the afternoon, head to the Double Six Beach, one of the most popular beaches in Seminyak. Rent a sun lounger or bean bag and enjoy the sunset with some good company and a cold beverage. If you're a surfer, the Double Six Beach is also the perfect spot to catch some waves!
Seminyak Night Market
After taking in one of Bali's most beautiful sunsets, take a trip back into town toward the buzzing Seminyak Night Market. The night market starts at 6 pm and is the perfect spot to grab some tasty Balinese street food and treats. With fair prices and friendly vendors, the Seminyak Night Market is the ideal place to taste a variety of Indonesian cuisine. To learn more about Indonesian cuisine, try participating in the fun and exciting Seminyak cooking class!
Bali Itinerary Day 6 – Canggu
After a splendid day in Seminyak, take a 40-minute drive to Canggu. Canggu has recently become quite a trendy destination among travel bloggers as it offers an array of attractions, including affordable resorts, vibey beach clubs, bars, cafes and several yoga studios. Along with some beautiful beaches and a trendy shopping scene, this village is the perfect spot to simply get lost in.
The Canggu coastline is flanked by several beaches, including the Berawa, Nelyan, Batu Bolong, Echo and Perenan beaches. The Berawa, Perenan and Echo beaches are considered top surfing spots, with Echo beach offering some more challenging waves. If you wish to relax, the Nelayan beach offers a more quiet and calm space, perfect for lounging, swimming or walking.
In addition to its vibey village and beaches, Canggu is home to the popular Tanah Lot Temple. This temple is rather unique as it was built on top of a large rocky structure just off-shore. The architecture of this temple is truly remarkable as the temple's structure blends seamlessly with the rocky outcrop. The name of the temple, the "Tanah Lot", directly translates to "land in the sea".
This popular tourist attraction can be reached via a land bridge populated with a number of stalls from which visitors can purchase handcrafted souvenirs, accessories, food and drinks. We recommend visiting the Tanah Lot Temple around sunset as this location offers a spectacular view of the golden sea.
Another option when visiting the Canggu village is to take a one-hour drive to the Tegenungan Waterfall. The Tegenungan Waterfall is considered one of the most famous waterfalls in Bali. With a short trail of merely 100 steps leading down towards the waterfall, it is easily accessible and most certainly worthwhile!
Bali Itinerary Day 7-9: Ubud
Following a lovely few days on the coasts of Bali, take a scenic trip through the countryside toward the heart of the island – Ubud. Located in Bali's uplands, Ubud finds itself surrounded by an abundance of lush green forests and terraced rice paddies. Ubud, one of the most visited tourist attractions in Bali, is also the centre of traditional Balinese craft and dance, and is home to a number of magnificent temples.
Most of Ubud's attractions can be found near the popular destination's centre; however, there are many other must-see sights located further away. With so much to see, we highly recommend spending two to three days in Ubud. To ensure a smooth experience, it may be best to hire a driver for each day and have the driver take you from one sight to the next. Read on to find out about some of Ubud's most popular tourist attractions.
Ubud Sacred Monkey Forest Sanctuary
Found near the city centre, the Sacred Monkey Forest Sanctuary is among the top attractions in Ubud and is home to over 700 Balinese long-tailed monkeys. Observe these marvellous primates in their natural habitat; however, be wary of monkey thieves! If you have anything edible in your bag, these monkeys may try to steal it.
Additionally, the natural sanctuary includes a number of paved pathways taking you through the lush and leafy forest, as well as several ancient moss-covered Balinese temples. These ancient temples house various relics and statues and receive minimal sunlight as it is situated under dense foliage.
Ubud outskirts
In addition to the city centre, Ubud's outskirts offer a number of bucket list sights and attractions. Starting with the Tegalalang Rice Terrace, just a 20-minute drive north of Ubud, this is a must on any Bali itinerary. Found in the valley, the lush, green and picturesque rice paddies seem to stretch on endlessly.
Another sight found on the outskirts of Ubud is the Campuhan Ridge Walk, a popular walking trail among tourists. This lush hiking trail offers some stunning views of Ubud and best of all – you do not need to finish the entire trail.
Onto one of the most popular destinations among many Bali blog posts – Lempuyang Temple. This beautiful Hindu temple is a brilliant place to learn more about the Balinese culture and to capture that perfect Instagram photo!
Keeping on the theme of most popular Bali travel blog destinations, it is fair to say that no trip to Bali is complete without a visit to the Bali Swing! Whether you've planned a 5 or 10-day trip, the Bali Swing is at the top of any traveller's bucket list. The famous Bali Swing offers a stunning view over the lush Ubud rainforest and is the perfect spot to capture a good photo for your travel blog or social media post.
Bali Itinerary Day 10 – Sanur
The last spot included in your Bali Itinerary is Sanur, a quiet port city with many beautiful beaches, bars and amazing seafood restaurants. Located about a half-hour from Ngurah Rai International Airport, Sanur is the perfect spot to close off your Bali vacation.
We recommend heading to Jimbaran Beach for a memorable sunset dinner at one of the best seafood restaurants in Bali. See your Bali trip off with some good company, food, drinks and perhaps a lovely walk on the beach!
Final Thoughts on the Perfect Bali Itinerary
With the endless experiences which the island offers, Bali is truly a traveller's paradise. Regardless of what destinations and attractions you decide to visit, we guarantee that you'll have a happy and memorable experience!