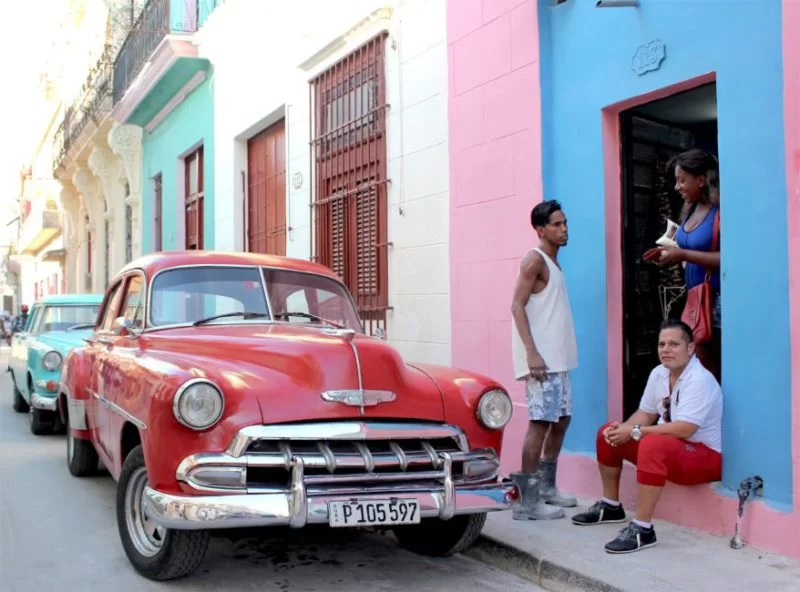 Planning a trip to Cuba? While there's no bad time to visit, as there are amazing events, festivals and beautiful places to visit all year round, sometimes are better than others. Here's my quick guide to the best time to visit Cuba for festivals, food and sunshine!
Best time to visit Cuba for festivals
The summer months, July to September, are some of the best months to experience the amazing festivals that take place within Cuba. Most of these are going to be best enjoyed in Havana, but smaller coastal villages will also have some great festivals and parades as well. 

July kicks off several weeks of festivals and celebrations with the anniversary of the Cuban revolution on July 25th. This is quickly followed by the day of rebellion the next day, and the official celebration of the revolution on the 27th. This period of festivals is often extended into a whole week, with parades, drink specials, sold out hotels, and amazing food that is only made once a year.
Various small towns have processions and local holidays, but nothing really national takes place again until The beginning of Christmas and on through the religious holidays such as Good Friday, Epiphany, and several others. These are usually one day celebrations and are again best enjoyed in Havana where there will be larger crowds and more people available to celebrate the occasion.
May also gets a small mention for the exciting and fast paced celebration of Cuban independence on the 20th of the month. This celebration sees all of the streets decked out in Cuban colours, great deals on food and drink, and contests to see who is the most athletic or skilled in all of Cuba.

Best time to visit Cuba for food
The Holy week holidays, Palm Sunday through Easter Sunday, are the best time for specialty foods in Cuba. As a heavily Catholic country, both throughout history and currently, this time of the year is when people put the most effort into their cooking.
However, many people don't have families to spend time with or are too tired after work to cook, meaning that many restaurants will also carry traditional foods and breads. 

This is the best time of the year to sample Cuban breads, as they will be cheap, constantly fresh, and available in a number of varieties that only appear during this part of the year. Hot cross buns are still a staple during this time of the year, as are buns with raisins, dried fruits, and even cheese braided into them.
Another great time of the year for food is the Christmas season, where crap empanadas, salads made with fresh avocados, black bean soups, and fried breads are available in every restaurant. Temperatures range from 65 degrees all the way to 85 degrees in Santiago de Cuba, making it a warm and comfortable, but not too hot to enjoy these delicious offerings.

Best time to visit Cuba for sunshine
January is a little over 70 degrees on average in the peaceful city of Trinidad, with dancing nights held in the square throughout the year. Anyone looking to escape the cold will enjoy the tropical atmosphere here, the soft breezes, waving palm trees, and 12 hours of bright sunlight each and every day.
While it isn't as warm as the summer months, January is the perfect month to partake in Cuban traditional culture. The village square in Trinidad is often filled with salsa bands, and night is a perfect time to explore the gardens and well lit cobbled streets in comfort. During the day it can reach almost 85 degrees, but the temperate tends to stay closer to the high 70s and low 80s during the day, with night dipping to a cool but manageable 65 degrees.
Cienfuegos is around the same temperature as well during the month of January, but is much closer to the sea, making it so that there is a constant coastal breeze. If you don't like the heat, but aren't a fan of the cold, this temperate city is the perfect place for your visit. This destination isn't the most popular, but that also means that prices are much cheaper, the area is much easier to explore on your own, and the pace of life is much slower, perfect for a long break from the office.
 And don't forget Cuba is full of amazing beaches to chill out on!
Best time to visit Cuba on a cruise
Many cruise lines have started offering packages with stop offs in Havana, Santiago, and other port cities. However, visiting these during the hottest summer months is not quite the experience that you want, as temperatures can soar into the high 90s, with Santiago being blistering hot from July until late September.
This is also the period of time when tropical storms are most likely to happen, making a cruise during that part of the year less than enjoyable. 

If you really want to enjoy a smooth ride, temperatures that are comfortable yet a bit on the warm side, and great access to local events, you should take once of these cruises from March until June.
This is also the part of the year where extended cruises tend to be offered, giving you the chance to stop off in more areas of Cuba and letting you see as much of the country as possible. 

If a spring vacation isn't your think, Santiago tends to start cooling down around the start of October, but still offers balmy beach weather all the way to the start of December.


Best time to visit Cuba for history
While Cuba as a whole still celebrates the revolution that was started be Che Guevara, most places are done with their celebrations with a week and don't tend to put much emphasis on the historical happenings during their celebrations. However, anyone who is interested in that part of Cuba's history would do well to visit Santa Clara during December, as the hometown of his wife still celebrates his campaigns to this day.
Parades, month long celebrations, history tours, and even mural painting contests all take place during December, offering you anything you could want to know about Che and more. A bit cooler than the rest of the country, Santa Clara is still a comfortable high 60s to low 70s during this time, and rainfall is the worst symptom of winter that you are likely to experience when you visit.