With the beautiful blue Mediterranean Sea set against a volcano, Santorini is a beautiful and idyllic Greek island. This island, with its charming blue and white buildings, coffee, and local dishes from a quaint café, has plenty to offer. But with so much to offer, it can be challenging to know the best time to go to Greece, Santorini.
If you want to explore Santorini's seaside treasure, with its brilliant blue water, red, white, or black beaches, and volcanic landscapes, it is best to get to know your months to visit.
 Quick Tip: Have a look at more of Europe's popular islands for an unforgettable adventure.
Best Time to Travel to Santorini
As one of the most popular attractions in Greece, Santorini is a dream vacation location. When going on vacation, you want the best possible experience, balanced by picking a suitable month. The best time to go to Santorini is generally late March to early June, and early September to late October.
These periods of the year are the beginning and the end of the on-season, but they aren't the peak season. This means they are the perfect times to enjoy sunny weather and experience adventures like ocean swims, snorkeling, scuba diving, and hiking.

Weather in Santorini, Greece
While the best time of year to visit Santorini is from September to October and March to June, finding the best month to visit Santorini depends on what you are looking for. Spring suits your taste if you want to explore, or winter, where the island is a little cooler and offers lower prices.
Each season and month in Santorini provides something. Here is a season-by-season guide to exploring which month is best to visit Santorini.
Spring in Santorini – March to May
Springtime in March to May provides the perfect weather for all overland adventures on the island. At this time of year, the weather is getting warmer but does not get too hot, making it the perfect temperature for hiking and sightseeing. It is also the idealtime to go visit the two volcanic formations of Palea Kameni and Nea Kameni which lie inside the Santorini caldera.
Quick Tip: Take a Santorini Volcanic Islands Cruise on a Greek Caique boat and swim in the orange-tinted, mineral-enriched hot springs of Nea Kameni.
March in Santorini is the turn of the season when the weather goes from cold to a little warmer. There is more sun and less rain. While the days are ideal, the nights may be rainy and a little cold.
April in Santorini brings even slightly warmer weather, with pleasant evenings. However, the sea temperature average is an unpleasant 62.4°F (16.9°C).
By May in Santorini, the weather is consistently sunny and warm. This is one of the best spring months to visit, as the chance of rain is low, and the temperatures are high. Since it is also not peak season, there is excellent availability and pricing of accommodation.
Summer in Santorini– June to September
The peak tourist season in Santorini is the summer months of June to September. During these months, the island is lively and busy, but the hotel prices go up substantially.
June in Santorini is sunny and hot, which offers perfect beach-going weather. The hotel prices are still reasonable because it is the start of peak season.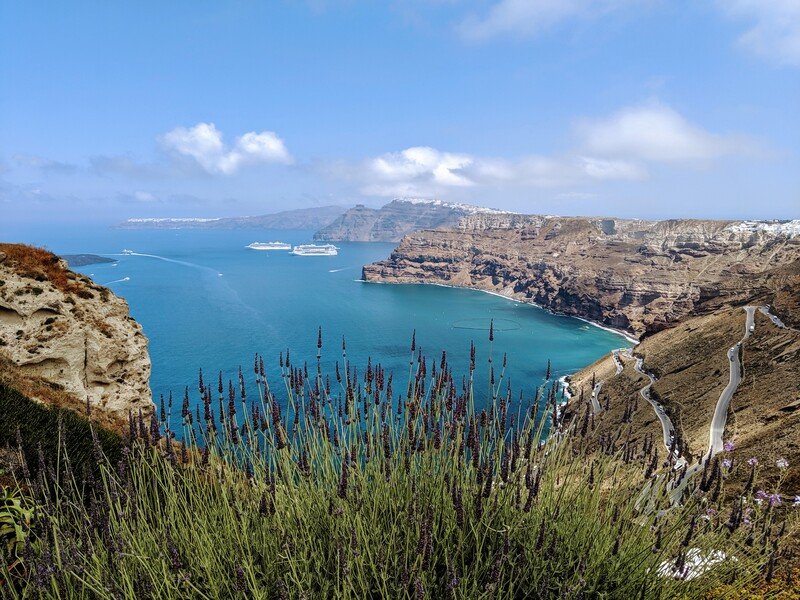 July in Santorini is also hot and is the busiest month for the island, meaning that if you plan on visiting in July, you will need to book accommodation long in advance.
August in Santorini is also hot but with strong winds. August is also a popular month with plenty of tourists, and temperatures average a high of 80.6°F (27°C) and an average low of 71.6°F (22°C). Even better, the temperature of the sea is a wonderful average of 78.3°F (25.7°C), perfect for swimming!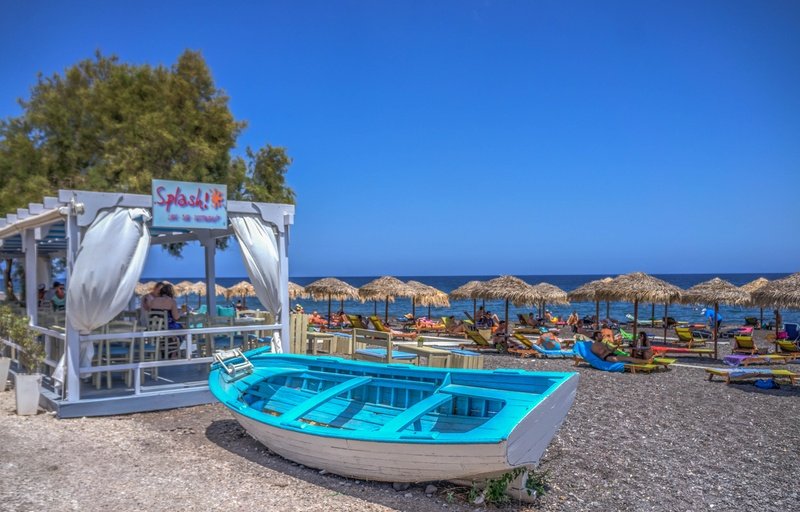 Autumn in Santorini– September to November
Autumn is a pleasant time in Santorini. After the summer heat, the weather starts to cool down a bit. Throughout most of autumn, it is still possible to swim.
By November, the rain begins again, which is why November is considered an off-season month for Greece, Santorini. By autumn, the strong seasonal winds, called the Metlemi winds, have stopped, offering pleasant weather.
September in Santorini is still hot and pleasant, but the temperature is cooling slightly. It also offers warmer water and fewer winds. As the first month of autumn, the temperature can still average a high of 77°F (25°C) and a low-temperature of 68°F (20°C).
October in Santorini is still pleasant but with colder evenings.
Santorini in November brings cooler weather with cloudy days as the winter season begins. The average temperature is 66.2°F (19°C).

Winter in Santorini – December to February
Winter in Santorini is cooler than in the rest of the year, but it does not get as cold as in places in Europe and America. However, it does rain more in the winter, and many tourist attractions, activities, and some restaurants are closed.
While you might not get the best beach weather and have as wide a range of restaurants, winter is the least busy time to visit the island. Along with this, accommodation and other activities are much cheaper than in the Summer months.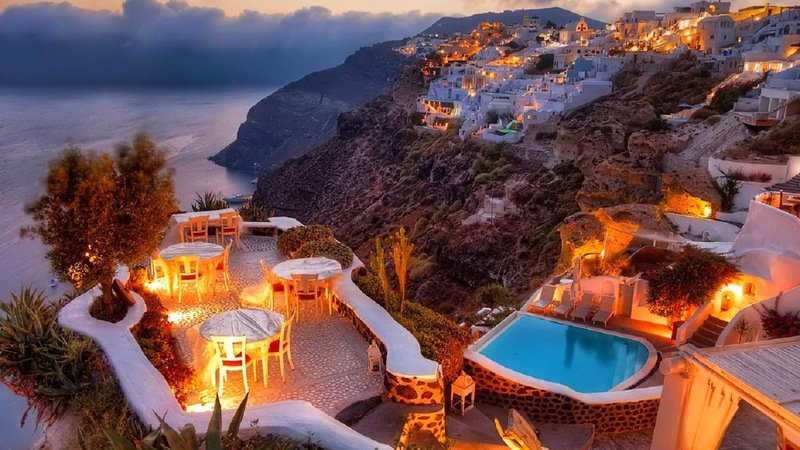 Santorini in December is generally rainy and cool but with periods of sun-filled days. As the first month in winter, it is still a generally pleasant month. The temperatures range from an average high of 60.8°F (16°C) and an average low of 51.8°F (11°C). Also important to note that sea temperatures in December drop to an unpleasant 63.7°F (17.6°C).
January in Santorini is the rainiest month on the island, with few tourists, and it is relatively quiet. February in Santorini is one of the coldest winter months and is often windy. February is also the month with the coldest average sea temperature of 61.7°F (16.5°C).
When is the Best Time to go to Santorini?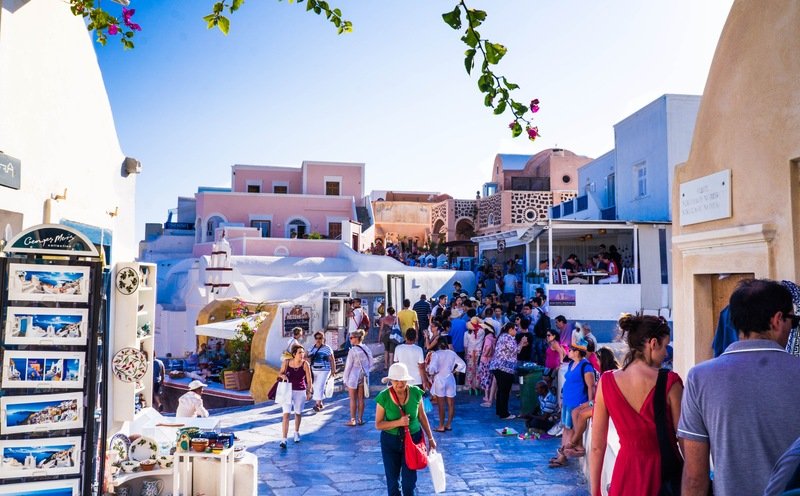 When is the best time to go to Santorini? While May, June, and September are some of the best months to visit Santorini in terms of weather, you may be more concerned about what activities are available to you and when the most cost-effective time to travel to the island is.
Cheapest Time to Travel to Santorini?
The most reasonably priced months to travel to Santorini are late spring to mid to late autumn. These periods are less expensive than the peak of summer while still being less crowded with a range of activities available to you.
However, the cheapest time to travel to Santorini is the winter months. During this time, accommodation is more affordable and easier to find, and even plane tickets often have discounts to travel in the off-season.
If the quieter, cooler winter holiday doesn't appeal to you, you can try the time-old trick of taking advantage of Santorini's last-minute deals at the end of each month.
Best Time to Visit Santorini – Activities and weather.
Your main concern for the more active traveler will be which activities you can do each season. Some of us have more of a penchant for water sports while others want more on land activities. All of these can be factors when deciding the best time to visit Santorini.
Winter and Autumn Activities
Autumn in Santorini offers a surprising number of activities. If your main priority is to swim, autumn offers warmer seas, and you can spend a long time on the beach without getting sunburned. Additionally, autumn provides the ideal cooler weather for hiking.
This is the perfect time to do the Caldera Trail Guided Hike along the rim of the volcanic caldera.
In winter, most of the islands' activities may be closed. And doing water sports might not be the best due to the cold water temperature. Also, other outdoor activities such as hikes and walking tours may be unpleasant due to the cold and the rain.
If you plan on visiting in the winter months, book your activities in advance to ensure you can experience them. However, this is the perfect opportunity to explore the museums and incredible archaeological sites, immerse yourself in the local cuisine, and visit the wineries.
Summer and Spring Activities
Of course, if it's a beach holiday that tickles your fancy, you will want to visit during the spring and summer. The consistent sunshine and hot days with warm weather are the ideal conditions for water sports.
Even at the end of August, when the winds pick up, they provide great wind-water sports opportunities like a Catamaran Small Group Cruise or sailing trips and meet all the prominent sights of this unique island.
Summary: When is the Best Time to Visit Santorini?
The best time to travel to Greece, Santorini, can depend on several factors. However, generally, the months from March to December are the best time of year to go to Santorini. These months offer lower prices, warmer days, and many activities and adventures.
With all its gems on offer, this picturesque island is your next dream location!