Amsterdam Evening Canal Cruise | 4 Thrilling Boat Trips at Night
Last updated on October 2, 2023 8:21 pm
Add to wishlist
Added to wishlist
Removed from wishlist
0
Add to compare
The country of windmills, wheels of cheese, and winding roads for cycling – touring the Netherlands is a tranquil, yet titillating experience. However, no vacation itinerary in Holland is complete without the famous city of Amsterdam making an appearance.
Canal cruises in Amsterdam will provide a different way to discover the secrets of the city. The city comes alive with an electric atmosphere, the twinkling lights captivating every kind of traveler.
From romantics to party-goers, an Amsterdam canal tour at night is bound to create an unforgettable experience. We dive into the various canal boat trips to experience, providing an effervescent glow to Amsterdam's quaint features.
Highlights:
Learning about the city's impressive history
Scenic views of the city skyline at night
Cruising the canals while spotting famous landmarks
Know before you book:
Most cruises are not wheelchair accessible
Canal cruises have maximum capacities, so book in advance
Be sure to bring a jacket, as it can get chilly on the water
From the sweet aromas of the Bloemenmarkt to the silent wonderment of the Van Gogh Museum – Amsterdam is bountiful with thought-provoking spectacles. While there is an abundance of attractions and activities to explore, nothing embodies the essence of this exciting city quite like the canals.
The intricate canals of Amsterdam are much more than mere bodies of water for transportation. This is where lovely bridges cross their paths and stunning historical buildings and landmarks can be viewed from the water.
The bridges are embellished with fairy lights, adding a mystical element to evening excursions. The evening boat cruises provide a way to not only fully experience the city at night but comprehend the complexity of Amsterdam's canals and waterways.
Amsterdam Night Canal Cruise Prices
The cost of the canal cruises starts at $16 USD (€14) and can go up to $31 USD (€ 26) depending on the duration and included features of the cruise. Take a look at the various options and compare the prices below: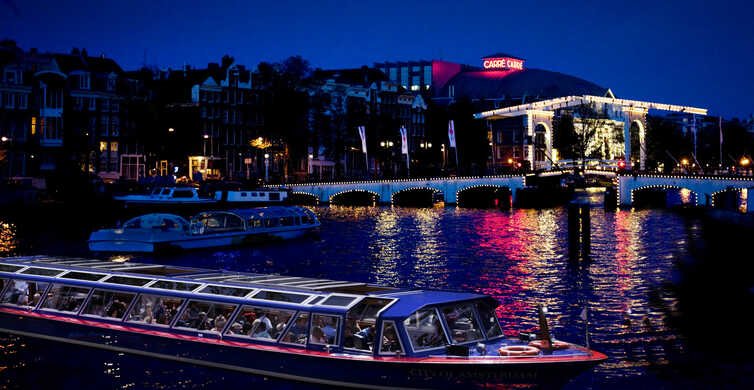 Amsterdam Canal Night Cruise Times
While these cruises tend to run all day due to their popularity, the night boat trips generally start around 5 pm till 10 pm at night. While spacing tends to be limited, we advise that you book in advance if you want an early evening waterway tour experience.
Best Time to Go on a Night Canal Cruise in Amsterdam
During April and May is the best time to take a boat trip in Amsterdam, as it is before the high tides of tourists come in. With the start of spring and higher temperatures, an evening boat trip is an excellent choice.
From December to March, the weather in this city tends to be very chilly. So, going on a quintessential Amsterdam canal cruise at night might be especially tricky. When the temperatures drop below 4 degrees for a few days, the canals can actually freeze over.
Brief History of the Canals of Amsterdam
Known as a UNESCO World Heritage Site, the Amsterdam Canal District is a staple piece of the city's rich history and captivating heritage.
The three main channels are Keizersgracht, Prinsengracht, and Herengracht. The extension of these intricate waterways was built at the end of the 16th century, as a way to expand the city.
This expansion led to various urban developments along the canals as well as local monuments. These various housing structures embody the very essence of Amsterdam, where remnants of the past are still ever-present.
From the opulent mansions to the quaint waterside houses, the architecture along the canals is a kaleidoscope of intricate details to behold. These delightful houses are similar in construction but have various decorative trimmings that distinguish them from their neighbors.
The extensive bridges that accompany these famous canals are wonderful to stroll through to get panoramic views of Amsterdam. With over 1300 bridges to explore, where Magere Brug is the most popular due to its gorgeous overlook points to view the city in all its glory.
Amsterdam Canal Tour Night Cruises Options
Canal cruises offer stunning views and a tour of famous landmarks while gliding through this magical city under the stars. Take a look at the various options of canal water tours at night and find your perfect fit.
Amsterdam Evening Canal Cruise
This exciting night boat tour is a great way to experience this city at night. The vibrant nightlife and the glittering city lights will be sure to leave a lasting impression.
Drifting by some of the most famous landmarks of Amsterdam, you'll feel like you've seen it all in just one short boat trip. From the well-known Anne Frank House to the iconic Westerkerk, see this city's top attractions come to life at night.
The cruise is equipped with audio guides available to enrich your experience and learn more about this great city. This evening water activity is great for travelers that want to learn more about Amsterdam in a memorable way.
What we liked: Seeing famous landmarks and buildings at night.
---
INCLUDES:
An hour-long cruise of Amsterdam's canals
Audio guides
Stunning backgrounds to take some fantastic family photos
EXCLUDES:
Food and beverages
Pick-up and drop-off services
Tips for your cruise operators
Check Price & Book
---
Amsterdam: 1.5-Hour Evening Canal Cruise
When the sun sets and the lights turn on, the city awakens with a reinvigorated sense of wonderment. You'll be greeted by a guide to take you through the inner workings of the history of the city while you enjoy your cruise around the canals.
This enchanting nighttime adventure includes audio guides with a wide variety of languages, so feel free to learn more about the "Venice of the North" comfortably.
The cruise itinerary includes floating through some of Amsterdam's most famous waterways of the Canal Belt. With bar service on board, you'll be able to sip on cocktails throughout the night and still be able to call it a cultured experience.
What we liked: Informative guided tour in a stunning setting.
---
INCLUDES:
Bar service
Audio guides
Free cancellation up to 24 hours before
EXCLUDES:
Seat reservations
Food and beverages
Tips for your tour operators
Check Price & Book
---
Amsterdam Guided Evening Canal Cruise with Bar on Board
Gliding through the iconic canals with a cocktail, cruise Amsterdam in style. This canal cruise provides a variety of times to book throughout the evening. Whether you prefer to glimpse the setting sun or bask in the evening glow, these historic waterways are a sight to behold.
This busy, yet tranquil city is always teeming with tourists and spectators clobbering to get a glimpse of these amazing canals. This evening boat tour option only allows 14 passengers on deck, which provides an almost private boat tour of Amsterdam and its charming settings.
Within this hour-long cruise, you'll be able to learn and partake in an interactive tour all about the interesting trade history of the city. What better way to end off a day by glimpsing the soft glitter of Amsterdam while learning all about its hidden nooks and crannies.
What we liked: Interactive tour of the Amsterdam canals at night.
---
INCLUDES:
Guided tour to answer questions and queries
Fees and taxes
Private cruise bartender on board
EXCLUDES:
Food and beverages
Tips for your tour operators
Check Price & Book
---
Amsterdam: Light Festival Luxury Canal Cruise
Providing a sense of elegance to your tour of this vibrant city, this luxury cruise pulls out all the stops. An appetizer is served once you step foot on this electric boat, providing an extra sense of glamour to the night.
Beyond the illuminated classic merchant houses and to the siren call of the Red Light District, cruising on the Amsterdam canals at night is an experience like no other. Lights bespeckle every aspect, but nothing shines brighter than the Amsterdam Light Festival.
The cruise takes you on a journey through various art installations and light sculptures to experience. You'll be able to drift through these dazzling destinations with a drink in hand, as the boat is equipped with a bar.
What we liked: A luxury take on the traditional canal cruise experience.
---
INCLUDES:
A 90-minute cruise of the picturesque canals
Hot appetizer
Small free gift for children
EXCLUDES:
Tips for your captain and host
Additional beverages and snacks
Hotel pick-up and drop-off
Check Price & Book
---
An evening canal tour of Amsterdam is the best way to experience this iconic city in a unique way. The various canal boat tour options will provide extensive information on the area's famous landmarks and historic buildings while gliding through the waterways.
PROS
Scenic views of Amsterdam at night
Boat cruise through the iconic canals of the city
Great guided tours of the area
CONS
Most tours are not wheelchair accessible
Can be quite chilly at night at certain times of the year
Limited spacing in certain canal cruises
Specification:
Amsterdam Evening Canal Cruise | 4 Thrilling Boat Trips at Night
| | |
| --- | --- |
| Accessible | Not wheelchair accessible |
| Duration | 1-1.5 hours |
| Includes | Audio commentary, appetizers |
| Excludes | Hotel pick-up and drop-off, food and beverages |
| Meals & Drinks | Not included |
| Pickup | Not included |
| Suitable For | Families, Groups of friends, Solo travelers |
50 reviews for
Amsterdam Evening Canal Cruise | 4 Thrilling Boat Trips at Night
Amsterdam Evening Canal Cruise | 4 Thrilling Boat Trips at Night