Aran Islands Tour Tickets | Best Day Tours From Galway
Last updated on September 26, 2023 8:36 am
Add to wishlist
Added to wishlist
Removed from wishlist
0
Add to compare
The Aran Islands are three limestone islands that protect Galway Bay from the harsh waves of the Atlantic Ocean. You will move into another world when visiting these prehistoric islands, with massive waves crashing into their sheer cliffs.
With centuries of Irish and English history, there's more to these islands than just rock and breathtaking ocean views. There is plenty to see, with several ancient monuments across the three islands of Inishmore, Inishmaan, and Inisheer.
From the 1st century fort Dun Chonchuir on Inishmaan to the 1960 Plassey shipwreck on Inisheer, there is an abundance of history to witness during your Aran Islands tour.
Next Read: After your Aran Island tour, check these Galway tours to experience the best of Ireland.
Highlights:
There are loads of ancient ruins to explore and learn about
You can enjoy the day on the lovely beaches in between the tours.
The Poll na Péist is a natural wonder well worth the walk for a swim
Know before you book:
Tours tend to be full-day trips as there is a lot to see across the three islands
Bring warm clothes as its cold for most of the year
There is accommodation on the islands if you want to spend more than one day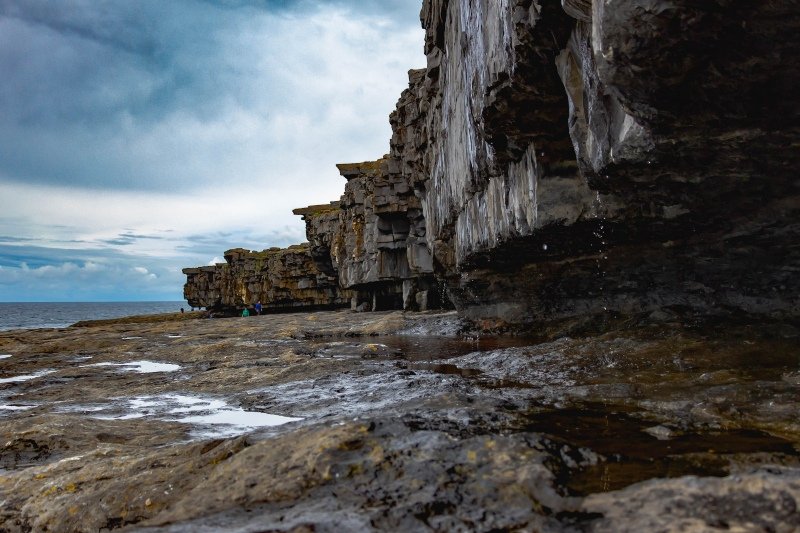 The Aran Islands don't have any natural topsoil, so all the green grass and crops grown are thanks to centuries of man-made soil from seaweed and manure. Inishmore is locally known as "Inis Mor" and is the largest island of the three. Inisheer, known as "Inis Oirr", is the smallest and Inishmaan or "Inis Meain" is the second largest.
Each island has its own piece of history, like Inis Mor's prehistoric hill fort, Dun Aonghasa; Inis Maein's 300-year-old cottage, Teach Seange; and Inis Oirr's Plassey Shipwreck. These are just a few of the wonderful sites you can see during your trips to Aran Islands.
If you plan a Galway-to-Aran-Islands day trip or prefer to spend a couple of days on the islands, you are guaranteed to leave with unforgettable memories. Whether you are touring Dublin or Galway, a trip to Aran Islands is well worth the effort.
Aran Island Tours Prices
A wide range of tours is available, from full-day to multi-day guided trips. Tickets start from €55 ($56) to €571 ($580), depending on what is included. The most expensive tours include all entry costs to historical sites and transfers to and from the Islands.
Compare prices for Aran Islands tours across the providers below:
Aran Islands Tour Times
Tour times vary depending on the provider, trip duration, and what the package includes. All tours depart from their respective ports between 7 am and 9 am daily. The average time of each tour is between 8 hours and ten and half hours, depending on the tour.
Monday – Sunday: 7 am – 5:30 pm
Best Time to Go to Galway, Aran Islands
The best time to go to the Aran Islands is definitely in summer, between May and October.
Ferries to and from the islands tend to reduce travel from November to April due to dangerous weather conditions from rain and rough seas. The months of May to October are also best due to the warmer conditions than those of winter, when it is particularly wet and cold.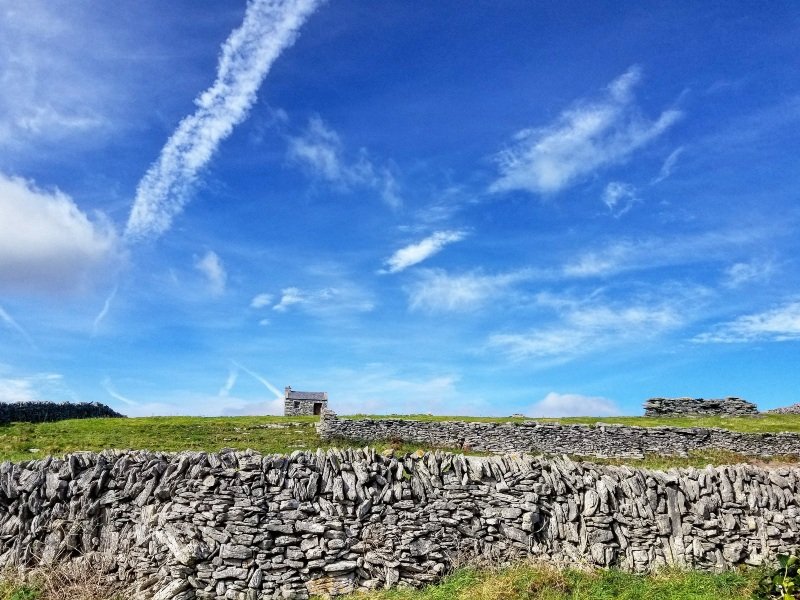 Traveling By Boat to Aran Islands
As the Aran Islands are a remote part of Ireland, traveling there is not as simple as enjoying a leisurely drive down the coast. Although flights are available to all three islands, the most convenient and affordable method is by boat.
Most of the trips from Galway to Inis Mor and the other islands leave from Rossaveel Port or the Galway docks. A Rossaveel ferry or Galway ferry to the Aran Islands is a 40-minute journey. You can take in the calming ocean views along the way before exploring the rustic surroundings of the islands.
There are other places to start your journey, with a Doolin ferry the second most popular way to begin your destination to the islands.
Aran Island Tours From Galway
From luxury cruises to plane tours of the islands, you are bound to experience an authentic Aran Islands adventure that promises a memorable time. Whether you want to see what the islands have to offer on a budget, or you can splash the cash, these tours will fill a space in your heart.
Full-Day Aran Islands Tour From Galway
Join this award-winning Galway to Aran Islands day trip on a luxury cruise ship. Start your journey by passing the stunning Connemara and Clare Coast, where you have the chance to catch your breath before the day begins.
Once you arrive at Inis Mor, you'll have four and a half hours to explore this iconic island, where you can either stay in groups or go on your own little journey. The tour comes with a downloadable audio guide, which helps you learn all about the culture, history, and heritage of these magnificent islands.
What we liked: You have the freedom to explore Inis Mor on your terms.
---
INCLUDES:
Round trip transfer
Audio Guided tour
Ocean views of the Cliffs of Moher
EXCLUDES:
Food and drinks
Activities on Inis Mor
Hotel pick-up and drop-off
On the voyage back to Galway from Inis Mor, the ferries take you past the massive Cliffs of Moher. At over 650 feet above the Atlantic Ocean, these towering cliffs are a natural phenomenon that you can only truly appreciate from the sea.
This package is excellent for those who want a taste of the Aran Islands. It's a fantastic choice that gives you the freedom to travel the island your way, assisted by the audio guide.
Interesting to know: This tour received the "Best Irish Experience 2021" award.
Check Price & Book
---
Three-Day Aran Islands & Cliffs of Moher Rail Tour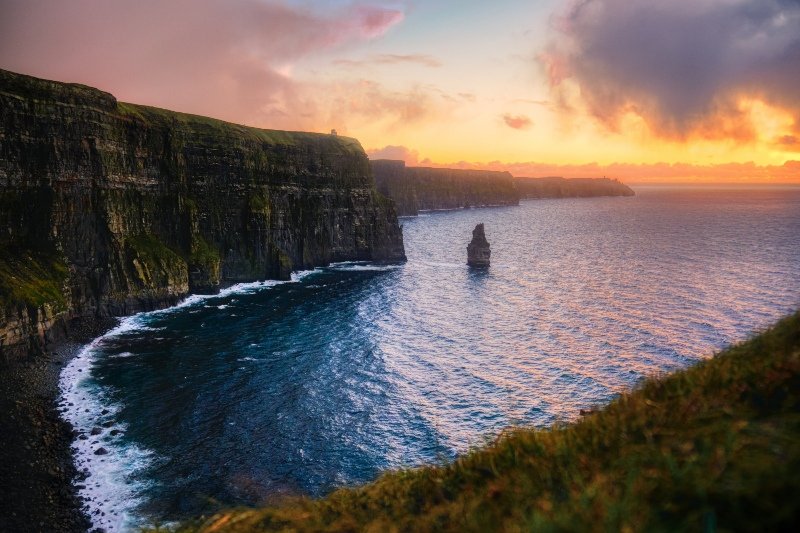 This three-day guided tour is perfect if you want to spend more time exploring the local area. Start the tour at Dublin station, where you board a classic train and take a trip through the Irish countryside.
The train will take you past some of the most visited attractions in Ireland, including the magnificent Cliffs of Moher, the Burren, Black Head, and Folk Park. After a long and eventful day, settle down in the fantastic 3-star hotel in the heart of Galway city.
What we liked: Great way to tour the West of Ireland in a short space of time.
---
INCLUDES:
All admission fees
Fully guided tours
Includes all transfers during the tour
EXCLUDES:
Any meals other than breakfasts on days 2 and 3
Hotel pick-up and drop-off
On the second day, fly over the ocean to Inis Mor, where you'll join a fully guided tour of the islands. This in-person tour takes you across all the significant landmarks and thoroughly explains the islands' history, culture, and heritage. Before you leave, take unforgettable photos of the ancient fort Dun Aengus.
On the last day of the tour, head into Connemara, where you will visit sites such as the Killary Harbor, Coral Coast, and Roundstone. After the events of an exciting day, board the InterCity train back to Dublin to mark the end of your journey.
Check Price & Book
---
Editor Review
Aran Islands tours are an unforgettable way to experience Ireland's diversity. From the rustic living to the historic landmarks, Aran Islands offer visitors a unique experience that, simply put, will knock your socks off.
PROS
Several different live and audio tour options
You get to see the wild Atlantic Coastline
There are plenty of historical landmarks to explore
CONS
You can only get there by ferry or plane
All tours are extended due to travel
Meals are excluded (unless specified)
Specification:
Aran Islands Tour Tickets | Best Day Tours From Galway
| | |
| --- | --- |
| Accessible | Wheelchair accessible |
| Duration | 6 to 10 hours |
| Includes | transportation fees, Guided Tour |
| Excludes | historic site entrance fees (unless specified), Meals (unless specified) |
| Meals & Drinks | Meals not included (unless specified) |
| Pickup | hotel pick-up and drop-off not included (unless specified) |
| Suitable For | History lovers, Small groups, Solo travelers |
21 reviews for
Aran Islands Tour Tickets | Best Day Tours From Galway
Aran Islands Tour Tickets | Best Day Tours From Galway