Last updated on April 1, 2023 7:08 pm
Add to wishlist
Added to wishlist
Removed from wishlist
0
Add to compare
Galway is known for the Cliffs of Moher, being the festival city of Ireland, and Ed Sheeran's hit single 'Galway Girl.' But there is much more to this gorgeous Irish city than just that. Discover the beauty of Galway with many unique tours that allow you to explore in the way you want to. Go on a hop-on hop-off bus ride, take a cruise to the Cliffs of Moher, or go walking through Galway. There is a tour waiting just for you.
You might have heard of Galway from Ed Sheeran, who wrote about being in love with his Galway Girl. But this vibrant city in Ireland has so much more to offer than pretty girls.
With many attractions nearby, such as the Galway Cathedral, Eyre Square, and the Cliffs of Moher, you are spoiled for choice when visiting this gorgeous city.
And with many different tours, from Cliffs of Moher tours from Galway to cruises, bus, and walking tours, there is something that will appeal to you.
Highlights:
Visit the Cliffs of Moher and other amazing attractions with a fun cruise.
Explore Galway on open-top double-decker buses.
Walk through Galway with a guide and visit the most famous landmarks.
Know before you book:
The stops on each tour can vary due to weather conditions or other reasons.
The day trips to the Cliffs of Moher can last quite long, and the time spent on the road can vary from 2 to 3 hours.
Some audio guides are available for download before the tour.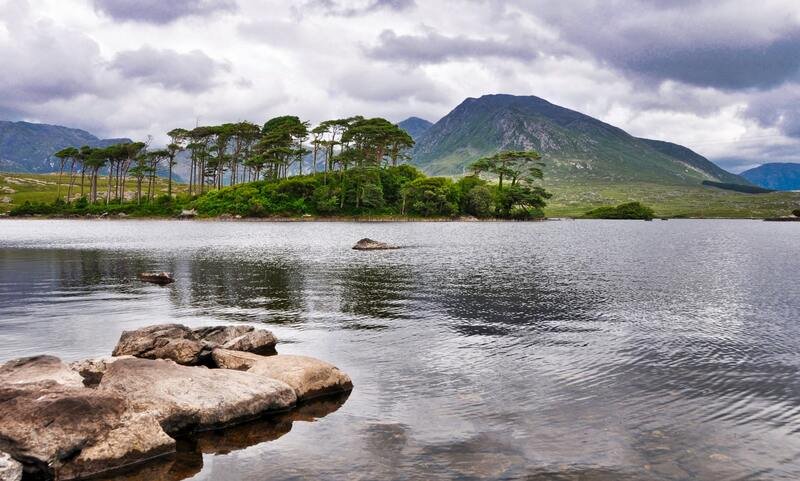 Must-Haves for Galway Tour:
Comfortable shoes
Weather-appropriate clothing
Packed lunch (for some tours)
Galway is known as the festival capital of Ireland. There are more than 122 festivals held in the city each year. So along with all of these fun tours, be sure to check if there will be a Galway festivals festival during your visit because these events have to be experienced.
Galway is a treasure trove of tours because of the many landmarks and the city's remarkable history. You won't regret these beautiful tours on your next visit to Galway.
Galway Tour Prices 2022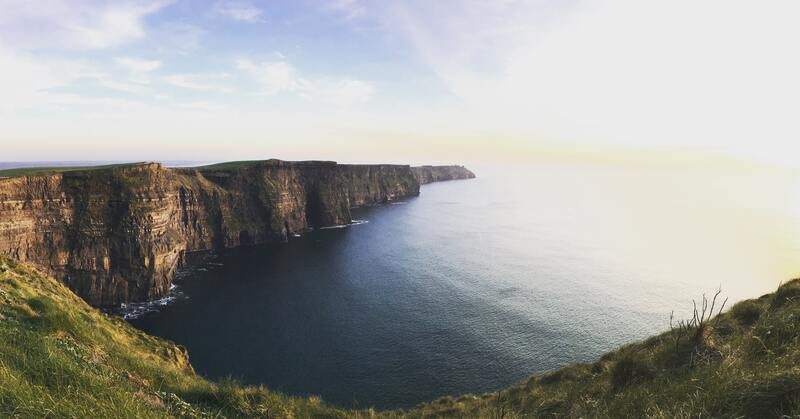 The tickets for tours in Galway can range from €6 ($7) to €70 ($71). The factors influencing these prices include the kind of tour, what's included, and where the tours go. It also depends on which Galway tour company you book through.
Galway Tour Times
With so many different tours running throughout the year, there is no day where you can't go on a Galway tour (unless it's Christmas Day).
Best Time to Go
In general, we tell you to avoid visiting during the tourist season to avoid the crowds. However, in this case, the tourist season is the best time to visit Galway. The weather is perfect for activities, and the event calendar is usually more full than during the off-season. This is also when most festivals will take place.
Time of Year: The tourist season (July to October) because the weather is pleasant and there's much more to do. However, you'll still have a lot of things to do if you decide to go during the off-season; there's just a higher chance of tour cancellations due to weather.
Time of Week: We still aim to avoid the crowds, so the best time to go on tours will be during the weekdays. The weekends will have tourists everywhere and more locals.
Time of Day: Start your tours in Galway as early as possible. There is so much to see, and you must maximize your time to avoid rushing. Most tours also start at around 9 am.
Galway Tours
From cruises to bus tours and walking around the city with a guide, there is a tour of Galway that is perfect for you. Let's look at the most popular tour in each transport category.
From Galway: Aran Islands Day Trip & Cliffs of Moher Cruise
If you're in the mood for a fun trip, this tour is for you. Get on board a ferry and travel from Galway to the Aran Islands for a lovely day trip for only €61 ($62) per person. This trip is one of the most popular tours from Galway, Ireland.
For this day trip from Galway, you'll gather at the meeting point and be driven to the lunar-like Burren region. From there, you'll head to the gorgeous fishing city of Doolin, where you'll board the ferry to Inisheer, the smallest of the Aran Islands.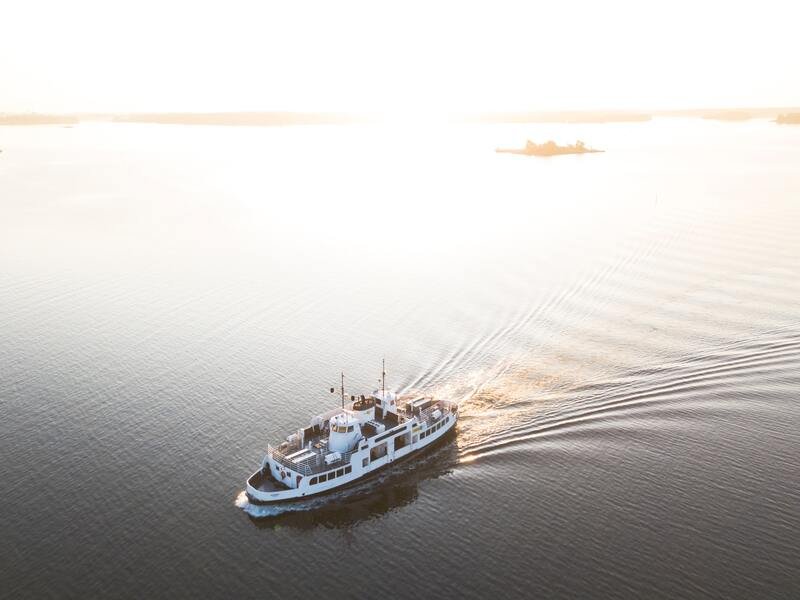 Inisheer is filled with churches, lighthouses, castles, shipwrecks, cafes, and pubs. There is no shortage of beautiful and fun attractions on this little island. You can even take a pony and carriage ride to go sightseeing.
After a morning of seeing the beautiful sights of Inisheer, you'll stop at a traditional local pub for a hearty meal before heading off to the Cliffs of Moher. You'll receive free entry to the cliffs and the eco-sensitive visitor center.
After visiting the Cliffs of Moher, you'll go on a road trip along the coast to the final stop—the Baby Cliffs in Ballyreen—before you travel to Galway again.
What we liked: The scenic route along the lake has many attractions to see.
---
INCLUDES:
Live guide/driver and transportation by air-conditioned bus
Admission to Cliffs of Moher
Return ferry tickets
EXCLUDES:
Lunch and activities on the island
Gratuities
Even though Galway is such a fantastic city, you have to see some sights right outside Galway while you're there. The Aran Islands and Cliffs of Moher are the perfect choices. And since it's close to Dublin, why don't you take a Dublin boat tour too?
Check Price & Book
---
Galway City Walking Tour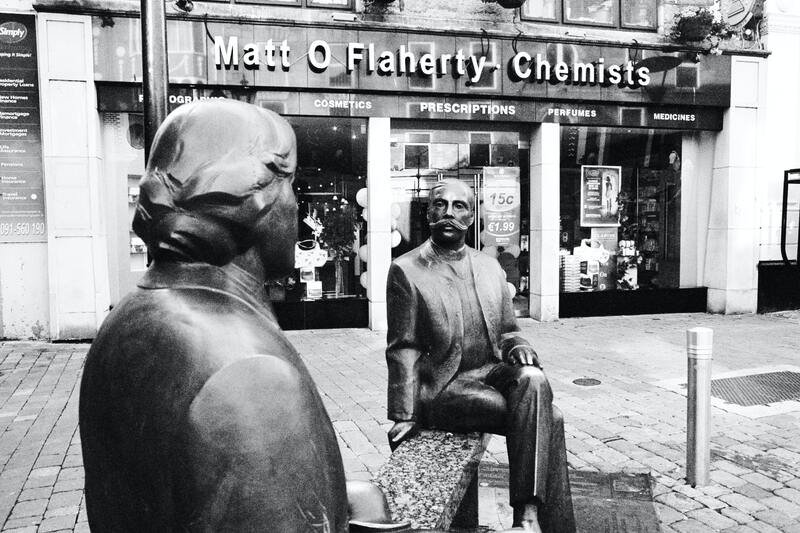 Explore the picturesque city of Galway on foot on a walking tour. This tour is perfect for anyone who wants to experience the wonder of Galway while getting some lovely exercise. With all the delicious food in the city, going on a walking tour will make you feel less guilty for treating yourself and indulging. It's also less hasty compared to other tours in Galway.
With tickets starting at €19 ($20), it's an excellent price for all the fun activities and attractions you will experience on this walk. A guide will lead you and a small group of people through the city of Galway. You will visit famous attractions and landmarks such as the Spanish Arch, Lynch's Castle, Eyre Square, and the statue of Oscar Wilde, born in Dublin.
The guide will give you a breakdown of each landmark's history, as well as the culture and heritage of Galway itself on the tour.
What we liked: No need to struggle to find the landmarks by yourself since the guide leads you everywhere.
---
INCLUDES:
Guided walk
Hand sanitizer (if needed)
We cannot recommend this walking tour enough for a hassle-free and informative tour of Galway and all its lovely attractions. It's very calm and not rushed while still being incredibly fun. It's one of the most popular Galway city tours.
Check Price & Book
---
Galway: Hop-On Hop-Off Sightseeing Bus Tour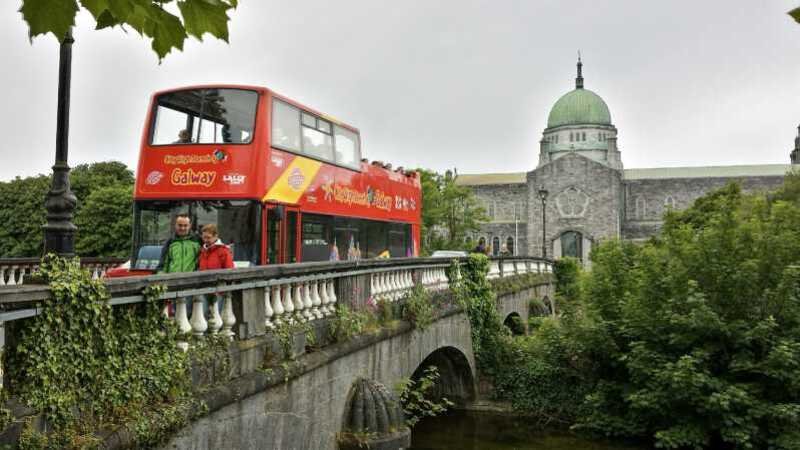 An iconic tour in Europe is the hop-on hop-off sightseeing bus tour. This tour has specific stops along the city. You can either stay on the bus and enjoy the scenic views or hop off at the stops and hop on the next bus to continue your tour.
This ticket, which starts at €15 ($15) per person, is valid for 48 hours and allows you to explore all the landmarks throughout Galway while creating your own pace and itinerary. There are more than ten stops on this tour, and it's up to you where you hop off. The season for this tour is from March to October, but the dates vary each year.
The trip starts at Eyre Square and carries on to The Browne Doorway. Other landmarks on this tour include the Spanish Arch, Lynch's Castle, O'Connors Pub, and The Long Walk. The latter two were featured in the music video for Galway Girl by Ed Sheeran.
There is also the Galway Cathedral, an iconic destination in the city. For a lovely lunch on the harbor, we recommend hopping off at Salthill Village, a former fishing village with many restaurants that serve delicious local food.
What we liked: Create your own itinerary and decide where to get off the bus.
---
INCLUDES:
48-hour hop-on hop-off ticket
On-board audio commentary in English
Headphones
EXCLUDES:
Attraction entry fees
Food and drinks
For a fun tour through Galway, where you decide where you want to go and how to build your itinerary, this is the perfect way to visit the city and experience all it offers. This is one of the most popular tours of Galway city. If you also visit Dublin during your trip to Ireland, try a Dublin hop-on hop-off tour.
Check Price & Book
---
Galway Tours
Galway is known for its festivals, landmarks, history, and an Ed Sheeran hit, so who doesn't want to visit this gorgeous city? Take a cruise to visit some popular landmarks. If you want a more interactive tour, there are walking and bus tours where you can enjoy the attractions on your own time.
PROS
A large number of different tours
Many beautiful attractions to see
You can build your own itinerary with some of the tours
CONS
Most tours are not accessible to wheelchairs
Food and drinks are also usually not included
A lot of time is spent on the roads with some tours, especially to the Cliffs of Moher
Specification:
Galway Tour Prices | Best Attractions and Trips
| | |
| --- | --- |
| Accessible | Most tours are not wheelchair accessible, but the walking tours and hop-on hop-off bus tours are. Service animals are allowed. |
| Duration | 1-12 hours |
| Inclusions | Admission, guides, air-conditioned vehicles |
| Exclusions | Pickup, gratuities, food, and drinks |
| Meals | Usually not included |
| Pickup | Usually not included |
| Suited for | Couples, groups, families |
94 reviews for
Galway Tour Prices | Best Attractions and Trips
Galway Tour Prices | Best Attractions and Trips