Last updated on June 5, 2023 6:23 pm
Add to wishlist
Added to wishlist
Removed from wishlist
0
Add to compare
Travel beyond the Parisian cityscape to the gorgeous Champagne region! Enjoy wine tastings and tours of the villages and vineyards, with a knowledgeable guide and plenty of champagne. 
All Champagne tours from Paris include luxury transfer, champagne tastings, and entry fees. Some include a lot more. We list a variety of tours so that you can find the absolute best one for you!
Highlights:
Visit Champagne houses in the famous region
Taste local champagne and learn about its making process
Explore the region, and tour the vineyards and villages
Know before you book:
Minimum drinking age is 18 years
Bring comfortable walking shoes and sunscreen
Bring a photo ID
The region of Champagne in Paris is the only place in the world that produces authentic champagne. On this tour, admire the flowing hills and lush vineyards as you tour the countryside and taste various champagnes. You'll learn about the region and how they make the sparkling white wine, as well as some fun facts about its rich and celebrated history.
You can tour Champagne in a variety of ways, but it's always best to spend a full day here, as there is so much to see and enjoy. Our favorite ways to tour Champagne from Paris include a flight in a hot air balloon to marvel at panoramic views of the region before a classic Paris Champagne tour.
The best part about these day trips is that you'll make it back in time to enjoy Paris by night!
Champagne Tour from Paris Prices 2021
The cost of the tours starts at about USD $140 to USD $220, depending on whether it includes only wine tastings, vineyard tours and transfer, or if additional benefits apply. These could include a three-course lunch, a hot air balloon ride, or visits to the charming villages and towns in the region.
Compare prices across the ticket providers below:

Times
Depending on your reservation, departure time is in the morning, between 8 am and 10 am. The tours last between 8 and 11 hours, so you can expect to return to Paris in the early evening.
Monday – Friday: 8am – 7pm
Saturday – Sunday: 8am – 6pm
Best Time To Visit Champagne
It's always a good time to visit Champagne (because of its pleasant climate). During summer and spring, the weather is temperate and the days are beautiful and sunny! However, autumn is harvest season, which makes it a great time to visit if you're interested in the making of champagne.
Day Trips from Paris
There are plenty of amazing day trips from Paris, the heart of France. There is no French town you cannot reach on a short day trip from the city. Paris, Champagne tours are certainly one of the best tours, simply because the combination of an incredible landscape and great wine makes for a perfect day!
Best Champagne Tours from Paris
There is a great variety of Champagne tours from Paris! Explore the region from up in the sky or by luxury bus. Enjoy a picnic lunch or a three-course lunch of Champagne's local specialties. All include champagne, and that's the most important thing.
Classic Day Trip to Champagne from Paris
This full Champagne day tour from Paris is one of the best ways to explore the region! Guided by a wine expert, you'll visit world-famous wine estates and taste their unique champagnes. Tour the immense wine cellars and learn about the production process, and history of the wines.
You'll village a charming local village, and if there's time, stop by the center of Reims and visit Notre Dame. It's a beautiful day trip – you'll definitely want to bring your camera.
What we liked: An easy, beautiful day trip through the loveliest part of France.
INCLUDES:
Transport
An expert guide
Champagne tastings
Entry fees
Vineyards and cellar tour
EXCLUDES:
Lunch and any additional drinks
Hotel pick-up and drop-off (unless arranged)
Gratuity (optional)
If you love wine, this tour is not to be missed. This region is the only area you'll ever find authentic Champagne grown and produced. You'll have the opportunity to explore where the grapes are grown and the cellars where the sparkling wine is meticulously prepared – all while learning about it! It's the best kind of education.
Check Price & book
---
Paris to Champagne Tour with Lunch
This Champagne tour includes a lunch of local French specialties, in addition to the wine tastings and tours. See how well champagne goes with the food produced alongside it, and get an even greater appreciation for French ingenuity when it comes to food and drink.
While you'll be able to buy or bring lunch on the other tours, this option is ideal for those who want everything organized, so that you can simply relax and enjoy the day.
What we liked: Local cuisine complements the champagne wonderfully.
INCLUDES:
Champagne tastings
Transport
Guided tour of the region and champagne houses
Expert English-speaking guide
Local lunch
Entry fees
EXCLUDES:
Gratuity (optional)
Hotel drop-off
Check Price & book!
---
Luxury Paris Champagne Tour and Hot Air Balloon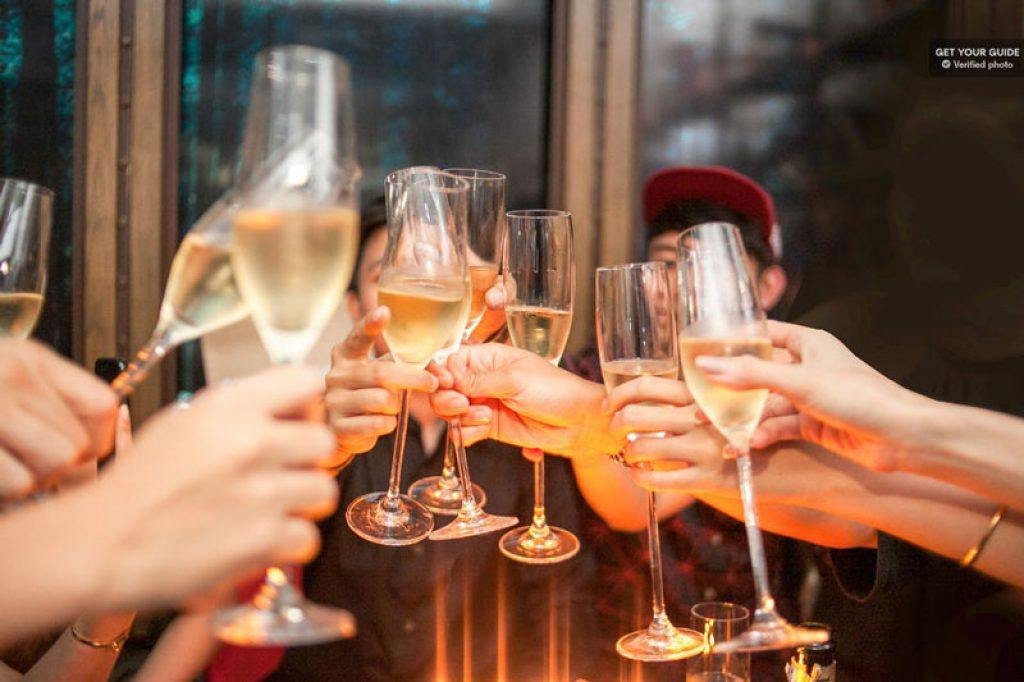 If you're looking for an extra special experience, then this is the perfect tour from Paris to Champagne. Enjoy a comfortable trip to the beautiful region of Champagne where you will visit top-quality champagne houses and learn about the lost art of Sabrage. 
After several champagne tastings and a delicious lunch, you'll jump on board a hot air balloon and enjoy panoramic views of the region (have your cameras fully charged).
What we liked: This is our favorite way to see Champagne – slowly and out in the sun!
INCLUDES:
Champagne tastings
Small group tour
Private transportation
Hot air balloon ride
EXCLUDES:
Gratuity (optional)
Hotel pick-up and drop-off
Lunch
Check Price & book!
---
A wonderful day trip from Paris, Champagne is the perfect way to tour this incredible region. The tastings and added fun only make it better!
PROS
Short distance from Paris
Tastings and multiple champagne houses included in tour
Many Options
CONS
Hotel transfers aren't included
Only people over 18 years can drink
Most exclude lunch
Specification:
Champagne Tour From Paris (Classic and Luxurious)
| | |
| --- | --- |
| Accessible | Wheelchair accessible |
| Duration | Full-day |
| Includes | Entry fees, Guided Tour, Transport, Wine tastings |
| Excludes | Gratuity (optional), Hotel pick-up/drop-off, Lunch |
| Meals & Drinks | Drinks included, Meals not included (unless specified) |
| Pickup | Not included |
| Suitable For | Adults, Couples, Families with older children, Groups of friends |
39 reviews for
Champagne Tour From Paris (Classic and Luxurious)

Champagne Tour From Paris (Classic and Luxurious)