7 Best Franschhoek Wine Tram (Prices to Compare & Book Online)
Last updated on October 4, 2023 11:42 am
Add to wishlist
Added to wishlist
Removed from wishlist
1
Add to compare
The Franschhoek Wine Tram hop-on hop-off tour is one of the best ways to discover the true essence of this picturesque valley, its rolling vineyards, breath-taking scenery, warm hospitality, world-class cuisine, fine wines and a 300-year history.
Info about the Franschhoek Wine Tram
This wine tram in Franschhoek has become one of the most popular activities for wine lovers all over the world. The quaint, small village of Franschhoek is the perfect place to move away from the busy city and to enjoy 8.5 hours touring around one of the most serene wine valleys in South Africa.
With various lines to choose from, immerse yourself in an entire day of world-class wine tasting at a selection of over 22 award-winning vineyards. Be lead by an experienced guide who will elaborate on the history of Franschhoek, as well as the farms you will be visiting.
If this is the ideal plan for you, read more about the tour lines, wine farms and prices available.
Franschhoek Tram Tour Info:
Each line has individual departure times, and guests are asked to arrive 15 minutes prior to their departure.
Top Tip:
It is strongly suggested that you reserve a table for lunch at one of the farms along the route you have selected, a few days prior to the tour, as restaurants are likely to be busy.
The Franschhoek Tram tour is known to be spot on with their time management; trams make stops at each wine farm every hour, so guests can choose to move on, or extend their visit and wait for the following tram.
Wine Tasting Cape Town Prices
A wine tasting in Cape Town will cost you anywhere between R25 and R250. This all depends on how many wines you want to taste and just how expensive your taste really is. Many wine farms also offer the option to add a pairing experience, where you can taste some of their delicious meals.
Franschhoek Wine Tram Prices 2023
How much does wine tram cost? The tram cost starts at 35usd (R550) and each wine tasting will be at an additional cost depending on the farms pricing. Guests of the tram tour receive various discounts, which are discussed with you upon arrival.
With that being said, wine tastings range from 4-8 tasters per vineyard and cost between R20-R50. A few farms also offer discounts on wine bottles to tram guests.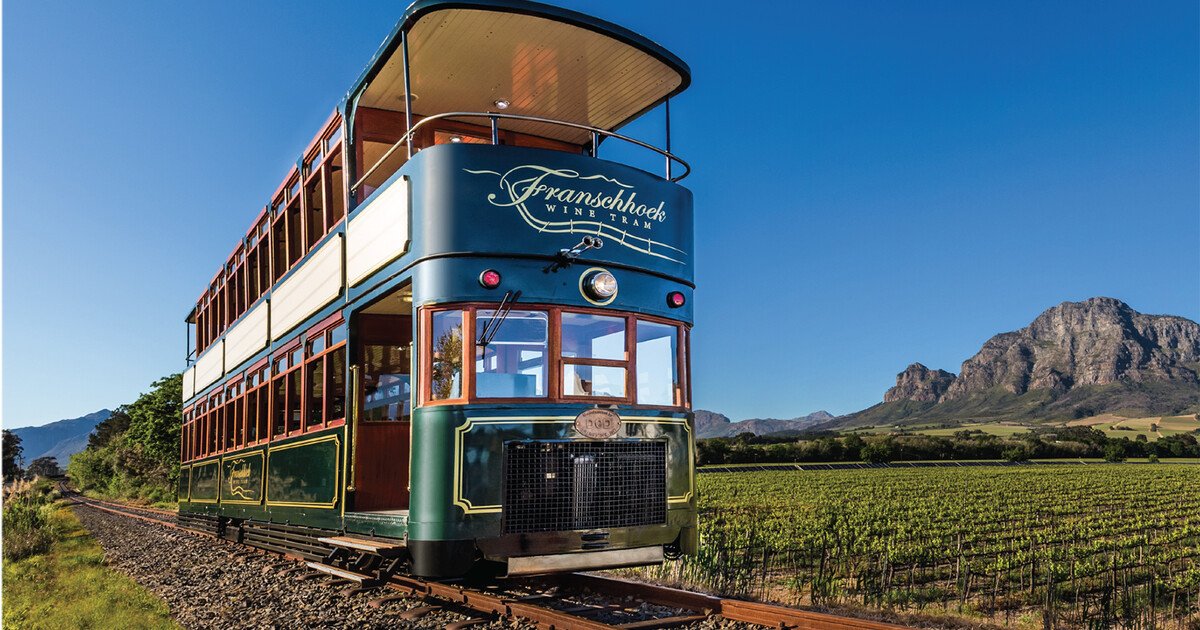 Franschhoek Wine Tram Lines
The wine tour hosts 6 tram lines, taking guests to 8 wine farms per line.
Note:
Dependant on how many stops you wish to make, guests are offered 3 departure times.
Leopards Leap & Maison are closed on Mondays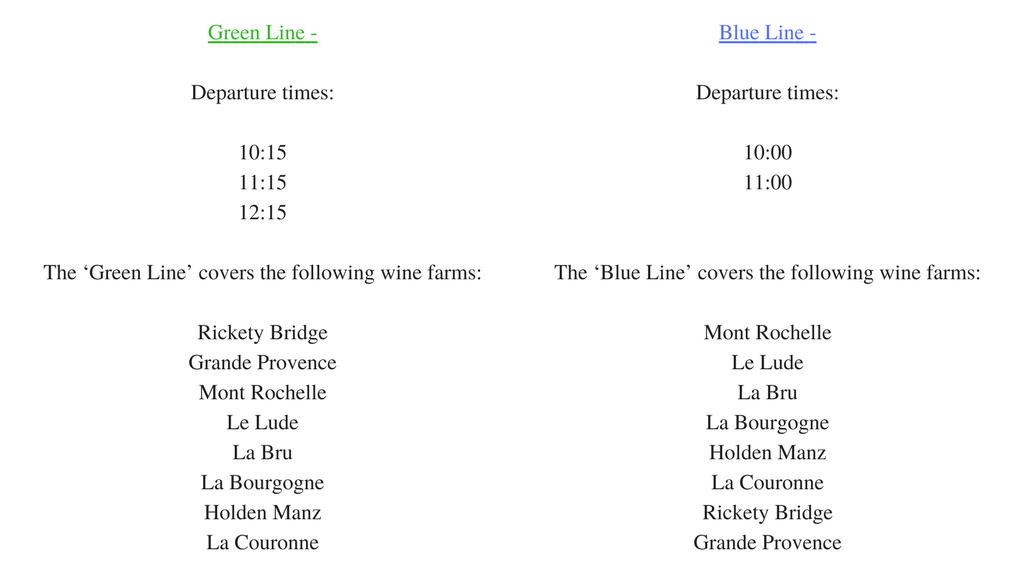 The Franschhoek wine tram presents the perfect opportunity to explore the Cape Winelands as well as indulge in some of South Africa's most sought-after wines. Franschhoek wine tram prices are reasonable, making it a great activity for those looking for an all-day adventure on a budget. Whether it's the old wine tram that piqued your interest, or full-days worth of alcohol consumption, you're sure to have a wonderful time taking in the beautiful views of the vineyards and mountains that surround this area.
16 reviews for
7 Best Franschhoek Wine Tram (Prices to Compare & Book Online)
7 Best Franschhoek Wine Tram (Prices to Compare & Book Online)