Giant's Causeway Tour | Day Trips & Ticket Prices
Last updated on February 5, 2023 4:55 am
Add to wishlist
Added to wishlist
Removed from wishlist
0
Add to compare
Get a glimpse into the real-life setting of Game of Thrones by taking a scenic road trip along the Causeway Coastal Route in Northern Ireland. This ride is like none other; you'll see contrasting landscapes abounding with lush greenery and towering black rocks.
The iconic Giant's Causeway and its well-known columnar structures are, of course, the cherry on top. This historical monument was formed about 50 to 60 million years ago during a volcanic eruption. Explore this unique fairytale-like land and see the very best of Northern Ireland.
Highlights:
Enjoy the beauty of Giant's Causeway led by an expert guide
See the romantic avenue of beech trees at Dark Hedges (a.k.a The Kingsroad)
Learn about the history, myths, and legends of Irish folklore
Know before you book:
Wear good walking shoes and all-weather clothing
The tour involves a lot of walking and may not be suitable for people with limited mobility and young children
Due to the nature of this tour, tourists with signs of intoxication may not be permitted to join
The iconic Causeway Route starts in Belfast and ends in Derry. Throughout the drive, you'll be privy to some fascinating coastal landscapes, from scenic waterfalls to lots of fortified castles and the daring Carrick-a-Rede Rope Bridge.
The Giant's Causeway itself is a true geographical anomaly. The iconic causeway boasts about 40,000 basalt columns, each with five to seven irregular sides. These spectacular pillars we see today resulted from successive lava flows that cooled as they reached the sea.
Stretching along four miles of the northern Irish coast, these unique hexagonal columns and the beautiful landscape surrounding them are quite a treat. Travelers looking to explore some off-the-beaten-path European tours will surely not want to miss this adventure.
Giant's Causeway Tickets & Prices 2022
Giant's Causeway tour costs typically vary depending on where you're traveling from. From Belfast to Giant's Causeway, you can expect to pay about  £29 ($35) for a full-day trip. On the other hand, if you take a tour from Dublin, a day trip will cost you about £64 ($78).
But you'll be glad to know that the site grants free pedestrian access unless you choose to use any of the facilities such as the car park, toilets, and cafes located at the visitor's center.
Compare prices across the Giant's Causeway ticket providers below:
Giant's Causeway Opening Times
The coastline and attractions like Giant's Causeway open daily from dawn until dusk. However, the Causeway Coast Way parking lot and visitor center are open from 9 am to 5 pm, except from the 24th to 26th of December.
The visitor center is a great place to start the Giant's Causeway tour. Here you can pick up a map from the information desk, get some practical tips from a guide, or perhaps grab some water and snacks at the cafe.
Best Time To Go To Giant's Causeway, Northern Ireland
Since the site is right at the edge of the northern coast, the atmosphere is typically windy, overcast, and gloomy, so most tourists visit in the summer. But honestly, Giant's Causeway is stunning regardless of the Ireland climate.
The best time to visit, however, is the shoulder or off-season. This is in spring, from March to May, and in fall, which occurs between September and November. Spring days are the most pleasurable. With only a slight chance of odd showers, you'll get nothing but bright sunny days and fewer crowds.
How To Get To Giant's Causeway
Getting to Giant's Causeway is relatively easy for a site located literally at the edge of the world. As one of the most popular tourist attractions in the United Kingdom, there are several ways to reach Giant's Causeway, including public transit and private transfers.
Taking a bus from Belfast to Giant's Causeway is the most hassle-free and cost-effective way to travel. Still, some tourists prefer hiring a rental car which gives them carte blanche on where they go and how long they stay.
Giant's Causeway From Belfast
Belfast is the central arrival hub for tourists visiting Northern Ireland. The capital provides great connecting flights to and from the rest of the UK and Europe. Trips to Giant's Causeway from Belfast typically take about an hour and a half of driving, while a bus trip will be closer to two hours.
Should you choose to embark on a Belfast to Giant's Causeway tour via a rental car, consider driving to Bushmills Village, where you'll find a ride and car park. You can then hike two miles to Giant's Causeway.
Parking on the road near the Giant's Causeway is strictly prohibited. Any cars found parked on the double yellow lines will be clamped.
Giant's Causeway Tours | Packages & Tickets
Although most tours to Giant's Causeway begin in Belfast, some tour providers offer pick-up and drop-off from as far as Dublin. While these are a bit more costly, they provide the same benefits.
Enjoy a cozy ride in a spacious coach bus, the scenic drive along the Causeway Route, the stunning natural scenery, and, of course, a glimpse into HBO's most iconic series. So without further ado, let's explore some of the best tours to the picturesque northern coast.
Giant's Causeway Tour From Belfast | Fully Guided Day Trip
This full-day guided tour from Belfast takes you through the main highlights that lie along the Irish coastline. From the photogenic Carrickfergus Castle to the obscure Cushendun Caves, your trip will be lined with unique sights, all worthy of being in a medieval storybook.
Under the guidance of your expert guide, you'll learn about the history of this iconic place. You'll hear about the mystic tale of a giant named Finn McCool, who tore up chunks of the Antrim coastline and hurled them into the sea as retaliation to an invasion by a fellow giant.
What we liked: Great for discovering the unseen side of Northern Ireland in a day.
---
INCLUDES:
Luxury travel by coach bus
Tour commentary by an expert guide
Visit to Giant's Causeway and other attractions
EXCLUDES:
Admission to the Giant's Causeway Visitor Center (optional)
Lunch
The day trip begins in the nation's capital, Belfast. From here, you'll drive along the scenic Causeway Route. After the first two stops at Carrickfergus Castle and the Cushendun Caves, you'll stop for a tasty lunch pub grub-style at Fullerton Arms in Ballintoy.
Then it's off to the main attraction. Giant's Causeway is Northern Ireland's only World Heritage Site. This incredible site brings in millions of visitors annually, and for a good reason. Once you've seen the majestic scenery at Giant's Causeway, it'll undoubtedly convince you to explore more of Northern Ireland's hidden gems.
Check Price & Book
---
Dublin: Giant's Causeway, Dunluce Castle, Dark Hedges, and Belfast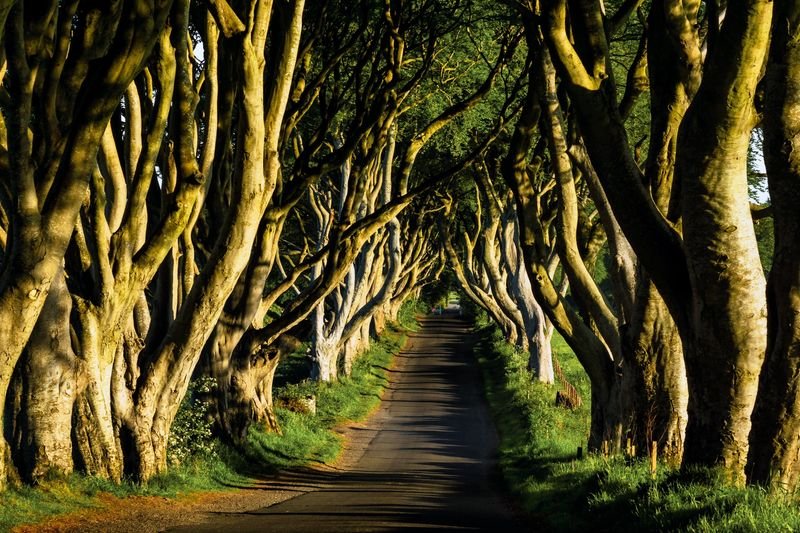 There's no denying that there are plenty of fun things to do in Dublin, but Ireland and its northern sibling have far more significant and exciting places to visit. Take a day tour along Northern Ireland's scenic route and see your favorite medieval fantasy series come to life.
This tour is top-rated among history buffs and Game of Thrones enthusiasts. But when touring the landscape isn't quite enough, some lovers of the series even go as far as booking a behind-the-scenes studio tour.
What we liked: Great for exploring the fantasy-like landscape where many Game of Thrones scenes were shot, all in one day.
---
INCLUDES:
Giant's Causeway tour from Dublin
Professional guide
Other attractions can be seen without extra charges
EXCLUDES:
Food and drinks
Hotel pick-up and drop-off
The tour begins in Dublin, where you'll be picked up at the departure point. From there, you'll enjoy a scenic ride to the picturesque Dunluce Castle; then it's off to the main attraction, Giant's Causeway.
Afterward, you'll walk along the tree-shaded Dark Hedges, otherwise known as "The Kingsroad" in Game of Thrones, and spend the rest of your day in Belfast. Stop by the Albert Memorial Clock before sitting for lunch at Crown Bar.
You can also go sightseeing via a hop-on-hop-off tour bus around the city. The panoramic open-top double-decker red buses take you past the most famous landmarks and attractions, like the fascinating Titanic Belfast, the Shankill Memorial Park, and the world's largest indoor market, St George's.
Check Price & Book
---
Editor Review:
There's plenty to see on a Giant's Causeway tour. You'll explore the scenic lush landscape dotted with castles, cascading waterfalls, and mystical lands that you only read about in fairytales. You'll enjoy taking a walk down the Dark Hedges and stopping for pictures at scenic overlooks.
PROS
Entrance to Giant's Causeway is free for pedestrian visitors
The site is gorgeous despite the varying weather conditions
You'll see many attractions while driving along the Causeway Route
CONS
The tour requires a lot of walking
Young children are not permitted on this tour unless they're in a stroller
Giant's Causeway can get crowded in the peak season
Specification:
Giant's Causeway Tour | Day Trips & Ticket Prices
| | |
| --- | --- |
| Accessible | Not wheelchair accessible |
| Duration | 6-11 hours |
| Includes | Access to Giants Causeway, Coach Transportation, Guide, live commentary |
| Excludes | Access to Giants Causeway Visitor Center, Hotel pick-up/drop-off, Meals and drinks |
| Meals & Drinks | Not included |
| Pickup | Not Provided |
| Suitable For | Individuals with a moderate fitness level, Families with older children, History enthusiasts, Nature lovers |
30 reviews for
Giant's Causeway Tour | Day Trips & Ticket Prices
Giant's Causeway Tour | Day Trips & Ticket Prices