Christ Church Cathedral Ticket | Customized & Self-Guided Tours
Last updated on December 3, 2023 12:51 pm
Add to wishlist
Added to wishlist
Removed from wishlist
0
Add to compare
The Christ Church Cathedral in Dublin is one of the oldest and most culturally significant buildings in the United Kingdom. The cathedral was built over 1,000 years ago, and this archaic building is still in use for religious purposes to date.
This Anglican cathedral is home to an extensive archive of significant texts and is well known for its musical background. From the beautiful choirs to the awe-inspiring crypts, this cathedral is one of the best sights to visit when touring Europe.
Whether you are a pilgrim, a family, or a historian looking to learn more about the city, the Dublin pass will definitely add to your experience of the city. There are plenty of cathedrals in Dublin, but none as significant or impressive as the Christ Church Cathedral.
Highlights:
Enjoy the soothing voices of the Christ Church Cathedral Choir
Visit the Christ Church Cathedral crypt
Experience the chime of the church's world record holding bells
Know before you book:
Pack warm and water resistant clothes
There are several affordable transportation packages
The cathedral can be closed at any time due to religious functions
Christ Church Cathedral, Dublin, was first built in 1030 by Viking king Sitruic Silkenbeard and has been rebuilt several times since then. This grand attraction is located in central Dublin and is easy to spot thanks to its Gothic-inspired exterior.
The 10-foot crypt is the longest in Ireland and hosts a vast array of historical artifacts. The royal plate was given to Christ Church Cathedral by King William III in 1699. The gift was given in celebration of the king's victory over James II and marked the restoration of Protestantism in Ireland and Britain.
The rare 14th-century Magna Carta Hiberniae also resides within the crypt of Christ Church Cathedral. The Magna Carta is an important historical text that documents Ireland during the 14th century. Another amazing building that's full of history and worth a visit is the Oxford cathedral, which is also an Anglican church in the University of Oxford, England.
You can take several options when visiting the Christ Church Cathedral, including some Dublin open-top bus tours for an authentic experience. But, no matter how you plan on visiting this historic building, you will not be disappointed.
Christ Church Cathedral Prices
The cost of tours starts at €10 ($10 USD) and increases depending on whether it's a self-guided tour and what it includes. Tours of Dublin that include a visit to Christ Church Cathedral starts at €70 ($70 USD) and can reach €300 ($303 USD) depending on what the package includes.
For a full range of tours available, compare prices across the ticket providers below: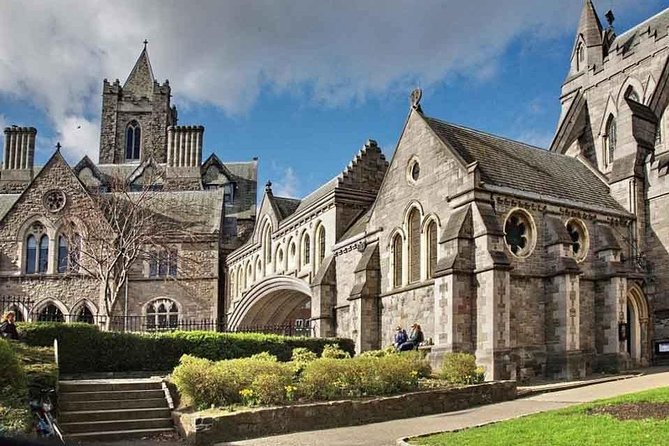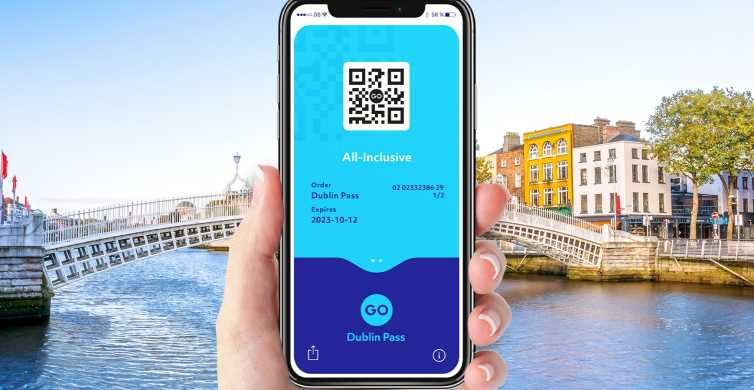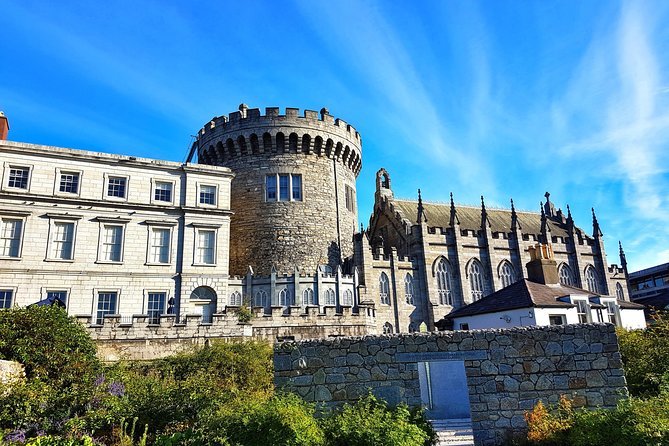 Opening and Closing Times: Christ Church Cathedral
As it is a Cathedral, Christ Church in Dublin, special services and mass times affect the availability of public viewing. Usually, the cathedral is open to the public between 10 am and 7 pm, with an exception given on Sunday.
Monday – Saturday: 10 am – 7 pm
Sunday: 12:30 pm – 3 pm and 4:30 pm – 7 pm
Best Time To Go To Christ Church Cathedral, Dublin
Christ Church in Dublin is still in use for religious holidays and special functions. So it is best to avoid visiting during Christmas and Easter as the church is closed to public viewing. The weather won't be an issue during your tour of the building, making it ideal for touring all year round.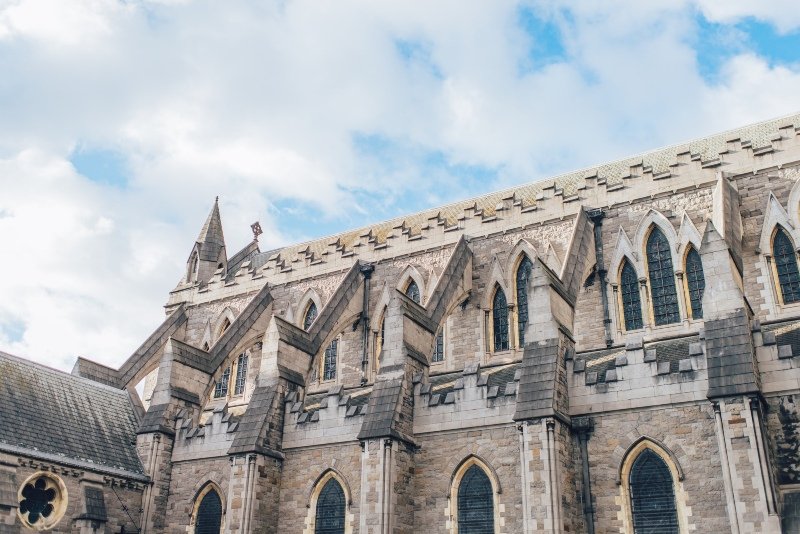 Christ Church Cathedral's Musical Background
Originating in 1493 after the founding of the cathedral's choir school, the Christ Church Choir is one of the finest in Ireland. The choir's debut performance took place in 1742 and recited George Frederick Handel's 'Messiah.'
The present choir consists of twenty singers who perform three times a week at Christ Church Cathedral. In addition, the cathedral established the Girl's Choir in 2013, which takes part in international tours with the main choir. With the choir growing in significance, it has released several albums and videos of live performances, which are purchasable at the Christ Church Cathedral.
Christ Church Cathedral Tour Types
After having several renovations across its 1,000-year existence, this Dublin cathedral has a unique history. It's not always easy to understand the history of this historical monument, so it's essential that you find a tour that suits your every need.
Christ Church Cathedral Entrance and Self-Guided Tour
This tour is ideal for individuals looking to explore the cathedral at their own pace. As this is a self-guided tour, you don't have to stick with a group of people and have the freedom to roam this majestic building all day.
The tour also suits couples looking to enjoy the architecture in a more intimate setting and historians wanting to learn more about the building in their own time.
What we liked: It's perfect if you want to explore at your own pace.
---
INCLUDES:
Entrance to Christ Church Cathedral
A self-guided tour of the nave and crypt
Audio guide available in English, German, French, Spanish, and Italian.
EXCLUDES:
It is not a professionally guided tour
Optional added activity costs
Hotel pick-up and drop-off
Upon entering the cathedral, an in-person host welcomes you into the cathedral and offers information about where the crypt and nave are located. You will see the changes in architecture throughout the building as you guide yourself through the beautiful cathedral.
You will discover the Magna Carta, the Cat and the rat, and other significant artifacts at an affordable price.
Check Price & Book
---
Dublin: Private Walking Tour With Pick-up
This private tour focuses on critical locations across Dublin, with a key focus on the Christ Church Cathedral. The tour is ideal for families and groups that want to experience the city of Dublin with a personal touch.
From the ancient crypts of the Christ Church Cathedral to the animals incorporated into the architecture, this guided tour won't miss a single detail of Dublin.
What we liked: This tour is ideal if you want to spend the day learning about Dublin.
---
INCLUDES:
Pick-up is optional
The tour is wheelchair friendly
Tour can be customized according to your interests
EXCLUDES:
Meals are not included
Additional activity costs
Entrance fees
This is a fully customizable tour, allowing you to choose the points of interest and how long you would like to spend in certain areas of the city. Dublin is full of history and intrigue, making it a wonderful place to learn about Irish culture.
Ensure you bring warm clothes and a raincoat as the tour runs in both rain and clear conditions. Cancellations are fully refundable if they are done so 24 hours before the start of the tour.
Check Price & Book
---
Editor Review
Dublin is a historic city, and visiting the Christ Church Cathedral is the perfect way to experience Irish culture. From the rare artifacts to the angelic singing of the choir, a visit to Christ Church Cathedral is something you simply can't miss.
PROS
It is suitable for those with mobility impairments
Transportation to and from the cathedral is efficient and safe
There are many tour options to choose from
CONS
Access is affected by religious holidays and mass times
No flash photography is allowed inside the cathedral
Tours don't include meals
Specification:
Christ Church Cathedral Ticket | Customized & Self-Guided Tours
| | |
| --- | --- |
| Accessible | Wheelchair accessible |
| Duration | 1 – 5 hours |
| Includes | Guided tour (unless specified), Skip-the-line access |
| Excludes | Optional added activity costs, Meals |
| Meals & Drinks | Not included |
| Pickup | Not included (unless specified) |
| Suitable For | Anyone interested in Dublin's history, pilgrims, Families, History lovers |
13 reviews for
Christ Church Cathedral Ticket | Customized & Self-Guided Tours
Christ Church Cathedral Ticket | Customized & Self-Guided Tours