Last updated on June 2, 2023 6:24 pm
Add to wishlist
Added to wishlist
Removed from wishlist
0
Add to compare
The city of Denver, Colorado, is a historical metropolis that has been standing since the era of the Old West. Often referred to as the Mile High City, Denver sits precisely one mile above sea level. Perched within reach of the Rocky Mountain range and lining the banks of the South Platte River, this city makes for a perfect tourism destination.
The deep roots of the wild west times are visible to this day with historical attractions peppered all over Colorado. Denver itself is home to numerous museums and monuments that call back to these times of old. One way to view this emblematic city at its finest is on a Denver helicopter tour. This article is here to help you plan the ideal helicopter flight for touring in Denver. So pack your bags, bring along your best Old Western fits, and let us help you plan the perfect helicopter tour over this extraordinary city.
Colorado Helicopter Rides
Helicopter rides in Colorado are not hard to come by. With so many sights to see around this region, there are a number of helicopter tours available to fly you over these landmarks. A good starting point to take to the skies around this area is the city of Denver. From here you can vear East over the Rocky Mountains or West over the Red Rocks Amphitheatre.
There are Royal Gorge tours over the Royal Gorge Bridge, one of the most popular attractions in Colorado. Fly over spans of untouched natural landscapes around the Denver area as well as gorgeous urban monuments.
Flying high over the land you will be able to take in a multitude of breath-taking views in record time. Whether you'd prefer an informative tour over culturally rich monuments or a romantic sunset tour over the towering urban buildings, there is a Denver helicopter charter for you. In this article we have listed an array of Denver helicopter operators to help you choose the ideal flight.
FlyVenture Denver Helicopter Tours
For some diverse Denver helicopter rides, FlyVenture helicopter tours have got your back. Offering innumerable thrills while looking down over the city of Denver, FlyVenture helicopters boast experienced pilots and a variety of pre-planned aerial tours over and around Denver.
As one of the largest heli tour companies in the US and with affordable prices to boot, FlyVenture is an ideal pick for planning your tour.
The Sunset Tour
This romantic sunset tour will take you over a myriad of popular Denver attractions. Fly over the celebrated Denver Zoo and the glistening gold dome of the state capital. The mountainous skyline forms the backdrop of this divine tour and makes for the perfect intimate scene.
After swooping over astounding landmarks, the golden setting of nightfall over the city of Denver makes this tour ideal for romantic celebrations.
The Sunset tour spans approximately half an hour and can include up to three passengers. This tour is ideal for those looking to celebrate a honeymoon or engagement with style. This could be the quintessential opportunity to pop the question. No matter the occasion, this helitour will not fail to dazzle and astound.
The Red Rocks Tour
Looking for Denver helicopter tours with a little bit of everything? The Red Rocks Tour could be sufficient. This helicopter tour flies you over the many Denver attractions within the Mile High City as well as takes you sweeping over the Boulder Flatiron routes. From there you are carried further south along the Front Range where a number of Colorado attractions await you.
Finally, this tour will steer you over the impressive Red Rocks Amphitheatre. Built into the surrounding sandstone outcroppings, this Colorado monument is an iconic mix of man-made architecture and natural land formations – and gorgeous to view from the skies.
This tour spans half an hour and provides a well-rounded tour of Denver and the surrounding landscape. From the world's largest brewing facility to the dusty-red flatirons, this helicopter tour will show you Denver in all its splendor.
Colorado Heli-ops
After joining the aerial tourism industry in 2009, Colorado Heli-ops has quickly made a name for themselves as a reliable, reputable helicopter company. Promising to present the opportunity to see Denver in a new and refreshing light, this company offers sublime tours over Colorado's capital city.
Mile High City Tour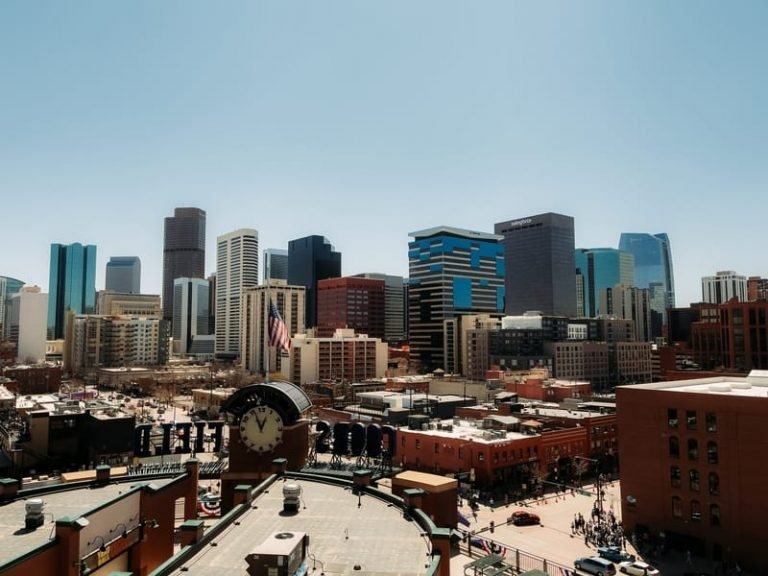 The Mile High City Tour will take you soaring 2,000 feet into the air over the city of Denver. From up in the sky you will be able to snap some superb shots of Denver's historic sites and parks. Gaze down at the unique architecture of the Denver Art Museum and the Denver Zoo.
On this helicopter tour you will see the massive Colorado Rockies' stadium as well as a number of other dazzling architectural feats littered around this colourful cityscape.
Hosting up to three passengers, this thirty-minute tour is ideal for any vacationers looking for a birds-eye view of their holiday destinations.
The Rocky Mountain Tour
A helicopter ride in Denver, Colorado, would not be complete without a tour over the Rocky Mountains. This helitour kicks off from Denver and lifts you 10,000 feet into the sky over the mountain range.
Known fondly as the Colorado Rockies, passengers will see enticing views of the many peaks and valleys of the Continental Divide. Take in the sights of the natural Colorado wilderness and canyons.
Lasting 40-60 minutes, this tour is ideal for those interested in the natural landscape surrounding the city of Denver. With blue skies, green wilderness, and white peaks on the mountain range, this is truly a sight to behold.
Check Price & Book
Helicopter Rides in Denver | Final thoughts
Denver is a gorgeous city with both rich heritage and substantial charm. From the Urban skyline to the majestic mountains rearing up behind it, this city is magnificent to behold and a treasure to explore.
Should you find yourself making your way further through the US on your vacation, you might want to check out helicopter flights over the Grand Canyon next.
But for now, we hope you embrace the adventure and consider one of these astounding helicopter tours over Denver. We guarantee you won't regret it!
2 reviews for
Helicopter Tours Denver | Scenic Routes and Suggestions
Helicopter Tours Denver | Scenic Routes and Suggestions