New Orleans Jazz Cruise Tickets | The Musical Evening Dinner Tours
Last updated on September 23, 2023 12:19 am
Add to wishlist
Added to wishlist
Removed from wishlist
0
Add to compare
When you visit New Orleans, you will get swept away by the beautiful jazz music, super strong Louisiana cocktails, and delicious Cajun and Creole-style food. But what if you could experience all of this on a boat? The New Orleans Jazz Cruise is the perfect trip to experience the wonder of New Orleans while sailing on the Mississippi River.
New Orleans is a city known for jazz music, Bourbon street, and the French Quarter. There's Lafayette cemetery, and you can even go on Voodoo tours. But, we'll bet you didn't think you could have all the fun of a lot of New Orleans attractions on a boat. Well, if you have ever Googled 'dinner cruise near me', then these trips are perfect for you.
With live jazz bands, Creole and Louisiana-style cuisine, and super strong cocktails, you can have all the fun found on land while breathing in the freshwater air. We guarantee you'll feel ten times fancier listening to jazz music on a boat while taking in the gorgeous views over the promenade.
These New Orleans dinner cruises will include a dinner buffet if you select this option, and the food is terrific. You'll be able to pick from classic Cajun-style food like seafood pasta or traditional Louisiana dishes like gumbo and jambalaya. The choices are endless and delicious. You can usually find the full menu on the cruise liners' websites, including allergy lists.
Highlights:
The amazing food options
The live jazz music
The scenic views of New Orleans and the Mississippi River
Know before you book:
Remember to bring your ID with your ticket
Children under the age of 5 can go on the cruises for free, but you have to pay for their dinner still
Depending on sailing conditions, the boat may remain by the dock for the duration of the cruise
Sometimes with these cruises, the captain will join you on deck and talk about some of the historical buildings the cruise has passed or even some other boats on the water. These tidbits make it such an informative and unique experience.
Must-Haves for New Orleans Jazz Cruise:
Your ID
A jacket in case the weather changes
Comfortable shoes
A common theme for these cruises is the undeniably great music, which tends to make people come back time and time again. The live jazz bands are absolutely amazing and really capture the style of the New Orleans jazz scene that is prominent throughout the streets. You will get so lost in the music that time will feel like it doesn't exist.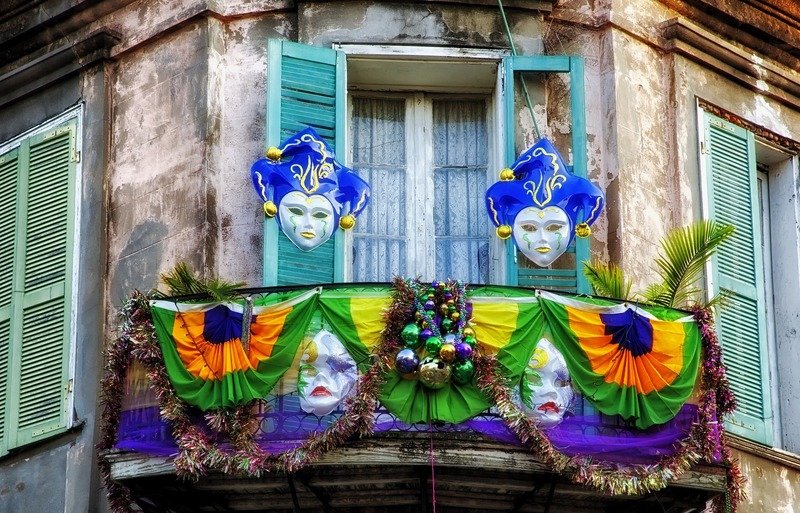 With all the tours and activities available in New Orleans itself, a jazz cruise can run under the radar. However, this is an unforgettable trip that you have to go on, especially if you enjoy all the elements that make New Orleans so magical. Everything is just better on a boat.
New Orleans Jazz Cruise Tickets 2023
The tickets for a New Orleans Jazz Cruise can range from $37 to $53 per person. These prices depend on what is included in the cruise and if the dinner buffet was selected. Children under the age of 5 can usually go on the cruise for free, but their dinner will need to be paid for.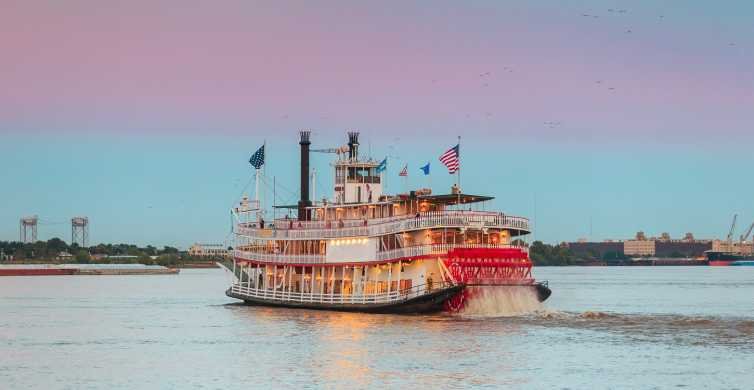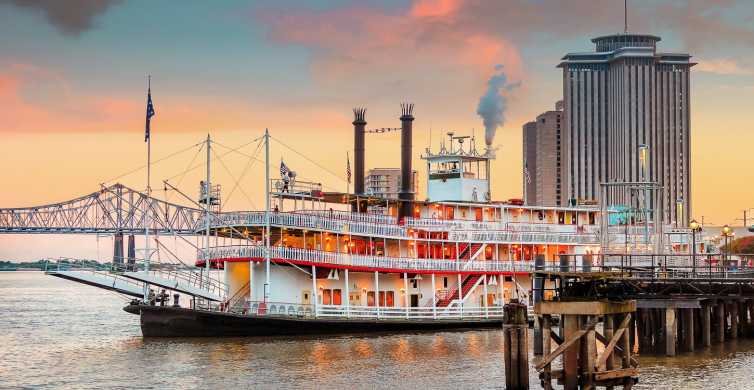 Times
Depending on the cruise and cruise liner, a New Orleans Jazz Cruise can start anywhere from 5 pm and end at 9 pm. They are approximately two hours long and run throughout the year. There are some morning and brunch jazz cruises as well, and these will start between 11 am and 2 pm.
Best Time to Go
The best time to visit New Orleans, in general, would be from February to May. This is the time when the weather is comfortably cool, and it's Mardi Gras season. If you want to avoid the Mardi Gras craziness and would rather have the city be calm and quiet, then December to January is the best time to visit. However, if you want to go on a cruise during this time, we recommend bringing warm clothes.
Time of Year: February to May for nice weather and Mardi Gras. December to January for a quiet time in the city and a calm cruise.
Time of Week: We recommend going on a weekday to avoid a crowded cruise.
Time of Day: Because these jazz cruises are evening dinner cruises, the best time would be between 5 pm and 7 pm, depending on when the cruise starts.
New Orleans Jazz Cruises
With so many different types of jazz cruises, we have selected the best cruises from popular cruiseliners in New Orleans.
New Orleans: Evening Jazz Cruise on the Steamboat Natchez
Take a trip on the famous Natchez steamboat while listening to the musical stylings of the Dukes Trio for only $51 a ticket.
The Sternwheeler Steamboat Natchez is the only authentic surviving steamboat in New Orleans, so prepare to be transported back in time. This two-hour cruise starts in the heart of the French Quarter and journeys across the Mississippi River, providing pure relaxation.
You can decide whether you want to sit inside in the climate-controlled spaces or if you want to enjoy the scenery of New Orleans outside on the deck. While beautiful jazz music from the Dukes Trio fills your ears, you will be treated to an absolutely delectable dinner.
The sample menu includes a traditional Natchez tossed salad with sugar cane vinaigrette, original Louisiana-style chicken and sausage gumbo, or baked chicken with mushroom ragout.
Alternatively, you can choose the Bayou seafood pasta with white wine and garlic parmesan cream sauce or delicious pasta primavera with zucchini and basil pesto for vegetarians. Dessert includes either a white chocolate bread pudding or bananas foster.
What we liked: The food stole the show.
---
INCLUDES:
2-hour cruise
Buffet dinner
Live music from the Dukes Trio
EXCLUDES:
Hotel pickup and drop off
Gratuities
For a vintage feel on the Steamboat Natchez combined with delightful music and delicious New Orleans-style cuisine, this trip is a must if you visit New Orleans. It's the perfect classic New Orleans steamboat cruise.
Check Price & Book
---
Paddlewheeler Creole Queen Jazz Cruise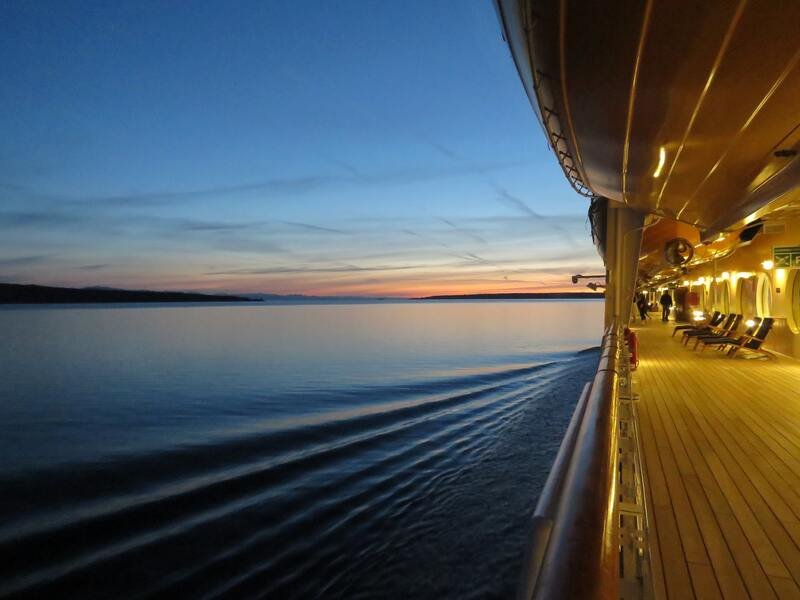 Another popular cruiseliner in New Orleans, the Creole Queen, offers this fantastic Paddlewheeler Cruise for only $50 a ticket.
Enjoy a sunset cruise on the Mississippi River with live jazz music and Creole and Cajun-style cuisine while sipping New Orleans-style cocktails. Of course, the views are amazing, too, as you gaze out over the promenade deck during this Creole Queen Dinner Cruise.
Menu items include jambalaya, Cajun seafood pasta, chicken and sausage gumbo, and Cajun braised beef brisket. The sides are red beans and rice, and the dessert consists of a white chocolate bread pudding with whiskey sauce. The menu is not limited to only these items, so some yummy surprises can await.
After dinner, you can sip on New Orleans-style cocktails such as a Sazerac at the Louisiana Cypress bar while a live jazz band plays melodic music in the background. And, if you're a cocktail enthusiast, be sure to go on a walking cocktail tour in New Orleans as well.
What we liked: The entire vibe of Creole-style food, original New Orleans cocktails, and jazz music was pure New Orleans heaven.
---
INCLUDES:
Creole Buffet (if option purchased prior)
Jazz Entertainment
2-hour cruise and taxes
EXCLUDES:
Gratuities and transport
Drinks
This is the perfect trip for you if you're in the mood for a classic New Orleans-style cruise. And when you're done on the cruise, and you still want some action, we recommend the spooky haunted New Orleans carriage rides.
Check Price & Book
---
New Orleans Jazz Cruise
Jazz music, Louisiana cuisine, and the Mississippi River are the things that make a New Orleans Jazz Cruise unforgettable. You will be spoiled for choice with the many dining options on these cruises, and the jazz music in the background makes this a magical experience. Everything that makes New Orleans special can be found on these cruises, but they're ten times better because it's on a boat. So the next time you're in New Orleans, make sure to go on an evening dinner cruise where you'll watch the sunset over the Mississippi while enjoying the beauty of New Orleans.
PROS
The extensive Creole and Louisiana-inspired dishes
The view of New Orleans and the historic buildings next to the Mississippi River
The live jazz music
CONS
Dinner is only included in the ticket if you select that option
If there is bad weather, the cruise may be docked for the whole duration
The cruises usually don't cater for special meals (gluten-free, etc.)
Specification:
New Orleans Jazz Cruise Tickets | The Musical Evening Dinner Tours
| | |
| --- | --- |
| Accessible | Most of the cruises are wheelchair accessible |
| Duration | 2 hours, approximately |
| Inclusions | Live jazz band, dinner (if option selected) |
| Exclusions | Gratuities, drinks |
| Meals | Dinner is included if specified beforehand |
| Pickup | Hotel pickup and drop-off is usually not included |
| Suited for | Couples, solo travelers |
24 reviews for
New Orleans Jazz Cruise Tickets | The Musical Evening Dinner Tours
New Orleans Jazz Cruise Tickets | The Musical Evening Dinner Tours