New Orleans Family Activities
Showing all 3 results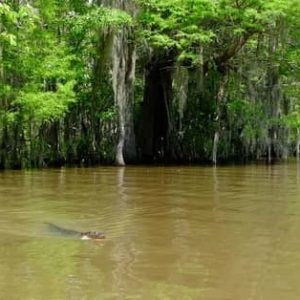 Explore one of the oldest plantations in the lower Mississippi Valley and ride in a Louisiana swamp boat. Step back in time and experience the antebellum south, this 5-hour tour combines two famous Louisiana attractions into one trip!
Highlights:
Visit the Destrehan Plantation, established in 1787

Tour the Manchac Swamp, a privately-owned wildlife refuge

See alligators, raccoons, snakes, and other wildlife creatures

Experience a landscape unlike any other
More details +
PROS:
Tour the oldest plantation along the lower Mississippi Valley
This tour is well organized, your whole trip will be narrated by a local guide
Vehicles have air conditioning
The boat you will ride in will be open-sided and covered
CONS:
A minimum of 10 participants are required for this tour to operate
The swamps are largely untouched and house an abundance of wildlife, both beneath the water and above the woody vegetation. Airboats are your best bet to view all the wildlife and Louisiana's wetlands which span over three million acres. While swamps are a worldwide phenomenon, the mystery and brooding of the Louisiana swamps add to its appeal. Not to mention its indigenous Cajun culture and its hosting of over two million ancient alligators that roam the bayous. Fortunately, Cajun Swamp Tours are plentiful! You can choose between going on a smaller, more intimate boat tour with a group of friends/family or a more communal one that caters to a larger crowd.
More details +
Swamp tours in New Orleans and around it are the ideal way to break away from the city's commotion. Although the swamp is eroding, wildlife freely roam here and live in harmony with the Cajun community. This is a unique tour that can only be experienced here, you have to do it!
PROS:
Informative tour guide
Close-up wildlife encounters
In close proximity to New Orleans
It is educational
CONS:
No food provided
Completely weather-dependent
When you visit New Orleans, you will get swept away by the beautiful jazz music, super strong Louisiana cocktails, and delicious Cajun and Creole-style food. But what if you could experience all of this on a boat? The New Orleans Jazz Cruise is the perfect trip to experience the wonder of New Orleans while sailing on the Mississippi River.
More details +
New Orleans Jazz Cruise
Jazz music, Louisiana cuisine, and the Mississippi River are the things that make a New Orleans Jazz Cruise unforgettable. You will be spoiled for choice with the many dining options on these cruises, and the jazz music in the background makes this a magical experience. Everything that makes New Orleans special can be found on these cruises, but they're ten times better because it's on a boat. So the next time you're in New Orleans, make sure to go on an evening dinner cruise where you'll watch the sunset over the Mississippi while enjoying the beauty of New Orleans.
PROS:
The extensive Creole and Louisiana-inspired dishes
The view of New Orleans and the historic buildings next to the Mississippi River
The live jazz music
CONS:
Dinner is only included in the ticket if you select that option
If there is bad weather, the cruise may be docked for the whole duration
The cruises usually don't cater for special meals (gluten-free, etc.)