Add to wishlist
Added to wishlist
Removed from wishlist
0
Add to compare
With many names, Rainbow Mountain is one of the world's best geological wonders. And a Rainbow Mountain Tour is the best way to experience this phenomenon. Take a walk across the Andes with a professional tour guide, a horse, and an itinerary. Bring your camera and snap shots of the mountain's gorgeous marble array of colors. And bring your petting hands for the adorable llamas and alpacas along the way. 
Call it whatever you want, Rainbow Mountain, Vinicunca, Montaña de Siete Colores or just Montaña de Colores. It may have many names, but one thing is for sure – Rainbow Mountain is a gorgeous once-in-a-lifetime experience.
Located in Cusco, Peru, the phenomenon was discovered recently in 2015. The snow on the mountain started melting away, and underneath was a gorgeous marble array of colors such as gold, red, lavender, and turquoise. Even though Peru is known for Machu Picchu, it doesn't mean it's the only fantastic sight in the country.
Rainbow Mountain is a geological wonder formed by environmental conditions and sedimentary deposits over time. And the only way to take in the gorgeous view is by going on a Rainbow Mountain tour.
Journey through the mountain ranges of the Andes until you reach Rainbow Mountain, and spend a day experiencing all the wonders of this mountainous adventure.
Highlights
Hike along the Andes and experience the beautiful views
Look for exotic wildlife in their natural habitats
Walk with alpacas, and llamas
Know before you book:
These trips are not suitable for pregnant women, people with mobility issues, heart conditions, or vertigo
Extra expenses such as entrance fees, water, or souvenirs are only payable by cash or Peruvian soles
The meals may be very simple due to the remoteness of the mountain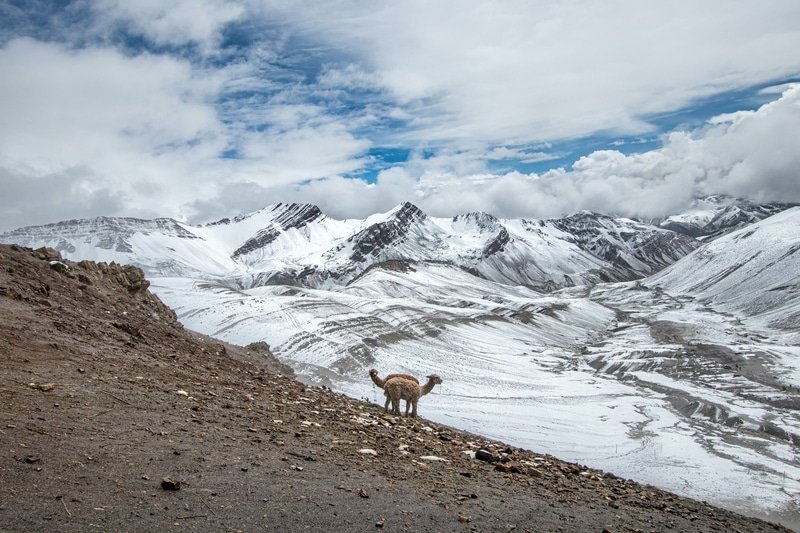 You can also catch a glimpse of Cerro Colorado, a mountain 16,400 feet above sea level, while on Rainbow Mountain. Also, be sure to look for the fantastic wildlife on the mountain, which includes condors, vizcachas, llamas, and alpacas.
When you go on a Rainbow Mountain trip, you will usually have an itinerary to follow. You need to bring enough water to hydrate you during the hike as it won't be provided. However, if an emergency happens, the guides will have oxygen and first aid kits on them. Be sure to bring warm clothing and take pictures when you visit Rainbow Mountain, Cusco, Peru.
Must-haves for Rainbow Mountain Tours:
Warm, comfortable clothes
Hiking shoes
Water
Sunglasses, a hat, and sunscreen
You can rent a horse to help make your journey up the mountain easier. The terrain is mostly flat; however, there is a bit of a steep climb near the top. You can't walk up the hill with a llama or alpaca. However, you can take a trip down the llama path, where you will see herds of them in their natural environment.
Listen to the guide when going up the mountain and stay on the designated path. To preserve the natural colors of the mountain you are not allowed to touch the mountain. With thousands of people going up the hill every year, there is a worry that the natural hues will fade away, which is why there is a path.
With adorable animals and a gorgeous colorful view, Rainbow Mountain is an experience not to be missed. So next time you go to Peru, take a trip up the mountain and live the wonder that is Rainbow Mountain.
Rainbow Mountain, Peru Tour Tickets 2023
Depending on how long the tour is and any extras included, tickets for Rainbow Mountain tours can start at $30 and go up to $100. Compare the prices from different ticket providers below.
Times
There are no specific times that the mountain is open to visitors. However, tours will usually go throughout the day. It is open all year round, though. There is also no limit to how many people can visit at a time, so make sure to book in advance as the mountain is gaining popularity quickly.
Best Time to Go
The weather is usually enjoyable from March to November, with blue skies a common occurrence from June until August. January and February are the wettest months, so we would not recommend going then. However, weather can change very quickly, so always be prepared and research the weather forecasts before you book a day to visit.
Time of Year: The best weather is from June until August, making it the best time to go. Hiking up the mountain is quite cold due to altitude, so it's better to go when the weather is already nice and hot.
Time of Week: Weekdays would be the best time to go, as there usually aren't many people. You can also see the locals working on their farms and have a chat with them.
Time of Day: The earlier, the better. A morning hike up the mountain makes for some of the most amazing views.
Rainbow Mountain, Cusco Tours
There are many different tours up Rainbow Mountain. Most of them include meals and guides; however, you have to pay extra to rent a horse and the entrance tickets. Let's take a look at some of the famous Rainbow Mountain Tours.
Rainbow Mountain in One Day from Cusco
This tour best suits those who wish to avoid the crowds and spend time on the mountain.
With tickets starting at around $86 per person, this may not be the cheapest tour of the gorgeous Rainbow Mountain. However, it is definitely worth the money for this Rainbow Mountain, Peru day trip.
You'll start in Cusco and trek for a few hours through the beautiful countryside of Peru until you reach the mountain. Then, you can hike to the summit with a guide. If you're not ready to take on the challenge of climbing Rainbow Mountain, you can hire a horse to take you up. Be sure to look out for Cerro Colorado.
You don't have to worry because before you head up the mountain, breakfast will be served to gain strength. And once you're done, you will return to Cusipata for lunch before heading home.
What we liked: Great if you don't want to be surrounded by crowds.
INCLUDES:
Transportation
Breakfast and Lunch
Professional multi-lingual guide (English and Spanish)
EXCLUDES:
Horses (however you can rent them at the first town
Drinks
Entrance to Rainbow Mountain – $7 (25 Peruvian Soles)
This is a fantastic trip as you'll be able to enjoy Peru's Rainbow Mountain's gorgeous views while learning about the unique fauna and flora native to the area. And if you look carefully, you may spot a llama or two.
Check Price & Book
From Cusco: Rainbow Mountain Full-Day Trek with Meals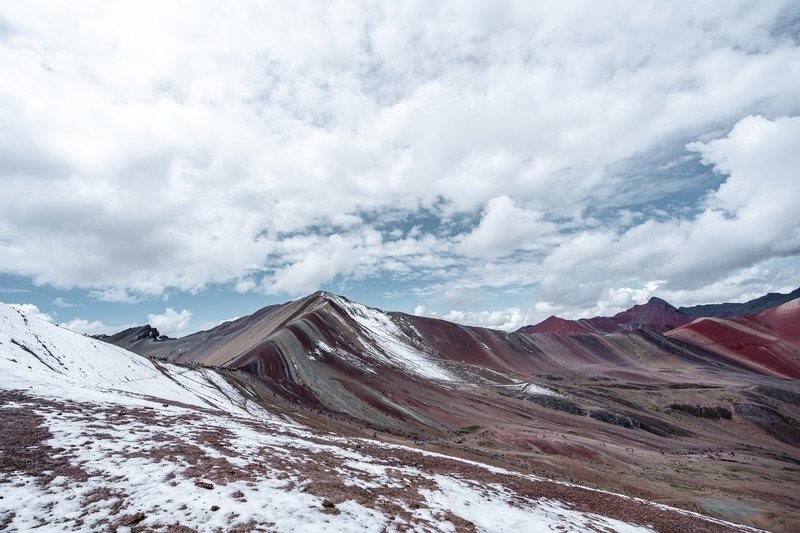 This Rainbow Mountain, Peru tour is excellent for people who want a quick trip up the mountain.
Tickets for this tour are around $50. During the short three-hour trek up the mountain, you will be able to experience a lot. The group is usually limited to approximately ten people so thankfully thousands of people won't surround you.
The entire tour is twelve hours, however, you will only spend three of those hiking. So if you want to leave right after the trek, you can. You'll start this Rainbow Mountain tour from Cusco and go on an almost four-mile hike through the Andes to Rainbow Mountain.
Be sure to keep an eye out for beautiful animals, such as the Andean condor, known for the longest wingspan of any raptor. There can also be pumas and camelids. Llamas and alpacas are ubiquitous on Rainbow Mountain, so you'll have your pick of the gorgeous fauna.
After you've explored Rainbow Mountain's beauty, the group will trek back down for a refreshing chicha (a fermented or non-fermented beverage usually derived from maize) and a buffet lunch.
What we liked: Great for if you don't want to spend the whole day on the mountain.
---
INCLUDES:
Hotel pickup (within the historic center of Cusco only)
Buffet lunch and breakfast
Entrance ticket
So if you're in Peru for more than one day, you have to dedicate one of them to see Rainbow Mountain. Beyond learning more about this gorgeous phenomenon during the twelve-hour trip and three-hour hike, you may even spot a puma in its habitat. And once you've ticked off Rainbow Mountain on your list of things to see, be sure to check out these other amazing
tours and attractions in Peru
.
Check Price & Book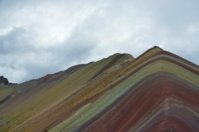 Rainbow Mountain Tour
A once-in-a-lifetime opportunity to see the natural phenomenon that is Rainbow Mountain. With its gorgeous colors, beautiful fauna, and the locals who live on the mountain, you will learn a lot about Peruvian culture. It is something that you do not want to miss out on.
PROS
Many different tour options
You can ride a horse up the mountain
Meals are usually included
CONS
Entrance tickets and any extras are usually not included
Not wheelchair accessible or fit for anyone with mobility impairments, heart conditions, or vertigo
The weather can have a massive impact on the experience
Specification:
Rainbow Mountain Tour | The Painted Hills of Peru
| | |
| --- | --- |
| Accessible: | Not wheelchair accessible |
| Duration: | 3-12 hours |
| Inclusions: | Transportation, breakfast, lunch, professional tour guides |
| Exclusions: | Entrance tickets, horses, gratuities |
| Meals: | Usually included, breakfast before the hike and buffet lunch after, vegetarian options are available |
| Pickup: | Hotel pickup is usually included |
| Suited for: | Solo travelers, adventure enthusiasts, couples |
36 reviews for
Rainbow Mountain Tour | The Painted Hills of Peru

Rainbow Mountain Tour | The Painted Hills of Peru