Private Sunset Cruise Miami | Sensational Boat Trips at Sundown in 2023
Last updated on December 2, 2023 10:02 pm
Add to wishlist
Added to wishlist
Removed from wishlist
0
Add to compare
Known as one of the top international travel destinations in the world, embarking on a tour of the US is an experience like no other. While this red, white, and blue country has a vast number of cities to visit, no US bucket list would be complete without visiting Miami, Florida.
One of the best experiences you can enjoy is a private sunset cruise in Miami to grasp the magnitude of the city's effervescence. As the honey-dipped skies turn dark to ignite the twinkling lights of the cityscape, embarking on this magical voyage will be an unforgettable experience.
With a wide range of sunset cruises available, you'll certainly be spoilt for choice. From romantic date nights to a family-fun early evening outing, Miami sunset boat tours cater to all types of travelers.
Highlights: Gorgeous views of the Miami skyline View the impressive homes of famous celebrities from the boat Enjoy a beautiful sunset while cruising on the turquoise waters of Miami
Know before you book: Most cruises are not wheelchair accessible Some tours have limited spaces, so be sure to book in advance Drinks and food are not included except when specified
Situated in southeastern Florida, Miami is a mix of glitz and glamour with a sprinkle of stunning beaches. The "Magic City" is one of the most popular tourist destinations in the USA and it's easy to see why.
From creating your summer tan lines to exploring the arty splendor by going on a Wynwood Art District tour, the coastal haven is filled with diverse experiences. However, If you're looking for a quintessential Miami experience, nothing beats watching the sunset while cruising on the city's crystal clear waters.
The tropical palms silhouetted by an intricate swirl of purple, orange, and pink hues – a private sunset cruise in Miami is a pastel dream come to life. These charming sunset seascapes can be viewed on various early evening boat trips.
These cruises include some of the finest sights the city has to offer, such as the idyllic scenery of Biscayne Bay. Touring Miami by sea is a unique way to capture the electric essence of this area, gaining panoramic views of the city in all its glory.
Miami Sunset Cruise Prices 2023
The cost of the cruises starts at around $25.38 and can go up to $625. These prices are dependent on a variety of factors, such as the duration of the cruise and privacy. You can check out the various prices below to find a cruise suited to your specific needs:
Miami Beach Sunset Cruise Times
Miami sunset cruises tend to run around 5 to 7:30 PM in order to catch the sunset at full throttle. Keep in mind that the sunset in Miami tends to set at different times throughout the year, so be sure to check the time and date of your scheduled cruise to ensure that you don't miss out on the sun setting spectacle.
Best Time to Go on a Sunset Cruise in Miami
While it remains quite warm most of the year in sunny Miami, some months have a tendency to be very hot and humid.
The best time to enjoy a cruise at sunset is during the spring months, from the end of February to the beginning of May. The weather is perfect for spending your days on the beach and warm temperatures that last into the night.
Note: From the beginning of June till the end of November, Miami is situated in Atlantic hurricane season territory. So, be sure to check weather forecasts ahead of time and plan accordingly.
Sunset Boat Tours Miami Options
Sailing through calm waters while taking in various iconic sights of this city will surely be a highlight of touring this magical city. Whether you are looking for a private sunset cruise of Miami or prefer a budget-friendly option the various early evening boat trips will have you covered.
Miami Skyline: Happy Hour Sightseeing Sunset Cruise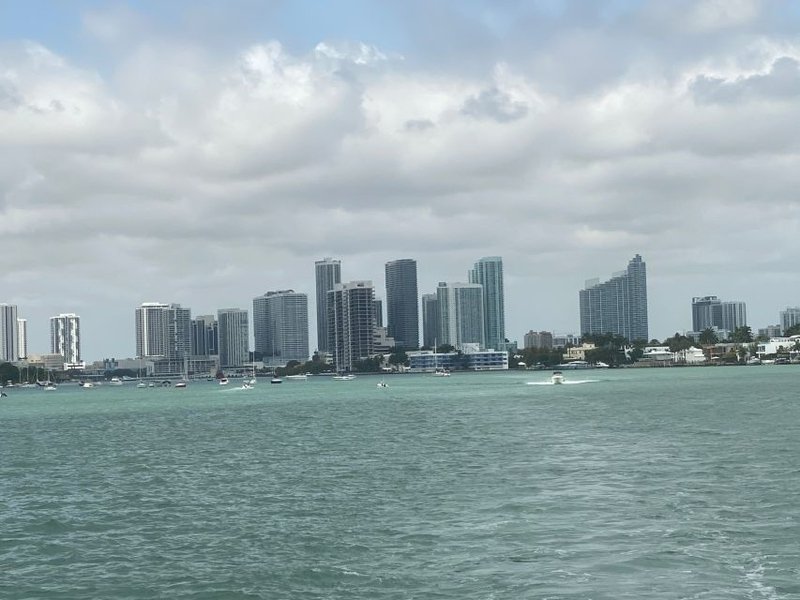 The rhythm of music, ever-flowing drinks, and the fresh scent of the sea in your hair – this party-ready Miami evening cruise will be sure to help you celebrate happy hour in style.
Departing on a Biscayne Bay sunset cruise from Downtown Miami, this two-tier yacht will steer you into a night you won't soon forget. With a bilingual tour guide onboard you'll learn about all the renowned landmarks and celebrity homes situated within the area.
From Biscayne Bay to the Venetian Islands, be captivated by the sunset along with the city's finest scenic views. With the opportunity to upgrade your adventure to include a meal at the Hard Rock Café close to your return destination, treat yourself to a wonderful early-night cruise of Miami.
What we liked: The fantastic views of the Miami skyline from the water.
---
INCLUDES:
90-minute Happy Hour boat trip
Guided tour of Miami's famous landmarks
Onboard bar available for additional purchases
EXCLUDES:
Food and drinks, unless specified
Hotel pick-up and drop-off
Gratuities
Check Price & Book
---
Miami: Sunset Cruise through Biscayne Bay and South Beach
This 90-minute early evening luxury yacht trip will pack a punch with a rich blend of gorgeous scenery and the tranquility of the ocean air. A perfect addition to a carefree summer vacation, you'll cruise past Miami's famous islands and the beautiful art deco architecture of South Beach.
Whether you prefer to ponder the salty seas on the shaded deck or sit inside and listen to the live commentary of an expert guide, this cruise has it all. This city is known to have the third-largest skyline in the USA, so you'll have the perfect view to toast to.
From viewing the exceptional fortresses of famous stars to admiring the first stars of the night in the tye die hue of the sunset sky, you're in for an enchanting early evening experience.
What we liked: The gorgeous Miami changing skies with a drink in hand.
---
INCLUDES:
Bilingual expert tour guide to answer your questions and provide information
Local fees and taxes
Onboard bar available for additional purchases
EXCLUDES:
Food and drinks
Hotel pick-up and drop-off services
Gratuities
Check Price & Book
---
Castaway the Day Sunset Cruise in Miami
This captivating catamaran boat, called the Caribbean Spirit, will spark a sense of awe and wonder in all who set foot on deck. Watching the ever-changing sunset skies while a complimentary sparkling wine fizzles cool in your hand, capturing the glittering effect of the night ahead.
Setting sail from Biscayne Bay you'll have the opportunity to tour the city differently, offering spectacular views only visible from the seas. On this Miami Beach sunset cruise you'll see some of the city's historical landmarks, such as the Cape Florida Lighthouse and the Port of Miami.
The perfect start or end to end off your spectacular vacation, a cruise on The Caribbean Spirit will sure to be a token piece to your experience of this mesmerizing city.
What we liked: Viewing historical landmarks of Miami while the sun sets.
---
INCLUDES:
A complimentary welcome drink
Stunning sceneries to take the perfect family vacation photos
Local fees and taxes
EXCLUDES:
Hotel pick-up and drop-offs
Food and alcoholic beverages, unless specified
Gratuities
Check Price & Book
---
Private Romantic Sunset Boat Cruise in Miami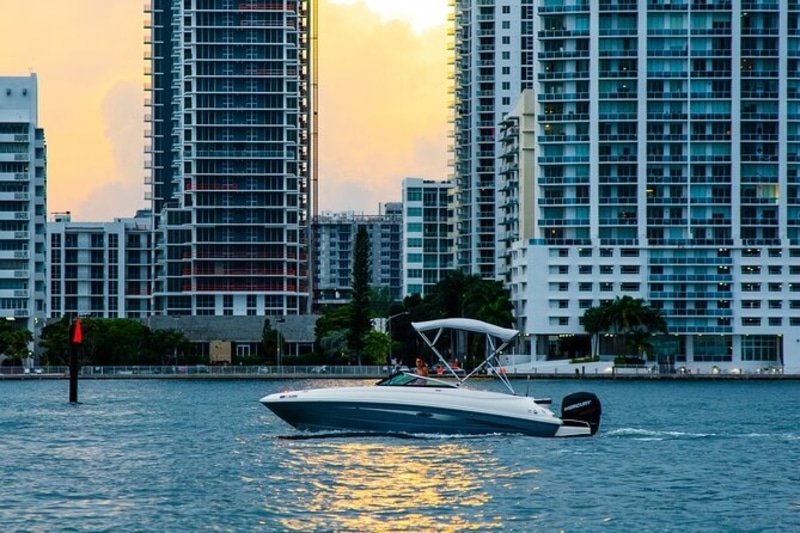 If you're looking for a romantic boat ride in Miami with your partner in crime, this intimate boat trip might be the one for you. A seaside escape from the urban jungle of Miami, get ready to set sail at 6 PM for the experience of a lifetime.
Equipped with a chilled bottle of Prosecco for two, you'll be able to watch the soft sparkle of the waves at sunset with your significant other in your arms. This two-hour boat trip will take you on a journey of Fisher Island and Brickell amongst other sightseeing experiences.
From the modern architecture of Downtown Miami to the powder-fine beaches of Miami Beach, enjoy a night of culture and romance on the Atlantic sea.
What we liked: An early night of romance with a delightful backdrop.
---
INCLUDES:
A bottle of Prosecco
A private cruise that offers an exclusive feel to your evening
The captain will escort you to the boat from your chosen mode of transportation
EXCLUDES:
Gratuities
Hotel pick-up and drop-off
Check Price & Book
---
Three-Hour Private Sunset Sailboat Tour on Biscayne Bay
Watch the sun slowly dip below the horizon, where the city's lights steadily start to twinkle in the distance. The city begins to erupt with an eagerness, and excitement in the air due to the endless possibilities the night holds. You'll have a front-row seat to it all, as distance creates the best view of capturing this city at its best.
On this three-hour boat trip excursion, you'll feel the time fly by on the best sunset boat cruise Miami has to offer. By choosing the one adult ticket option you reserve the entire first-class luxury yacht, charmingly dubbed as the "Pelican", for up to 5 additional passengers.
Whether you're looking for a family outing or an awesome experience with friends, the phenomenal Pelican will be your trusty steed to a memorable night of seaside splendor.
What we liked: A great way to see the Miami nightlife at its prime.
---
INCLUDES:
Non-alcoholic beverages
Local fees and taxes
Private restrooms on board
EXCLUDES:
Food and alcoholic drinks
Hotel pick-up and drop-off
Gratuities
Check Price & Book
---
Set sail on a sunset cruise in Miami to capture the effervescence of the city in a unique way. Ponder the iconic landmarks and views of the coastal city from the waters and feel your troubles melt away.
PROS
Scenic views of the Miami skyline at sunset
A guided tour of the famous landmarks of the city
A wide variety of cruise options
CONS
Most tours are not wheelchair accessible
Food could be limited on board
Some cruise routes are weather dependent
Specification:
Private Sunset Cruise Miami | Sensational Boat Trips at Sundown in 2023
| | |
| --- | --- |
| Accessible | Not wheelchair accessible |
| Duration | 1.5-3 hours |
| Includes | Boat cruise/tour |
| Excludes | Snacks and drinks (unless specified), Gratuities |
| Meals & Drinks | Only on select cruises |
| Pickup | Not included |
| Suitable For | Couples, Families |
60 reviews for
Private Sunset Cruise Miami | Sensational Boat Trips at Sundown in 2023
Private Sunset Cruise Miami | Sensational Boat Trips at Sundown in 2023