Last updated on September 29, 2023 9:09 pm
Add to wishlist
Added to wishlist
Removed from wishlist
0
Add to compare
In the suburban neighborhood of Allapattah in sunny Miami, Florida, a once-abandoned warehouse now houses the future of human artistry. Superblue Miami is one of the most renowned technology-driven art museums famed for its immersive and interactive installations.
Superblue Miami tickets are offered to any and all who have enough of an open mind and craving for wonder, which is listed below for your convenience. Open seven days a week, you will have ample opportunity to secure your tour and time-slot should you ever find yourself touring through Florida.
Whether you're looking to really impress your date or for some unique family fun, the Superblue has something to draw everyone in. Keep reading to secure your Superblue tickets and find the best deals.
Highlights:
Multiple interactive installations and artworks
There is no time limit for the experience
Fun for all ages
Know before you book:
The museum is a cashless venue
Tickets are non-refundable, but you can exchange time-slots
It is better to book online, as tickets are for reserved time-slots that are not always available on-site.
Miami's Superblue museum is not the first of its kind but it's certainly one of the better-known galleries in its niche. In a manner befitting its industrious neighborhood, the museum occupies some 31,000 square feet of exhibition space with ceilings that reach up to thirty feet.
Inside, entire rooms are transformed into an immersive art experience. Through the never-ending possibilities of technology, images come alive under your feet, and entire walls are brought to life for a multisensory journey.
However, the curations are on rotation, so there are no fixed exhibitions. If you would still like an accurate program for the installations, you can click here to view the museum's current installations.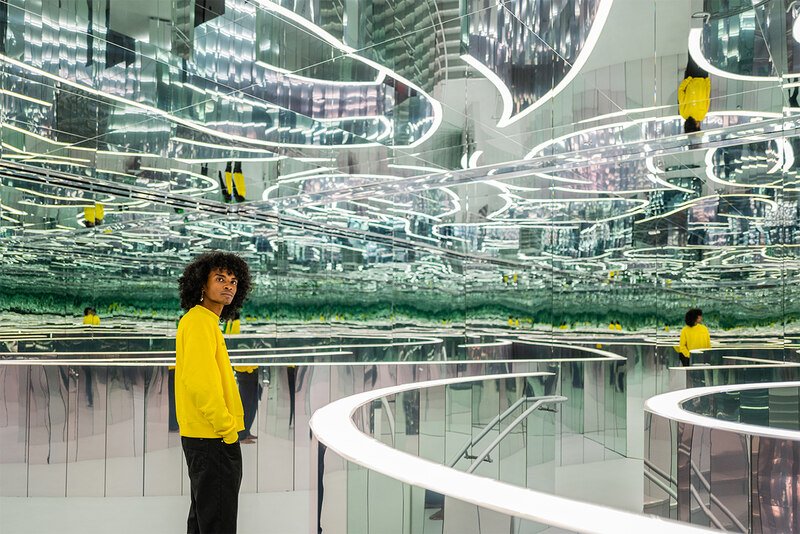 While the curators insist that you spend as much time as possible immersing yourself in the artistry, they do not expect you to fill yourself in on the art alone. The Blue Rider Café boasts some of the best food trucks that Southern Florida has to offer, and you can fully immerse yourself in that experience without leaving the museum premises. No food or drinks are allowed in the galleries, though.
For those whose photographic memory is non-existent, fret not! Photography is permitted inside, although it's strictly restricted to personal photography on handheld devices only.
Although we're sure you won't need a cameraphone to remember this unforgettable experience, you'll want to snap some really interesting photos for your friend back home, or for the gram.
Superblue Ticket Prices 2023
For one of the most immersive art experiences in Miami, there are separate tickets for children and adults, as well as discounted tickets for pensioners, students and veterans.
Children's tickets start at $32 USD, although kids under two get in for free. Pensioner and student tickets go for $34 USD, and general adult tickets can range between $36 USD and $39 USD.
Compare prices across the ticket providers below:
Superblue Museum Times
The Superblue Miami is open seven days a week, although its doors never open before 10 am or close later than 8 pm. As tickets are allocated according to reserved time-slots, all ticket holders are expected to be at the museum doors 15 minutes before the start of their chosen slot. Late comers are not guaranteed entry.
Here are the museum's general operational hours:
Monday – Thursday: 11 am – 7 pm
Friday – Saturday: 10 am – 8 pm
Sundays: 7 pm
Best Time to Experience Superblue's Art in Miami
Regardless what day of the week, you can visit the museum at your best convenience. Although, general adult tickets are more expensive and the crowds are denser on the weekends.
If you want an unhurried and uncrowded experience, then the weekdays would be the best time for you to book as less people are allowed entry. The giftshop will be emptier, too.
Other Opportunities at the Superblue Miami Location
This location is as great a spot as any to sit down for a hearty lunch in between viewing. If you're traveling in a group, worry not. The museum offers exclusive packages and special pricing for group visits of at least ten ticket holders, suitable for corporate or recreational parties.
Additionally, for the influencers or visitors who desire a more intimate experience, the museum allows for the booking of private events. For this, you will have to contact the venue directly, but you can rest assured that the privatized experience of the space will certainly be worth the occasion.
The museum also has free WIFI-access for all guests, and all facilities, including the guided tours, are bilingual (Spanish and English).
Alternative Tickets to Immersive Art Experiences in Miami
Although Miami is a city that is as big as it is exciting, touring the Superblue is certainly among the best of activities in Miami with kids.
However, should you not be able to compete with the crowds at the musuem, the Rubell Museum is just across the road from the Superblue Miami.
There are also numerous art institutions and galleries in the area so your eyes can look their fill. The unique artworks and illustrious architecture all over Miami are just as captivating and will certainly dazzle the whole family.
Miami Museum of Illusions Tickets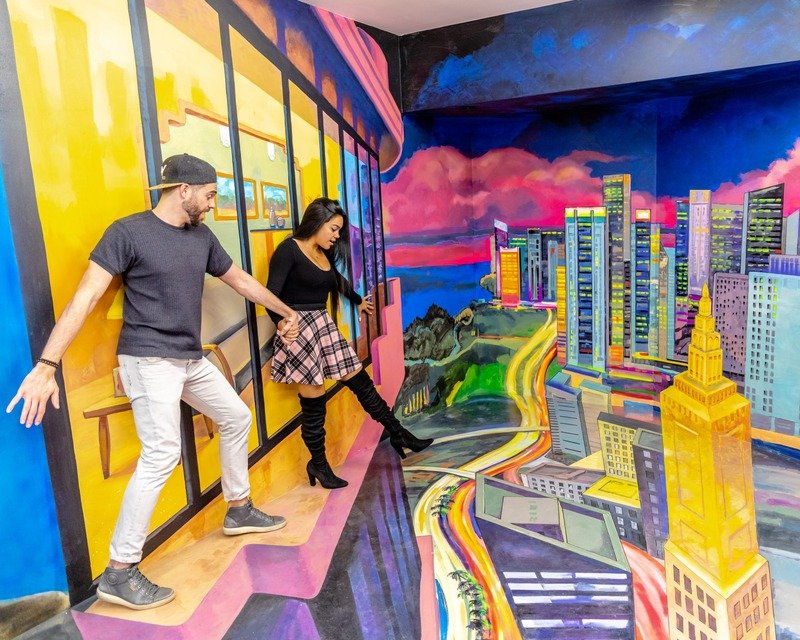 A mere 25 minutes away from the Superblue lies the enchanting Museum of Illusions, another embodiment of the exciting and revolutionary art in Miami. This immersive museum hosts over forty optical illusions for you to interact with and enjoy.
An assortment of cartoons, life-like sketches or skewed rooms await for you and your family's exploration. Trick your senses by flying on a magic carpet, walking on the edge of a skyscraper or take a picture as you brave a bridge suspended over lava.
For those with more of a daredevil streak in them, why not try running through the Infinity Room? Or shift your perspective and try defying gravity in the Reverse Room.
A million creative photo-ops await you at every turn, and be sure to take a fair share as you will not want to forget this tour.
What we liked: Many exhibitions are inspired by artworks, current events, and even movies.
---
EXCLUDES:
Transport
Food facilities
The entire museum with all of its dizzying exhibitions can be viewed in an hour, although it's recommended that you spend as much time as possible enjoying the illusions. Do not forget to charge your phone so you don't miss out the opportunity to snap some really unique Instagram photos.
Check Price & Book
---
The Official Art Deco Walking Tour by the Miami Design Preservation League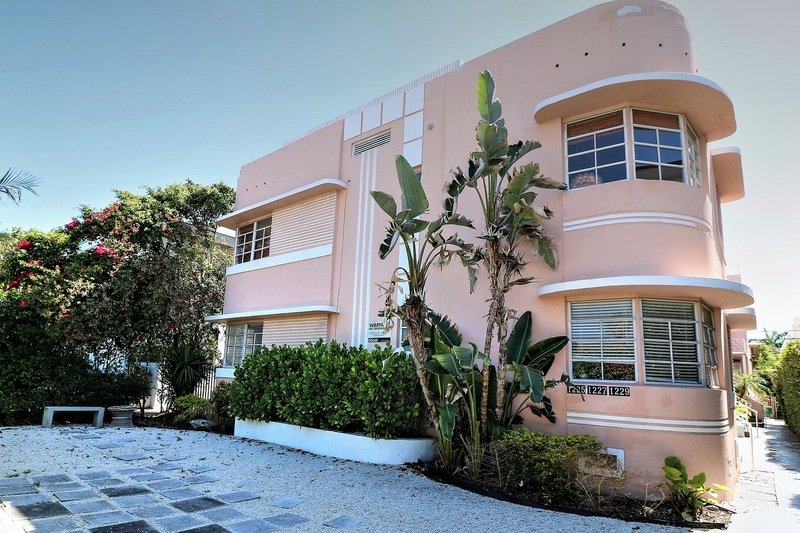 If you're still itching for more immersive art in Miami but don't want to miss any beachtime, then this tour is perfect for you and the whole family. Here you will be taken on a tour across Miami's beach district under the careful expertise of your guide, a representative from the Miami Design Preservation League.
Learn about the district's rich and colorful history as you walk through the streets, taking in the stunning architecture and its Art Deco heritage. You can appreciate the tireless work that went into preserving the district's unique architecture all while maximising your time spent in the sun along the beach.
The tour starts at 10:30 am and all ticket holders must meet at the Art Deco Welcoming Center fifteen minutes before the tour starts.
What we liked: All ticket holders are given headsets for the duration of the tour.
---
INCLUDES:
Guide
Admission to Art Deco Museum and Gift Shop
EXCLUDES:
Meals
Transport to museum
---
Editor's Review
Most would assume that art museum tours are only fun as long as your attention lasts. But with the Superblue Miami, your attention will not want to be hooked anywhere else than with those enchanting exhibits around you. After all, as per the museum's ethos, the artists may have created the exhibits; but it is the audience that completes them.
PROS
No time limit for viewing exhibits
Open seven days a week
Fun for the whole family
CONS
No food or drinks in galleries
Only metered or Valet parking available
No leeway for late-comers
Specification:
Superblue Miami Tickets and Reviews 2023
| | |
| --- | --- |
| Accessibility | The museum is accessible for wheelchair users and service animals |
| Duration | 90 minutes |
| Inclusions | Gift Shop |
| Exclusions | Parking |
| Suited-for | Families and Couples |
3 reviews for
Superblue Miami Tickets and Reviews 2023
Superblue Miami Tickets and Reviews 2023