Tenikwa Wildlife Awareness Centre (Private, Photography & Kids Tours) 2023
Last updated on May 31, 2023 2:50 am
Add to wishlist
Added to wishlist
Removed from wishlist
1
Add to compare
Located in "The Crags", near Plettenburg Bay, Tenikwa Wildlife Awareness Centre is a sanctuary for Lions, Cheetahs, and a host of other wildlife species. There are many tour options, from a short, guided tour of the center, to a thrilling overnight trip.
There are options for families with kids, groups of friends, and even solo travelers. The center is ideal for photographers, with sunrise and sunset photo tour options as well.
Know before you book:
Selfies with the wild cats are not permitted
The experience is wheelchair friendly
The center is environmentally conscious and believes in ethical wildlife tourism
Highlights:
See African wild cats in their natural habitat
Multiple tour options available
Picnic in the bush, with untamed wildlife surrounding you
Tenikwa Wildlife Awareness Centre is a wildlife sanctuary in the Western Cape, South Africa. The center works to conserve the surrounding natural forest and is home to several African wild cats, as well as other animal species. The wild animals are cared for but kept in as natural of an environment as possible.
Some of the native animals you'll find at the center include:
Lions
Leopards
Cheetahs
Caravals
Servals
Meerkats
Penguins
Tours to the center raise money to keep the conservation efforts going. The staff members are all skilled and knowledgeable. Tenikwa provides the ultimate spot, along the Garden Route, for all ages to visit and view some of the magnificent animals.
The center works around responsible tourism. It does not allow touching of the animals, and photographers have strict rules to adhere to. No selfies with the cats are allowed, and the cats are not disturbed or forced to pose for photos.
Tour & Ticket Prices 2021
A day tour through Tenikwa Wildlife Centre will cost between R250 ($17 USD) and R1800 ($120 USD), depending on the type of tour you choose to do. See the different tour options and ticket prices below.
Times
Tenikwa is open every day of the week, and tours can be booked Monday – Friday. If you'd like to book a sunset or sunrise tour, you'll need to book privately.
Monday – Sunday: 9am – 4:30pm
Best Time to Go
Tenikwa is located along the Garden Route and receives moderate rain and sun throughout the year. The best time to visit the center would be on a clear day that isn't too hot. Autumn or winter will give you some of the clearest, mildest days of the year.
Tenikwa Tour Options
Tenikwa offers various tour options for its visitors. You can easily fit in a quick hour-long guided tour through the sanctuary, or opt for a longer tour with a picnic lunch included. Pick the option that best suits your budget, along with how much time you have.
Wild Cat Experience Tour
This short, 1-hour tour through Tenikwa center is ideal for those stopping in on their way down the Garden Route. A tour guide will show you through various habitats, where you'll get the chance to view wildlife such as meerkats, marabou storks, and of course, a variety of indigenous South African wild cats.
What we liked: A quick, yet fascinating introduction to the wild cats of South Africa.
---
INCLUDES:
Entrance fees
Guided tour
EXCLUDES:
Food and drinks
Transport
Enjoy a stroll through the center's grounds as your guide provides you with facts and information about each animal you see. Take along a camera and get spectacular close-ups of majestic lions, cheetahs, and even Caracals.
Check Price & Book
---
Half-Day Photographic Tour
Anyone looking to test their photography skills in the wild will love the photographic adventure at Tenikwa.
This tour usually lasts around 3.5 hours and is scheduled around the natural active period of the cheetahs. This allows for ample photo opportunities, without disturbing the cheetahs. The center has strict policies, which prohibited any touching of the animals, as well as rules about photography within the enclosures.
No flash may be used, selfies are not allowed, and guests are required to take their own photos with as little interference to the animals as possible.
What we liked: One of the best ways to safely snap some pics of these gorgeous animals without disturbing them.
---
INCLUDES:
Bottled water
Light snacks
This tour is available at both sunrise (7:15 am) and sunset (2 pm). The tour includes plenty of walking and allows you to get up close and personal with these magnificent wild cats.
It's important to note that children under the age of 12 are not permitted on this tour. Guests are advised to wear comfy clothing and to keep carried items to a minimum.
Check Price & Book
---
Half-day Private Wild Ways Tour
Enjoy a 2-hour private tour through Tenikwa to meet lions, cheetahs, leopards, and other wild cats. You'll also be taken through the Cape Fynbos growing in the wild. Halfway through your tour, settle down for a bush picnic in the midst of the wildlife.
What we liked: This is a more private tour with a relaxing bush picnic included.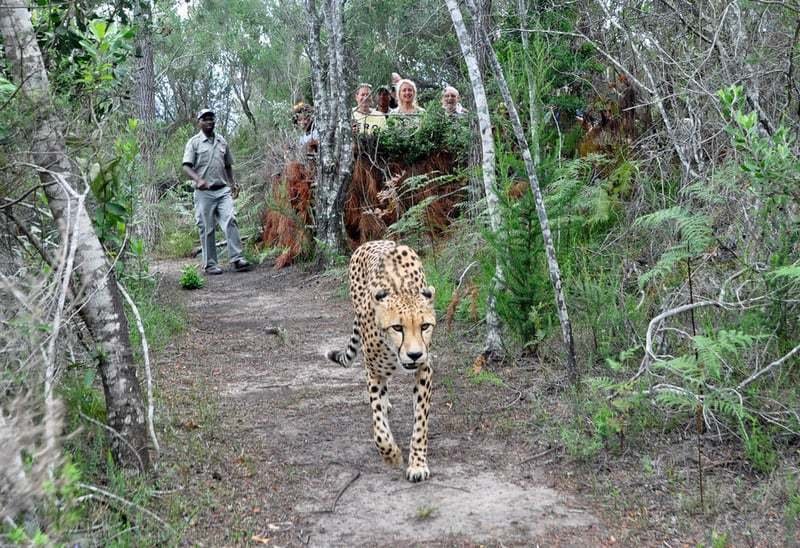 ---
INCLUDES:
Picnic lunch and drink
Guided tour
EXCLUDES:
Pick up and drop off
Gratuities
A light picnic meal is included, where you can rest and soak in the natural setting. The Tsitsikamma Forest offers a tranquil setting, enhanced by the presence of the many wild cats and other wildlife species.
Check Price & Book
---
Full Day Experience
Delve deeper into the world of wildlife conservation with this 8-hour experience at Tenikwa. Spend your day interacting with the center's staff, meeting the wild cats, and enjoying life as a conservationist.
What we liked: Get first-hand experience of caring for the wild cats as you assist in feeding them.
---
INCLUDES:
Breakfast, lunch, and dinner
Entrance fees
Tour and activities
EXCLUDES:
Gratuities
Transport
Snacks
Do more than just stare at the cats from a distance. This tour allows you to spend the entire day at the center. View the animals, learn more about the center and the work it does, and even get your hands dirty helping out!
Check Price & Book
---
Wild Cat Kids Eco Tour
While most of Tenikwa's tours do not allow children, this Eco challenge tour is just for the little ones! Kids aged 7 to 12 can enjoy a private tour of the center and gain newfound knowledge about the big cats and their habitats.
What we liked: This tour is designed to keep kids entertained and engaged while they learn more about wildlife.
---
INCLUDES:
Entrance fee
Private tour
Educational materials and Pledge Certificates
EXCLUDES:
Gratuities
Hotel transfers
Food and Drinks
Children are taught all about conserving nature, recycling and reducing waste, and being a friend to wildlife animals.
They'll meet some of the cats, and enjoy an interactive experience. At the end of the tour, kids will be encouraged to sign a pledge to become a Tenikwa Eco Kid, and they'll receive a certificate to take home.
Check Price & Book
---
Tenikwa enables humans and wild animals to meet in a tranquil and safe environment. The work that the center does is inspiring, and their tours offer the opportunity to ethically view some of the most stunning big cats in southern Africa.
PROS
Close encounters with wildlife in their natural habitat.
Various tours to choose from, each day of the week.
Money made from the tours is used to maintain the wild cats' sanctuary.
CONS
Minimum height limit for most of the tours.
Children are not allowed on most of the tours.
Specification:
Tenikwa Wildlife Awareness Centre (Private, Photography & Kids Tours) 2023
| | |
| --- | --- |
| Accessible | Wheelchair accessible |
| Duration | Full-day entry, Half Day, 3 hours, 3 to 4 hours |
| Includes | Admission, Bottle of Water, Guided Tour, Light refreshments (snacks, beverages, coffee/tea) |
| Excludes | Gratuity (optional), Transport |
| Meals & Drinks | Bottled water, Light snacks included, Meals not included (unless specified) |
| Suitable For | Families, Families with older children, Nature lovers, Photographers, Solo travelers |
Tenikwa Wildlife Awareness Centre (Private, Photography & Kids Tours) 2023