York River Cruise | Morning, Lunch, Dinner, & Self-drive Tours
Last updated on September 19, 2023 2:31 am
Add to wishlist
Added to wishlist
Removed from wishlist
0
Add to compare
The walled city of York in England, founded by the Romans almost two thousand years ago, is filled with historical sites and attractions. The city is safe and popular amongst tourists who walk The Shambles and visit the York Minster cathedral. Consider visiting the Ye Olde Starre Inne, which has been serving ale since 1733.
While most visitors enjoy walking through the historic district within the city's walls, you can take to the water to explore upstream. Choose from sightseeing boat rides, an evening meal on the water, or try your hand at skippering your own boat for the day.
We list a variety of different options suitable for romantics and families alike.
Highlights:
Explore the city from the water
Enjoy a picnic onboard
Many attractions within one square mile
Know before you book:
River can be too shallow to cruise
Crowded during peak season
Staying in the historical city can be pricey
Sit back and soak in the views of York during a cruise on the River Ouse. Learn about the city's history, the river's flooding, and how Romans and Vikings navigated the river. With a variety of boat trips offered in York, you can rest assured there is an activity suited to you.
Most cruises head upstream, visiting the city's northern outskirts before heading downstream to the southern outskirts of the town. The notable sights include York Minster, Clifford's Tower, Guildhall, and the Millennium Bridge.
Prices of York River Cruises
The cost of a river sightseeing cruise starts at £12 ($16 USD) and can increase to £47 ($64 USD) depending on the vessel and the distance traveled. The duration of the tour and whether you receive a meal or drink can also affect the ticket price.
Compare prices across the ticket providers below: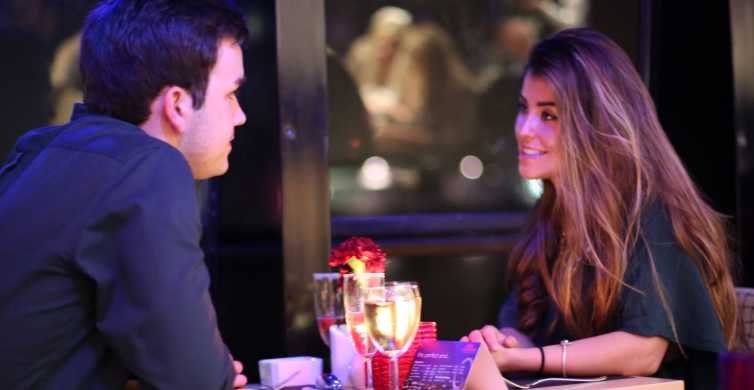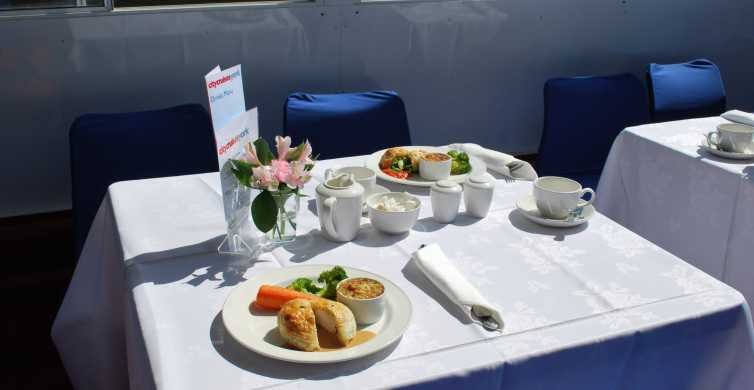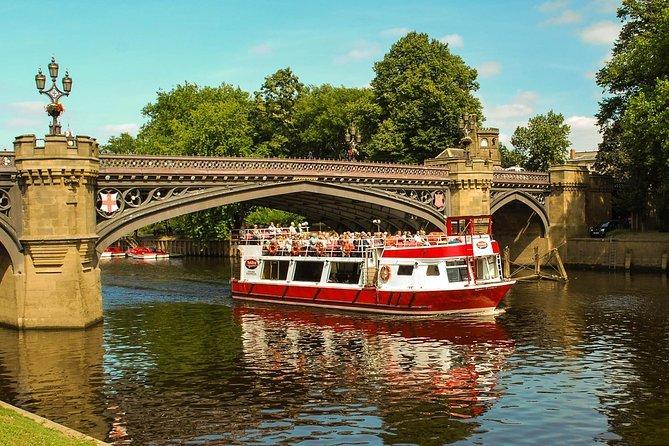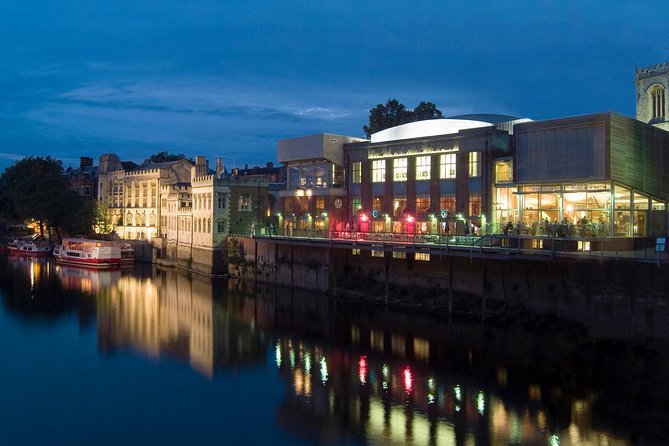 Times
Many of the tours are conducted by City Cruises York and are typically between 45 minutes and one hour long. You can book most sightseeing cruises on the day. However, specific tours such as lunch or dinner cruises may require booking in advance.
Monday – Sunday: 9am – 7pm
Best Time to Go
The best time to go on a York river cruise depends on the type of experience you would like to have. If you are hoping to capture photos of the city's historic buildings, then an early morning sightseeing tour may be for you.
The best time to visit York is from June through late August, when the weather is warmer and drier. The average temperature during this period is 27°C.
6 York River Cruise Options
There are incredible options for activities along the Ouse River in York. You can wake up early to explore the historical sights on foot before sightseeing, enjoying a lunch on the water, or an early evening cruise.
Choose your style of cruise and set off to see the sights from the water. Here are the best options for your York River cruise.
Self-Drive Red York Boats
This tour lets you take control. If you have never skippered a boat before, this is a fun and easy first time to try. The red boats are suitable for up to 6 passengers and let you enjoy the riverscape at your own pace.
This tour requires you to navigate up the river and is best suited for adventurous individuals. But don't worry, you will receive instructions on operating the boat to meet the river rules. Life jackets are included and are compulsory for children under the age of 11.
What we liked: Great for if you want to self-drive.
---
INCLUDES:
Freedom to explore on your own time
1-hour river cruise
Space for 6 passengers
EXCLUDES:
Snacks and drinks
No smoking or alcohol
Tour guide
Check Price & Book
---
Ouse River Sightseeing Cruise
Settle into a 45-minute cruise accompanied by commentary on the Ouse River. Discover details about the history and culture of York while enjoying unobstructed views of the landmarks. You can look forward to seeing Clifford's Tower. This tour departs from King's Staith and operates several times throughout the day.
What we liked: Informative and affordable.
---
INCLUDES:
Local guide onboard
45 minute cruise
Open deck above
EXCLUDES:
Snacks and drinks
Translation of commentary
No pets
Check Price & Book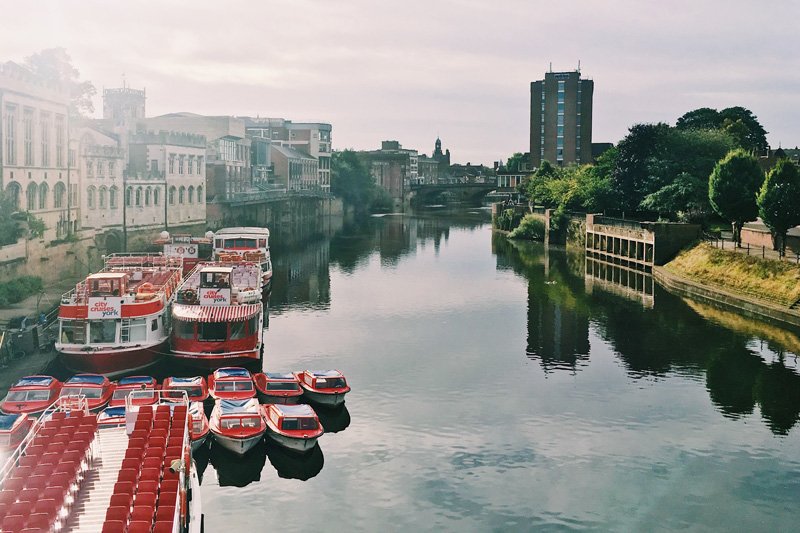 ---
70-minute Evening River Cruise York
This 70-minute cruise along York's Ouse River gives you views of the buildings lit up by the boat's floodlights and the illuminated city skyline. Celebrate the occasion while sipping on a complimentary glass of prosecco or non-alcoholic drink with your partner. Doing the river cruise in the evening leaves you a full day to explore the historic city and its sights on foot first.
What we liked: A perfect evening activity for up to six people.
---
INCLUDES:
Complimentary drink
70-minute cruise
Infant seats available
EXCLUDES:
No pets
Commentary
Snacks or meals
Check Price & Book
---
River Ouse Early Evening York Cruise
Relax for an hour-long cruise on the River Ouse while taking in the sights from a different perspective. This early evening activity takes place during the perfect time to take photos of the landmarks in a golden light. Thanks to a fully stocked bar on board, you can listen to the informative commentary while toasting to the occasion.
What we liked: Ideal evening activity for more than 6 people.
---
INCLUDES:
Heated room downstairs
Fully stocked bar
Live commentary
EXCLUDES:
Snacks and meals
No pets
Commentary in other languages
Check Price & Book
---
York: River Ouse Cruise with Lunch
Settle in for a two-course meal while sailing down stream on the Captain James Cook boat. While on the largest boat on the River Ouse, you can enjoy a freshly cooked lunch and dessert followed by a tea or coffee.
The cruise sets off from King's Staith Landing at 11:30 am and turns around at Bishopthorpe Palace.
What we liked: A unique dining experience.
---
INCLUDES:
Main course and desert
1.5-hour cruise
Tea or coffee
EXCLUDES:
Alcoholic drinks (can be bought on board)
Wheelchair access
Baby changing facilities
Check Price & Book
---
York: Evening Dinner Cruise
What could be more romantic than a delicious three-course meal while taking in the views of historic castles and palaces along the Ouse River? You'll be delighted with this evening dinner cruise experience as you toast to the occasion with a glass of wine. The tour includes sightseeing commentary interspersed with music.
The cruise departs from Pontoon 2 in King's Staith at 7:15 pm.
What we liked: An extensive cruise along the Ouse River at night.
---
INCLUDES:
Complimentary glass of wine
2.5 Hour cruise
Three-course meal
EXCLUDES:
Wheelchair access
No baby changing facilities
Commentary in other languages
Check Price & Book
---
Cruises on the Ouse River are the ideal way to explore the historic city of York and are a perfect day trip from London. The river played an essential role in the development of the area and offers an incredible array of activities. Visit the castles, museums, and art galleries before sitting down to enjoy a lunchtime cruise.
PROS
Unique way to sightsee
Guided tours and self-drive
Affordable options
CONS
Only one river to explore
Not operating during low water levels
Rowing and boating events can affect services
18 reviews for
York River Cruise | Morning, Lunch, Dinner, & Self-drive Tours
York River Cruise | Morning, Lunch, Dinner, & Self-drive Tours