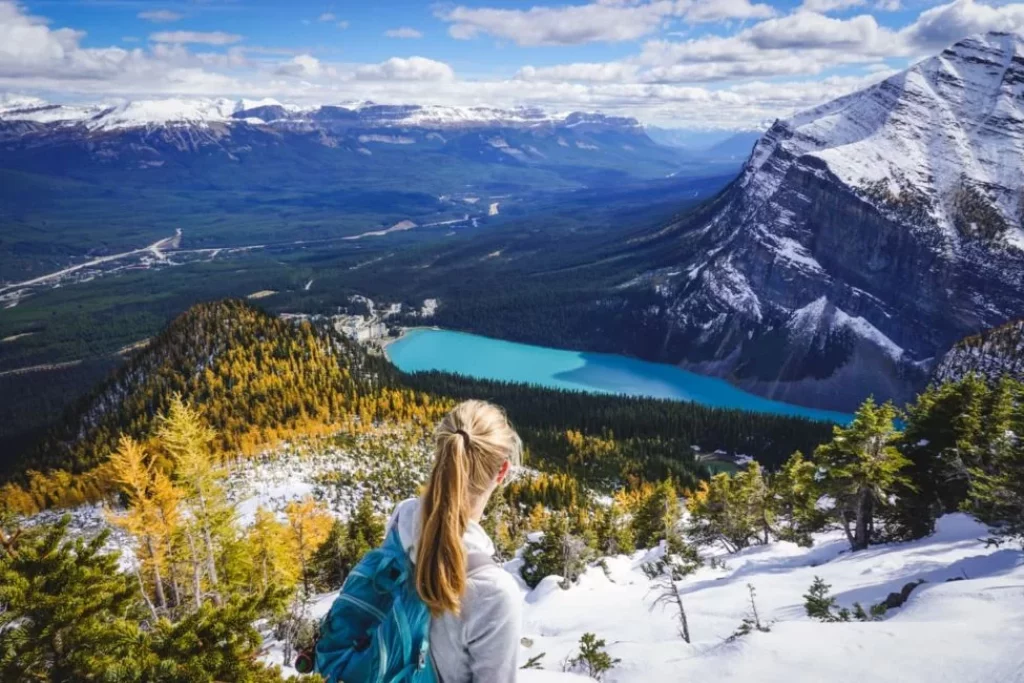 Banff National Park, being the oldest and most popular in Canada, has a lot to offer. When you visit for the first time, it can be overwhelming to choose things to do and places to visit so I'm hoping my guide to the most fun things to do in Banff will be of help to first-timers.
This guide describes all the highlights you can see in just a few days – whether you plan to explore Banff in summer or in Winter.
Everything from summit hikes, waterfalls, alpine lakes, wildlife and more. Although you can just drive to these places and take a quick picture, I strongly suggest you take the path less taken and explore even off the beaten trails. I will spill all my secrets about the most popular places in Banff National Park, how to explore further from the crowds and have the most incredible time.
Prepare to be blown away by the beauty of the Canadian Rockies. I'm sure you will want to come for more than one visit. This is just a taste of what this national park hides in between the rugged mountain peaks.
While I would recommend visiting Banff National Park for a week, I understand that most visit for two weeks and want to squeeze other national parks as well. That's why I put together 7 things to do in Banff that are my top recommendations for first-time visitors.
Top 7 Things To Do in Banff, Canada
1. Explore the town of Banff
The small town of Banff has a main street filled with souvenir shops, restaurants, and hotels with a Cascade mountain towering at the end. Once you decide to leave it though, you will find quite parks, biking paths along the river and easy hikes all around.
For the most enjoyable time in Banff, try these activities:
You can have a picnic at the Central Park, anywhere along Bow River or have a barbecue. The Bow River Barbecue Pit has several public barbecues set up in the park with wood provided. All you have to do is bring food and your friends.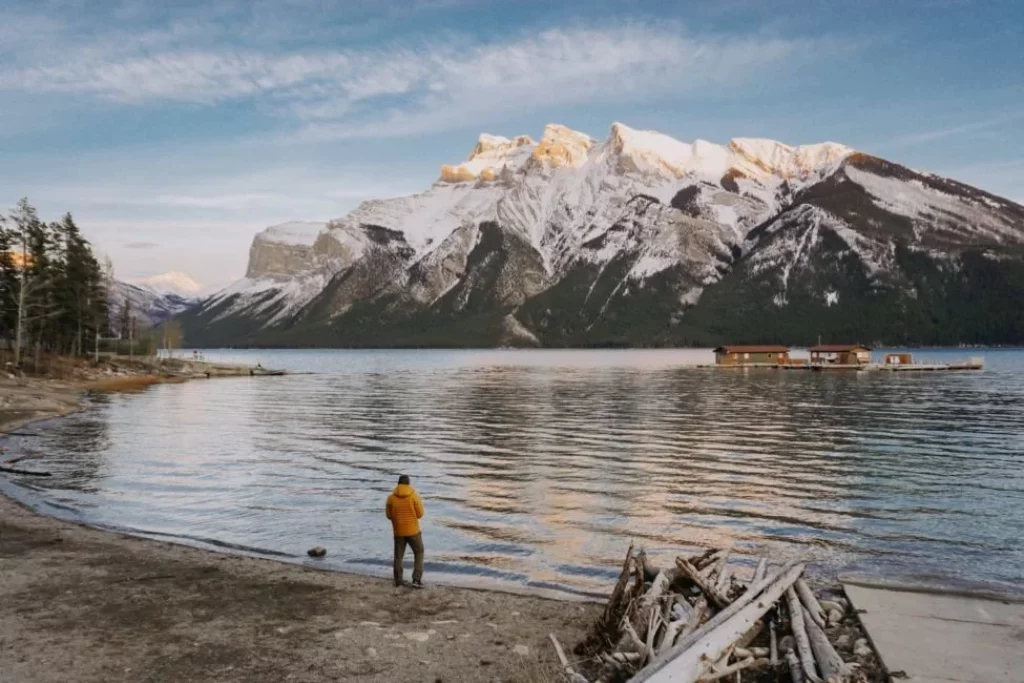 Canoeing on Bow River
Just across the barbecue spot, there is a little shop on Bow Avenue. They rent out canoes and stand up paddle boards and anyone with no prior experience can enjoy a paddle on the Bow River.
Visiting iconic Vermilion Lakes
The most beautiful pictures you've seen during sunset were taken from Vermilion Lakes. You can reach them easily on foot and have the best views at the end of your adventure-filled day. There are three lakes and one of them has a pier, a perfect spot for a picnic. But there are so many other beautiful lakes in Banff to explore too.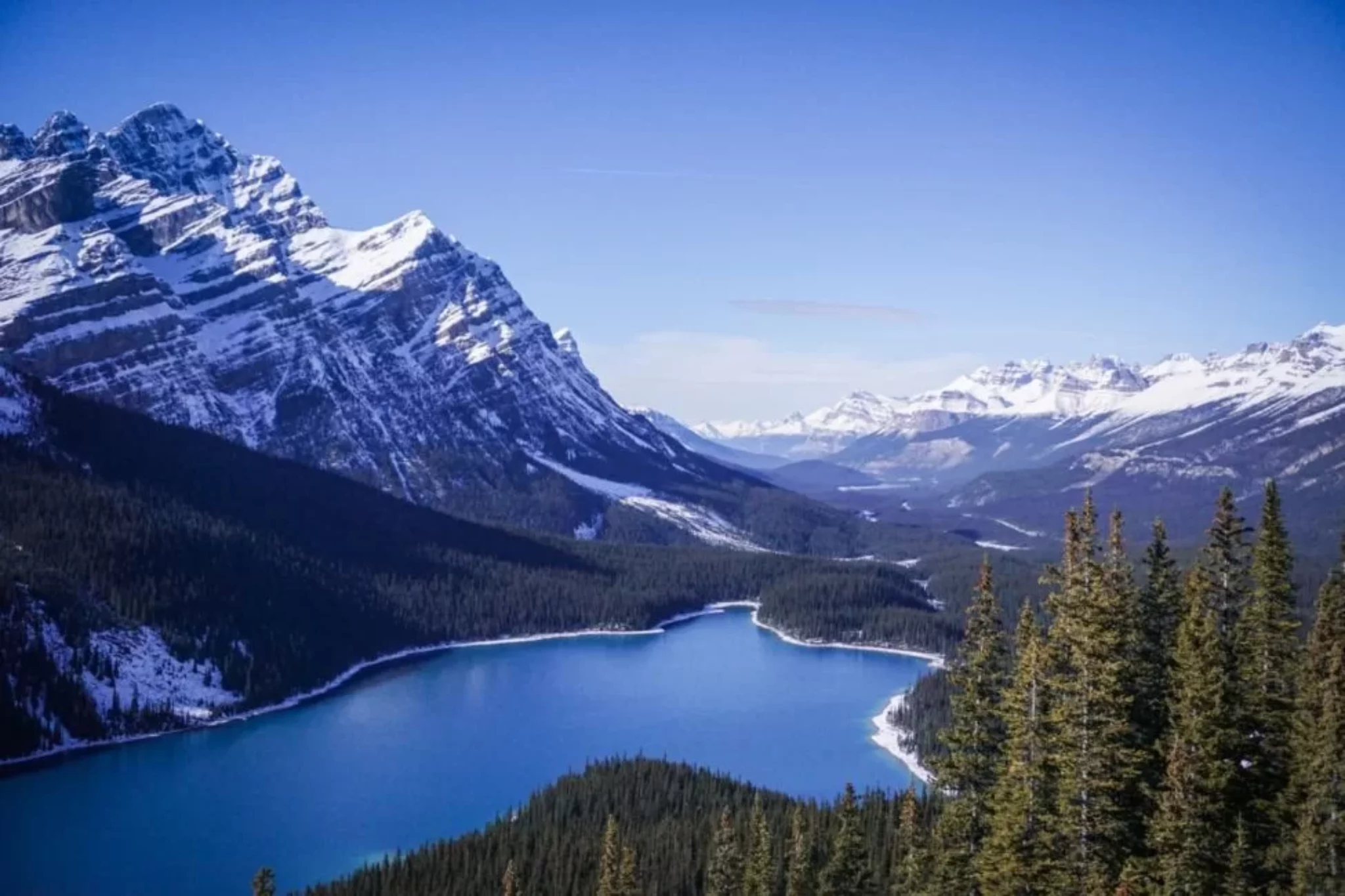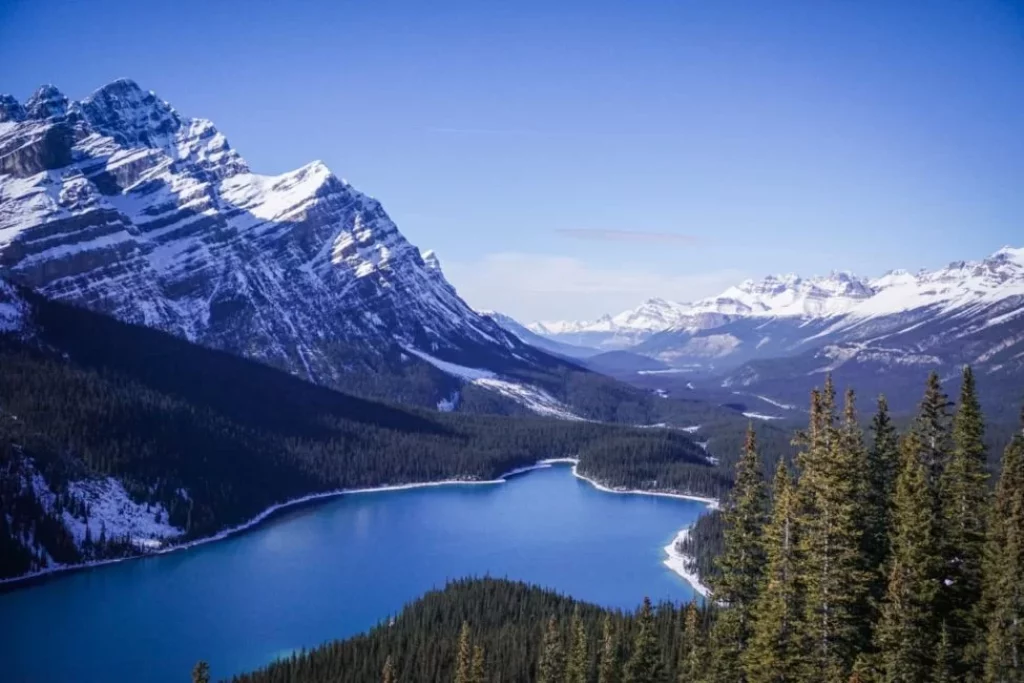 2. Bike & hike at Lake Minnewanka
Lake Minnewanka is a popular spot for all visitors to Banff, and there's much more to do than it appears when you arrive. Little motor boats welcome you to take a cruise along the lake but when you don't get a spot, no need to worry. You can see the lake from above by hiking to the Aylmer Lookout.
The trailhead starts following the lake's shore and then climbs steeply up to the lookout where you will have a summit view you won't forget. If you'd like, you can bike the part along the shore or stay in a backcountry campground.
Due to Lake Minnewanka being an important area for grizzly bears, there are trail restrictions in place, check out this website for more info.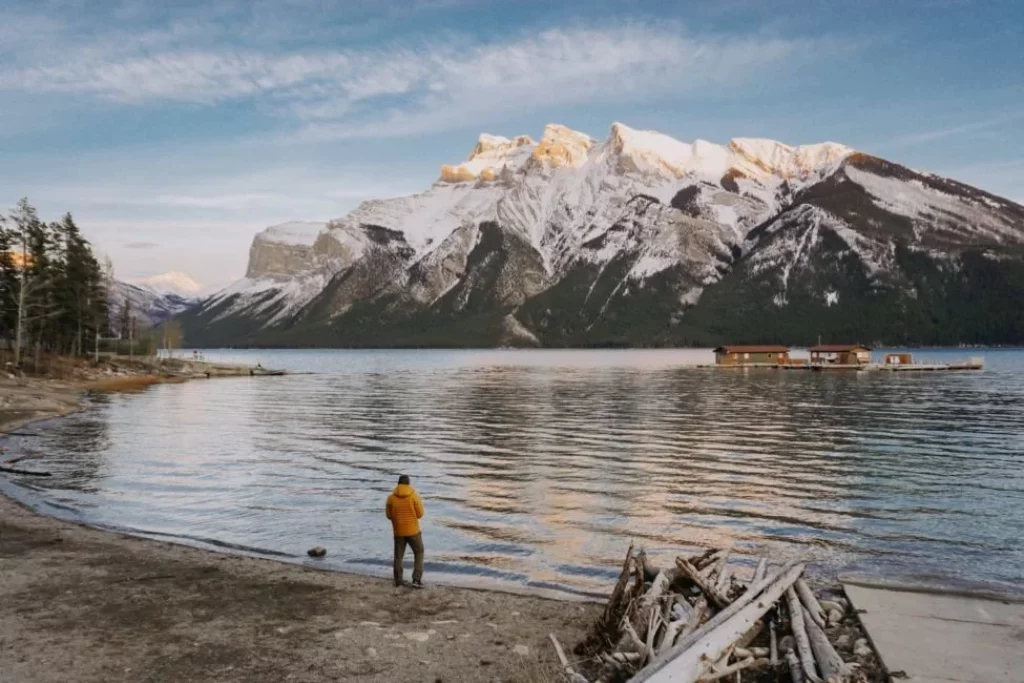 3. Hike up the Sulphur Mountain
Everyone researching Banff before their visit will eventually find the gondola that takes you up the Sulphur Mountain. But did you know you can skip the crowds (and the costs) and hike up instead?
The trailhead is located at the parking lot for Banff Hot Springs. It's a 6km dirt trail one-way with a steady incline and a lot of switchbacks. Occasional views will prepare you for the panoramic summit views.
What I like the most about this trail is that it's accessible all year round and offers a great effort to views ratio.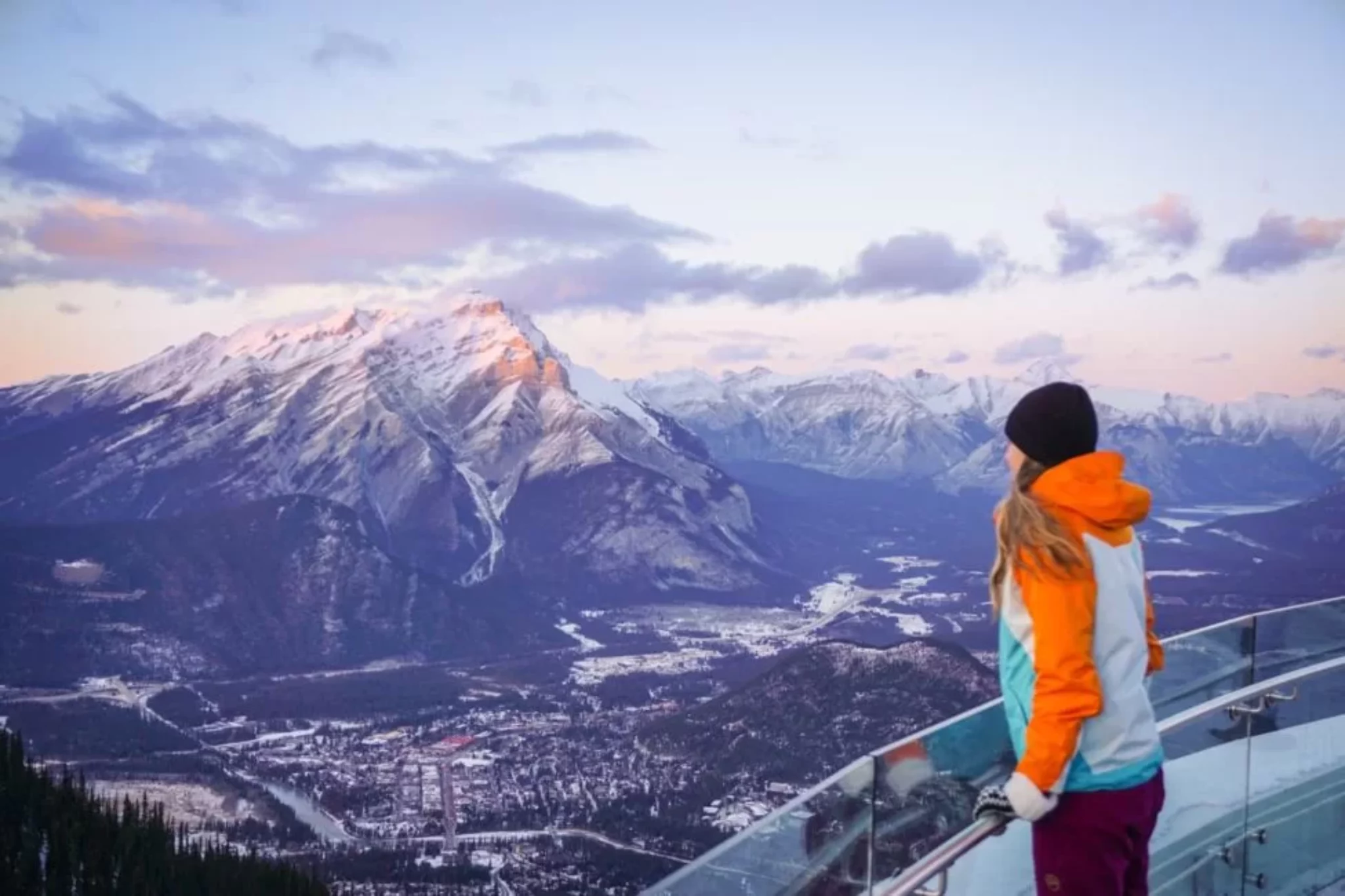 4. See the famous Lake Louise from above
Seeing Lake Louise is beautiful, of course. What is not pretty are the huge crowds surrounding it if you don't arrive early in the morning or in the evening.
You can easily leave the crowds behind by going for a hike. There's a lot to choose from:
Plain of Six Glaciers Tea House
Lake Agnes Tea House
Little Beehive or Big Beehive
Devil's Thumb
And my personal favorite, Mount St. Piran
And if you have any energy left after the hike, you can rent a canoe and paddle around the lake. In case you have enough space on your car, rent a kayak or canoe in Banff and paddle on as many lakes as you'd like in a day.
FUN FACT: Did you know these lakes in Canada sometimes get confeused with lakes in the Dolomites in Italy?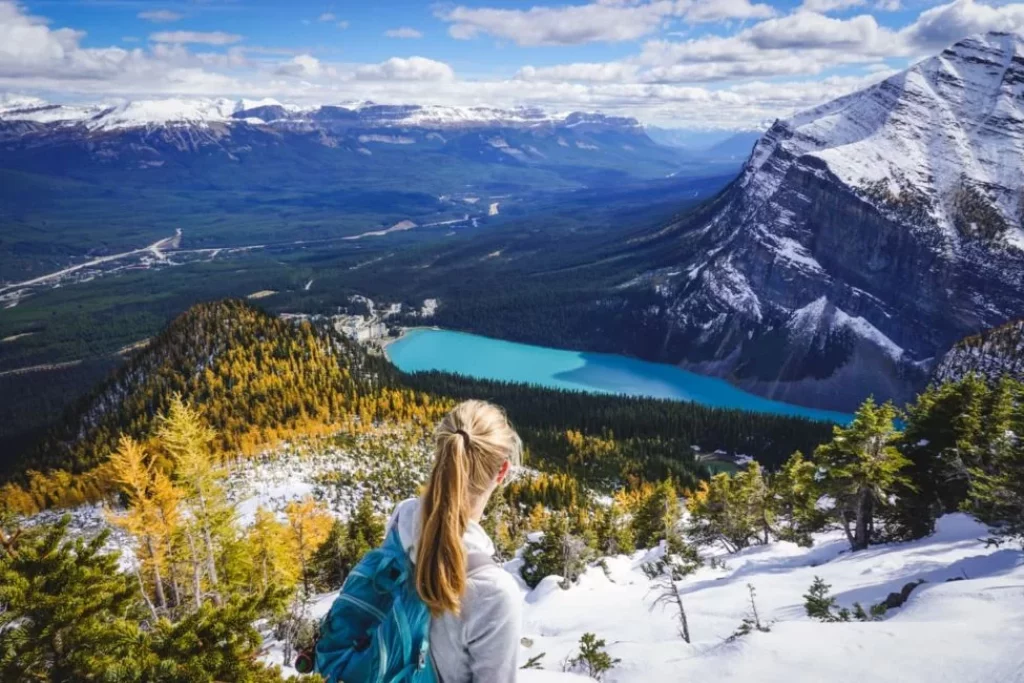 5. Photograph the iconic Moraine Lake & Peyto Lake
Lakes in the Canadian Rockies are undoubtedly what drive so many people to visit. Along with Lake Louise, Moraine Lake and Peyto Lake are the most photographed. They are located a short walk from the parking lot and the views are out of this world.
Moraine Lake is only accessible mid-May to mid-October every year due to the road passing an avalanche zone. In recent years it became so popular, that even the road to the parking lot is guarded and they will let you in only when a parking spot opens up. If you'd like to visit in summer, I suggest arriving very early in the morning, take a shuttle bus from Lake Louise or bike the road (it's only 11km).
Peyto Lake is accessible all year round. In winter, you can use snowshoes or cross country skis on the short trail leading to a lookout platform. Even when the lake is covered with snow, its unique shape and towering peaks around make it worth a visit.
What not many people know about is that there's a trail leading down to the lake. And yet again, visit early o avoid crowds as this is one of the most popular attractions in the Rockies.
6. Hike to Ink Pots through Johnston Canyon
One of the most popular hikes in Banff National Park is Johnston Canyon and for a good reason. Easy trail alternating with a catwalk in the canyon leads to several waterfalls and ends on the meadow with colorful pools.
You can make the hike as short or long as you'd like. Lower Falls are located only 1,2km from the lodge and Upper Falls are 2,5km one-way. If you continue another 3,5km you will reach 5 very unique blue-green bubbling pools called Ink Pots. They are mineral springs and while it is not allowed to swim in them, just admiring where the canyon trail led you with mountains all around is very satisfying.
Look out the window when driving to and from Johnston Canyon, wildlife is often visible from the car.
7. Road trip the Icefields Parkway
As National Geographic put it, and I agree, Icefields Parkway is one of the most stunning drives in the world. Stretching from Lake Louise to Jasper and passing through two national parks, the 230km long scenic road has a lot of natural wonders. There's no shortage of alpine lakes, huge waterfalls, countless glaciers, and wildlife.
Even though I've driven it several times, I still haven't seen it all. But of course, I can give you many suggestions. Prepare at least one full day for Icefields Parkway on your way from Banff to Jasper, I recommend two days.
As short stops along the road, my top tips are:
Bow Lake
Peyto Lake
Waterfowl Lakes
Mistaya Canyon
Panther Falls
Columbia Icefield
Sunwapta Falls
Athabasca Falls
And as for the hikes, my favorite are Wilcox Pass and Valley of the Five Lakes, both in Jasper National Park.
Bonus: visit neighboring national parks
Go beyond Banff and explore other national parks as well – Kootenay, Yoho, and Jasper. The biggest highlights of Banff, Yoho, and Jasper National Parks are part of our very popular post Western Canada road trip itinerary (from Calgary to Vancouver). In just 2 weeks, you can create memories that will last you a lifetime.
Autor Bio: Maya is an adventure athlete and world traveler. After her trip around the world, she returned to the Canadian Rockies. Apart from adventure sports, she loves traveling to places beyond the beaten path which are not often visited. She shares her travel stories and comprehensive adventure travel guides on her blog Travel with the Smile.