Having completed my detailed Taipei Itinerary earlier today, it got me thinking that most people aren't like me and probably won't have an entire week to kill in Taipei. I've decided to pick my absolute favourite things to do in Taipei in one weekend – including night markets you HAVE to visit, attractions you can skip, and excursions and day trips to sign up for EVEN if you just have the weekend in Taipei. This is what I would consider the ESSENTIAL list of things to do and see if you only have 3 days in Taipei. Let's go….
If you Google "things to do in Taipei" a lot of the same things come up again and again. Some things on the list are amazing and deserve to be there. Others are just "meh" and keep making it on to these lists because everyone keeps copying old lists of historical attractions. Let's cut the crap and look at only the absolute coolest things to do in the city.
3 Days in Taipei – The Perfect Weekend In Taipei
Places in Taipei you can SKIP
If you're super short on time, you can skip going to the top of Taipei 101. It's not even the tallest building in Asia anymore and the best views of Taipei are of the Taipei skyline, which essentially means any view looking AT Taipei 101. 
While Lungshan Temple is one of the most famous in Taiwan, if you've travelled around other Asian countries, I'm sure you will have already seen way more impressive temples. If you really want to see it, wait until the evening when most other attractions are shut and pop along for a few minutes to watch people light incense. The atmosphere is even nicer when most big tourists' groups have gone home for the night.
The National Palace Museum is good if you're the kind of person who loves museums, but if you'd prefer to spend your 3 days in Taipei visiting beautiful and unusual places and eating amazing food, then this can also be skipped!
The Culture and Creative Parks in Taipei are super weird, cool, hipster hangouts that often have unusual exhibitions. However, they are mainly geared towards people wanting to take selfies or families with young kids. Cool to visit if you have lots of spare time, but if you only have 3 days in Taipei, I would miss out on these.
If you want to see the crazy shopping streets, I recommend you actually skip Zhongxiao. Even though it's a top shopping district, it just has all the obvious department stores lining either side of a busy road. You could be ANYWHERE IN ASIA. 
Taipei is famous for its many night markets but if you have very limited time, I recommend skipping Linjiang Street Night Market. There are way fewer food stalls here, and a bigger mix of sit-down restaurants and clothes and household items stores, so if it's just food you are after and you are short on time…SKIP!
For more tips on what to do and what to skip, I found this First Timers Guide To Taipei very helpful, and you might too!
Where to stay in Taipei for a weekend
Budget options
 I was on a pretty tight budget while in Taipei so mainly stayed in hostels. To be honest, they weren't great and none of the ones I stayed at I personally couldn't recommend. That said a friend of mine highly recommends Star Hostel Taipei and says it was the best she stayed in over 3 months.
Luxury options
 I have actually written an entire post about the best places to stay in the city, but here's a quick summary. 
The Okura Prestige
The Okura Prestige is located in Zhongshan District and offers amazing panoramic views. The property has a heated rooftop pool where you can enjoy the views of Taipei and the rooms are pretty impressive! Check prices here.
San Want Residences
San Want Residences is another luxurious hotel worth staying at. In fact, I would travel to Taipei JUST to stay in this palace of a hotel! The property features a gym, all-day complimentary coffee, tea and snacks in the lounge. You can also eat on-site at their dining lounge which serves western and local meals.
Places to visit on Day 1
Right, now that you know what you can skip, let's look at some must visit sites within Taipei city that you visit one your first day in the city. 
Start your day by getting the metro to Beitou, easily accessible from anywhere in the city. The Beitou Geothermal Area and Hot Springs is one of the coolest places to visit in the city – even cooler because this maze-like hot spring district is actually located INSIDE Taipei city. It really is like being in remote Iceland except you're actually just in a beautiful district of one of Asia's most populated cities! You can easily walk around the entire area in an hour or two, including dipping your toes inside the foot baths.
If you want to swim in the small public baths, you will need to allow yourself at least one more hour. To me they didn't look THAT appealing so we didn't bother going inside. I did hear that all the hotels in the area have their own private baths full of hot spring water – could be a good option.
Even if you only have a very short weekend in Taipei, I think this is one of the coolest places to see by far!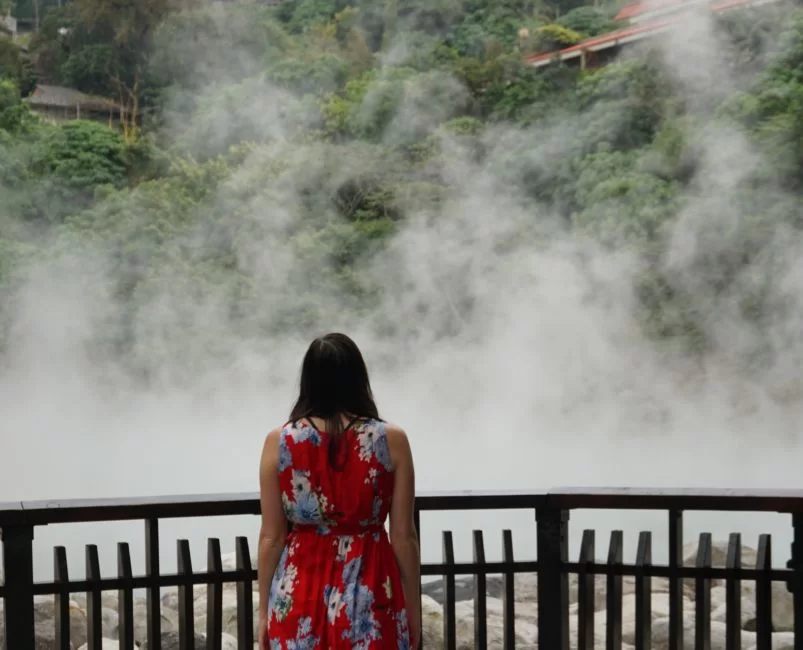 Chiang Kai-Shek Memorial Hall is one of Taipei's most famous buildings and really is very impressive. You don't need too long to walk around the grounds, hopefully catch the changing of the guard (the march out and take down the flag each evening before sunset), get some cool reflection shots of the main arches and of course walk up the steps and inside the memorial hall itself.
I highly recommend checking out Yongkang Street on your tour of the city. It's such a pretty street with small boutique stores, souvenir shops with handmade crafts and some really cute cafes. There's also an amazing dumpling restaurant here called Kao Chi YongKang worth checking out.
Hop on the metro and head to Ximending Shopping district in the afternoon, which is a fully pedestrianised area that has lots of amazing street food, funky bars and themed cafes including the Modern Toilet Restaurant.
You can also walk to Lungshan Temple from here (if you really want to see it). You will need at least an hour for the toilet restaurant as everyone has to get a drink or something to eat while there. Must try food to try in Ximending is the Hot-star fried chicken – an absolutely massive piece of delicious fried chicken that Taiwanese people seem to love. One of the most happening places in the city and a must visit during any weekend in Taipei.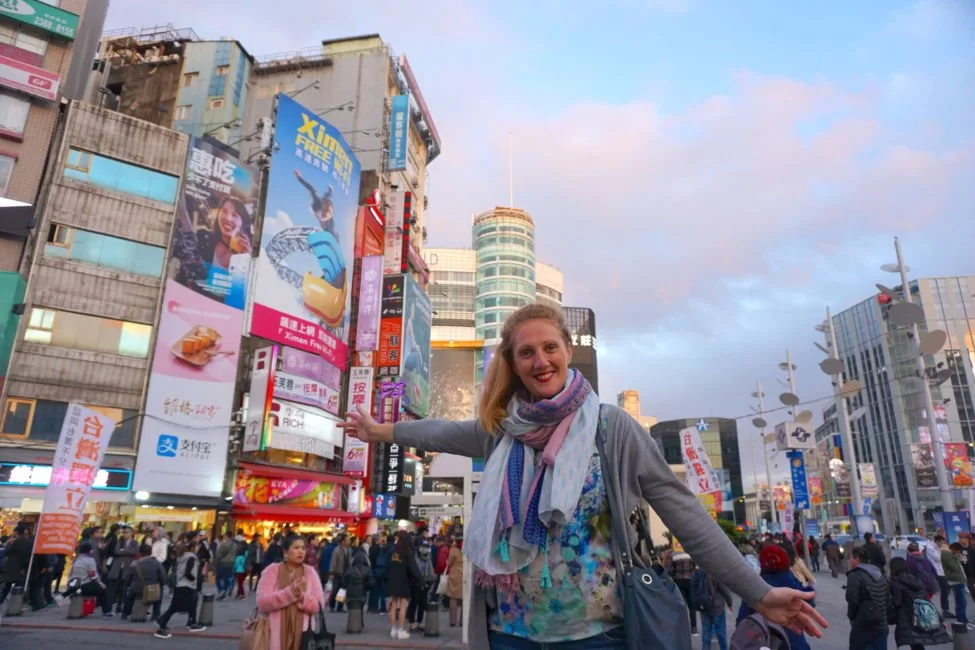 To get the absolute best views of the Taipei skyline either at sunset or at night, climbing Elephant Mountain is a must. It's just a short 30-minute hike from the metro station so very easy to do and it's where you'll get some of the most spectacular photos of your trip. 30 mins up and 20 mins down, plus at least a half hour at the top – guess you'll need about 2 hours in total to check this place out over the weekend.
Once you've finished your whirlwind tour of the city, it's time for some of Taipei's famous night markets so head over to Shilin Night Market for street food heaven. Taiwan is pretty famous for its food and you're going to want to eat ALL of it. You will find every type of street food imaginable, with Korean, Chinese, Thai, Vietnamese and Japanese influences. You can easily lose yourself here for at least two hours, wandering around trying as many different foods as possible. 
Places to visit on Day 2
On day two of your weekend in Taipei, I recommend hopping on the train and doing a fun day trip to Shifen Old Street, Shifen Waterfall and Jiufen. These are two of the prettiest towns just outside of Taipei, both very different from each other and unique places to visit in their own way.
Shifen is famous for the old train that passes right down the middle of its main street, and for its annual Sky Lantern Festival. Most visitors pay a few dollars to decorate their own lantern and then let it off into the sky for good luck and prosperity. It's also fun to take photos on the tracks and then run to the side in excitement each time the train passes through!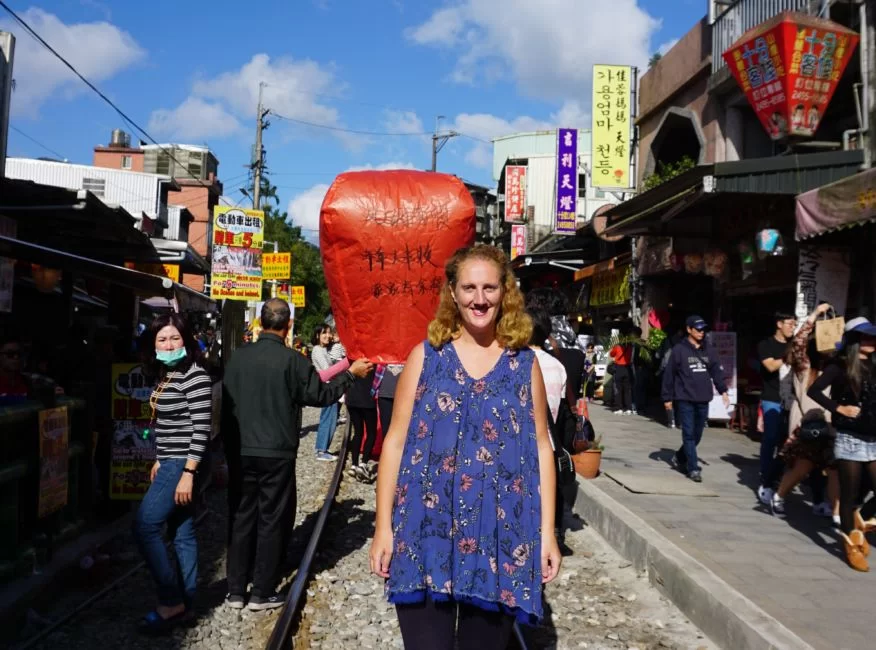 From the old town you can walk down to Shifen Waterfall, arguably one of the most beautiful waterfalls in Taiwan and a beautiful area to walk around for an hour or so. The waterfall is amazing from all angles, and you also get to cross a beautiful suspension bridge and really feel like your back in nature.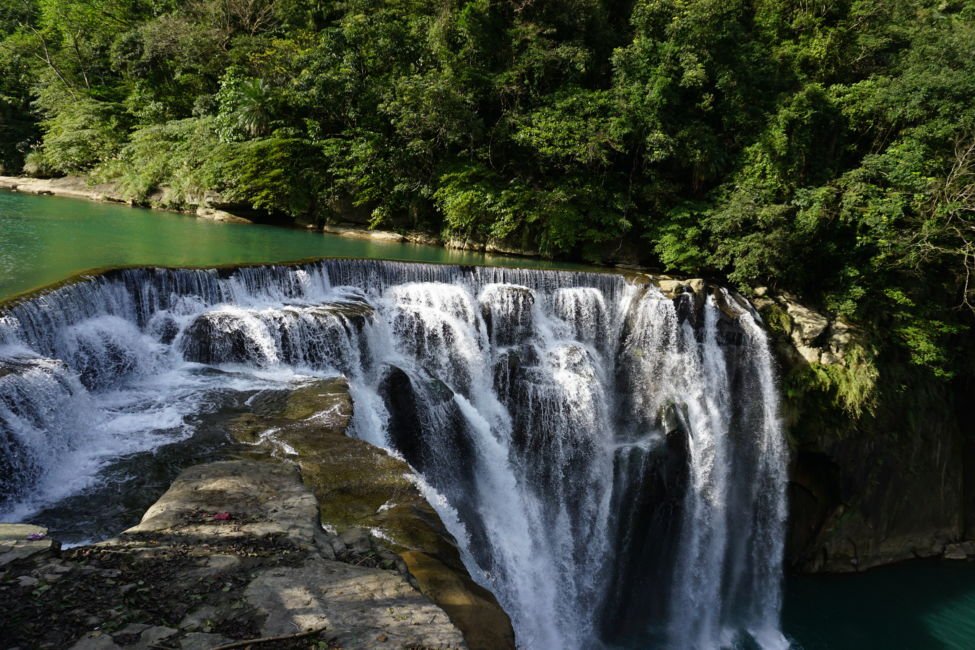 Once you have seen all Shifen has to offer (be sure to try some of the street food here and get your pic standing on the train tracks before the train arrives again!) hop back on the old train and head back to Ruifang. From here you take a bus that seems to endlessly travel uphill until it reaches beautiful Juifen, the Santorini of Taiwan!
Think small, winding alleyways, cute tea shops and one of the most spectacular sunset views you'll ever see in your life. This town is also famous as the inspiration for the famous Japanese animated movie "Spirited Away".
I actually recommend staying the night here if you can and then heading back to Taipei in the morning. If you don't have the time and don't feel like packing and unpacking, then just stay here until after dinner and then head back to Taipei by bus or taxi.
Places to visit in Day 3
For your final day in Taipei, I suggest swapping city life for nature and doing some hiking and exploring in Yangmingshan National Park. I hear this park is beautiful all year round, but at its best in spring and summer. We visited during a January and it was still very beautiful and there were so many cool things to see inside the National Park. You don't need a full day for this, so try get up and out as early as possible and you can be back in the city after lunch to fit in a few more sights on your last day. 
Inside Yangmingshan National Park there is a selection of hikes, ranging from one hour to three hours depending on what you want to see. There are also hot springs, a milk pond, a cool suspension bridge, a waterfall, large flowers fields and exhibitions depending on the time of year. It's amazing to get back to nature so close to the city and the views of the surrounding mountains and of Taipei are incredible.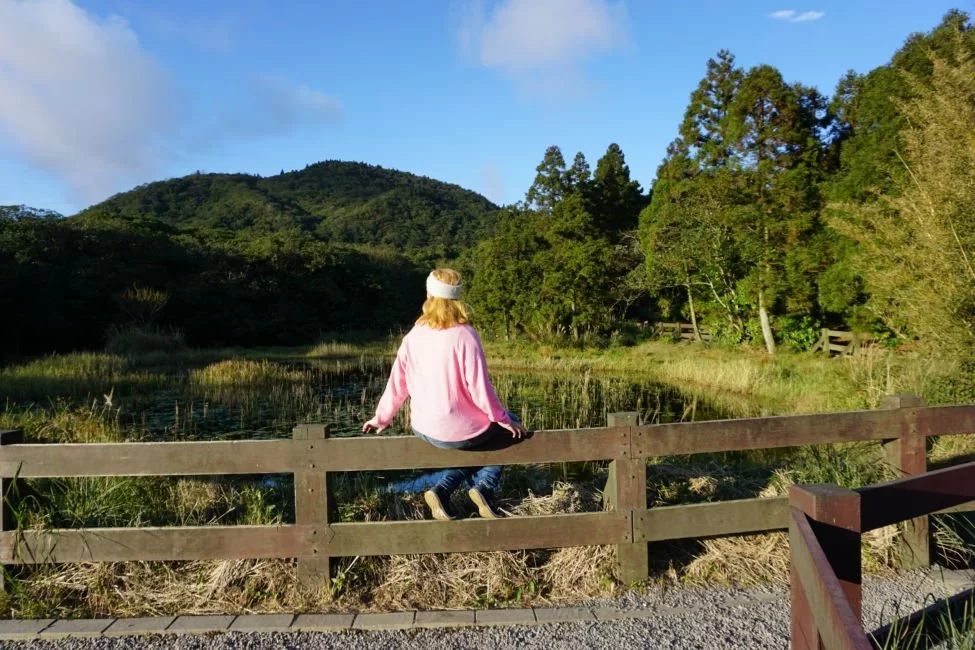 After lunch you can hop on the metro and head back into Taipei to enjoy the bustling city life. If you're in town on a Sunday, I recommend going to Tamsui Old Street which is located on the coast at the end of the metro line. It's a great spot to mix with local families who come here to relax, listen to buskers, eat delicious seafood and all sorts of seafood and catch the sunset across the harbour. You can rent a bike and cycle a few kms down the promenade as far as Fishermans Wharf, or you can even take a boat ride over to "Bali" at the other side of the river.
For dinner, I recommend either heading back to Shilin Night Market as it's on your way back from Tamsui, or else taking the metro to Raohe Night Market, the second busiest night market in Taipei. Many people say this night market is smaller and more friendly than Shilin and has just as many delicious snacks to try out. The choice is yours!