One of the best day trips I did during my week long trip to Taipei was visiting Shifen Waterfall and Shifen Old Street. I had never heard of either of these places until my friend started listing off all the top things to see and do in Taiwan! A quick Google and I realised how amazing both these places looked.
I loved the old world charm Shifen Old Street exuded, how the somewhat vintage train ran right down the middle of the street and how everyone seemed to stand in the middle of the railway tracks letting off lanterns all day. With these images in my head, Allison and I set off on our day trip to check out Shifen Waterfall, Shifen Old Street and then a final stop in Juifen, known as the Santorini of Taiwan!
Visiting Shifen Waterfall and Old Street: A Guide
Getting to Shifen Old Street From Taipei
Getting to Shifen was half the fun I must say.As we were staying in Shilin Night District area, we hopped on the metro to Taipei Main Station and (after a little confusion trying to buy tickets from a Chinese ticket machine!) bought our return train tickets that would take us as far as Ruifang.
From there we had to change to the very old-school Pingxi Line train, a 13km long single track railway that connects Ruifang with the tourist hot spot of Shifen. The whole journey should cost you less than $4. This train is one of the highlights of the trip.
Try to get a window seat or at least standing space looking out the window or door, as when the train approaches Shifen you will see all the tourists running off the tracks laughing and then waving at all the newcomers on the train. If you can get a spot at the very front of the train, where the driver sits, you can actually see right out the front as the entire front is one massive glass window.
Exploring Shifen Old Street
Shifen pretty much just consists of one main street, Shifen Old Street, and if I'm honest there's not a whole lot to do here. Once the train arrives in the station everyone pushes and shoves their way off (yes, there really are hundreds if not thousands of tourists here!), crosses the tracks and walks into town.
There are endless food stalls selling all sorts of delicious Taiwanese delicacies and popular street food choices like hot dogs on a stick, fried chicken, stinky tofu and of course dumplings.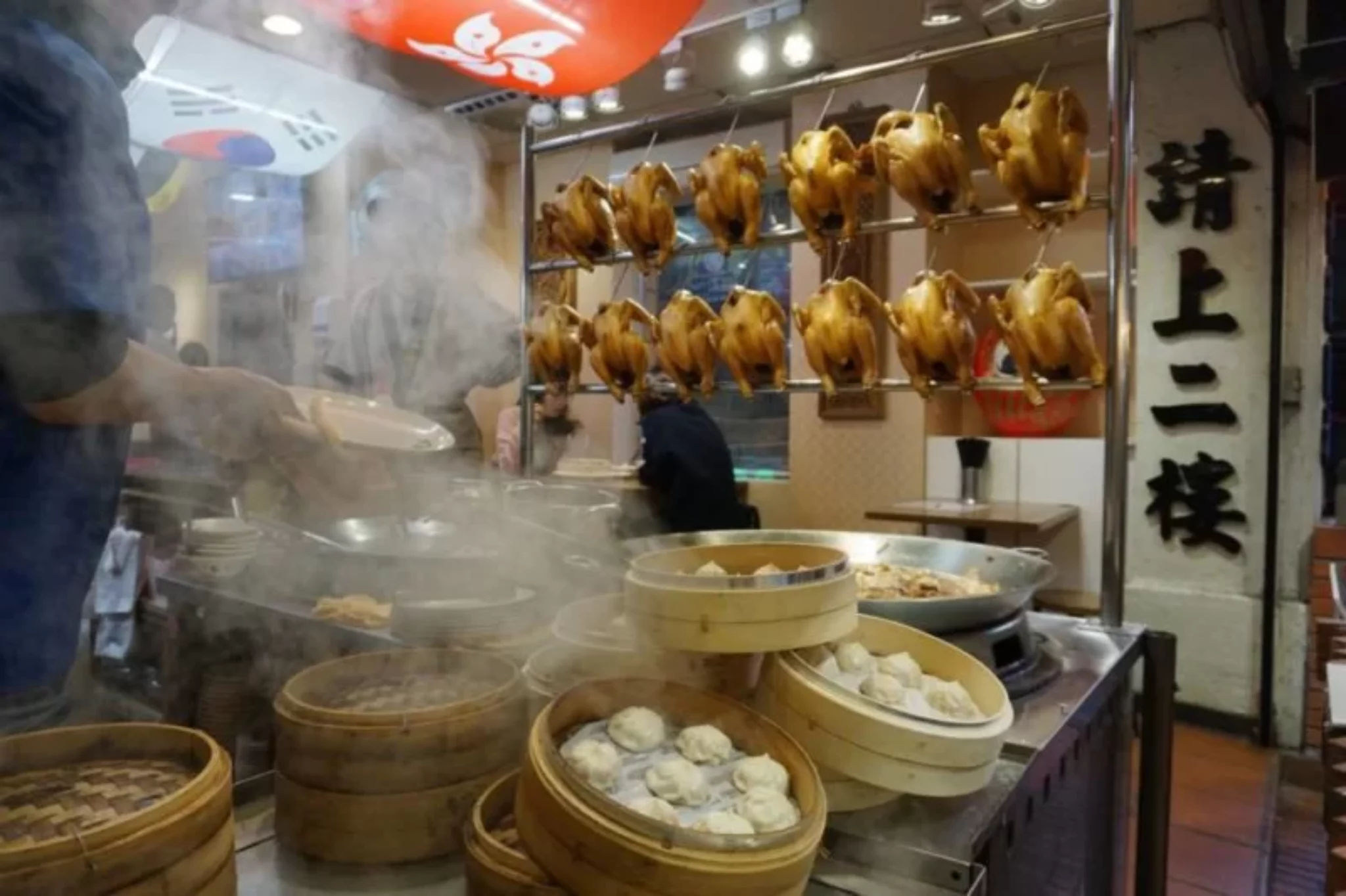 The train track runs right down the very narrow street, and it's totally crowded with people taking photos and letting off sky lanterns. While this place is undoubtedly very, very touristy, it's still such a weird and unique place to visit.
I loved check out some of the small stores selling souvenirs and hand made crafts and then opting to decorate my own lantern. It only costs about $2 and you can paint messages of love, luck or support on your lantern in black ink before they light some paper on fire and send it up into the sky.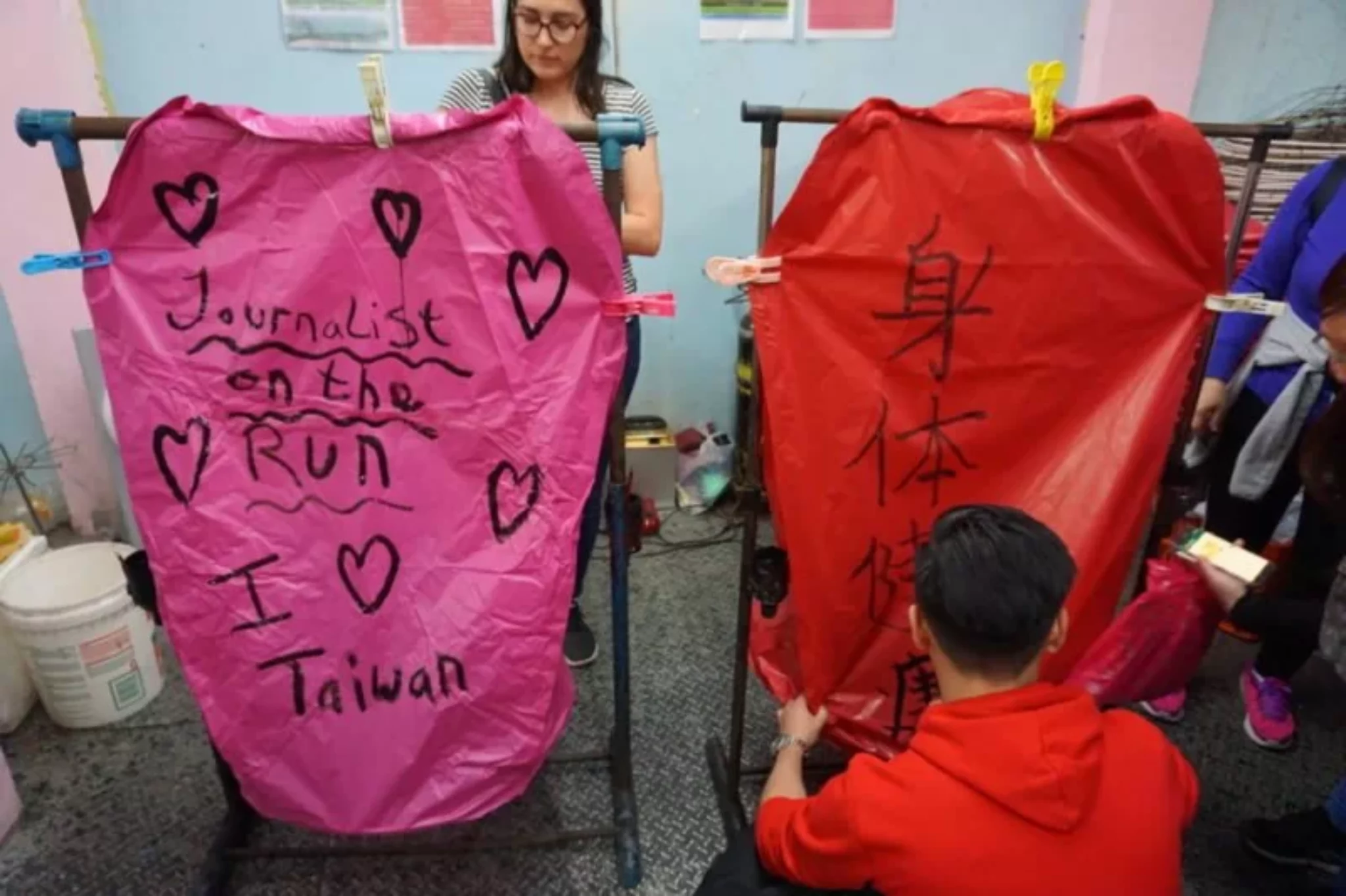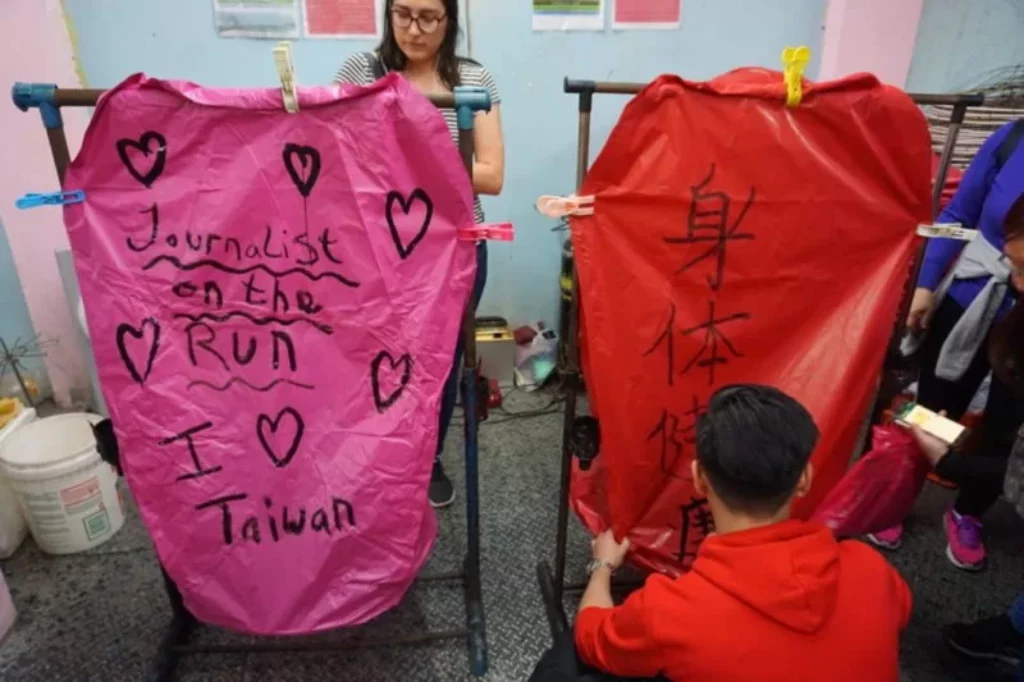 Once we had explored the town a little bit and screamed (with excitement) every time the train whizzed down through the street, blowing its horn and delighting the crowds, we rented a tiny (toy sized) electric scooter and headed towards Shifen Waterfall.
Walking from Shifen Old Street to Shifen Waterfall
A quick 15 to 20 minute walk from Shifen Old Street (or a 5 minute, super crazy scooter ride in my case!) lies Shifen Waterfall – the most visited waterfall in all of Taiwan and one of the most beautiful I've ever seen. It's not massive, or overly powerful, but it's in such a scenic setting, the water is crazy green and it sure is pretty to look at.
Once you cross the first bridge suspension bridge, it's about another 15 minute walk to the waterfall, including brief photo spots. Apparently people swim in the river during the summer (fun!) but as we were there on a relatively cold winters day, swimming was NOT on our itinerary.
The entrance fee to see the waterfall is is 80 Taiwanese dollars which is only about €2. Shifen Waterfall opening hours are from 9am to 5.30pm each day. The entire park area is very beautiful and you could easily spend an hour or two walking around. There are some small cafes and food stalls next to the waterfall where you can relax with a coffee before heading back to Shifen Old Street.
After about an hour we headed back to Shifen and caught the train back to Ruifang and then continued on to Juifen by bus….but I'll keep out Juifen adventures for another blog post!
Where To Stay in Shifen Old Town
Herwan Resort is a funky resort in Shifen complete with outdoor swimming pool and small resort train – making it ideal for families with kids. It's one of the more quirky hotels in the area and is only a short distance from the waterfall.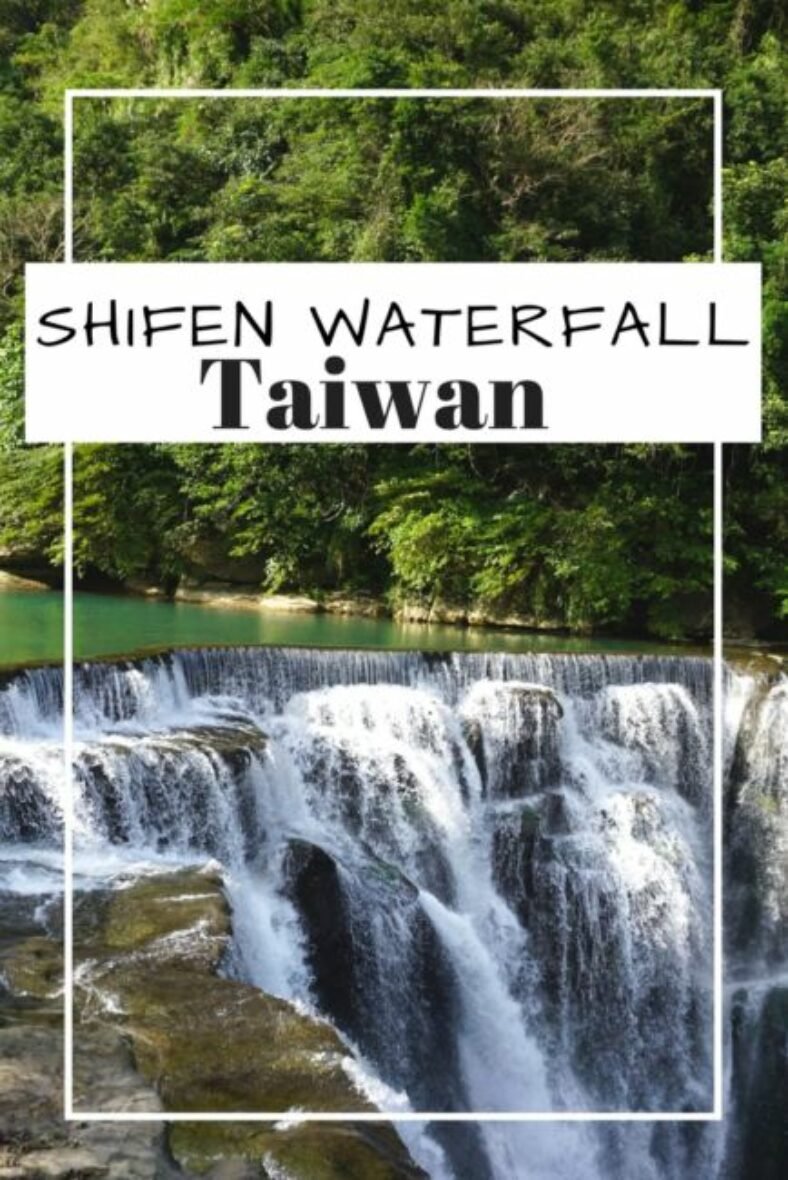 Last updated on October 13th, 2023 at 02:07 pm