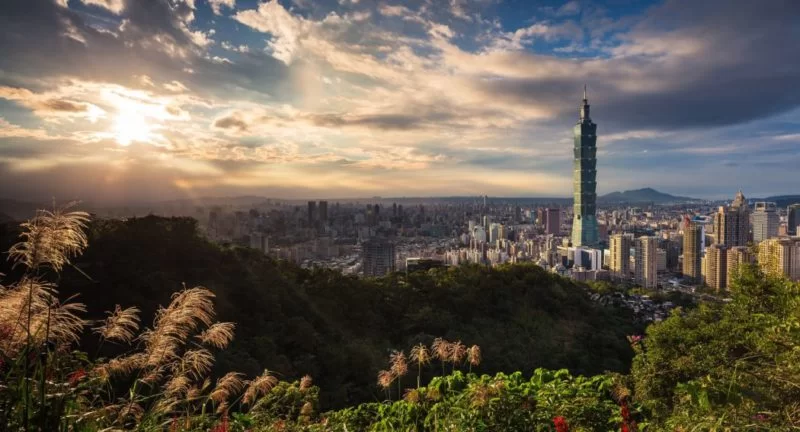 Taipei, capital of Taiwan, is a busy city. Between intense shopping distracts, traffic and huge skyscrapers, it can be quite overwhelming. Even if you're staying some where nice in Taipei, like one of these great Taipei Airbnbs, you can still escape the city for an afternoon by visiting one of the beautiful city parks in Taipei to find a bit of peace!
Here's a list of the best parks in Taipei to help you make the most of your time in such a busy city! If instead, you're after fun and weirdness, check out these unusual things to do!
Best Parks in Taipei
Daan Forest Park
Daan Forest Park, also known as Da'an Park, is located in the Da'an District. This 26-hectare park is super green and is a great pick if you'd like to do some outdoor activities or sports such as jogging or cycling. It's like the "Central Park" of Taipei, where you can simply relax in its lush surroundings! You can expect to see ponds, playgrounds and pavilions. You'll probably end up here are some stage as we found ourselves walking through the park to get from A to B many times throughout our week in Taipei.
Taipei Expo Park
Taipei Expo Park is located in the Zhongshan District and combines three popular park areas: Yuanshan, Taipei Fine Arts Museum and Xinsheng. Taipei Expo Park is a recreational park where you can see several facilities that are used to host different events. As you walk around the park you can find a wide variety of flowers as well as plants. There's also a special exhibition area and 3D walls that are definitely worth seeing.
Youth Park
Youth Park is located in Wanhua District and is a great green spot in Taipei. You can expect to see flowers and trees everywhere. Also, Youth Park has a lot of sports options such as a golf course, several pools, tennis courts, etc. There's also an educational centre on site as well as an outdoor amphitheatre.
228 Peace Park
228 Peace Park is located in Zhongzheng District and is considered a historical site. You can find a memorial on site for the victims of the February 28 Incident of 1947 (end of World War II) as well as the Taipei 228 Memorial Museum. This park is both a historical attraction and a great spot to relax surrounded by nature.
Dajia Riverside Park
Dajia Riverside Park is located in the Zhongshan District. It's a great spot to admire the views of the river or to exercise. There are many bicycle paths and you can also rent a bike in the park. There are other sports facilities too so you can play basketball, tennis, badminton and Crockett.
Yangmingshan National Park
If you'd rather visit a proper National Park, why not visit Yangmingshan National Park which is located between Taipei and New Taipei City? There are many scenic spots to discover in this park and it's a pretty good way to escape the city vibes. You can walk around and find waterfalls as well as a wide variety of rocks and minerals. Of all the parks in Taipei, this os the largest and also one of seven National Parks in Taiwan. You can spend a whole day here and still not see all there is on offer.
If you're looking for day trips similar to this, I highly recommend making the journey to the stunning Shifen Waterfall just outside of Taipei – one of the most beautiful places in Taiwan!
View this post on Instagram
Dahu Park
Dahu Park is located in Neihu District and is known for its scenic lake as well as water facilities. There's a bridge crossing the lake, which makes it picture-perfect and a great place to just stroll around. It's a perfect pick for those who'd like to go on a fishing trip or simply enjoy a picnic. There's also a swimming pool which makes it a great option during summer time.
Rongxing Park
Rongxing Park is located in Zhongshan District and is quite unique as it was made on a European model. You can find playgrounds, gardens and sitting areas around this park as well as a swimming pool. You could also spot fireflies at night time. I also loved watching old men playing checkers or chess around the park.
View this post on Instagram
Bihu Park
Bihu Park is located in Neihu District and is known for its lake and its various flora. It's an excellent spot for sports and outdoor activities such as tennis and swimming pools. It's also great for hiking as there are trails heading to six different mountains in the area.
Huashan 1914 Creative Park
Huashan 1914 Creative Park is located in the Zhongzheng District. It used to be an old winery. Now it has been restored to a cultural retro-chic venue where you can enjoy live performances.
There are many cool bars, cafés and restaurants in the area where you can enjoy a very cool and unusual atmosphere. It's pretty popular in the hipster community and it's also a great spot for families and artists as you can find many exhibitions around. If you plan to head south to Taichung, Taiwan's second city is also home to some quirky creative parks.
Songshan Cultural and Creative Park
Songshan Cultural and Creative Park is located in the Xinyi District and it used to be an old tobacco factory. Nowadays it's one of the largest creative space found in Taipei. With many exhibitions, art shows and conferences, there's a lot going on in this area. You could also join creative art workshops while you're there.
There's also a fountain and a big garden in their courtyard. It seems to be a cool spot for artists or people interested in art!
Last updated on October 13th, 2023 at 12:49 pm