Nantou, Taiwan is practically synonymous with gorgeous scenery and spectacular mountains. The county, which is the second largest and only landlocked one in Taiwan, is home to more than 40 peaks above 3000 meters, including Yushan (Jade Mountain), the highest peak in Northeast Asia. In this article, I'll cover 10 thrilling and adventurous things to do in Nantou Taiwan, a country that I have called home for the last 10 years. I've been to some of these places multiple times, so I'll share the best insider info I can with you!
Nantou county is incredibly rich in cultural and natural attractions, from the upper reaches of Taroko Gorge, the "Grand Canyon of Taiwan," in the north, to popular Sun Moon Lake in the center, and towering Yushan in the south.

It's worth noting that for many of these attractions, you can reach them from either the west or east coast of Taiwan. Most can be reached by public transportation, though for some it is quite infrequent (or non-existent), so having your own wheels is best. You can start your Taiwan adventure in Taipei, doing fun day trips to National Parks and famous waterfalls and then make your way to the center where all the adventure is to be found!

Mountain roads in Taiwan are usually very narrow and winding, and it's never a good idea to travel after heavy rain or when there's a chance of a typhoon.
Fun things to do in Nantou Taiwan
1. Taroko Gorge
If you only see one place outside of Taipei when visiting Taiwan, make it Taroko Gorge. Driving or cycling up this 19-kilometer dramatic canyon will leave your jaw constantly dropping and head ever looking upwards at the vertical walls of stone. By far one of the most exciting places to visit in Nantou Taiwan!

Taroko National Park is mostly located in and associated with Hualien County. When you visit, you will likely take the train from Taipei to Hualien and stay in Hualien City or near the entrance to Taroko Gorge on the east coast.

However, Provincial Highway 8, also known as the Central Cross-Island Highway, continues past Tianxiang, the main tourist village in Taroko Gorge, and brings visitors into Nantou only briefly before veering into Taichung. You can also turn off Highway 8 and onto Highway 14A to explore further into Nantou. The 14A winds uphill to Hehuan Mountain (#2) Qingjing Farm (#3) and ultimately leads to Puli (#4).
The Nantou section of Taroko National Park is characterized by remote forest scenery. Come here for an epic motorcycle ride and to see gorgeous autumn foliage in autumn.
2. Hehuanshan – Mount Hehuan
Hehuanshan is one of the highest peaks of the Central Mountain Range, the backbone of Taiwan. It is in fact made up of several peaks, the highest of which is 3422 meters (the North Peak).

Hehuanshan is famous in Taiwan as one of the best places to see snow in Taiwan in winter because the road goes almost all the way up to the peak. Every time there is snow predicted on Hehuanshan, there are traffic jams of locals driving up to catch a glimpse of snow, a rare sight in Taiwan. There even used to be a ski left up there!

Wuling, a saddle between the East Park and the Main Peak, is the highest point on Taiwan's road system, at 3275 meters, and is a great spot to view Hehuanshan. The area is a great way to enjoy Taiwan's high mountain scenery if you pretty to avoid touristy mountain resorts like Alishan in neighboring Chiayi County.
3. Qingjing Farm
Tourist or "Leisure" Farms are extremely popular among locals, especially families, in Taiwan, and Qingjing is probably the most famous of them all. Essentially, these are places where city folk go to get a taste of rural and farm life.

Qingjing Farm's fame owes mainly to its gorgeous surroundings, with rolling green fields perched atop mountains at an altitude of 1750 meters above sea level, with gorgeous peaks on the horizon in all directions. Also, it's one of Taiwan's oldest, first established in 1961 for demobilized soldiers in the Taiwan army.

So what does one do at a Leisure Farm? At Qingjing you can wander through the agriculture-meets-alpine setting, feed animals, watch sheep shearing, ride horses, and learn about local flora, fauna, and aboriginal culture. You can also spend the night at Qingjing farm!

Don't be surprised to find European-style architecture here, like castles and windmills; it's a common trend at many of Taiwan's amusement parks and other tourist attractions aimed at locals.
4. Puli
For cultural attractions, you can bypass Nantou City and head instead to Puli, a township at the geographical center of Taiwan. It only takes about one hour to reach Puli by bus from Taichung city center or High-Speed Rail Station.

Considered the gateway to Sun Moon Lake (#5), Puli is a pleasant town surrounded by mountains. The attractions don't quite justify spending the night, but I would certainly recommend spending a half day here on the way to Sun Moon Lake, and the Sun Moon Lake Pass allows you to make one shuttle bus stop here.

The most famous attraction in Puli is Chung Tai Chan Monastery. The main building of this enormous complex, the tallest Buddhist monastery in the world, can be seen from many places in Puli. Another popular attraction just outside of Puli is Paper Dome, a church made of paper located in a pretty garden. Puli has also got its own craft brewery, Pro Beer, which includes a nice Assam tea Ale, so watch for bottles of it around Puli or Sun Moon Lake.

Closer to Sun Moon Lake, the Antique Assam Tea Farm is a great place to learn about and buy Sun Moon Lake's famous black teas.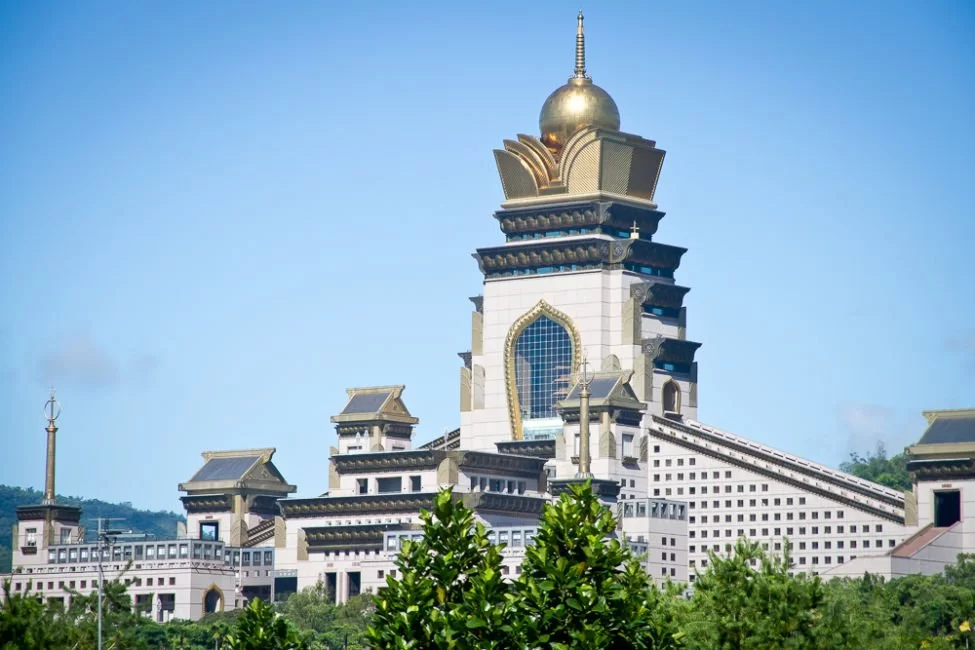 5. Sun Moon Lake
Turquoise-colored Sun Moon Lake is one of Taiwan's most popular tourist attractions, understandably so. To understand why, all you have to do is admire it from one of the famous vantage points, like imposing Wenwu Temple, which is 366-steps up from the lake, towering Ci En Pagoda, or the Sun Moon Lake Ropeway (cable car).

There is a long list of activities to enjoy at Sun Moon Lake, from boat rides across the lake and Stand Up Paddleboarding to aboriginal performances and cycling. In fact, the road around the lake has been described as one of the top cycling routes in the world. I would personally give Formosan Aboriginal Culture Village a miss, but it's still worth riding the Sun Moon Lake Ropeway up there for the views and then just coming back down instead of buying a ticket to the theme park.

I prefer staying in aboriginal Ita Thao village over Shuishe, the more popular tourist center cross the lake. In Ita Thao, you can find a great night market, lovely docks on the lake and a performance center of the Thao tribe, one of the smallest of Taiwan's 16 recognized aboriginal tribes.

Unfortunately, you can't swim in Sun Moon Lake, except at the annual Sun Moon Lake mass swim, one of the largest mass swims in the world. You can do day trips here from the super quirky city of Taichung, or you can (ideally) base yourself by the lake for a few nights.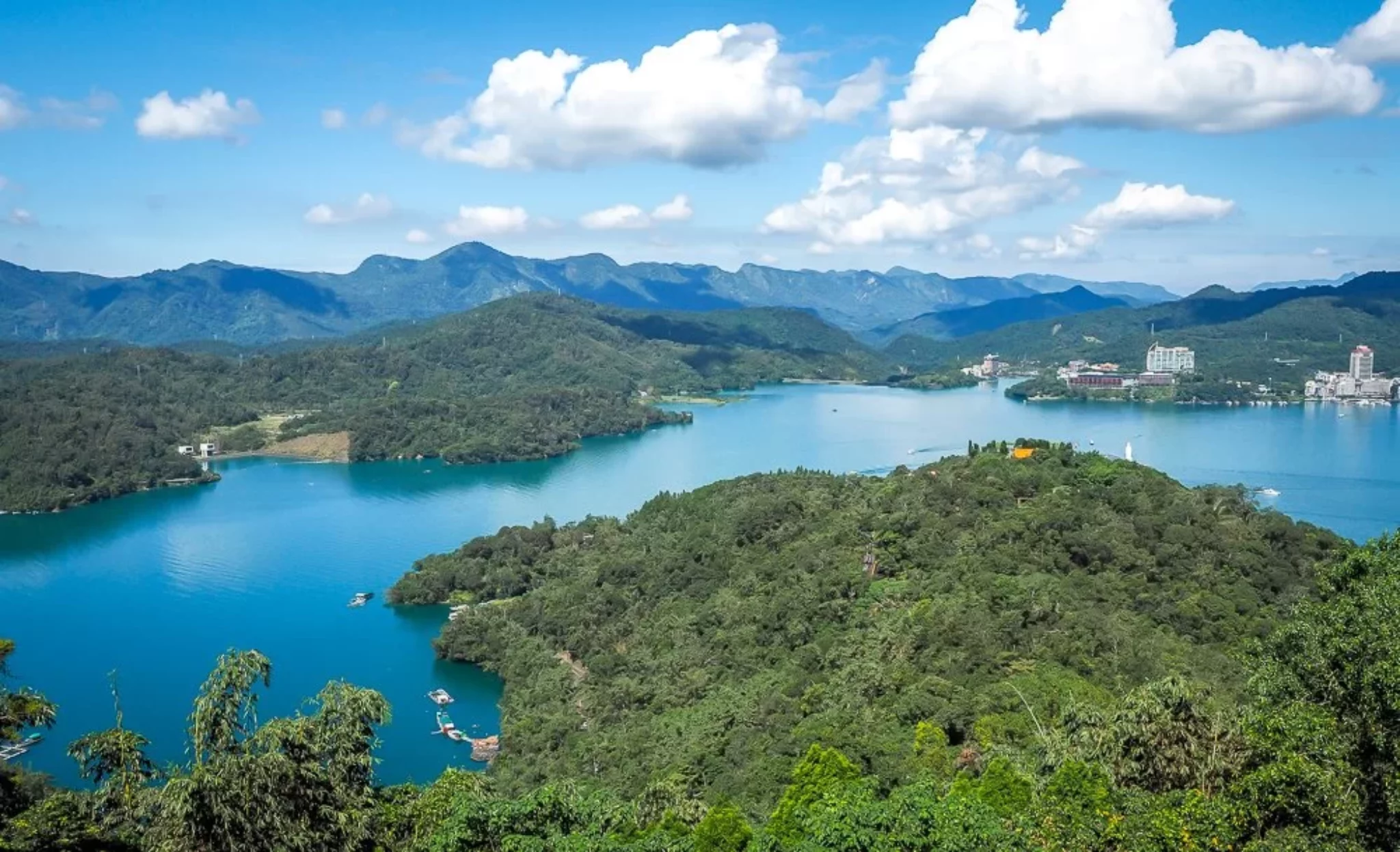 6. Wuchang Temple, Jiji
It's worth making the 40-minute drive from Sun Moon Lake to Jiji, a small town which was the epicenter of the 921 earthquakes in 1999. This disastrous event left 2415 people dead across Taiwan.

After Wuchang Temple was destroyed in the earthquake, with most of the first floor caving in, it was left as a memorial to the disaster. When the temple became a kind of symbol of the earthquake, people from around Taiwan sent donations, and so a new very large, beautiful and ornate temple was built right in front of it, but the original temple remains untouched.
7. Lugu Tea Region
People interested in tea should make their way up mountainous County Highway 151 from Jiji to Lugu. This scenic area is famous for Dong Ding, a lightly roasted, light to medium oolong tea that is world-renowned. There are literally hundreds of bulk teashops along the highway, and all will welcome you and brew up a pot of tea for you to try if you are interested in buying.

There's also a Tea Culture Museum in Lugu, and if you drive further up towards Xitou, then follow a very small, winding road up into the mountains, you can reach Dalunshan Tourist Tea Farm. This collection of high mountain tea farms has wooden walkways for tourists to admire the impossibly vertical tea fields, and of course you can buy or sip on tea while you admire the views or buy a variety of tea-flavored snacks.

The Xitou Nature Education Area is also worth a look to admire the old cypress and ginkgo trees of the area, which are often shrouded in mist at this altitude. You can drive even further up to reach Shanlinxi, another forest recreation area, which is also famous for its tea of the same name (Shanlinxi Oolong Tea).
8. Xitou Monster Village
Right beside the entrance to the Xitou Nature Education area is another attraction that has gained enormous local fame in the last few years: the Xitou Monster Village.

Built to commemorate the friendship of a Taiwanese and a Japanese man during the Japanese colonial era in Taiwan, this Japanese-styled mountain village is filled with Tengu, long-nosed, red-faced Japanese kami (spirits).

It's kind of a tourist trap and there isn't much to do besides eat and shop for souvenirs, but the quirky pics made it worth the trip for us, as well as the chance to check out the village's bakery, which specializes in stinging nettle bread (don't worry, the lead placed on top doesn't sting once baked, but you can see the little thorns on it). Expect a long line for it when they bake a fresh batch twice a day, at 10:30 A.M. and 2:30 P.M.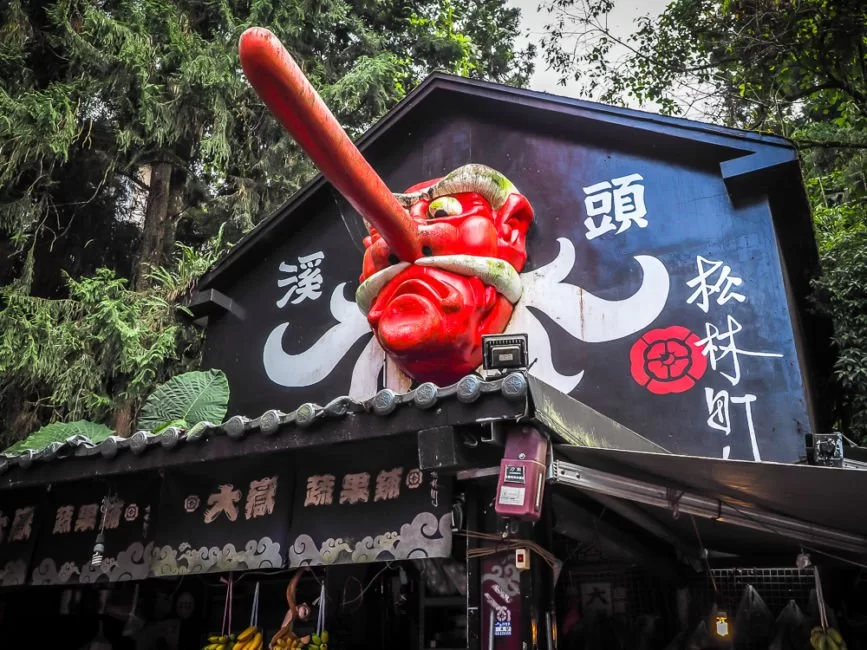 9. Zhushan Sky Ladder
Easily Taiwan's most beautiful suspension bridge, the Zhushan Sky Ladder provides access to stunningly gorgeous Taiji Canyon and Green Dragon Waterfall.

Not for the faint of heart, the 136-meter bridge is one of the few in the world that includes a ladder. There is no public transportation here, and visiting the Zhushan Sky Ladder and Taiji Canyon requires a three-hour return hike with over 2000 steps.

If that sounds like too much for you, you can try more accessible Houtanjing Sky Bridge, just west of Nantou City on the border with Changhua County. This suspension bridge hangs 150 meters above the forest ceiling, stretching 204 meters from one end to the other. The bridge is lit up with lights in the early evening.
10. Yushan (Jade Mountain)
I've saved the biggest and best for last. The Main Peak of Yushan (3952 meters) is Northeast Asia's highest mountain and hiking up it is definitely one of the top things to do in Nantou! Yushan National Park, the largest non-marine national park in Taiwan, covers four counties: Nantou, Chiayi, Kaohsiung, and Hualien, but the Main Peak and North Peak are in Nantou.

Jade Mountain is named so because the peak is often covered in snow and glistens like jade in winter. The massif actually includes some 11 peaks. It is pictured on the back of the 1000-NT bill. The park contains such a wide variety of plant and animal species that is sometimes called the arc of Taiwan, and despite its size, it doesn't receive that many visitors because it is so remote.

Climbing Jade Mountain is not as difficult as you might imagine. Anybody in reasonable shape can do it. There is, however, a daily limit for how many people can do it, usually 200, so you need to apply well in advance. The application is not so simple, so I'd recommend going with a trekking group as I did. I would recommend Taiwan Adventures, a great experienced crew who can arrange everything for you.

Typically, after registering at Tatajia police station in the park, you walk or catch a ride to the start of the trail, from where it is 8.5 kilometers to Paiyun Lodge. Some people do the ascent in one day, but most sleep at Paiyun Lodge and then walk the final 2.4 kilometers to the summit for sunrise.

I had an incredible Yushan hiking experience in my first year in Taiwan. I met some great friends that I still keep in touch with today, and we observed a breathtaking sunrise over a sea of clouds from the summit.

______________

Besides Puli and Sun Moon Lake, Nantou's attractions are not all so easy to reach and don't see as many foreign visitors as many other places in Taiwan. However, for those who are willing to make the journey, Nantou offers some of the best thrills, and most gorgeous scenery, that Taiwan has to offer.

Let us know in the comments if you have any questions or want to share your own experience in Nantou, Taiwan!


AUTHOR BIO: Nick Kembel is the author of Taiwan in the Eyes of a Foreigner and creator of Spiritual Travels, a website dedicated to mindful travel in Taiwan and East Asia.