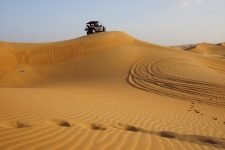 Best Desert Safari Dubai (Tours, Sand Dunes & More)
Dubai is all about the desert and, with a plethora of culturally enriching experiences to choose from, it's arguably the best tourist destination in the Middle East. Whether you want to enjoy sunny adventures or explore at night, the stunning Dubai deserts have something magical to offer you. If you want to experience the best desert safari, Dubai simply cannot be overlooked.
Known for their exquisite modern architecture and housing the world's tallest building, the capital city of the Emirate of Dubai falls nothing short of spectacular. The explorative Dubai sand dunes are a great tourist attraction leaving visitors spoiled for choice. Not only are there exotic beaches and state-of-the-art malls to choose from, but there are great water amusement parks as well.
It's not easy to decide on the best way to experience Emirati culture due to there being so many options. Only in Dubai can you have such luxurious problems! But fret not, there are ways to determine what would be best for you. Check out this list of the best desert safaris in Dubai.
What are Dubai Desert Safaris?
If you want to capture the essence and beauty of the Middle East along with their culture and heritage, desert safari tours in Dubai are the best way to do so. Each and every one of the desert tours in Dubai offers a multitude of experiences sure to leave you awestruck. Dune bashing, sandboarding, and camel riding are just a few of the more adventurous activities you'll get to take part in.
Even if you're not the adventurous type, there are plenty of other elements to desert tours in Dubai that will leave you speechless. Relax at a desert camp, get henna tattoos, and take stunning photos alongside the United Arab Emirates' national bird, the Peregrine Falcon.
Desert tours in Dubai offer gorgeous sunrise and sunset experiences for all kinds of travelers. The beautiful and captivating scenes offered by Dubai deserts are sure to amaze you.
Desert Safari Reviews
If you are unfamiliar with the Middle East, there are many questions that arise upon deciding to safari in Dubai. In these situations, online reviews reign supreme but most often have their own agenda.
It can be tough to get what you're specifically looking for. Rest assured in knowing that these reviews are often biased and will have no direct effect on your enjoyment of the experience.
All you need to know is what to expect from a genuine desert safari in Dubai. This way you can get a proper taste of what life is like in this beautiful city. There are half-day, full-day, and even a few overnight experiences to fully grasp the beauty these Dubai sand dunes have to offer.
Desert Safari Dubai
Typical desert safari tours in Dubai are an all-inclusive activity, either for the entire day or a large part of it. With different starting times you can plan your itinerary around what suits you, as long as you don't plan to start the safari too late.
Most day tours last for about 4 – 7 hours and are planned out beforehand. The shorter trips include dune bashing, sand boarding and camel riding with optional quad biking. Refreshments and snacks will also be available after the activities, and once you're done you'll be dropped back at your hotel.
Longer desert tours are just an extension to the shorter ones as they include the same activities alongside a fun-filled evening experience. You can expect things like Arabian makeovers, falconry and taking photos with a falcon, henna tattoos, some amazing dance performances, and the opportunity to take some stunning sunset photos.
Go for some morning shopping at the world's biggest mall before your safari. Or start your desert tour early and visit the world's biggest glow-in-the-dark garden during the night.
No matter the type or length of desert tour, Dubai will fully encompass you in its arcane beauty. The sand dunes Dubai has to offer will bring out the adrenaline junkie deep inside with dune bashing and then promptly leave you breathless and stunned by the seemingly endless horizon of gorgeous desert.
Dubai Desert Dinner
No trip is complete without good food. Middle Eastern cuisine provides a myriad of tantalizing and exotic foods which cause you to reach new worlds of flavor. The most essential nourishment in the desert is definitely water (for obvious reasons), but that doesn't mean it's all you have to choose from.
If you're worried about having dinner in the desert, Dubai will surely change your mind. The best desert tours Dubai has available will all offer amazing local cuisine as part of their packages. Experience authentic Emirati cuisine the right way – under millions of stars in the dazzling night sky of the deserts of Dubai.
Desert Camping
If you love camping and stargazing then you're in for a treat. Dubai is known to elevate expectations, and the nightlife there is no exception. There are tons of self-evident things to do in Dubai at night but camping is often overlooked.
Camping is a great way to get in touch with the environment around you. It's known to be a relaxing and therapeutic experience where you can connect more with people than technology. Get ready to take a break from modern life and bask in the beauty of the desert under a starlit night sky.
Although it is definitely relaxing, there are also activities planned at the campsite. You can learn how to make Arabic coffee or tea, enjoy camel trekking to your campsite, and even partake in some story telling. From sunset to sunrise, enjoy the wonders of the desert at night.
If you're with a spouse, camping makes for a great romantic setting. And even if you're not on a couple's vacation, camping is a lovely way to get closer to those around you.
Be sure not to miss out on an experience that will leave you in a state of wonder and bliss with the undeniable beauty of the Arabian desert and night sky.
Overnight Desert Safari Dubai
Most people only want a taste or feel of life in Dubai. But if you're looking to immerse yourself into their culture, you need to sign up for an overnight desert safari.
During the day you get to witness the full glory of the desert sun. At night you'll get closer to friends, family, and even locals. This is a great opportunity to share your experiences and learn more about each other. You can also attain a deeper connection with the beauty your surroundings.
Be sure to take lots of photos as you're treated to an amazing dance performance followed by a flavorful buffet dinner. There are plenty of amazing dishes to choose from to get a literal taste of Dubai. Vegetarians are also catered for.
Desert camping includes most of the activities that day trips have to offer with additional nighttime activities and performances. The best desert safari in Dubai is one that also includes an overnight experience. Be sure not to miss out!
Ready for a Desert Tour?
Dubai is definitely a magical place to visit for all sorts of reasons. Whether you want quality family time or fun with friends, the deserts of Dubai have plenty to offer. Before you get to packing, make sure to read up on the dos and don'ts to ensure you're well prepared.
You'll definitely be spoiled for choice when visiting Dubai. Hopefully you now know a bit more of what to expect. Be prepared to break the norm and create memories you'll cherish for a lifetime. And don't forget to bring your camera so you can share them!