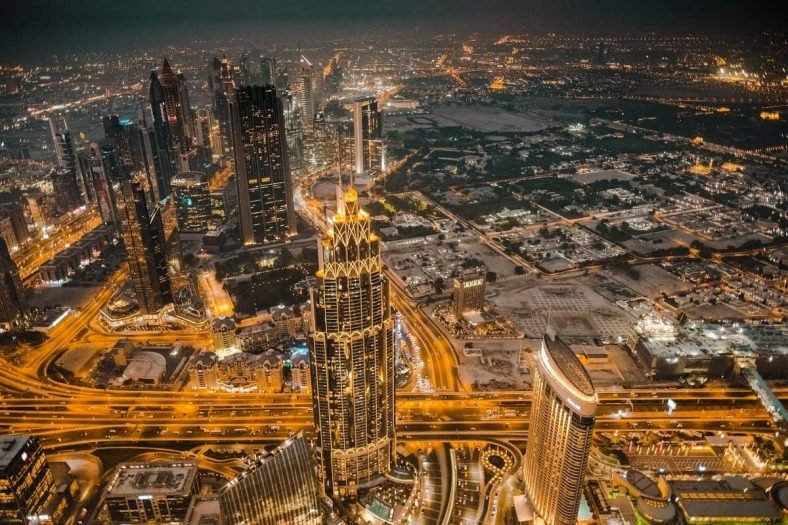 Places To Visit In Dubai At Night | 11 Events & Activities
Image by enjoytheworld from Pixabay
Dubai is a pretty spectacular city during the day, but it's not until after the sun goes down that the city really comes to life. The surreal experience of nightlife in Dubai is sought after by many of its visitors, and the "City of Gold" certainly does not disappoint.
Whether you'd like to spend the warm evenings cooling off at one of Dubai's calm beaches, marvel at the glittering skyline from tall buildings, or party hard at the best nightclubs in Dubai, there's certainly an activity for everyone.
Wondering where to go or what to do in Dubai at night? Well, look no further, because we've got you covered!
Things to Do in Dubai At Night
Check out these cool attractions and activities to do in Dubai at night
1.Visit the Dubai Marina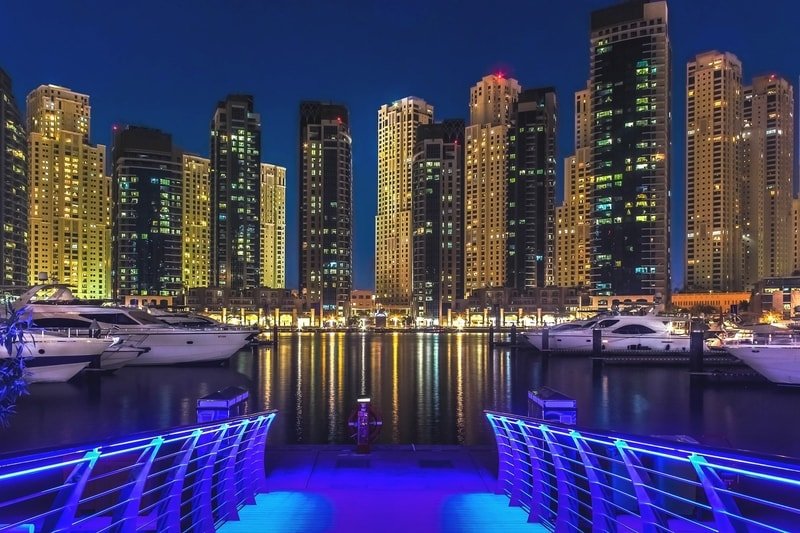 Image by muneebfarman from Pixabay
The Dubai Marina (also known as the JBR Marina), becomes a hotspot for evening adventures. The Dubai Marina is a 4-mile waterfront walkway, built on a stunning man-made canal. It is one of the best places to visit at night as it provides a stunning view of Dubai's breathtaking skyscrapers.
It also connects to the Jumeirah Beach Residence where there's no shortage of restaurants, street food vendors, and ice-cream stands. The marina is one of the best places to visit in Dubai at night because it's free to hang out here and you get to enjoy the beautiful scenery.
2.Watch the Dubai Fountain Show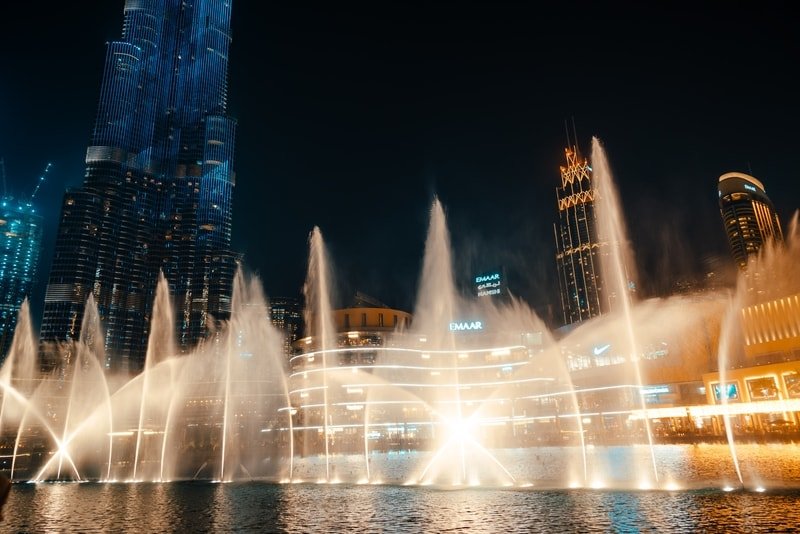 Image by Raimond Klavins on Unsplash
One of the best nighttime events that takes place in Dubai is the Dubai Fountain Show. This is the worlds' largest choreographed fountain show (yes, even bigger than Vega's Fountain Show), which takes place daily at the Dubai Mall. This spectacular show can be viewed for free on the ground floor or from the top of the Burj Khalifa for $17 (65AED). The show takes place every 30 min between 6 and 11 pm.
3. Visit the Dubai Aquarium
Image by Moon on Unsplash
The Dubai Aquarium is pretty spectacular in broad daylight, considering that it is 157-square feet. But it's not until the sun goes down that it truly becomes a place of wonder and magic with spectacular sea life.
The Aquarium is located on the second level of the Dubai Mall and a part of the aquarium can be visited for free. However, if you wish to be more adventurous and partake in activities such as cage snorkeling, tickets start from $27(100 AED).
4.Big Bus Tour
There are all sorts of fun things to do in Dubai at night, but what's more fun than taking a guided tour around this dazzling city at night? Beat the heat and traffic by booking the Big Bus Tour and enjoy a nighttime panoramic tour to see all of Dubai's top attractions from a different perspective.
5. Visit the Dubai Creek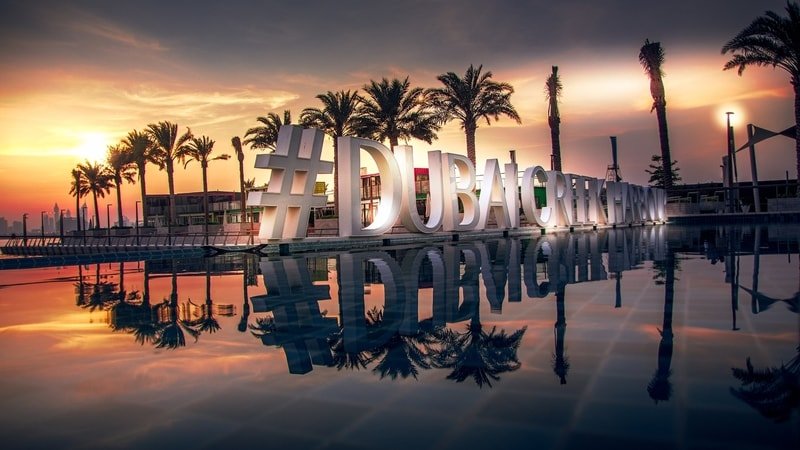 Image by Rimaz Rauf from Pixabay
The Dubai Creek is Dubai's cultural and historical center, giving visitors a glimpse of old Dubai. The perfect way to experience this area is by a Dhow Dinner Cruise. Enjoy a delicious dinner, while cruising down the waterway that passes the Burj Khalifa and other attractions. Ticket prices start from around $59 (220 AED).
6. See the Global Village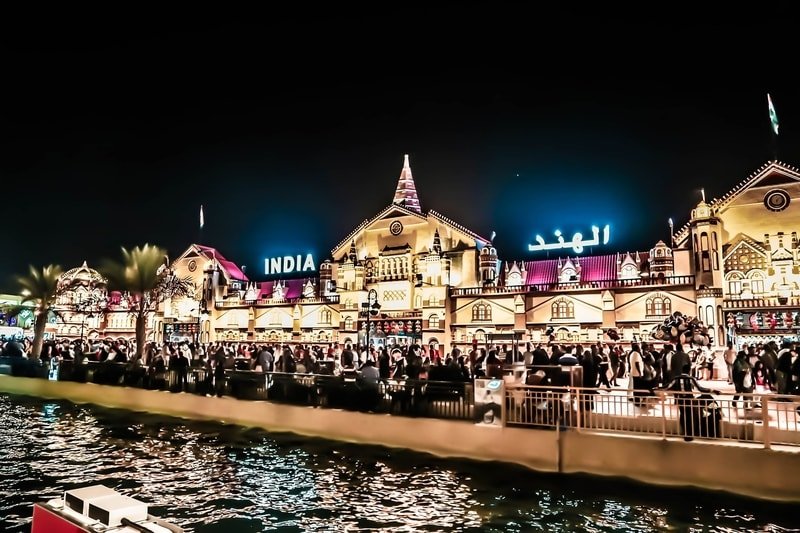 Image by Sreekanth K from Pixabay
One of the best places to visit in Dubai at night is the Global Village, a multicultural amusement park that's inspired by different countries and their cultures. What's great about Global Village is that it is so much more than just an amusement park. It offers a range of free shows and concerts and you can find a wide variety of food, drinks, and souvenirs from all over the globe. Tickets are only $4 (15 AED).
7. Visit One of Dubai's Beaches
Image by Free-Photos from Pixabay
If you're looking to cool off at the end of a hot day or watch the sunset over the Persian Gulf, head over to one of Dubai's spectacular beaches. Dubai has a number of public beaches such as Sunset Beach (Umm Suqeim Beach) and Kite Beach as well as a number of private beaches.
8. Go to the Garden Glow Park
There are a wide range of activities in Dubai that cater to children, but one place with the best activities for kids is the Garden Glow Park. The park is divided into 5 sections:
Glow Park: A display of art created from recycled fabrics and 10 million LED lights.
Dinosaur Park: This section contains amazing animated dinosaur sculptures.
Ice Park: A beautiful collection of ice sculptures portraying wild animals.
Magic Park: A collection of whimsical art pieces
Art Park: A collection of 3D art paintings.
9. Venture to the Ski Dubai
Dubai never ceases to amaze visitors with its endless string of man-made attractions, and the Ski Dubai is certainly no exception. If you're trying to run away from the evening heat, there's no better place to escape than in Ski Dubai.
This indoor ski slope offers an authentic skiing experience and is one of the most fun things to do in Dubai at night. Tickets start at around $70 (260 AED)
10. Tour the Arabian Desert
Image by gabmarjan from Pixabay
A visit to Dubai would definitely be incomplete without a visit to the Arabian Desert at night. Discover this magical place by taking a night desert safari at one of Dubai's desert safari camps where you'll enjoy evening dune bashing and belly dancing. There's also a fire show, and a delicious barbecue dinner, and fall asleep under the stars.
11. Wander Around a Souk
Image by Sreehari Devadas on Unsplash
Dubai's Souks are traditional Arabian Markets where you can find gold, perfume, spices, and traditional souvenirs. While souks are great to visit in the day, they really come alive at night like the rest of the city.
Final Thoughts on Places to Visit in Dubai At Night
As the sun sets on the glittering "City of Gold", that's when you'll really see Dubai come to life, so prepare to be totally blown away by this spectacular city. The 11 places and activities mentioned above are just the tip of the iceberg.
There is an endless list of places to discover at night in Dubai. With several malls, food outlets, clubs, beaches, and attractions that are open until late at night. Dubai has an activity for every night owl, so there's definitely no need to stay cooped up in your hotel room after the sun has set.