Best Nightclubs in Dubai | 7 Hotspots for a Great Night Out
If you've got your hair slicked back and you can fist pump on the dancefloor- you might be in the running to join the cast of Jersey Shore. But in the middle east, the nightlife in Dubai is a lot more extra. Extraordinary, extravagant and extra! So, if you're jet setting to Dubai soon this is the guide to get you first in line to the hottest clubs in the city.
For those of you who might be feeling overwhelmed by the club scene or prefer keeping a low profile- snap out of it! You're in Dubai. Partying in Dubai is a once in a lifetime opportunity and even then, you might have to wait on a genie to grant you three wishes. For most, Dubai, is a bucket list destination so why don't you explore every nook and cranny the city has to offer?
When it comes to the nightclubs in Dubai, (like everything else in the city) there are endless options to choose from. Whether you're a Hip-hop head or an EDM junkie, there is a club made with you in mind. Lucky for you, we've got the top clubs in Dubai on this list to entice your inner disco diva to have a night out and dance until your feet get sore.
Night Life In Dubai
What makes Dubai so intriguing is that the United Arab Emirates is a conservative country and there can be quite a few limitations on what is allowed and acceptable for a tourist to do. But the UAE's largest city, Dubai, has the perfect mix of traditional and Western cultures, so the city highlights the best of both worlds. And in Dubai, only the best will do.
Most of the nightclubs in Dubai are so elite that they have won awards – no, seriously, like club Grammys. The nightlife in Dubai is a big deal and can seem a little over the top if all you wanted to do was have a beer at the bar. But once you've experienced a Dubai nightclub, you'll never regret it.
Best Night Clubs in Dubai
Psst! Here's a quick tip before you go. Do your research before heading out to any of the clubs. Some of these clubs adhere to strict rules when it comes to ID, age and dress code. Rumour has it that some nightclub owners instruct their bouncers to only let the best dressed inside. Don't say we didn't warn you.
But without leaving you on the edge of your seat any longer, here are our top picks for clubbing in Dubai.
WHITE Dubai
This is the crown jewel of the Dubai party scene. WHITE is a stadium-wide, open-air club that hosts international EDM DJs and performances from Thursday to Sunday. Not only does this club give music festival inspired events every week, but it also gives the best views.
WHITE has a rooftop view that looks out towards the city lights of downtown Dubai and despite the 'Ultra Fest' vibes inside the club, this is one of those Dubai parties where being dressed to the nines is essential. So, get dressed like you're nominated for an MTV award and get the party started.
BASE
This Dubai club looks like a nightclub straight out of the Step Up movie franchise, your thirteen-year-old self would be impressed. Who are we kidding? You would be impressed with BASE nightclub right now. Make the most of those hot nights in the Dubai Design District where BASE hosts hip-hop and Billboard Chart hit nights from Thursday to Saturday.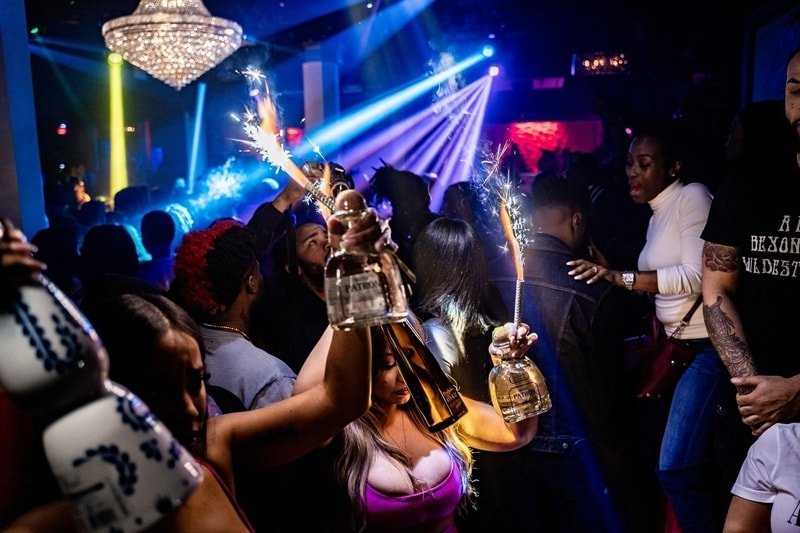 Cavalli Club
If you read the name of the club and instantly thought of the designer, Roberto Cavalli – you and I should be friends. But more importantly, you would be right. The owners and the designer collaborated on this vision and gave the Dubai dance club scene a taste of luxury, darling. Expect low hanging crystal chandeliers, glamour, glitz and well-dressed A-listers.
SoHo Garden
SoHo Garden should really be called the Garden of Eden because you could stay there for hours, sipping on some delicious apple Martinis. This Dubai night club is unlike the others, you can lounge out by the pool by day, grab a bite of something gourmet in between and see your favourite DJ perform by the end of the night.
Cirque Le Soir
We're pretty sure that Britney Spears based her circus era around this iconic club. This award-winning club is packed everyday of the week and every other night is themed from hip-hop nights to EDM nights.
If you thought this club just had circus-themed decor, think again. There are live circus acts every night, trapeze artists, contortionists, fire-swallowers and maybe even Hugh Jackman as the ringmaster. Ok, maybe not as the ringmaster but Cirque Le Soir has a lot of celebrity clientele so you might spot a couple inside.
Toy Room
The Toy Room is nothing like the name suggests. To our dismay, you will not find a bouncy house in the center of. It's a lot more grown-up and swankier than that. It's the Dubai version of its London-based counterpart, so you know it's a work of art inside. And speaking of art, the walls are murals of famous hip-hop icons like Snoop Dogg, Tupac and Drake – what's not to love about it?
The House Party Bar
All you 90's kids unite! This is the nightclub for you. The House Party Bar is one big house party themed nightclub that will have you playing Connect 4 in one corner and challenging your friends to beer pong in another. You'll be sipping out of red cups only while jamming to 80's and 90's classics.
Final Thoughts on Dubai Partying
Wherever you decide to party from the AM to PM in Dubai, you're guaranteed a good time. These Dubai nightclubs are just our favourite picks from an otherwise very long list of clubs all around the city so pace yourself. There is bound to be some endless fun and entertainment for every single night of your Dubai stay.