While most people visiting Japan will spend their time exploring Taipei and maybe even travelling as far south as Taichung, the vibrant city of Kaohsiung is a great alternative and has a lot to offer the adventurous traveller. From beautiful temples to dragon statues, street art, amusement parks, themed hotels and toilet restaurants, here's my pick of 9 quirky things to do in Kaohsiung, Taiwan.
How to get from Taipei to Kaohsiung 
Getting to Kaohsiung fro Taipei is very simple, which is another great reason to visit this quirky city. You can take one of the high speed trains from Taipei Main Station direct to HSR Zuoying Station in Kaohsiung. You can then get to the centre of the city by transferring to the KRT Zuoying Station and taking the metro to the centre. The train journey fro Taipei o Kaohsiung takes around 2 hours.
9 Quirky Things to Do In Kaohsiung
1. Get rid of bad luck at the Dragon and Tiger Pagodas
If you were looking for unique things to do in Kaohsiung, you've come to the right place. First of all, make a trip down to the Lotus Lake to get rid of bad luck. Tourists and locals alike find this a unique place to visit. Here you enter at the mouth of the dragon and exit at the mouth of the tiger. This experience proves to be one of the most popular ones when visiting Kaohsiung,Taiwan.
If you enter at the dragon's mouth and exit from the tiger's mouth it is believed that your fortune will be reversed from bad to good. This is quite superstitious, but if you want a truly authentic experience with the dragon and the tiger, start at the south-west end of the lake.
Lotus Lake is one of the most popular tourist attractions in Kaohsiung city and you'll get to experience the temples and the beautiful views over the artificial blue Lotus Lake. There are a lot of structures that resemble architectural elements from palaces in China. In spring, the stunning sight of beautiful lotus flowers against the backdrop of the lake will leave many visitors in awe.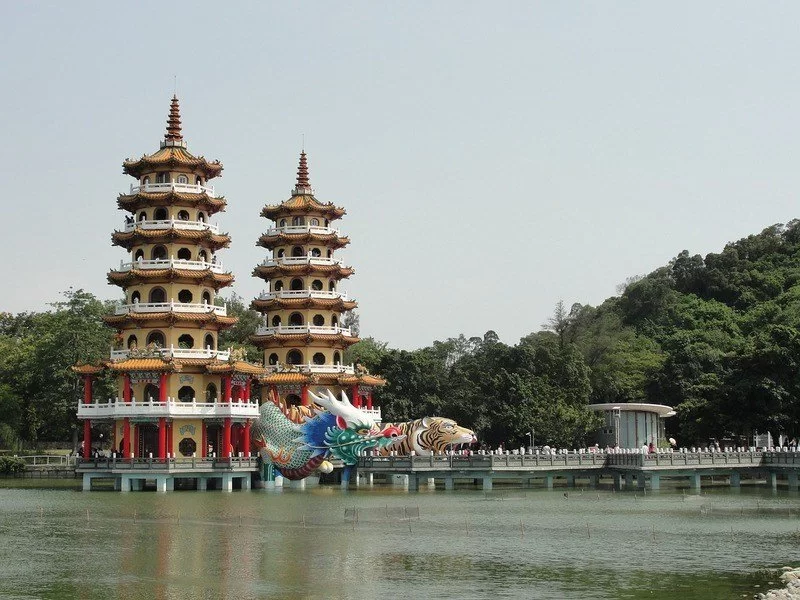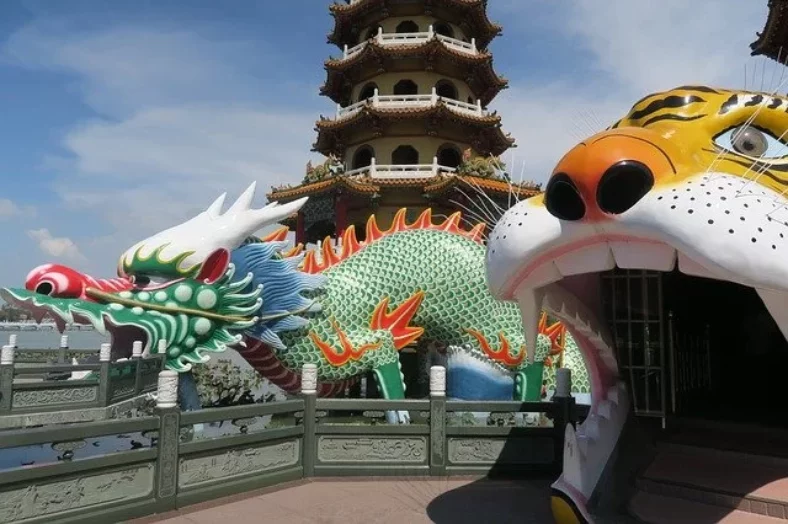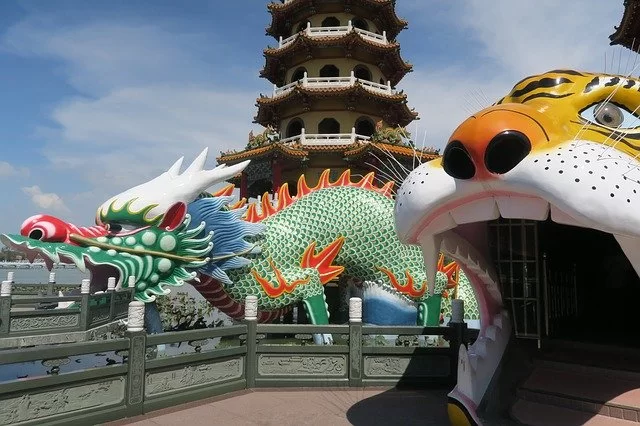 2. Experience Unusual Art at Pier-2 Art Center
This abandoned industrial area was fully transformed into the main art center of Kaohsiung city. At Pier-2 Art Center you will find trendy and unusual art exhibits and art installations that might become the star of your new instagram post.
This is a great neighbourhood to explore and you won't be bored for a second – there is simply too much to look at! With a light breeze coming from the ocean, a stroll around the old warehouses will inspire the creative weirdo inside of you.
Popular installations include the Music of Chairs which as an artwork depicting the memories of the past. The murals in this area are very colourful and inspiring. Look out for the 3D Train Station and the 12 Animals of the Zodiac – some of the best things to see in Taiwan.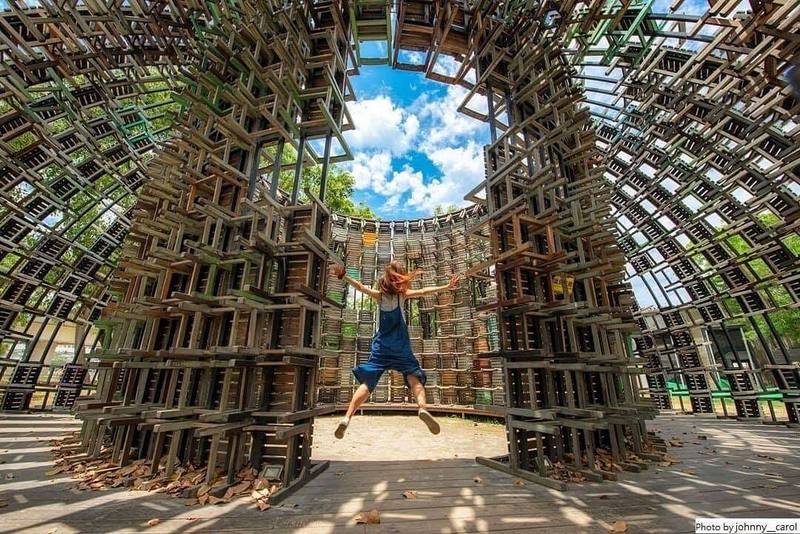 Image by @kaohsiung_city
3. Visit A Rooftop Amusement Park At Dream Mall
The rooftop amusement park at Dream mall is home to the Kaohsiung eye – a very large ferris wheel on top of a shopping center building. The rooftop feels like a small city, where you can take fun rides with the view of Kaohsiung below you.
If you want to do some shopping head to the Dream Mall and end off your day with one of the top things to do in Taiwan – enjoying the views of the city! The quirkiest thing about this ride is the stuffed animals that you will find in each car. Perfect for kids, or to provide comfort to those who are terrified of heights and might need a snuggle buddy. This is definitely one the most fun things to do in Kaohsiung city!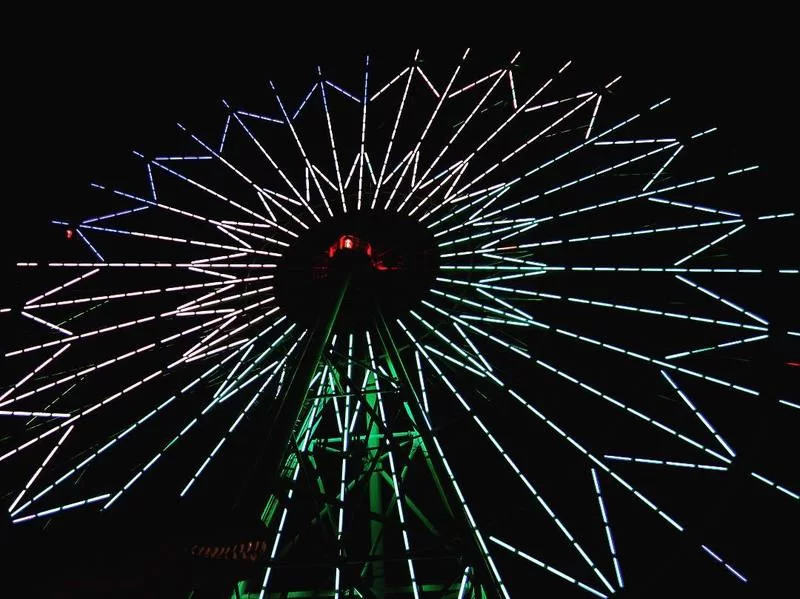 Image by @celineh97
Things to do in Kaohsiung at Night
4. Eat something weird at a Night Market
Taiwan is very famous for its street food and night markets, and while the most well known ones can be found in Taipei and Taichung, there's also a night market worth visiting here in Kaohsiung. The Liuhe Night Market (can be a bit touristy and super busy!), Ruifeng night market and Xinjuejiang night market are all top picks, overflowing with weird but delicious Taiwanese street food delights.
One thing these markets are particularly famous for is stinky tofu, so that's pretty much a MUST TRY when visiting!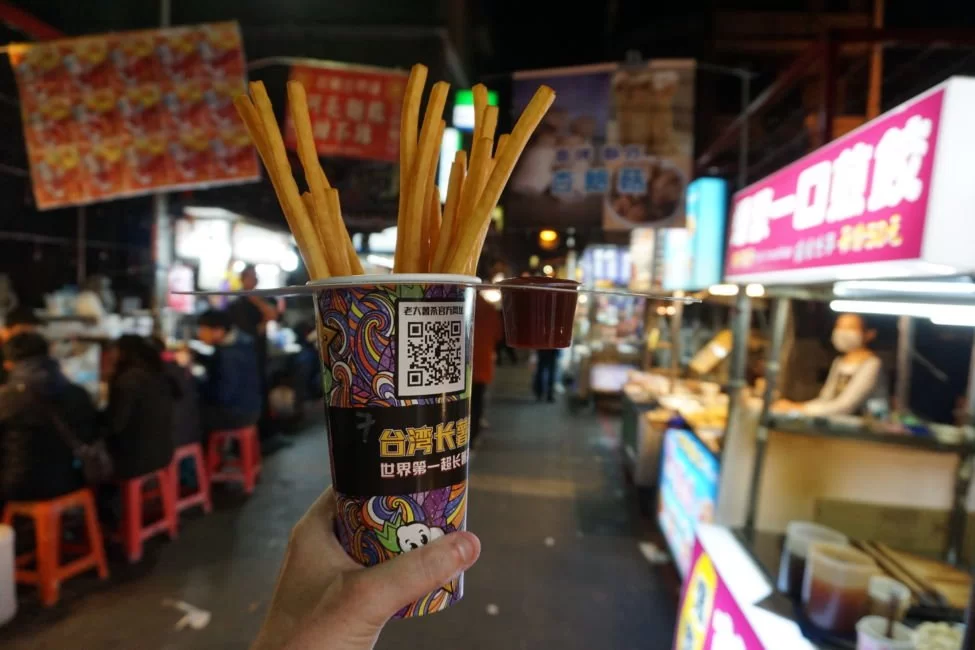 5. Book the Hello Kitty Room at Grand Hi-Lai Hotel
Taiwan is the treasure trove of quirky finds and one of our favourites can be found at the 5-star Grand Hi-Lai Hotel. This room is Hello Kitty heaven and everything in here is Hello Kitty-themed.
The walls of the room are painted pink, with Hello Kitty headboards, bedspreads, curtains, and a Hello Kitty-themed bathroom mirror. They even have a Hello Kitty radio playing Hello Kitty music! This hotel-room choice will definitely be a peculiar pink experience for Hello Kitty lovers.
Taiwan is full of quirky accommodation spots, so make sure to pick the perfect ones when embarking on your Asian travels.
View this post on Instagram
6. Explore The Dome Of Light at Formosa MRT Station
Located in the Formosa MRT station you'll find one of the world's largest glass installations. The Dome of Light is a ceiling made out of stained glass. It is breathtaking and makes passing through a station a shared visual experience for travelers and locals alike.
The Dome of Light was designed by an Italian artist who wanted to accentuate the co-existence of the world's four natural elements: fire, water, earth and air. The 4500 panels are divided into four colours where each colour symbolizes one of the natural elements.
Visitors can expect a daily free light show every day at specific times. Crowds will gather around the dome to experience the terrific light show that definitely slows down the bustling traffic at the station on the daily.
7. Visit The Modern Toilet Restaurant for a weird dining experience
This modern three-story restaurant can be found in the Datong District of Taiwan. It's all in the name – Modern Toilet restaurant will be one of the most unusual dining experiences you will ever experience in your life. The interior and the food is inspired by everything bathroom and poop related.
If you were looking for fun things to do in Taiwan, it won't get funnier than this. Poop is the main focus of this weird restaurant, so we won't recommend this one for people with a sensitive stomach.
Everything on the menu is named around feces, and you can expect to see some weird-looking dishes coming your way. Curries, hotpots and even Western dishes are popular choices on the menu. Taiwan is known for its quirky and weird restaurants, so make sure to add this one to the list!
You will receive your poop-inspired meal in a mini potty or tiny bathtub. Your drink  comes in a urinal that you can keep as a souvenir! Thoughtful, quirky, and the ultimate weird experience!
8. Unusual experiences at Cijin Island
All the little islands surrounding the port cities in Taiwan will offer you some of the best experiences of your trip. Cijin Island is only a 5 – 10 minute ferry ride from Kaohsiung, making it the perfect destination for a daytrip.
Some of the best seafood in Taiwan can be found at seafood markets. The seafood is fresh off the boat at Cijin Island and this place is a hidden local gem. I've even heard that it's said to be some of the best seafood in Taiwan.
The ocean creatures here are huge, colourful and definitely different from the what we are used to in the Western World. Pack your camera, because you would want  to capture these little crawling creatures in bright blues, yellows, neon orange and sea-monster green before actually feasting on them.
How to get to Cijin Island Kaohsiung
Getting fro Kaohsiung to Cijin Island is super easy. You can take the MRT train on the orange line as far as Sizihwan station and then take the ferry across to Cijin. It takes less than 10 minutes to walk from the station to the ferry port and there are regular ferries going across all day.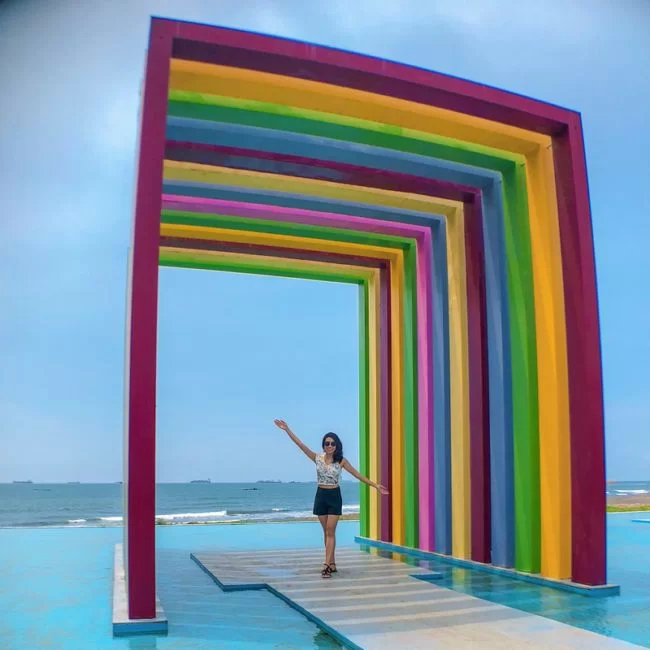 Image by @withoutstrings
On the island of Cijn, you will also find Cijin Rainbow Church – a insta-famous location. This destination isn't a real church, but rather an architectural masterpiece where the light accentuating all the open spaces. It creates a perfect backdrop for a spontaneous photoshoot.
9. Sail down "Love River"
Did you know the main river in Kaohsiung is called "Love River" and it has a mix of Venice / Las Vegas vibes as you can sail down on a night cruise taking in all the main Kaohsiung attractions and watching the light shows and flashing neon lights from the buildings that line the banks.