5 Places to Visit in Dubai for Free (Plus Activities That Cost Nothing!)
Image by Photo by ZQ Lee on Unsplash
As one of the most expensive cities in the Middle East (West Asia), Dubai has cemented itself as a top-of-the-list luxury holiday destination. From the 7-star Burj Al Arab to a gigantic frame made of gold, the allure of this city's unique architecture draws in travelers from all over the world. The city is also brimming with world-class parks, restaurants, and hotels.
With Dubai being an oasis of extravagance, it can be quite intimidating as a holiday destination when you don't have a 7-star budget. But here's a little secret: there's a wide range of places to visit in Dubai and plenty of activities that don't need a single dirham or are cheap to do. From libraries by the beach to camping in the desert, there is an affordable place and activity for everyone.
Best Places to Visit in Dubai
If you don't know where to go in Dubai on a budget, read on for an array of places to discover.
1. Beaches
What better way to beat the Dubai heat than with a visit to the beach. Dubai has many free beaches you can visit at any time of the day.
La Mer is a perfect mix between beach and park, where you can either kick back and relax in the sand or have fun at the skate or trampoline parks. It also triples as an outdoor art gallery full of colorful street art and installations.
Umm Suqeim Park Beach, located right by the Burj Al Arab, is another great beach for seaside activities. Fittingly known as Sunset Beach, Umm Suqeim Beach is one of the best places in Dubai to catch the sunset uninterrupted. You can also take advantage of Umm Suqeim's free beach library.
Tip: Dubai can reach high temperatures so be sure to pack extra sunscreen (and actually put it on).
Image by SHAHBAZ AKRAM from Pexels
2.  Souks
Although Dubai is modern, it still upholds tradition in Old Dubai. Souks, traditional Arabian marketplaces, are great places to experience Old Dubai's rich culture and sights. Popular souks include:
The Spice Souk, where you'll find all types of spices and various nuts and oils.
The Textile Souk, located in the Al Fahidi District, has stalls sprawling with beautiful fabrics and accessories of all shades and textures.
Most souks close late as well, making them fantastic places to visit in Dubai at night. End your visit with an abra ride down the Dubai Creek. Although each ride is Dh1, it's one of the best cheap things to do in Dubai and a worthwhile experience.
3. Mosques
Dubai is home to phenomenal mosques. Although mosques are traditionally not open to visitors, driven by the 'Open Doors. Open Minds' program, Dubai has opened some of these places of worship up to all travelers for free visits. Specifically the Bur Grand Mosque and Jumeirah Mosque.
If you're curious about traditional Islamic and Arabic architecture, The Bur Grand Mosque is the best place to visit in Dubai. Specifically its marinet, the tallest in Dubai at 70m tall, which you're free to enter and roam in.
Jumeirah Mosque, renowned for its white stone facade, is another breathtaking place to see in Dubai. The mosque also offers regular public tours where you can even enjoy traditional Emirati refreshments before the tour.
When visiting any mosque, ensure you always follow etiquette to show respect to the country's customs.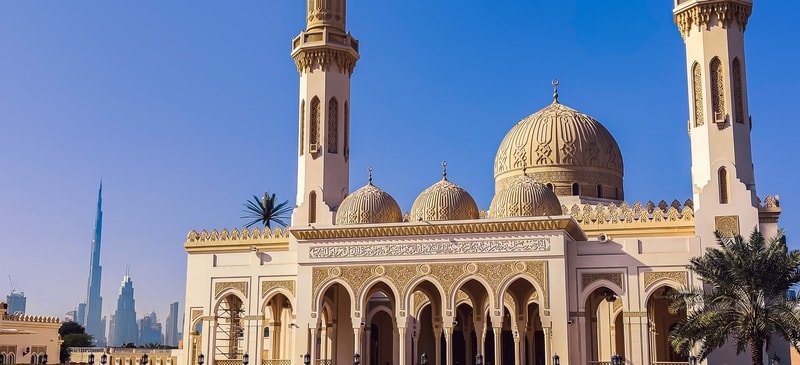 Image by Mitesh on Unsplash
4. Art Galleries
There are numerous art galleries all around Dubai. Alserkal Avenue is where you'll find the highest concentration of the finest and edgiest contemporary art in Dubai. At any given time there are over 20 active galleries and creative studios to explore for free. The Avenue also hosts free art festivals and performances year-round.
Jameel Art Centre, another contemporary art hub, is fully open to the public, including its phenomenal Jaddaf Waterfront Sculpture Park. The center hosts exhibitions year-round and offers free guided tours and hands-on-activity workshops for children and teenagers. This makes it a great option if you're traveling with kids.
5. Nature & Wildlife Spots
Dubai has various wildlife areas and sanctuaries where you can step away from the city bustle and be immersed in the peace of nature. Just a few minutes outside of the city, Ras Al Khor Wildlife Sanctuary is a natural habitat for hundreds of bird species, like the pink flamingos that flock there during winter. You can spend a few hours here, bird watching in the sanctuary's three bird hides or enjoying a free guided educational tour.
Al Qudra Lakes is a man-made multi-lake desert oasis. With the immediate desert area unspoiled, it's a perfect place to go in Dubai to see local wildlife. You can set up a small picnic and have a leisurely afternoon by the lakeside, and if you have camping equipment, you can spend the night and be treated to a beautiful Dubai sunset and sunrise. Just make sure to pack a thick jacket and be ready to build a fire in the designated fire pits because the nights in Dubai can get quite chilly.
Photo by zoosnow from Pexels
Free Things to Do in Dubai
In addition to places to visit for free, Dubai has plenty of free activities to do.
1. Visit the Coffee Museum
Get a crash course in coffee at the Coffee Museum. Learn about the local and international history of coffee and see artifacts like traditional coffee grinders and a 3000-year-old coffee pot. You can even catch a few roasting demonstrations of different coffee styles. Although you do need spare change for it, a visit here would be incomplete without some coffee from the in-house cafe. It's well worth it!
2. Watch a Movie at an Outdoor Cinema
During winter, open-air cinemas are a popular nighttime activity in Dubai. On Thursday evenings, lounge by the waterfront at West 14th Steakhouse. Or end your Sunday on a giant bean bag at the notable Movies Under the Stars at Wafi Mall Rooftop Gardens, enjoying double screenings of classic and modern movies.
Conclusion
With the array of places and things to do for free, a memorable yet inexpensive Dubai holiday is possible. Whether you're planning a weekend stay or a longer one, the wide range offers something to do every day of your stay and promises a well-rounded experience for every person.
Be sure to bookmark this page and use this guide on the best time to visit Dubai to plan the perfect Dubai getaway.