Emerald Cave Kayak Tour 2023 | Colorado River Trips, Prices & Specials
Last updated on September 30, 2023 6:42 am
Add to wishlist
Added to wishlist
Removed from wishlist
0
Add to compare
Las Vegas is a city for everyone. Whether you prefer to be rolling the dice on the Vegas Strip or exploring the great outdoors along the Colorado River, you'll never run out of things to do. While Vegas is famous for its casinos, it's also home to some of Nevada's best activities.
Tours in and around Las Vegas are abundant and this area holds some of the USA's hidden gems. Amongst them, Arizona's Emerald Cave is less than 40 minutes outside of Vegas. In contrast to the loud and populated casinos, this area, just over the border of Arizona offers a unique and serene experience that shouldn't be missed.
To make the most of your trip to Vegas, join in on an Emerald Cave kayaking tour. Besides the spectacular display of color and light, you'll see the magnificent geological features of the Black Canyon, and you might even see a few of the canyon's creatures and critters
Highlights:
A serene escape from the city to one of Nevada's hidden gems.
Experience the geological wonders of Black Canyon, accompanied by an experienced and knowledgeable guide.
Spend a day discovering Nevada's wildlife.
Know before you book:
You'll be on the water for a few hours. You need a moderate fitness level to enjoy this tour.
Specific tours include lunch, while others don't.
If visiting during Summer, wear your swimsuit under your tour clothes.
This tour isn't suitable for children under the age of 8.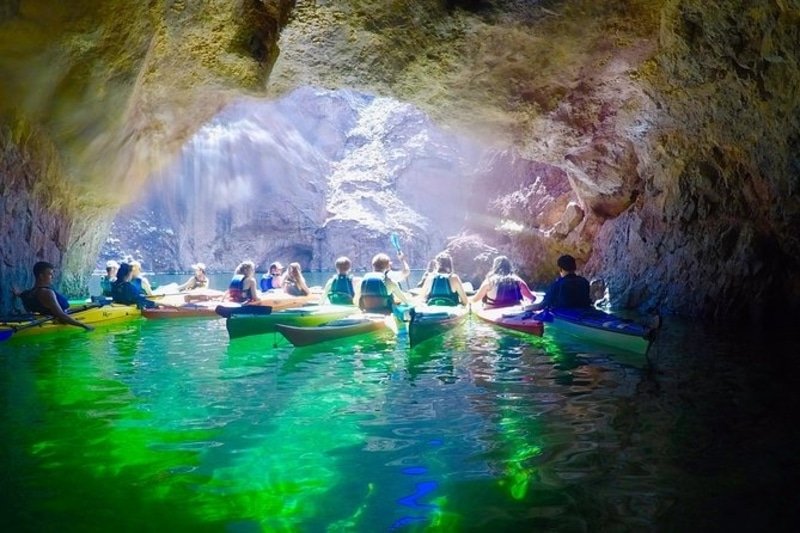 Why should you join a guided tour of the Emerald Cave?
Although the area is generally safe, exploring caves and hidden areas alone can be dangerous, even if you're an experienced explorer. This makes a guided tour not only fun and informational, but safer as well.
Besides the risks, without joining a tour, you'll miss out on the opportunity to learn about the area from an experienced guide. Some tours also come with a packed lunch, and your guide will show you some of the best spots for swimming and photography in and around this emerald cove in Arizona.
Emerald Cave Kayaking Tour Prices 2023
Kayak tours of the Emerald Cave, Nevada, range from about $85 to $159 per person, depending on your tour. Some are more extended, and they may include lunch and extra recreational time to swim and explore the caves.
Emerald Cave Tour Operating Times
Opening and Closing times of the Emerald Cave tours may vary depending on the tour you book. When booking, be sure to note your tour's departure time and be there at least 20- 30 minutes beforehand. You'll need to find the right life jacket, listen to some rules, meet your guide and pick a kayak.
The earliest kayak tour starts at around 8-8:30 am, and the latest begins at around 1 pm and returns at 4 pm.
Monday – Friday: 8am – 5pm
Saturday – Sunday: 8 am – 5 pm (please note specific tours do not operate on Saturday)
Best Time to Visit Emerald Cave, Las Vegas
Summer is the best time to visit the cave. You can make the most of your time by cooling off in the emerald water – which can get rather cold in winter. Temperatures in Nevada can reach well above 100℉ in summer, and you'll be kayaking in the sun for a portion of the tour.
Take sun hats and put on plenty of sun-screen (maybe carry some with you in a small backpack).
Here are a couple of things to consider:
Time of Year: Make the most of your experience by touring during the warmer months.
Time of Day: Often, the tours that start earlier include snacks and sometimes even lunch. The early tours are better because you'll experience the emerald water at its finest hour. The water glows under the mid-day sun.
Day of the Week: Certain days are cheaper than others. Due to demand, you might find occasional discounts.
Tour Options for Emerald Cave Kayaking, Las Vegas
There are a variety of Emerald Cave kayak tours available to suit every type of tourist. The express tour is the perfect way to squeeze a trip to the cave into your busy day of touring. But, if you've got a day to spare, why not spend the day out on the emerald water?
Emerald Cave Glass-Bottom Kayak Tour
This half-day tour is a great option to experience the Emerald Cave and its surrounding natural wonders. Better suited for tourists with some prior kayak experience, the glass-bottom kayaks offer a unique view of the cave's jewel-colored water.
While spending time on the water – accompanied by an experienced guide, you'll have access to unlimited snacks and drinks for the duration of the tour. This tour also offers optional pick-up and drop-off at selected hotels along the Vegas Strip.
What we liked: The unique glass-bottom kayak experience.
---
INCLUDES:
Clear-bottom kayak.
Half-day tour.
Unlimited Snacks.
Experienced guide.
EXCLUDES:
Lunch
Free pick-up & drop-off.
National park permit.
While the actual tour starts at 10 am, if you opt for pick-up and drop-off at your hotel, you'll need to be ready and waiting at 8-8:30 am. The tour doesn't include a permit to enter the national park. You'll need to purchase one for about $15 per person when you arrive.
Check Price & Book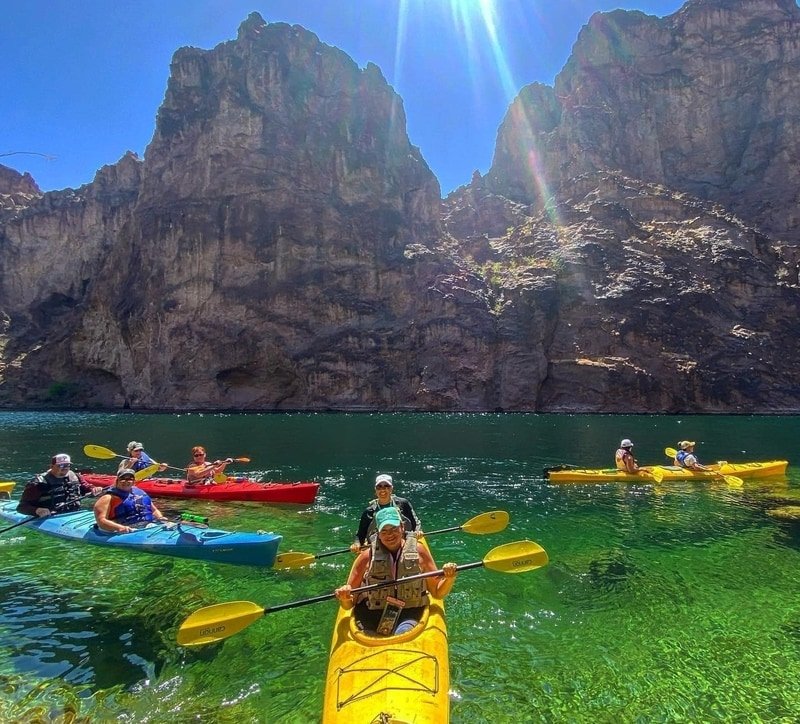 Full-Day Kayak Tour of Emerald Cave
A full-day tour of the Emerald Cave is the perfect way to spend some time in nature. There'll be plenty of time to explore and learn about the area's wildlife and geographic wonders. You'll also get to swim and take some great photos.
You can meet your guide and tour group at a departure location in Vegas or opt for pick-up from selected hotels on the Strip. This tour includes transportation to the Emerald Cave, Arizona, on the other side of the Colorado River.
What we liked: Experience a little bit of Arizona on this tour, and your full-day tour includes lunch.
---
INCLUDES:
Transport to and from Arizona.
Lunch & Swimming.
Experienced guide.
EXCLUDES:
Wheelchair access.
Unlimited snacks.
Driving to and from Arizona takes up part of the 7-hour tour, but you'll spend about 4-5 hours on the water. Remember to put on plenty of sun-screen and wear your swimsuit under your tour clothes.
Check Price & Book
Express Tour of Emerald Cave
Ideal for tourists with action-packed itineraries, this short 3-hour kayak experience doesn't skip any of the Emerald Cave's highlights. After taking off at Willow Beach Marina, you'll paddle along the Colorado River, past the Black Canyon, and through the Emerald Cave.
This tour starts and ends in Arizona and doesn't include transportation, so you'll have to cross the state border if you're staying in Vegas to get there. It's the perfect opportunity for tourists with cars to experience some of Arizona.
What we liked: You'll get to see more of the USA. The short trip includes all the highlights and leaves you with extra time in Arizona.
---
INCLUDES:
Quick tour of Emerald Cave.
Minimal fitness is required.
Snacks.
EXCLUDES:
Marina parking fee.
Transport from Vegas.
There are three available tour slots. The latest tour ends at 2 pm, leaving you with extra time to explore Arizona.
Check Price & Book
Kayak Tour of Emerald Cave & Willow Beach
Enjoy a day on the shore of Willow Beach in Arizona. This tour sets off in Las Vegas and offers transportation to Arizona's Lake Mead and Willow Beach. You'll spend a couple of hours kayaking through the Black Canyon and Emerald Cove, stopping for snacks and recreational time along the way.
What we liked: Recreation time on the beach, friendly guides, and plenty of photo opportunities.
---
INCLUDES:
Time to enjoy the scenery.
Swimming.
Friendly & experienced guides.
EXCLUDES:
National park permit.
Lunch.
Bring your camera and swimsuit along for this day out on the water. They'll be plenty of photo opportunities and time to cool off in the water. This tour comes with snacks, but you can bring a little of your own to get you through the day.
Check Price & Book
Editor Review of Emerald Cave Kayak Tours
Spending time at the Emerald Cave is a wonderful way to experience Nevada's great outdoors. You shouldn't miss this once-in-a-lifetime opportunity if you're touring Arizona or Nevada.
PROS
Stunning natural scenery.
A short distance from Vegas.
A variety of tour options.
CONS
Not suitable for children under 8.
Requires some fitness level.
Weather dependent.
Specification:
Emerald Cave Kayak Tour 2023 | Colorado River Trips, Prices & Specials
| | |
| --- | --- |
| Accessibility | No wheelchair access |
| Duration | 3 – 8 hours. |
12 reviews for
Emerald Cave Kayak Tour 2023 | Colorado River Trips, Prices & Specials
Emerald Cave Kayak Tour 2023 | Colorado River Trips, Prices & Specials