One Day Cruise From Orlando 2023 – Explore O-Town on Water
Last updated on December 10, 2023 2:02 am
Add to wishlist
Added to wishlist
Removed from wishlist
0
Add to compare
Orlando is one of North America's favorite destinations for a variety of travelers. It's filled to the brim with activities and attractions that make it an excellent visit. 
Nestled in the mainland dappled with lakes, you may think your fun is limited to theme parks, art galleries, and museums. However, you can enjoy an all-inclusive cruise that transfers you from the city center of Orlando to the nearest bodies of water.
We list a variety of different Orlando day cruises that work for all travel groups. Whether you're going on a romantic adventure or taking your kids on a fun getaway, you'll find them all below.
While departing from the City Beautiful is the main drawcard to these one-day cruises from Orlando, the fun happens in the surrounding areas. These areas include Clearwater Beach, the Gulf of Mexico, wildlife parks, and more. These tours are different from traditional adventures as you get a chance to explore them all atop a boat.
Boat Rides in Orlando Prices in 2021
The cost of the tours starts from about $69 to $139 per person, depending on the different tour providers. Some tours are pretty short, while others take up the better part of the day. Compare prices across the tour providers below:
Times of the Boat Rides in Orlando, FL
As the cruises are provided by different providers, the times vary greatly and will depend on your pick-up point. However, many of them start early in the day and end later as they last the entire day. While most of them take place all week long, it's best to confirm the days when booking.
The earliest one-day cruise from Orlando is available from 7:15 a.m., and you're required to be there at least 20 minutes before departure.
Best Time to Go on A Day Cruise in Orlando
As with all trips, it's important to know when to visit the area so nothing dampens your day. While visiting Orlando is great all year round, there's an actual best time that makes traveling there worth it.
Spring (March to May) is the best time to go on a boat cruise in Florida's popular travel destinations. The season features pleasant weather with temperatures typically ranging from 50 to 80 degrees Fahrenheit and rain presenting little threat.
The Best Orlando Boat Tours
From cruises allowing you to interact with marine life to guided rides with incredible lunches , here is a breakdown of the best cruises in Orlando, FL, and what makes them awesome.
Private 2-Hour Sailing Tour on Lake Fairview
This Orlando sailing tour happens on Lake Fairview and includes sailing lessons from an experienced crew. Accommodating five guests (four adults and one child), the tour is suitable for anyone looking for an intimate and fun day cruise. This includes lovebirds, families with kids, or a small group of friends.
This is one of the few boat rides taking place directly in Orlando, with the tour lasting for two hours, made up of an immersive and fun time aboard a 25-foot sailboat. Feel like one of the crew by getting involved with trimming the sails or steering the boat – all with an instructor by your side. If you'd rather have a leisurely experience where you just enjoy zooming across the lake, you can do just that.
If you love the idea of dining on a boat, you're allowed to bring along your cooler with snacks, food, and beverages. Apart from just whizzing through the lake, you're in for a great educational time. The crew members will be sharing all their knowledge on Orlando and Florida with you while you enjoy the city's sun.
What we liked: A short tour that yakes place in Orlando.
---
INCLUDES:
Experienced captain and sailing instructor
Life jackets for all guests
Cabin down below with dry storage
EXCLUDES:
Towels
Snacks and drinks
Gratuities
This tour is amazing because, in addition to having fun, you're learning a fun lifelong skill. It's also an excellent tour for avoiding crowds, which is pretty hard to do in Orlando.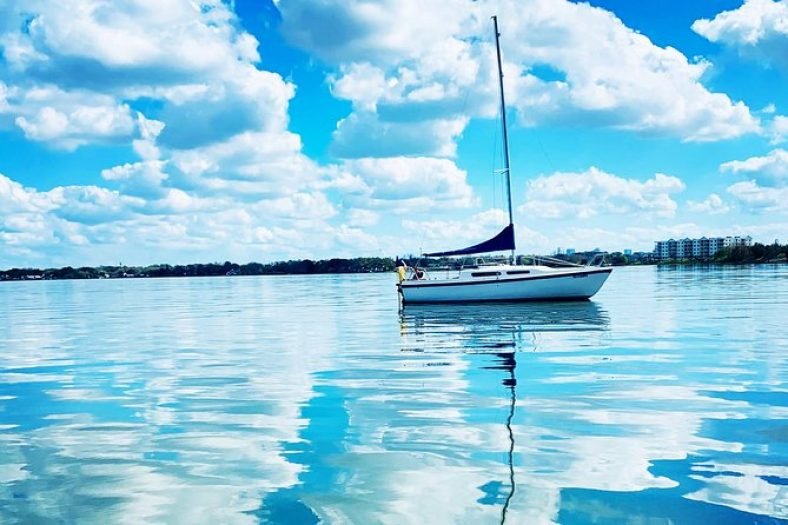 Check Price & Book
---
Manatees Swim, Snorkel, and Boat Day Tour From Orlando
This day tour from Orlando is perfect if you're the type of traveler that wants to spend as much time underwater as above it. The incredible tour includes seeing manatees in the Withlacoochee River and a visit to the Homosassa State Wildlife Park. It's perfect for families that have an interest in marine life or wildlife in general.
The tour lasts for nine hours and begins with an hour-long transfer from southern Orlando. During the tour, you can snorkel and swim with the endangered Florida manatee – if you're lucky, you may even be able to interact with them.
After lunch, experience over-the-water thrilling fun while aboard an airboat, complete with narration from the guide about the surroundings. You can end the tour with a visit to the Homosassa State Wildlife Park, where you can view various fauna and fantastic natural beauty.
What we liked: Swimming in the turquoise Crystal River.
---
INCLUDES:
Round-trip transportation from some Orlando hotels
Complimentary breakfast and lunch
Incredible guide with a lot of information to share
EXCLUDES:
Gratuities
Mandatory wetsuit rental (costs $10)
Remember to bring cameras, towels, and drinks so you have a great time and can record the experience.
Check Price & Book
---
Clearwater Beach Day Trip from Orlando with Optional Upgrades
Clearwater Beach boasts crystal clear waters and a shoreline featuring incredible white sand. You can experience the magnificent beach as part of this tour from Orlando, featuring a thrilling cruise atop the water. It's one of the best day cruises from Orlando for families with young kids because there are lots to do. .
After being transferred from Orlando, fun galore awaits that makes for a great trade to the theme parks. Spend your day relaxing on the beach or taking part in several activities.
Embark on an adventure aboard a 4-hour cruise where you can go deep-sea fishing in search of grouper and snapper. If you're looking for fun aimed at kids, hop on Captain Memo's Pirate Cruise where face painting, hats, fun games, and firing cannons is the order of the day.
You can also view dolphins on the Dolphin Encounter cruise, Clearwater Marine Aquarium, or Sea Screamers of Clearwater.
Note: Admission tickets to all these activities aren't part of the tour package.
What we liked: There are tons of fun things to do as part of the tour.
---
INCLUDES:
Comfortable transportation from select hotels to Clearwater Beach
Experienced driver/guide
EXCLUDES:
Gratuities
Food and drinks, unless lunch option is selected
Admission tickets to all side activities aren't part of the tour package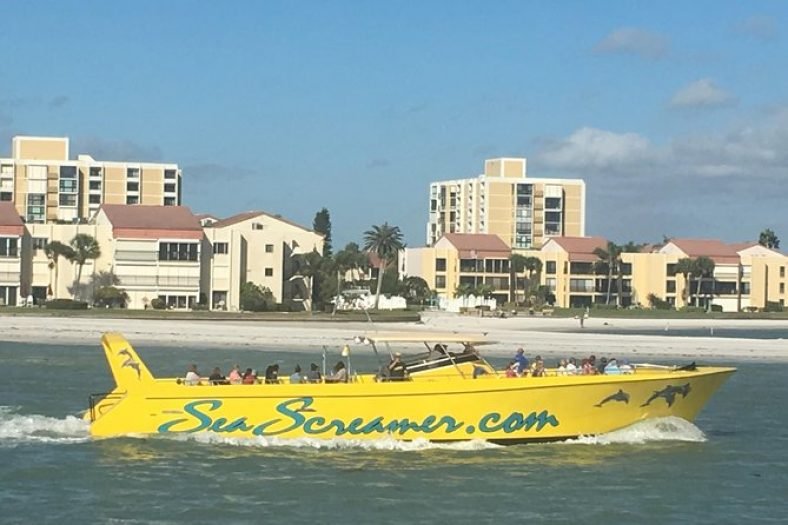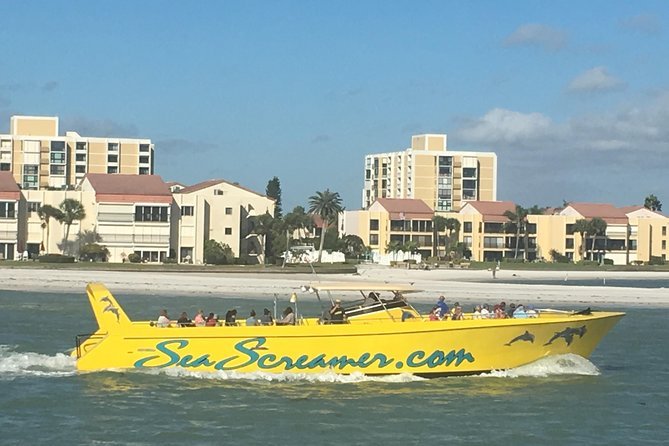 Check Price & Book
---
From Orlando: Clearwater Beach Pirate Cruise with Lunch
If you're a lover of the bizarre and want to add a fun aspect to your boat tours around Orlando, then this tour is perfect. This pirate-themed cruise is fantastic for families with young kids as you get to feel like a pirate for a part of the day.
The cruise takes place around Clearwater Beach and includes a transfer from southern Orlando in a luxurious vehicle. The Pirate Ransom features a friendly crew that will let you know all about Florida's history as a pirate hangout.
While zooming on the waters of the Gulf of Mexico, the family fun includes face painting, water gun fights, a treasure hunt, and dancing. Stay on the lookout for dolphins gracing you with their presence and incredible water tricks.
Afterward, treat yourself to a complimentary lunch at a beachside restaurant, then soak up the sun on the Clearwater shoreline.
What we liked: A free drink and complimentary lunch.
---
INCLUDES:
Professional tour guide
One free drink while on the cruise
Round-trip transportation from International Drive, Disney, and Kissimmee areas
EXCLUDES:
Gratuities
Additional food and drinks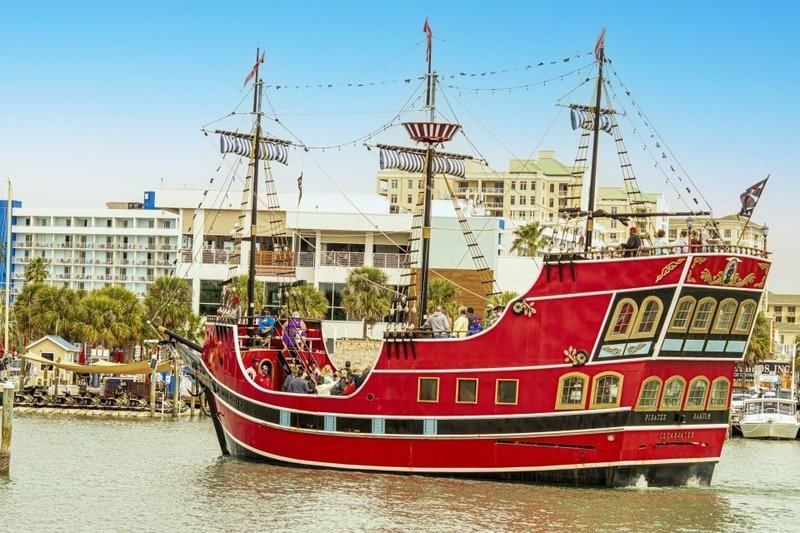 Check Price & Book
---
Central Florida Everglades Airboat Tour from Orlando
Is a visit to a Florida city even considered complete without seeing alligators in their natural habitats? With this tour, you get to experience that and more, which makes it perfect for the entire family.
Escape from the theme park haven that is Orlando into the Florida Everglades wilderness to marvel at nature. You're transferred to the area via a comfortable ride with pick-up and dropoff at some Orlando locations.
The 4-hour tour takes place atop a 30-minute or 1-hour fast airboat ride that grants you the opportunity to see local wildlife and lush greenery. Afterward, enjoy a 20-minute demonstration on how to handle alligators – don't worry, you don't have to get that close to them if you don't want to.
Note: The length of the airboat ride depends on the package you choose.
What we liked: Seeing alligators and various animals at the Wild Florida Wildlife Park.
---
INCLUDES:
Airboat ride through the Central Florida Everglades
Transfer to and from select Orlando areas
EXCLUDES:
Gratuities
Food and drinks
Check Price & Book
---
The above tours are great for all ages and include an array of fun things that make the city of Orlando and its surrounding areas worth a visit.
PROS
Fun for all ages
Seeing wildlife and marine life
You score a visit to the beach
CONS
Many tours happen outside of Orlando
They aren't wheelchair accessible
Many don't include complimentary food and drinks
Specification:
One Day Cruise From Orlando 2023 – Explore O-Town on Water
| | |
| --- | --- |
| Accessible | Not wheelchair accessible |
| Duration | Depends on the individual tour |
| Includes | Informed local tour guide |
| Excludes | Gratuities |
| Meals & Drinks | Only on select cruises |
| Pickup | Pick-up and drop-off at specified locations |
| Suitable For | Everyone |
13 reviews for
One Day Cruise From Orlando 2023 – Explore O-Town on Water
One Day Cruise From Orlando 2023 – Explore O-Town on Water